14,000 residential units at 70 locations have been added to Downtown Brooklyn since the 2004 rezoning according to the Downtown Brooklyn Partnership. Among rentals that opened in 2018 were Hoyt & Horn (368 units); The Eagle (440 units); and The Amberly (270 units). Data released by the Downtown Brooklyn Partnership shows that occupancy is above 95 percent at both old and new rental buildings and median asking rents in Downtown Brooklyn jumped by 15 percent from 2014 and 2018.
Amenities for families in Downtown Brooklyn include Wholefoods 365, the Transit Museum, City Point Mall with kid-friendly movie theater, Trader Joes's and kids stores, the BAM, Mark Morris Dance Center, the Golconda skatepark, Hill Country Food Park and more.
There are quite a few amenities that just opened or are under way for families in Downtown Brooklyn in 2019: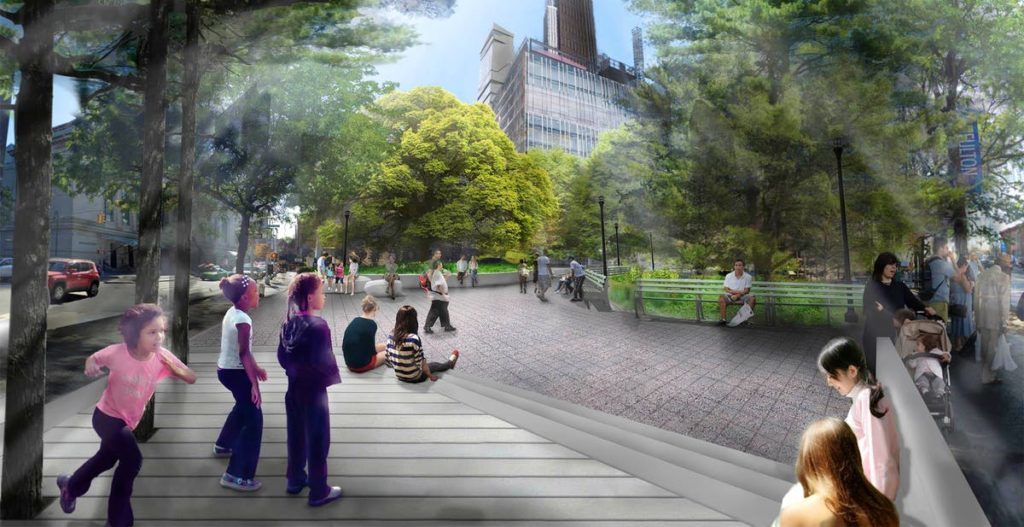 Public school news for Downtown Brooklyn:
A six-story elementary school for 300 students will be built inside the new office building One Willoughby Square at 420 Albee Square West between Fulton and Willoughby streets. The elementary school for District 13 is scheduled to open in 2021. No details on the school's zoning have been published.
Another elementary school is planned for Downtown Brooklyn, this one in District 15 within the 80 Flatbush project. The developer plans to build a 350-seat public elementary school in the mixed use project at 80 Flatbush Avenue and open the school in 2022. No details on the school's zoning have been published.
District 13 will also get a new middle school which will be called M.S. One Brooklyn. The 616-seat school will be built at the Atlantic Yards at 664 Pacific Street, no scheduled opening has been posted yet.
District 13 might get another public elementary school. The 625 Fulton Street development is proposed to have 739,000 square feet of commercial office space, 60,547 square feet of commercial retail space, 902 residential units with 25 percent of them being affordable units, and a 640-seat public elementary school spanning about 82,500 square feet. No details on rezoning of the lot and timeline are available yet.
Upcoming kid-friendly events in Downtown Brooklyn:
Saturday, 4/27: Car Free Earth Day Downtown Brooklyn, Albee Square, 11am-3pm. 

Albee Square West will be closed to traffic for the day to celebrate Earth Day! Learn to ride a bike, make new clothes out of your old ones, enjoy live music, plus more.
Tuesday, 5/14: Dance and Create: A Contemporary Dance Class for teens, by teens at The Plaza at 300 Ashland, 5:30-6:30pm. Calling all creative movers! Mark Morris Dance Group's Arts Immersion students will lead a FREE outdoor contemporary dance class for all levels of experience which will include a chance to create your own choreography and be accompanied by live music.
Wednesdays, 5/15, 5/22, 5/29: Willoughby Walks, Willoughby Street between Jay and Bridge and Lawrence Street between Fulton and Willoughby, 12-8pm. For three consecutive Wednesdays, enjoy a traffic-free oasis on Willoughby Street, opened up to offer unique, fun activities, with live music, giant games, and more!
In the summer, Second Saturday block parties will take place at Albee Square, a month-long drop-in soccer class, chess, movies, kid-friendly concerts and performances + more.