Celestine, the new restaurant with floor-to-ceiling windows, is now open at 1 John Street in Brooklyn Bridge Park. It has 65 seats in the dining room, 8 seats at the bar, and 45 seats on an outdoor terrace (coming soon).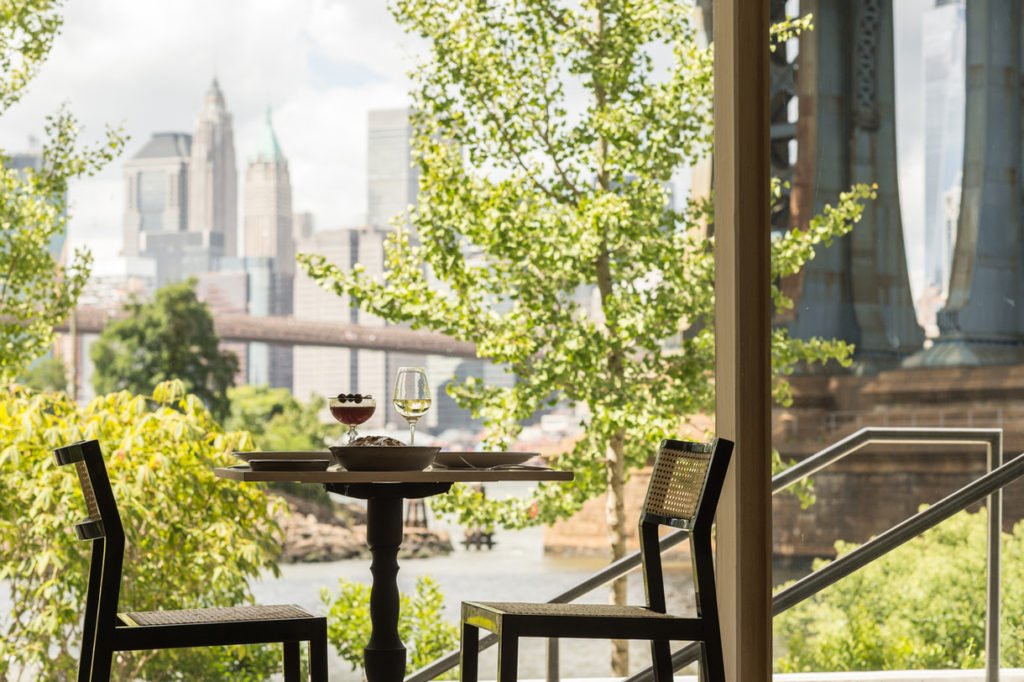 The kitchen delivers seasonal, soulful fare, with flavors and influence from Sicily to Beirut and all paths in between: Baked Hummus with sumac and brown butter; tangy Housemade Yogurt with dates and tamarind gastrique; grilled and roasted Delicata Squash atop red cabbage braised in concord grape juice, finished with whipped ricotta, orange, mustard greens, and spices; Short Rib Manti, handmade Turkish dumplings, filled with braised short rib seasoned with fenugreek and pomegranate molasses, topped with garlic yogurt and onion marmalade; a Mushroom Tart filled with black truffle puree, a variety of roasted seasonal mushrooms, and finished with vegetarian Bordelaise sauce, crumbled feta, and fresh blackberries. Whole Grilled Market Fish with fennel-artichoke-dill salad and bittersweet urfa sauce; Grilled Lamb Saddle and Kibbeh with bulgar, Swiss chard, mint and labneh; Wood Roasted Chicken with Persian rice, saffron, currents and butternut squash.
The restaurant is open Sunday to Wednesday 5-10:30 pm and Thursday to Saturday 5-11pm. Lunch and Brunch will be served soon. Reservations can be made via RESY and phone, 718-522-5356.