All museums and other institutions have announced temporary closures
The Brooklyn Museum, Transit Museum, Brooklyn Children's Museum and most Manhattan museums have closed
The Environmental Education Center in Brooklyn Bridge Park is closed
Both Brooklyn Historical Society locations in DUMBO and Brooklyn Heights are closed
The Brooklyn Public Library has closed
Public schools are closing as of March 16th. After the closure of Brooklyn Friends, St' Ann's and Poly Prep, the following private schools and preschools have been closed or will close on Monday out of an abundance of caution (no complete list):
Plymouth Church School in Brooklyn Heights
Packer School in Brooklyn Heights
Building Bridges Preschool at Cadman Plaza
Brooklyn Heights Montessori School in Cobble Hill
Brooklyn Heights Synagogue Preschool in Brooklyn Heights
Open House Nursery School in Boerum Hill
Basis School in Red Hook
Brooklyn Preschool of Science in Cobble Hill, Brooklyn Heights and Park Slope
Red Hook Playgroup
The following private programs are offering camp during school closure:
First restaurants closing temporarily:
Time Out Market in DUMBO will be temporarily closed as of March 16
First cases in our community (no complete list, updated 3/14):
A parent at PS 58 has tested positive for Covid-19 (see below from PS 58 principal)
A DUMBO resident has tested positive for Covid-19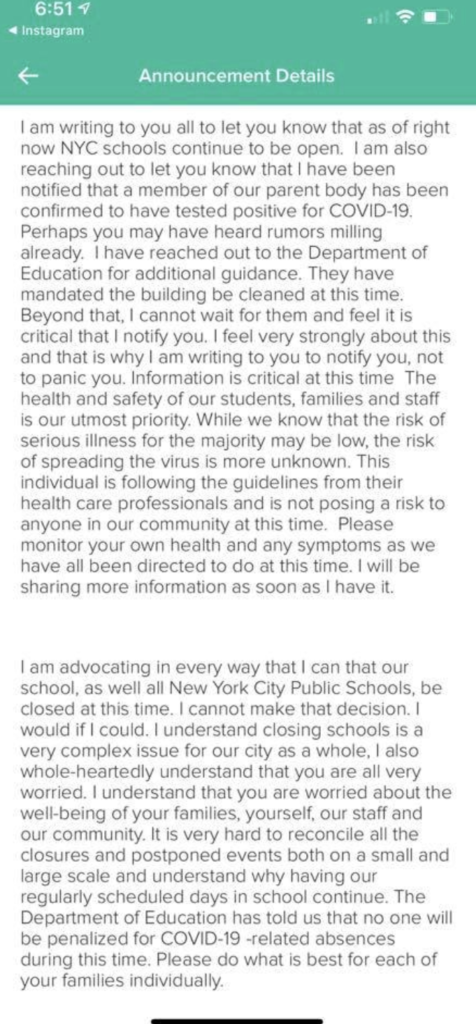 Mommypoppins has put together a Coronavirus guide with 100's of at-home activities.
This article is being updated daily due to the rapidly changing situation.