Our annual overview of indoor activities in Brooklyn Heights, DUMBO, Cobble Hill and Downtown Brooklyn features drop-in play for babies, toddlers, kids and teens.
Brooklyn Heights Library: Free activities and events including babies & books, Lego club, Friday movie nights and more at the local public library at 109 Remsen Street taking place almost daily for babies up to teens. All details here!
Spark by Brooklyn Children's Museum – DUMBO: "Block Lab" is the museum's signature drop-in activity for ages 2 to 5 offering 1,000 square feet of indoor block-building fun featuring Imagination Playground blocks, Magna-Tiles, Tegu blocks and Kapla Planks. "Spark" at 1 John Street in DUMBO is open Wednesdays to Sundays. Opening hours on Wednesday, Friday, Saturday and Sunday are 1 to 5 pm. Entry is $15 per child, adults are free. Thursday afternoons are donation-based for all from 1 to 6 pm. BCM Passport Members and Premium Members are always free, Passport membership for the whole family is $195 per year.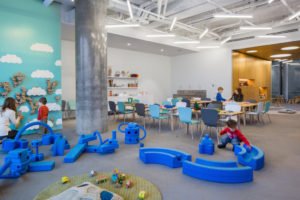 Recess DUMBO: The indoor playground at 81 Washington Street for children 6 months to 6 years features four slides, tunnels, a swing, a climbing structure and much more. It is open seven days a week Mondays to Fridays 9 am to 5 pm and in the mornings on weekends. Drop-in for unlimited play time is $30 for the first child and $20 per additional child. More details here!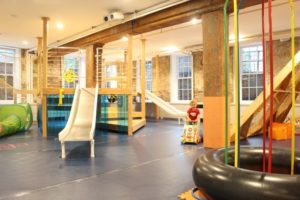 Barnes & Noble Story Time – Court Street: Saturdays at 11 am story time and activities for children 2 years and up at Barnes & Noble at 106 Court Street. Free! Detailed schedule here!
Environmental Education Center – Brooklyn Bridge Park: The center offers multiple interactive elements and a reading corner. It contains two signature exhibits: a marine aquarium and a Discovery Station. The 500-gallon display aquarium showcases fish collected from the East River during the Conservancy's popular seining programs. The aquarium also contain a child-friendly touch tank where visitors can gently interact with starfish, crabs and mussels.The center inside the 99 Plymouth building in DUMBO is open to the public on Saturdays and Sundays 1 to 5 pm as well as Tuesdays and Thursdays 3 to 5 pm. Free!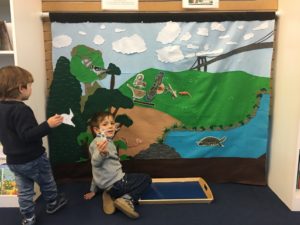 Jane's Carousel – DUMBO: Stop by for a ride on the beautiful horses Thursday to Sunday 11 am to 6 pm. Each ride costs $2.00. Details here.
Transit Museum – Downtown Brooklyn: For children 2 years and older, the highlights of the museum are the buses which they can sit inside – and act as the bus driver- as well as the many vintage subway cars to check out. The museum is housed in an historic subway station on Schermerhorn Street, right between Court Street and Boerum Place. No elevator and no cell phone reception. Hours: Tuesday – Friday: 10 AM to 4 PM; Saturday – Sunday: 11 AM to 5 PM. Admission: Adults: $10, children 2 – 17 years: $5. Every Thursday 10.15 am – 11 am Transit Tots event with stories, games and surprises for the youngest transportation fans from 2 to 5! Free.
Kane Street Sundays Open Play – Cobble Hill: Kane Street Synagogue invites families with infants, toddlers and preschoolers to enjoy a big open place to play. It is a terrific venue for parents to spend time with friends and meet new people. Includes two music sets. Sundays, October 29-March 25 from 9:00am-12:00pm, Community Room with Bagels, coffee, fresh fruit and other snacks. $10 session, in cash at the door.
Curiosity on Court Open Play – Cobble Hill:  Custom-designed play structures and exhibits were created to raise the curiosity and fuel the imagination of kids 1–10 yrs old. Open play for one day per child $25. Normal hours for drop-in are Mondays to Fridays 10 am to 6 pm. No reservation required for open play. More information here.
Hannah Senesh Sunday Mornings – Carroll Gardens: Sunday morning programming and indoor playspace for newborns to 5 years. Enjoy coffee and bagels with other families in the neighborhood while your children have fun in our bright, safe, fully enclosed gym! Every Sunday from November 5, 2017- March 25, 2018 9:00am to 12:00pm. $5 per person. More information here.
Families First Play Space – Cobble Hill: The Playspace at Families First is a carpeted, 30ft by 20ft room just for the little ones (infants to 4 years old) – an open space, for open play. The room is filled with age-appropriate, developmentally stimulating toys, small ride-on toys, a soft-play area, a play kitchen and books. Play Space membership for $450 annually entitles you to unlimited access to our indoor playroom during our hours of operation: Monday – Thursday 9am – 4pm and Fridays 9am – 1pm. More information here.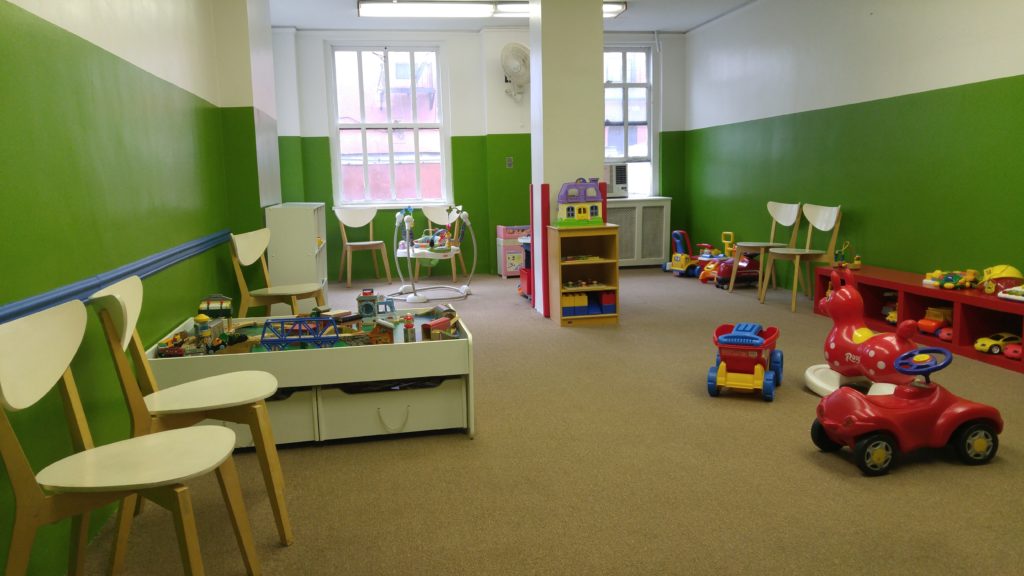 (Hill Country Barbecue Family Jam – Downtown Brooklyn: A family brunch filled with live music – country classics and family-style singalongs, kids activities and games. This free event takes place every Sunday at Hill Country Barbecue at 345 Adams Street from 12 to 4 pm.) Closed for renovations until further notice.
Do you want all local parenting news in your inbox? Sign-up for our bi-weekly newsletter now!
Main photo: Curiosity on Court