DUMBO HOLIDAY TREE LIGHTING | 12/4
Carols, Calypso and Cocoa! Join the community to ignite some holiday cheer! The DUMBO Improvement District will sponsor the 12th Annual DUMBO Holiday Tree Lighting Ceremony on Monday, December 4th from 5-7pm in the Pearl Street Triangle.
Free and open to all, this year's festivities include:
TREE LIGHTING
SANTA CLAUS
CALYPSO MUSIC
CAROLS. Performances by the PS307 and Dock Street Middle School choirs.
THE NUTCRACKER. Excerpts from DUMBO's Gelsey Kirkland Dance Academy.
HOT COCOA
SWEET TREATS
Borough Hall Christmas Tree Lighting | 12/5
The annual Christmas tree lighting will take place at Brooklyn Borough Hall on Tuesday 12/5 from 5.30 to 6.30 pm with refreshments and musical entertainment.
MetroTech Holiday Tree Lighting | 12/5
Light up the holidays, and Brooklyn's tallest Christmas Tree, at MetroTech Commons on Tuesday 12/5 starting at 4 pm to 6.30 pm. Celebrate with Santa, live reindeer, Bubble Dad, FDNY, Brooklyn Nets Hype Team, and Brooklyn Children's Museum. Holiday performers include Brooklyn Ballet, Brooklyn Music School, and Brooklyn Friends School. Other highlights include an interactive AR/VR demo by NYU Tandon School of Engineering, as well as treats from Korilla BBQ, Starbucks, and La Defense.
HO HO HO DOBRO | On Weekends
Santa's on the scene every Saturday and Sunday through December 24th at CityPoint Mall in Downtown Brooklyn. More information here.
Thomas Greene Park Holiday Tree Lighting | 12/8
The Holiday Tree Lighting with special appearance by Santa Claus at Thomas Greene Park will take place on Friday, December 8th from 4 to 6 pm. Park is located in Gowanus at 3rd Avenue and Douglass Street.
Gingerbread Ship Workshop | 12/9
You may have made a gingerbread house—but have you ever made a gingerbread ship? BLDG 92 in the Brooklyn Navy Yard will host its Sixth Annual Gingerbread Ship Workshop. After a brief "apprenticeship", kids will work together to decorate a large gingerbread ship model; baked by Brooklyn's own Buttermilk Bakeshop. Each participating child will get their own gingerbread ship cookie, modeled after a ship built in the Yard, to bejewel with icing and candy. Best suited for kids 4 – 10. Tickets $15 per child here.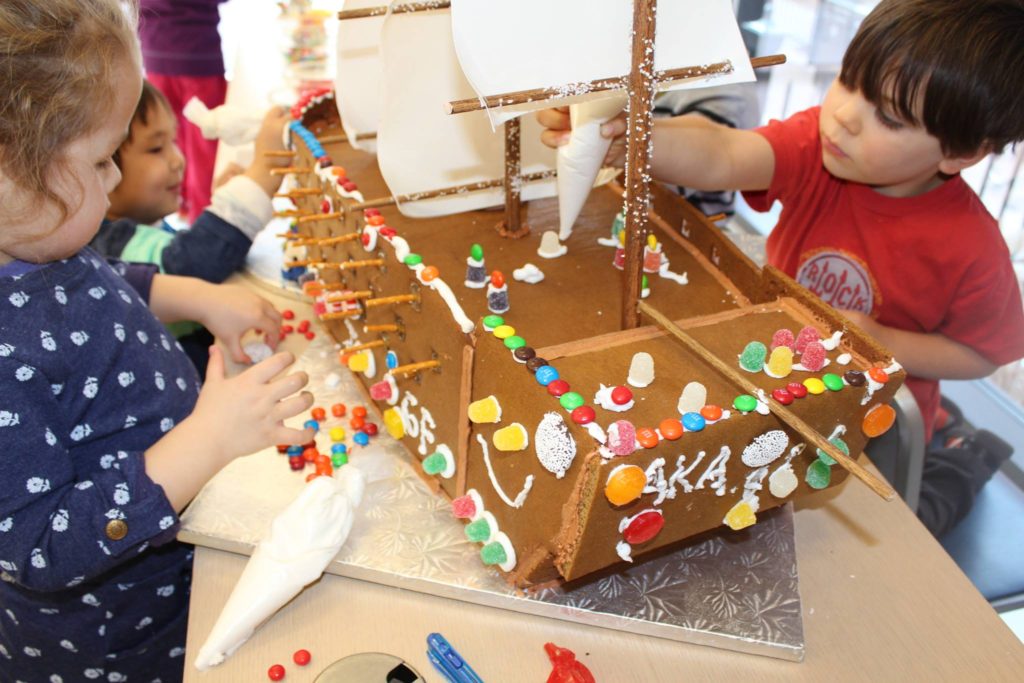 Brooklyn Heights Holiday Tree Lighting | 12/13
The 67th Annual Tree Lighting on the Promenade at the foot of Montague Street is Wednesday, 12/13 at 5:30pm. Come hear The Grace Chorale of Brooklyn and meet Santa Claus.
Do you want all local parenting news in your inbox? Sign-up for our bi-weekly newsletter now!