Our overview of upcoming outdoor activities and events including free dance classes, movie nights, basketball and fishing clinics, story times and much more.
Young Dancemakers Company Performance | Downtown Brooklyn | 7/23
Young Dancemakers Company – a performing ensemble of NYC teens – presents a free concert of their unique, original choreography based on meaningful personal and social themes. They will perform their latest works and an excerpt of Ann Reinking's Ritmo y Ruido, set by artists from the renowned Latino dance organization Ballet Hispánico. The one-hour concert will be followed by lively dance-making with the audience, led by the company. Friday, July 23 from 5 to 8 pm at The Plaza at 300 Ashland.
Funky Friday – Beach Party featuring Soul in the Horn | Downtown Brooklyn | 7/23
At July's Funky Friday, enjoy a tropical escape on the Plaza at 300 Ashland from 5 to 8 pm. Lounge in our beach chairs and eat ice cream, then dance and sweat your heart out with global phenomenon dance party, Soul in the Horn, led by "The 45 Queen," DJ Natasha Diggs.
Journey to the Stars Stargazing Sessions | Pier 3 | 7/23 & 7/30
Come out and see the stars, planets, and the moon from Brooklyn Bridge Park! Gaze across the New York sky and all the wonders it holds. On select Friday nights starting in June through August, members of the Amateur Astronomers Association of New York will set up hi-powered telescopes for stargazing sessions that are free and open to the public. Weather permitting. July 23 and 30 from 8 to 10 pm at Pier 3, walk up only.
Family Fitness | Pier 6 | 7/25
Family Fitness at the Liberty Lawn at Pier 6 every 4th Sunday from 12 to 12.45 pm , next one 7/25. Advanced registration is required. Registration opens every Tuesday at 10 am for fitness classes the following week. Find out more here.
Kids Dance Classes | Ashland Plaza | Saturdays
'Studio in the Park' dance classes are open to the public and will be held for participants of all ages. These workshops involve body conditioning, exercising, calisthenics, body alignment, and the joy and celebration of movement. Each week, classes will have a different theme and give participants a greater overall experience of different dance styles. Adult classes will be held from 12:00 PM to 2:30 PM with youth classes following from 2:30 PM until 4:00 PM. Pre-registration is not required for the classes. The program will be offered every Saturday until October and will be held at 300 Ashland Plaza in Brooklyn.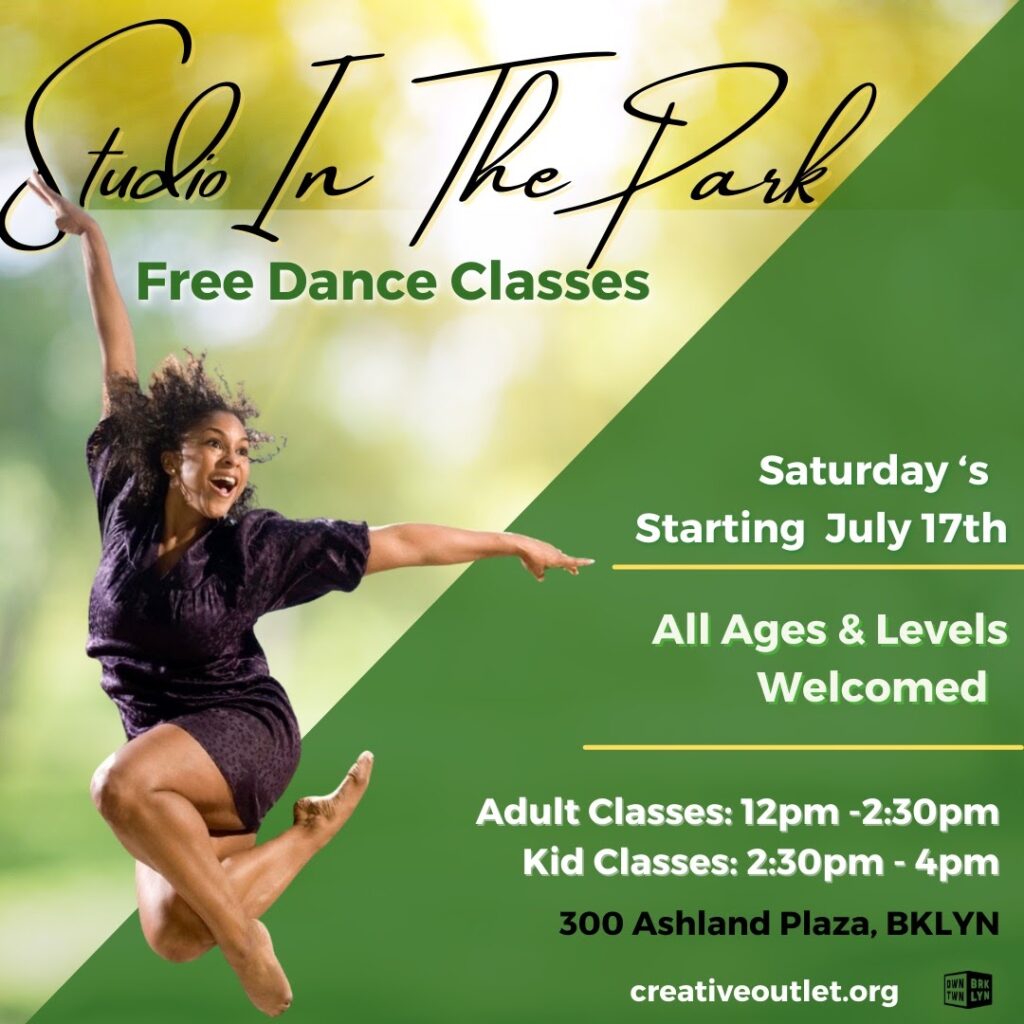 Outdoor storytime | Brooklyn Bridge Park | 7/28
Librarians from the Brooklyn Heights and Annex branches will be reading stories they love to share! To find out more about Summer Reading 2021 at Brooklyn Public Library click here. The only thing more fun than a good storytime is one with a view of the Brooklyn Bridge. Recommended for ages 2 to 7.This event takes place in-person every other Wednesday until July 28 and will switch off between the Pier 3 Greenway Terrace and John Street Lawn locations of the Park. Advance registration is required. A limited number of spaces are available.
Fishing clinic | Pier 5 | 8/1
Fishing clinics are designed to introduce the public to the ecology and life of the East River, in order to foster conservation and environmental stewardship of our waterways. Sunday August 1st from 4 am to 7 pm in Brooklyn Bridge Park. Register here.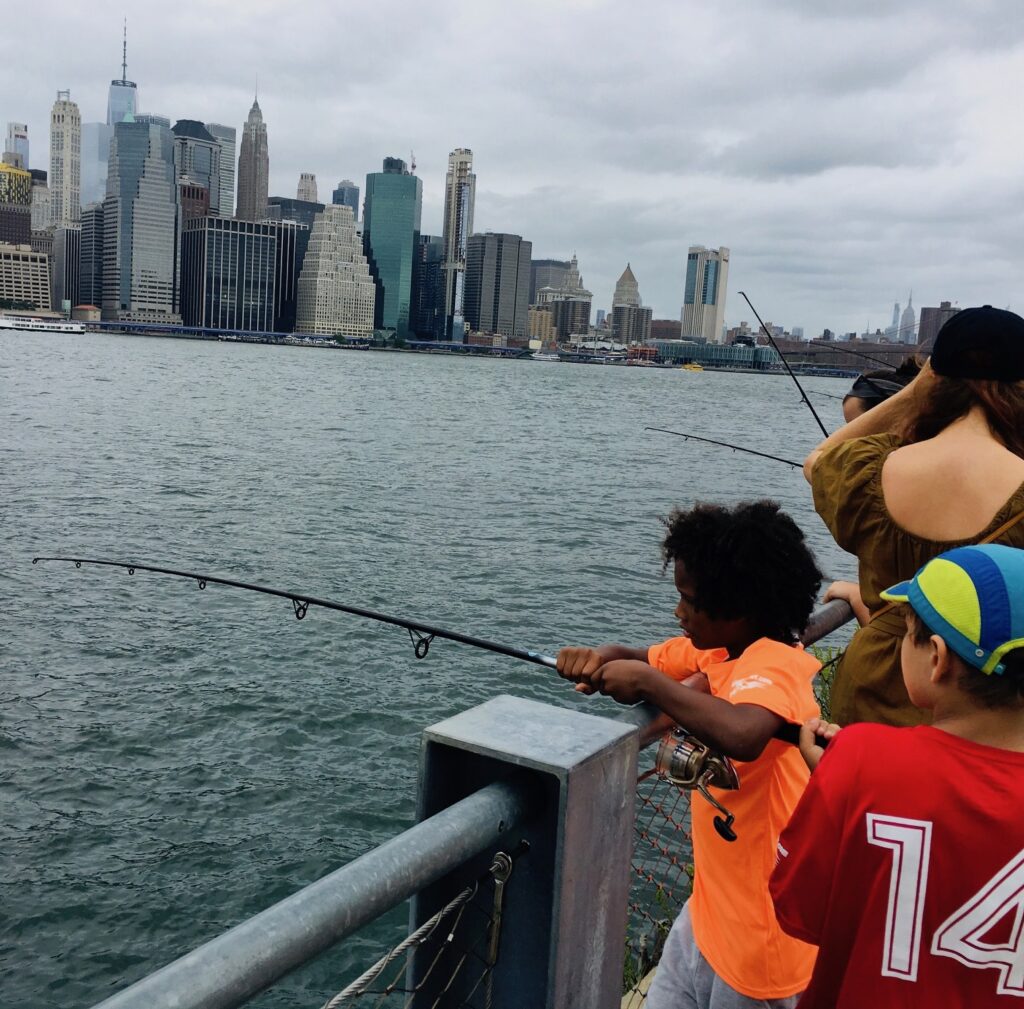 Outdoor Movie Nights | Various neighborhoods | July / August
Free movie nights in Brooklyn Bridge Park, Fort Greene and Clinton Hill showing kid-friendly movies including Coco and Karate Kid. Details here.
Hindu Lamp Ceremony | Pebble Beach DUMBO | 8/7
Dance artist and educator Aeilushi Mistry will bring peace and harmony to the community as she performs the traditional Hindu Aarti ceremony at Brooklyn Bridge Park's Pebble Beach on August 7 from 4:00pm-7:30pm. The community will decorate palm leaf lamps and release them along the East River to make prayers and pay respects to loved ones. Guest artists will also present their work at this event. Walk up only.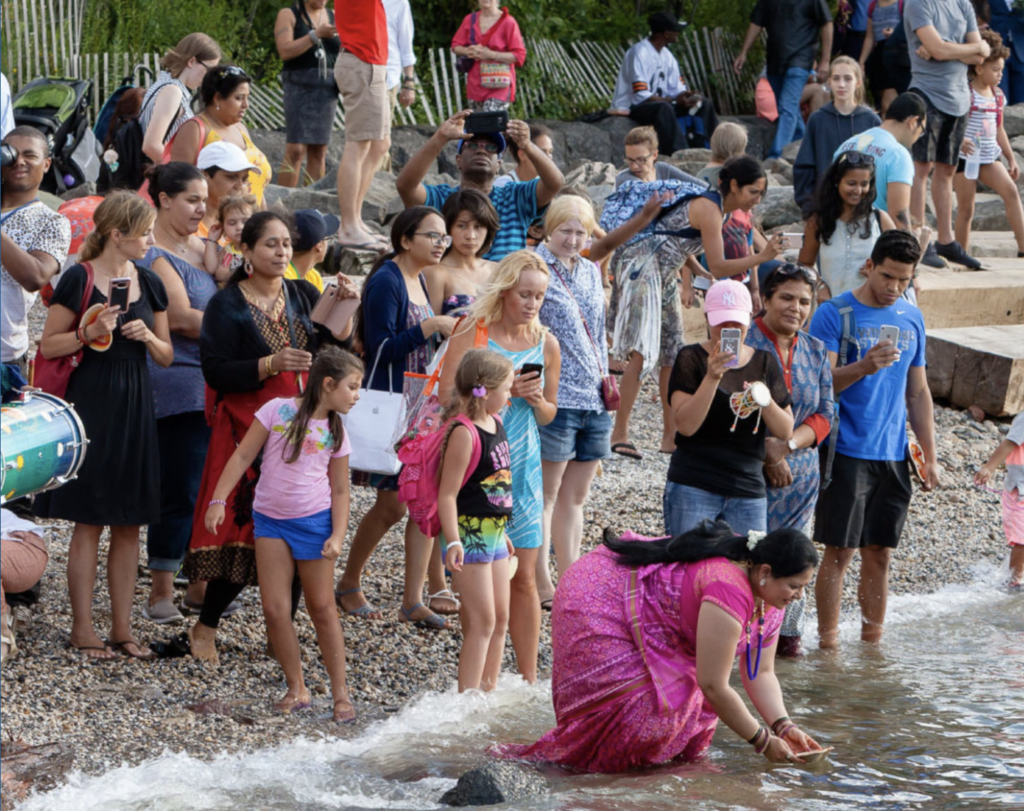 Game Night | DUMBO Archway | Mondays
Mondays game night: Enjoy corn hole, giant Jenga, giant Connect Four and more from 5 to 8 pm. No need to RSVP, just stop by.
Basketball clinics | Pier 2 | Tuesdays
The Conservancy's Youth Basketball Clinics start Tuesday, June 8! In partnership with KING Hoops, NYC's premier youth basketball organization, join them for 2-hr basketball clinics featuring drills and games. Recommended for ages 7-17. Every Tuesday from 5 to 7 pm until August 31. Register here.
Summer Serendipity | Brooklyn Commons | Tuesdays
On Tuesdays in July from 12 to 2 pm, dancers, circus artists, musicians and mimes perform pop-up vignettes for the lunchtime crowd at Brooklyn Commons Park (former MetroTech Commons).
Capoeira Class | Albee Square | Tuesdays
Local martial arts studio Motumbaxé will make Albee Square the home of the Afro-Brazilian martial art form, capoeira. Combining self-defense, acrobatics, dance, music and song, the art form is derived from traditions brought across the Atlantic Ocean by enslaved Africans and fueled by the desire for freedom. Taught by Mestre Lampréia, the class will build confidence, focus, and community. All levels and kids welcome! Tuesdays in July from 6.30 to 7.30 pm.
Kids activity & DJ | DUMBO Archway | Thursdays
The DUMBO BID is hosting free kids activities with story time, kids concerts, arts & crafts on Thursdays at 5 pm in the Archway under the Manhattan Bridge. DJ until 8 pm. All summer long until the end of August – rain or shine.
Live Music | DUMBO Archway | Fridays
Fridays Live at the Archway: Live music every Friday from 5 to 8 pm.
Kayaking | Red Hook & Brooklyn Bridge Park | Wednesdays, Thursdays, Saturdays and Sundays
You can take the kids kayaking in Red Hook and Brooklyn Bridge Park this summer – for free. All details here.
Swimming in NYC public pools | Daily weather permitting
NYC outdoor pools are back open and free to the public. Pool hours are from 11 a.m. through 7 p.m. daily, with a break for pool cleaning between 3 and 4 p.m. Outdoor pools are open from June 26 through September 12, 2021. FInd out more here.
Playgrounds with sprinklers | Daily weather permitting
Our list of water sprinklers in the neighborhood that are open weather permitting above 80 degrees throughout summer. Enjoy the water fun!
Photo: Brooklyn Bridge Park / Etienne Frossard