Our annual overview of free Halloween events for the whole family in Brooklyn Heights, DUMBO, Downtown Brooklyn, Fort Greene, Park Slope and BoCoCa. The Halloween Guide 2017 is powered by Building Bridges – Leading preschool for ages 2 to 5 at Cadman Plaza – and Basis Independent Brooklyn – Preschool to Grade 12 private school in Red Hook.
Harvest Hang @ Brooklyn Navy Yard 10/21: Brooklyn Navy Yard is hosting its annual Harvest Hang! Come and explore an awesome corn maze and build scarecrows with ConstructionKids! Make a clay Halloween Mask with Navy Yard-based artist Noel Copeland. Pick your very own pumpkin in the pumpkin patch, or discover the Navy Yard through our Yard Inspectors tour with Turnstile Tours. Event will take place on Saturday, 10/21 from 11 am to 3 pm. RSVP here.
Harvest Festival @ Brooklyn Bridge Park 10/28: Haunted marsh, pumpkin patch, arts and crafts, face painting, music, and games await at this year's Harvest Festival! Event will take place on Saturday October 28th from 11 am to 2 pm at Pier 6.
Halloween Festival @ Fort Greene Park 10/28: The annual Halloween Festival will run from 12 to 3 p.m. and features rides, face-painting, Halloween crafts, games, giveaways, live music from Astrograss, a pumpkin patch, temporary tattoos and more! Saturday, October 28  from  
Halloween Parade @ Pierrepont Playground 10/28: Back sale and playground fun to follow the parade on Saturday, October 28th at 10 am at the Pierrepont playground in Brooklyn Heights.
Children's Halloween celebration @ Carroll Park 10/28: Instead of a parade through the streets, they are keeping it local this year, with a gathering on the ballfield.  There will be music, activities and refreshments.  Saturday, October 28th from 12 to 2 pm at Carroll Park.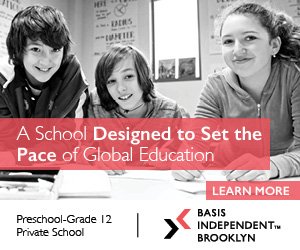 Halloween events @ Prospect Park Saturday 10/28:
Halloween Haunted Walk + Fair @ Nethermead, 12–3 pm
Deep in the Park lies Lookout Hill, the highest point in Prospect Park and home of the Prospect Park Alliance's Annual Halloween Haunted Walk. Ghouls and goblins lurk behind the trees, ready to provide a silly scare! An adult should accompany young children. After some chills and thrills at the Haunted Walk, enjoy more Halloween fun at their fair. Rain or shine.
Creepy Crawly Halloween @ Prospect Park Audubon Center, 12–5 pm
Take a second look at the creatures that give you the creeps, you may find you like them! Participate in fun activities and experiments that will make your spine tingle! Programs will run from 12–4 pm.
BKLYN BOO! @ City Point & Albee Square, Downtown Brooklyn 10/28: The Halloween hoots and howls appear at City Point, located at 445 Albee Square West with live DJs, a costume contest, trick or treats, a pumpkin patch, wicked nail art and fun for all ages. The event will take place on Saturday 10/28 from 2 to 5 pm.
Halloween Parade @ Thomas Greene Playground 10/28: Best costume award, pumpkin painting and more at Thomas Greene playground in Gowanus on Saturday, 10/28 from 2 to 4 pm.
Fall Fest @ Flatbush Avenue 10/21 & 10/28: Car-free street party with bounce house, pumpkin decorating, face painting, puppetry story time and more on Saturday 10/21 and 10/28 from 12 to 4 pm.
Halloween Bash @ DUMBO 10/28: Automatic Studios is hosting its first annual Halloween Bash! Join them for a Haunted House, Crafts, Music, and Games. Suggested donation of $5. Portion of the Proceeds will go to Puerto Rico Relief Fund. Event will take place on Saturday, 10/28 from 5pm to 8pm at Automatic Studios on Bridge Street in DUMBO.
Halloween Contest and Mini-Parade @ Park Slope 10/29: Families with young kids flock to this mini-parade at the park, led by a live band. JJ Byrne Playground at the Old Stone House, Third Street and Fifth Avenue, Park Slope on Sunday 10/29 from 3 to 5 pm.
Court Street Spectacular @ Atlantic Ave to Joralemon Street 10/29: Court Street Spectacular Street Fair between Atlantic Ave and Joralemon Street on Sunday, October 29th from 11 am to 6 pm. Shopping, food and rides…
Halloween Fun Fest @ Putnam Triangle 10/29: Celebrate the season with free face painting, arts & crafts, puppets, a stilt walker, treats, music and more on Sunday, October 29th from 11 am to 3 pm at Putnam Triangle (intersection of Fulton Street and Grand Avenue).
Cobble Hill Halloween Parade @ Cobble Hill Park 10/31: The crowd gathers on Tuesday, October 31st at 4 pm at the Clinton Street entrance to Cobble Hill Park and then winds its way through the park down Congress, onto Henry past the Cobble Hill Health Center and up Warren to Clinton Street. Afterward, families trick-or-treat among the Clinton Street row houses and the businesses on nearby Court Street.
Garden Place Trick-or-Treating @ Brooklyn Heights 10/31: Kids start trick-or-treating around 4 pm on Tuesday, October 31st on Garden Place in Brooklyn Heights. The gathering runs all afternoon until dawn when everybody runs out of candy.
Halloween Parade @ Park Slope 10/31: Annual Park Slope Civic Council Halloween Parade on Tuesday, October 31 kicking off from 14th Street and 7th Avenue at 6:30 pm. The parade will head north on 7th Avenue, turn left on 3rd Street and end in J.J. Byrne Playground at the Old Stone House. Also, hit the Old Stone House for activities throughout the afternoon.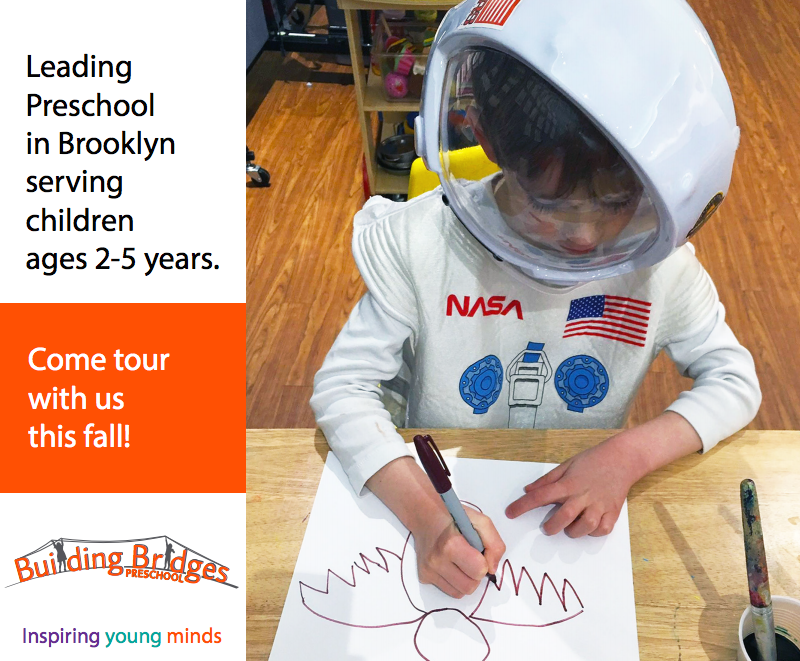 BAMBoo Halloween Celebration @ BAM 10/31: BAM's annual free outdoor Halloween celebration features treats, carnival games, a bounce house, costume contest and more. Peter Jay Sharp Building at 30 Lafayette Avenue on Tuesday, October 31st from 4 to 7 pm.
Halloween 313 @ Clinton Hill 10/31: What began as a partnership with the Society for Clinton Hill to make a safe trick-or-treat event for neighborhood kids, has grown into an elaborate live show for thousands of visitors, performed on the front lawn every Halloween night. This year's show is bubbling on the back cauldron. It features zombies, monsters, and voodoo… Shows run approximately every 30 minutes from 5:00 – 9:00 pm on Tuesday, 10/31 at 313 Clinton Avenue.
DUMBOWEEN @ DUMBO 10/31:  Annual March to the Arch and Trick-or-Treating in DUMBO on Tuesday, 10/31 followed by crafts, live music and candy in the Archway!
4:30 pm: Annual March to the Arch meet at Brooklyn Roasting Company
Story of the Jack-O-Lantern, then parade with live music through DUMBO's streets en route to the Archway under the Manhattan Bridge.
5 – 7 pm: Archway Kids party in the Archway Under The Manhattan Bridge
Brass + puppets performance the Funkrust Brass Band. 

Hands-on arts & crafts with Creatively WILD Art Studio. Photobooth

and lots and lots of candy!
4-7 pm: Trick-or-Treating DUMBO neighborhood wide! Grab your pumpkin bucket: the DUMBO BID sponsors storefront trick-or-treating for the little ones from 4-7pm. 40+ businesses will be giving out candy to costumed DUMBOnians. Look for the pumpkin sign in the window of participating businesses.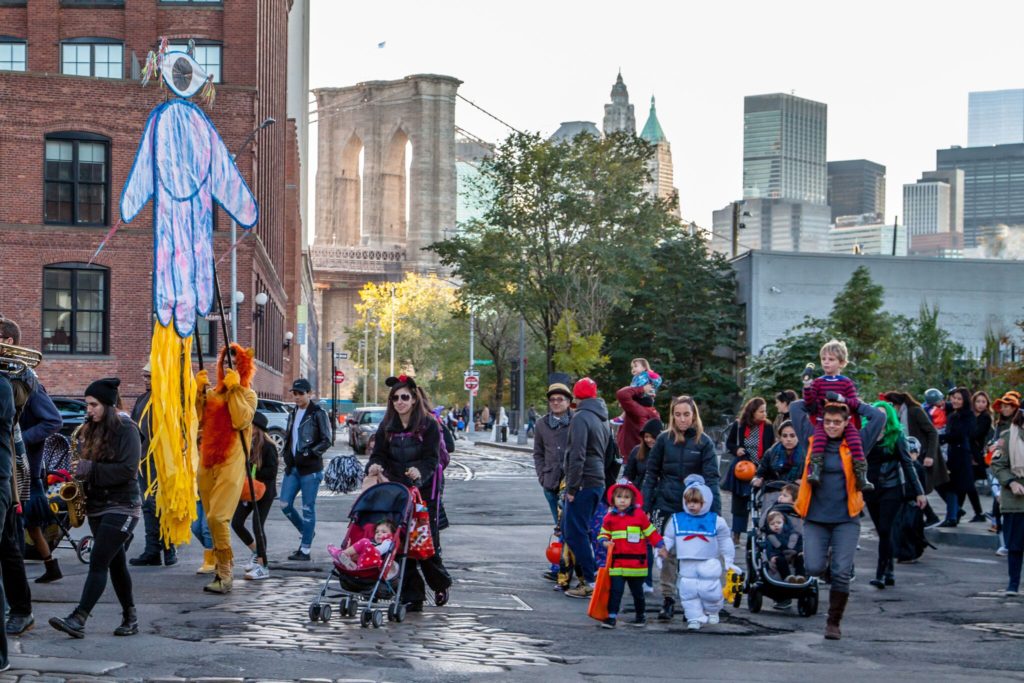 Do you want all Brooklyn parenting news in your inbox? Sign-up for our bi-weekly newsletter now!