The 11th annual Brooklyn Folk Festival at St. Ann's Church in Brooklyn Heights will take place from Friday, April 5th to Sunday, April 7th, 2019. Children age 5 and under get in free, children age 6-12 are 1/2 price. Tickets here. Kid-centric highlights below: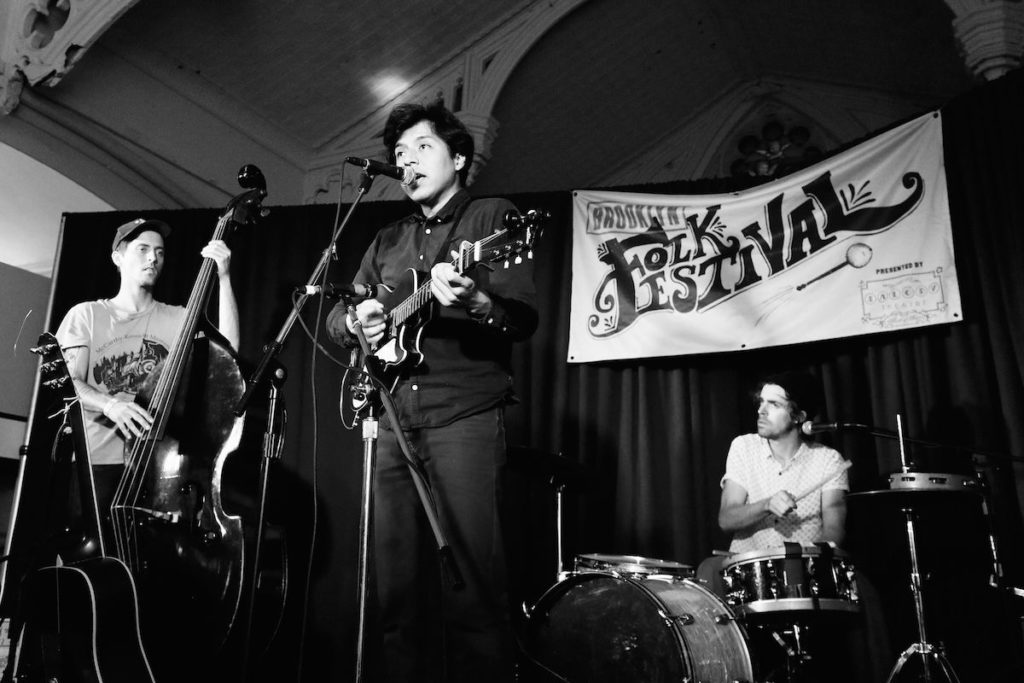 Friday, April 5th
8:00pm Radical Puppet Show! – Good for burgeoning teen activists and music fans with later bedtimes, follow your kids' (and likely your own) first time hearing vocal music from Sardinia on the main stage, with a puppet show from The Boxcutter Collective in the workshop room! If you want to extend the Friday night political + music education party, stay on for La Cumbiamba NY, playing Gaitas y Tambores from Colombia on the main stage, or rockin' R&B from New Orleans with Jackson and the Janks on the Parish Stage. Then call a cab and plan for a Saturday sleep-in!
Saturday, April 6th
12:00pm Dan Zanes & Claudia Eliaza – Sing from "The House Party Songbook": An All-Ages Performance Featuring Songs From Their Family Roots Music Treasury (Main Stage)
1:00pm "Playing (with) Trash" – Come spend an hour making your own musical instrument! We'll use everyday found objects and simple tools. No experience necessary, great for kids and adults! –  with Zeke Leonard (Workshop room)
2:30pm Square Dance!! with John Harrod, featuring a flatfoot dance performance by the City Stompers! (Parish Hall Stage)
3:20pm Little Nora Brown – Banjo songs, ballads and tunes from a 13-year-old inspiration to young and aspiring musicians! (Main Stage)
Sunday April 7th
12:00pm to 1:00pm – The Gowanus Dredgers Flapjack Breakfast! Stop by the boathouse for some flapjacks and learn about what's happening in Gowanus. This is also an opportunity to consume a few extra calories in preparation for the Folk Festival's 10th annual Banjo Toss in the canal occurring immediately afterwards at the shoreline.  (Offsite – 165 2nd St, Brooklyn, NY 11231)
1:00pm – The Banjo Toss! Pancake stuffed kids can watch their parents engage in foolhardy feats of strength (teens may also want to give it a go!), often with a live impromptu band playing for moral support! (Offsite – 165 2nd St, Brooklyn, NY 11231)
2:00pm Pete Seeger 100th Birthday Children's Concert! Lead by Emily Eagan and Chris Q. Murphy and presented by Smithsonian Folkways Recordings. (Main Stage) Pete Seeger invented the modern idea of music, especially folk music, specially geared towards children and singing together.  Help us celebrate his 100th birthday and sing his beautiful children's songs together with Emily and Chris.
2:45pm Flatfooting Dance workshop with Megan Downes of City Stompers 
(Parish Stage)
5:15pm Jalopy Jr. Folk Stringband and Jr. Folk Intermediate Ensemble Performance (Parish Stage) 
6:00pm How to Make a Pierogi with Polka Dot Cafe of Greenpoint (Parish Hall)