Meet Jonathan Arthur Ashley, illustrator and children's book author, who lives with his family in Dumbo and can be seen at Brooklyn Roasting with his Ipad Pro drawing superheroes and such.
Job title: Author/illustrator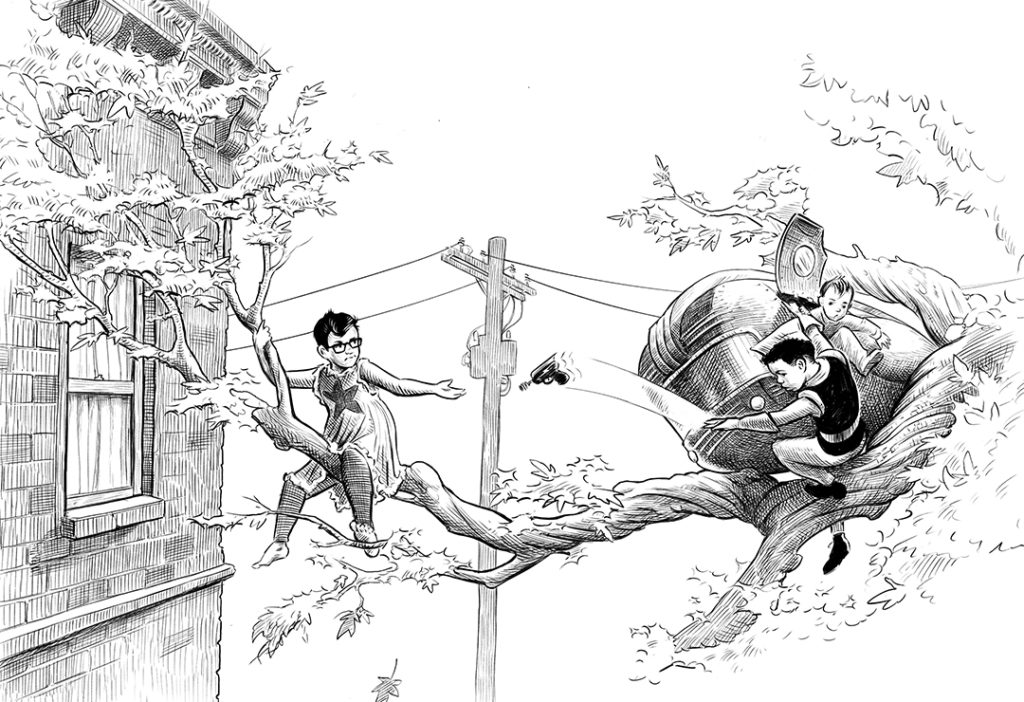 Your work in one sentence: I'm a writer and artist making stories for kids (and those who think like them).
Your child/children: My daughter Dorothy is two.
What street do you live on? Plymouth Street
What do you like to do with your daughter in DUMBO? Dorothy and I sit on the rocks by the East River, and wait for the ferry boats to make big waves that splash up onto us.
What do you love about DUMBO? It's like living in Disneyland, with rides rumbling overhead, cobblestones under your feet, bands playing outside, carts selling hot food, spectacular scenery in every direction, and the occasional parade.
What needs improvement in DUMBO? I'd like a couple more casual bars in the neighborhood.
More information about your book: Lily & Kosmo in Outer Outer Space is an illustrated novel for 7-10 year olds, from Simon & Schuster.  It's about Lily Lupino, a little Brooklyn girl in the 1940s, who loves science fiction stories on the radio.  One night a boy astronaut (or "Spacetronaut") named Kosmo Kidd crash lands his wind-up rocket ship in Lily's kitchen.  Kosmo whisks Lily away to his floating treehouse in Outer Outer Space, to join his Spacetronaut crew.  Lily and Kosmo share many adventures, exploring exotic alien worlds and facing fearsome villains, as Lily proves that a girl from Brooklyn can hold her own among the galaxy's greatest junior space cadets.  I worked hard to give the book a timeless quality, with black and white illustrations, in the hopes that it would seem right at home on a shelf next to Charlotte's Web, Peter Pan, Charlie and the Chocolate Factory, and other classics that inspired me as a kid.