The annual English Language Arts and Math State Test results for students in Grades 3 to 8  in public schools are out! Percentages are the numbers of students who met or exceeded expectations on the state assessments at each school. In 2022, reading proficiency among students in grades 3 to 8 ticked up 1.6% and math scores plunged 7.6%. This year, 10.2% of students opted out of either the ELA or Math test. In 2020 no exams were administered and in 2021 only 20% of students participated, hence these two years have not been listed in our overview.
In ELA, from 2019 to 2022, the percent proficient increased by 1.6 percentage points from 47.4% to 49.0% in New York City. In Math, the percent proficient decreased by 7.6 percentage points from 45.6% to 37.9% in New York City. Similar to national trends, the move to remote learning in 2019-20 and 2020-21 seems to have had a negative effect on results overall and to have had a bigger impact on math than on reading.  For Math in NYC, declines happened for every grade. In ELA, grades 3-5 saw a decline while grades 6-8 saw the increase, implying that those students who were still learning to read in grades 1-3 during the pandemic struggled more.
Here is our overview of test results of public schools as well as Charter schools in Brooklyn Heights, DUMBO, Downtown Brooklyn, BoCoCa, Clinton Hill, Prospect Heights and Fort Greene.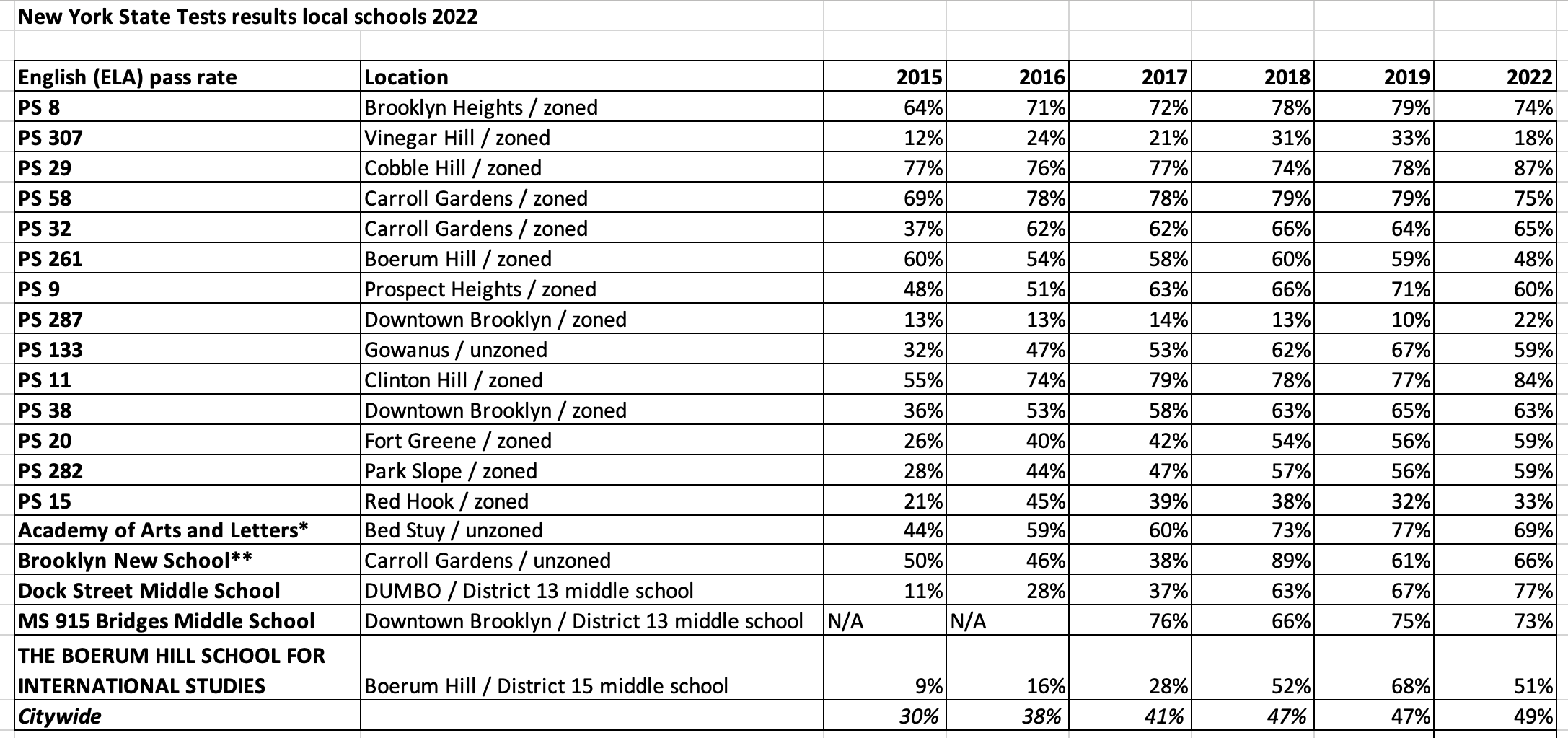 No overall charter school data has been published yet until the state releases it later this fall. Find out more here and look up additional schools here.
Public talk about elementary school 10/24
In this info session for families considering Pre-K and Kindergarten in private, public and Charter schools in our neighborhood we cover everything you need to know about local zoned schools, un-zoned schools, Charter and private school options, application details and deadlines, waitlists, free universal Pre-K options, languages and dual language programs, Gifted and Talented programs and more. Info sessions are 2 hours long and include digital copies of our Preschool and Charter School Guides. Our next public talk is planned for Monday, October 24, 2022 in person in DUMBO, tickets here.