Our annual overview of indoor activities in Brooklyn is out with drop-in indoor activities including play spaces, story times, weaving, adventure parks, gaming, mini golf and more for all ages from babies to teens.
Brooklearn – Carroll Gardens: One of the few real indoor play spaces for young kids left in Brooklyn, Brooklearn on Court Street features climbing wall, foam pits, trampoline, arts station and more for ages 0 to 5. Open play hourly rate is $25 and daily drop-in classes are $30. RSVP here.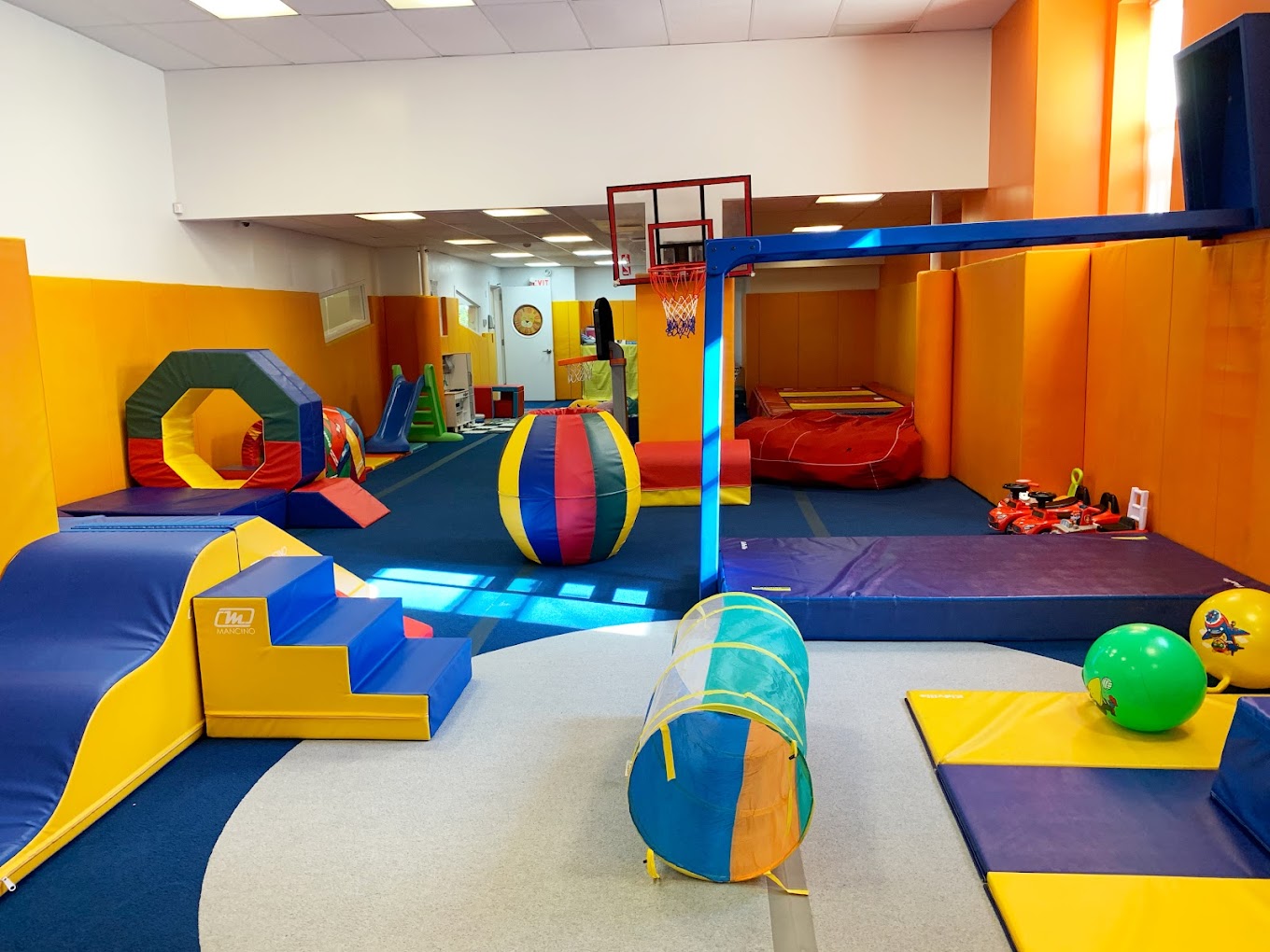 Environmental Education Center – Brooklyn Bridge Park: The center offers multiple interactive elements and a reading corner. It contains two signature exhibits: a marine aquarium and a Discovery Station. The 500-gallon display aquarium showcases fish collected from the East River during the Conservancy's popular seining programs. The aquarium also contain a child-friendly touch tank where visitors can gently interact with starfish, crabs and mussels. Best for ages 2 to 7. The center inside the 99 Plymouth building in DUMBO is open to the public on Saturdays and Sundays 1 to 5 pm as well as Tuesdays and Thursdays 3 to 5 pm. Free!
Barnes & Noble story time – Cobble Hill: Free story time every Saturday at 11 am at the new Barnes & Noble on Atlantic Avenue in Cobble Hill best for ages 3 to 8.
Jane's Carousel – DUMBO: Stop by for a ride on the beautiful horses Thursday to Sunday 11 am to 5.50 pm. Each ride costs $2.00. Details here.
Transit Museum – Downtown Brooklyn: For children 2 years and older, the highlights of the museum are the buses which they can sit inside – and act as the bus driver- as well as the many vintage subway cars to check out. The museum is housed in an historic subway station on Schermerhorn Street, right between Court Street and Boerum Place. No elevator and no cell phone reception. Admission: Adults: $10, children 2 – 17 years: $5. Thursday – Sunday, 10am to 4pm.
Brooklyn Public Libraries – Brooklyn Heights, DUMBO and other neighborhoods: All branches offer free programming for children as young as babies up to teens including weekly Babies & Books readings, Teen Tech Time, chess clubs, family story times and more. Check weekly programming of Brooklyn Heights library here and DUMBO library here. Note: The library in Brooklyn Heights is open on Sundays from 1 to 5 pm.
Ferox Athletics – Greenpoint: Time to unleash your inner Ninja! Come over for a 2 hour open play session to run wild and free! Explore our amazing obstacle courses (NBC's American Ninja Warrior contestants approved!), twist'n'twirl, jump and flip on our gigantic trampolines, make it all the way to the top (we dare you!) at the rock climbing, and move it fast at the parkour zone! All ages, kids under 5yo must be accompanied by a  parent / guardian. Cost: $30 during the week // $37 on the weekend for 2 hours Schedule: 2pm – 10pm Mon-Fri, 10am – 10pm – Sat, 10am – 8 pm Sun (Schedule is subject to change for federal holidays). Find out more here.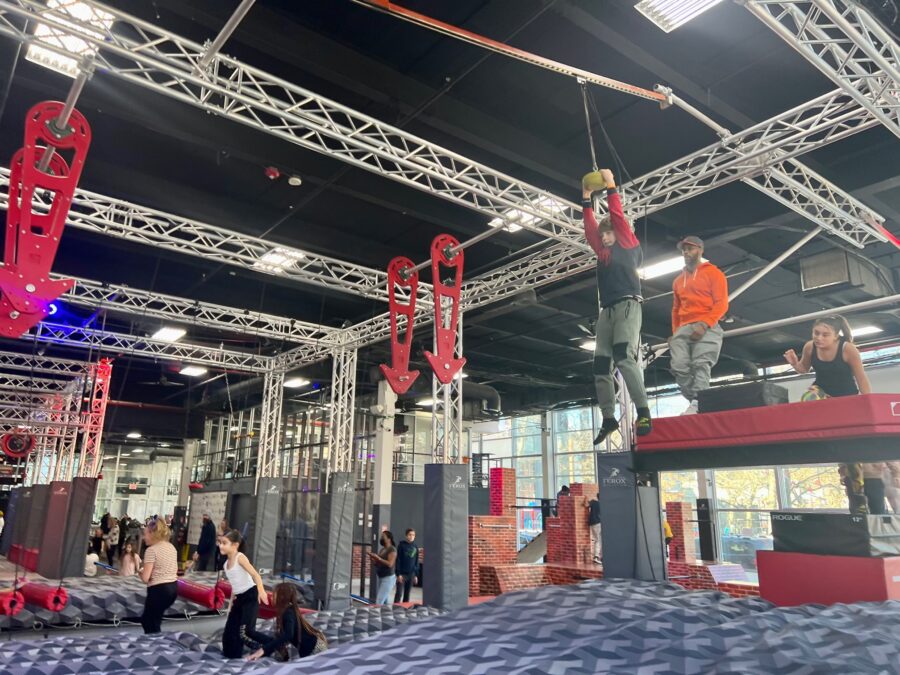 Families First – Cobble Hill: Families First is open for unstructured play for infants and toddlers all day long! Membership is $75/month for unlimited play during open hours (M-Th 9-4 and Friday 9-1). Our light-filled playspace has vehicles to ride on or push, play kitchens, dress-up, dollhouses, instruments, dolls, Megabloks, and so much more! Families First's Friday 10AM storytime is free and open to the public. Drop-in music, STEM, story time and yoga are available for members ages 0-4.  More details here.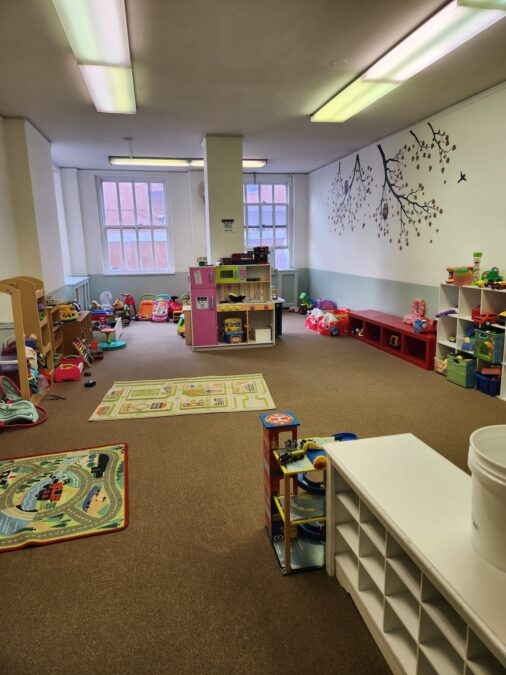 NYC Aquarium – Coney Island: Visit the NYC Aquarium in Coney Island and check out their new exhibitions. The Aquarium is open seven days a week from 10 am to 4.30 pm. Children 3 years and up $26, adults $30. All details here.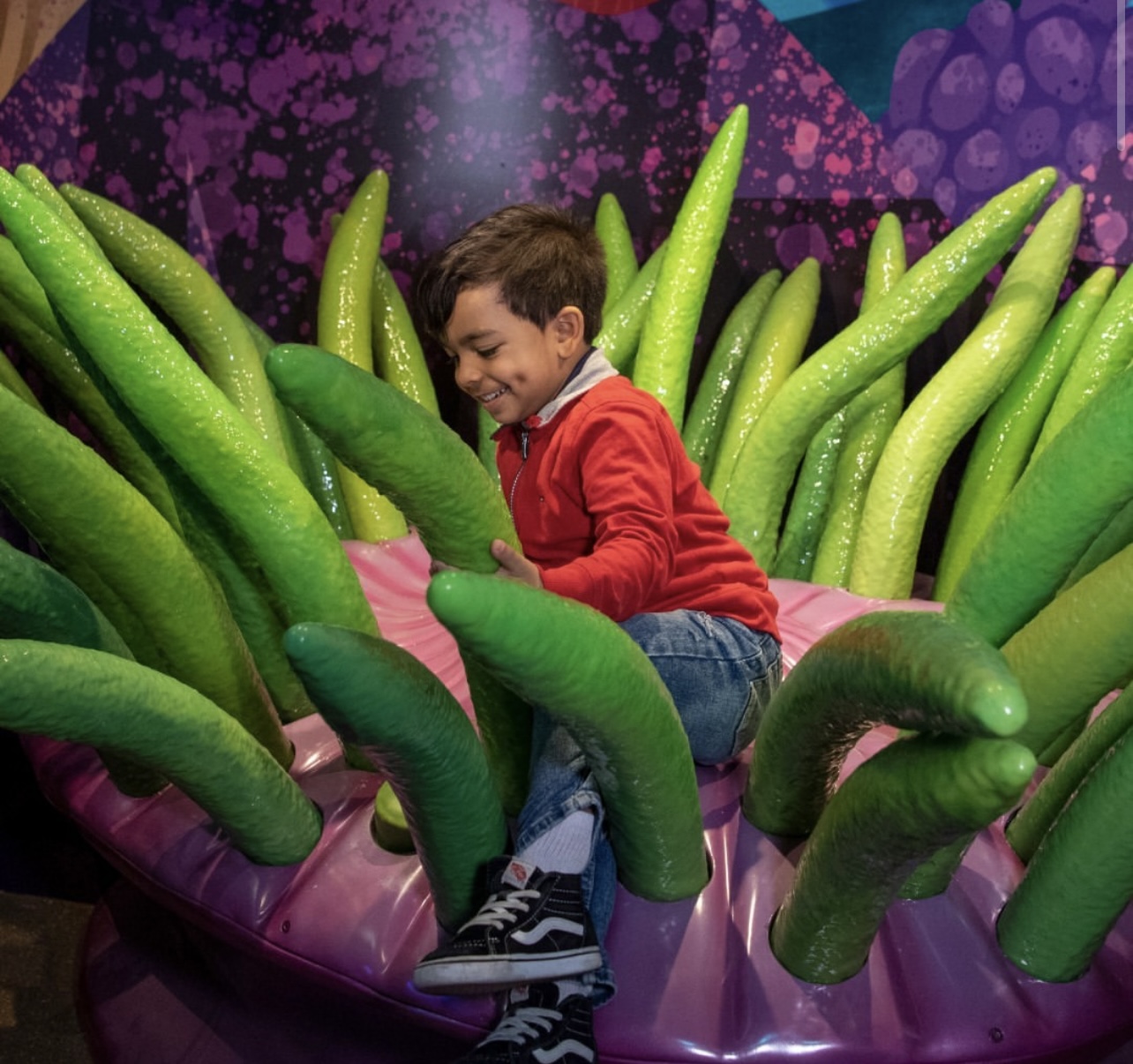 Brooklyn Children's Museum – Crown Heights: The museum offers different programming, exhibits and movie showings in their new movie theater. The museum is open Wednesday to Sunday from 10 am to 5 pm, tickets are $13. The new exhibition Sound Field invites children and caregivers to become the improvisers of never-before-heard music using never-before-seen instruments. Explore a super-sized swinging pendulum, a pipe organ that can be played with mallets, and springs of different sizes that trigger a range of unexpected sounds. Get your tickets here.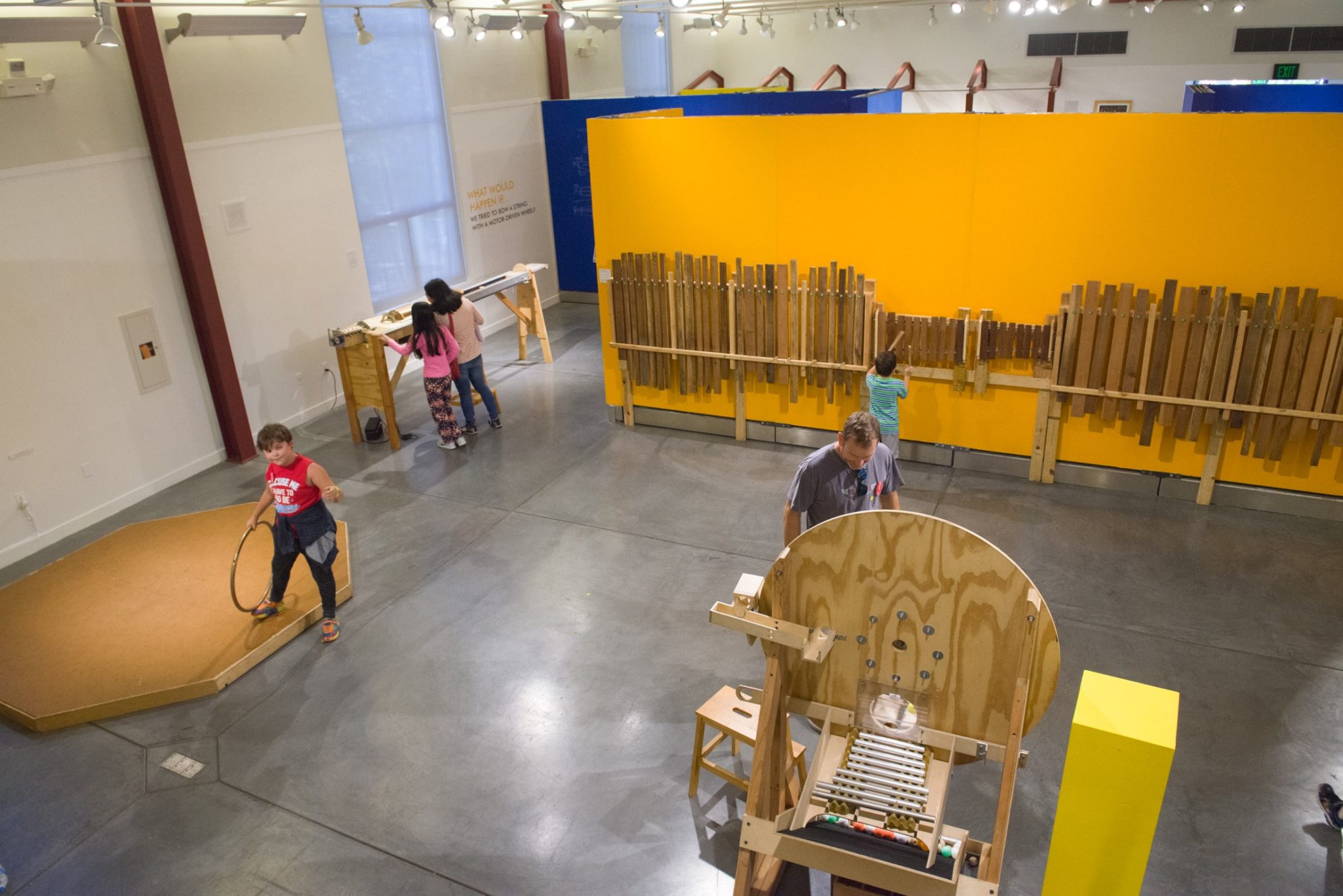 Brooklyn Strategist Walking in Plays & Pokemon Sundays – Cobble Hill:  Walk-in play for $10 per person for up to four hours of play. The staff at Brooklyn Strategist can teach your family some new games from the library of over 500 titles. Children 11 and older are welcome to play independently with friends in a supervised environment. Find out more here. Pokemon Sundays for beginners and advanced players are $10/$15 per walk in class. More details here.
Cooking Classes and Art & Craft for Kids – DUMBO: Conveniently located at 110 York Street in DUMBO, right across the F train, Speakitaly offers a broad variety of drop-in classes starting at $30 both for Kids only and Mommy & Me Classes. We welcome children as young as 2 years old. Check our offer for children here or email us for more details at brooklyn@speakitalynyc.com
Lola & Tots playspace – Clinton Hill: Lola & Tots is a cultural education center redefining work-life balance with a new way to work and play that benefits the entire family. Offering membership-based childcare with co-working benefits, enrichment programming, open play, event space and more. They offer open play drop-in for ages 0 to 9 on Mondays, Thursdays and Fridays from 9 am to 4 pm and Tuesdays and Wednesdays from 9 am to 3 pm. Find out more here.
Storytime – McNally Jackson City Point – Downtown Brooklyn: McNally Jackson bookstore is hosting free story times upstairs in their children's section Tuesdays and Wednesdays at 4 pm for ages 4 to 8. No RSVP required, just show up.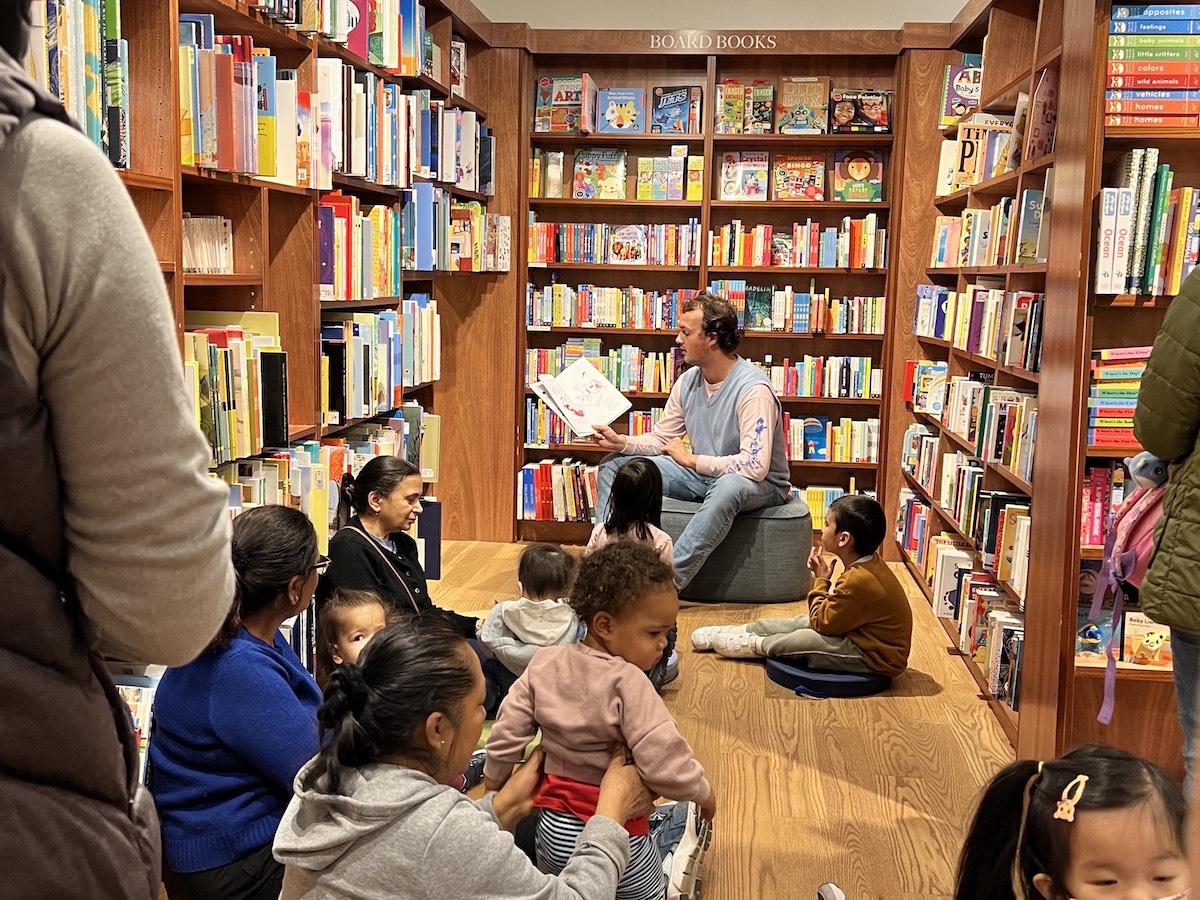 Weaving – DUMBO: Loop of the Loom's weaving studio at 197 Plymouth Street in DUMBO offers 2 hour drop-off classes at $65 for kids and $75 for grown-ups. Children as young as 6 years old can enjoyably weave in the studio. Sessions are available Tuesday to Sunday 11am – 6pm by appointment (closed on Mondays). Also, we are happy to take a private booking for birthday activities, family reunions, school trips, and play dates upon request.Book a class online here.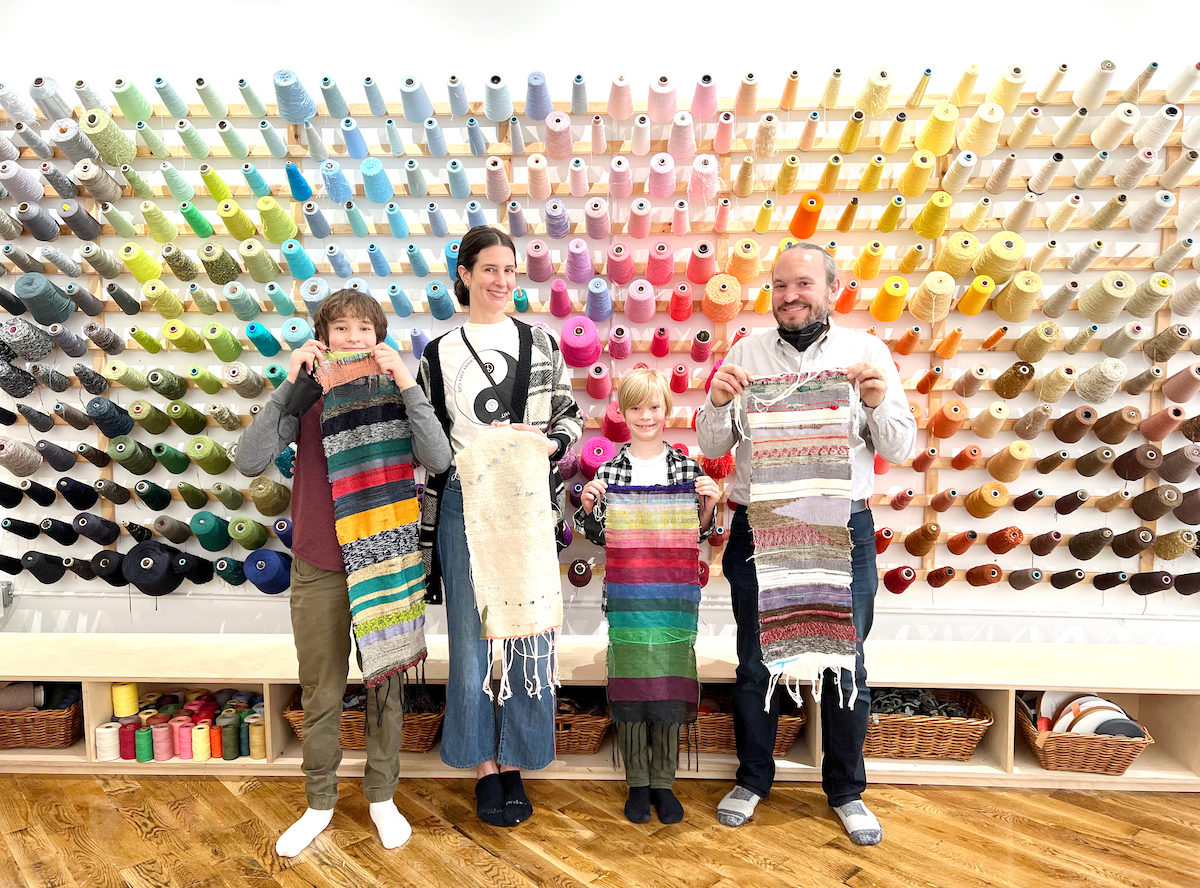 Laser Tag – DUMBO: Area 53 laser tag is located in a dual-level basement at 53 Bridge Street in DUMBO, ideal for ages 8 years and up. Open Monday to Sunday, tickets are $39 during the week and $49 on weekends per person for non-private laser tag games. Each ticket allows for 3 laser tag games, each around 15 minutes. Find out more here.
Camp City Point – Downtown Brooklyn: Cosmic CAMP: A Space Adventure is the current play exhibition at the Camp store for kids. "Incoming message from Ground Control: Your mission is to answer the call of Cosmic Camp, an out-of-this-world play space that takes you on an adventure through interactive games, physical challenges, and crazy cosmic-themed locations". $11 – $15 per child for Cosmic Camp. Or just get a $40 craft pass for your child and choose any 2 crafts from the menu – Slime, Beaded Jewelry, Paint Your Own Wooden Toy or Ceramics. Open Monday to Saturday 10 am to 6 pm during school breaks and otherwise on weekends. Find out more here.
Randolph Beer – DUMBO Heights: Spacious beer hall with lots of old arcade games, foosball and other games, some of them free, some of them for $1 per game. The gastro pub allows children until 6 pm Monday to Friday and Sundays are family day. Best for kids 7 and up. Find out more here.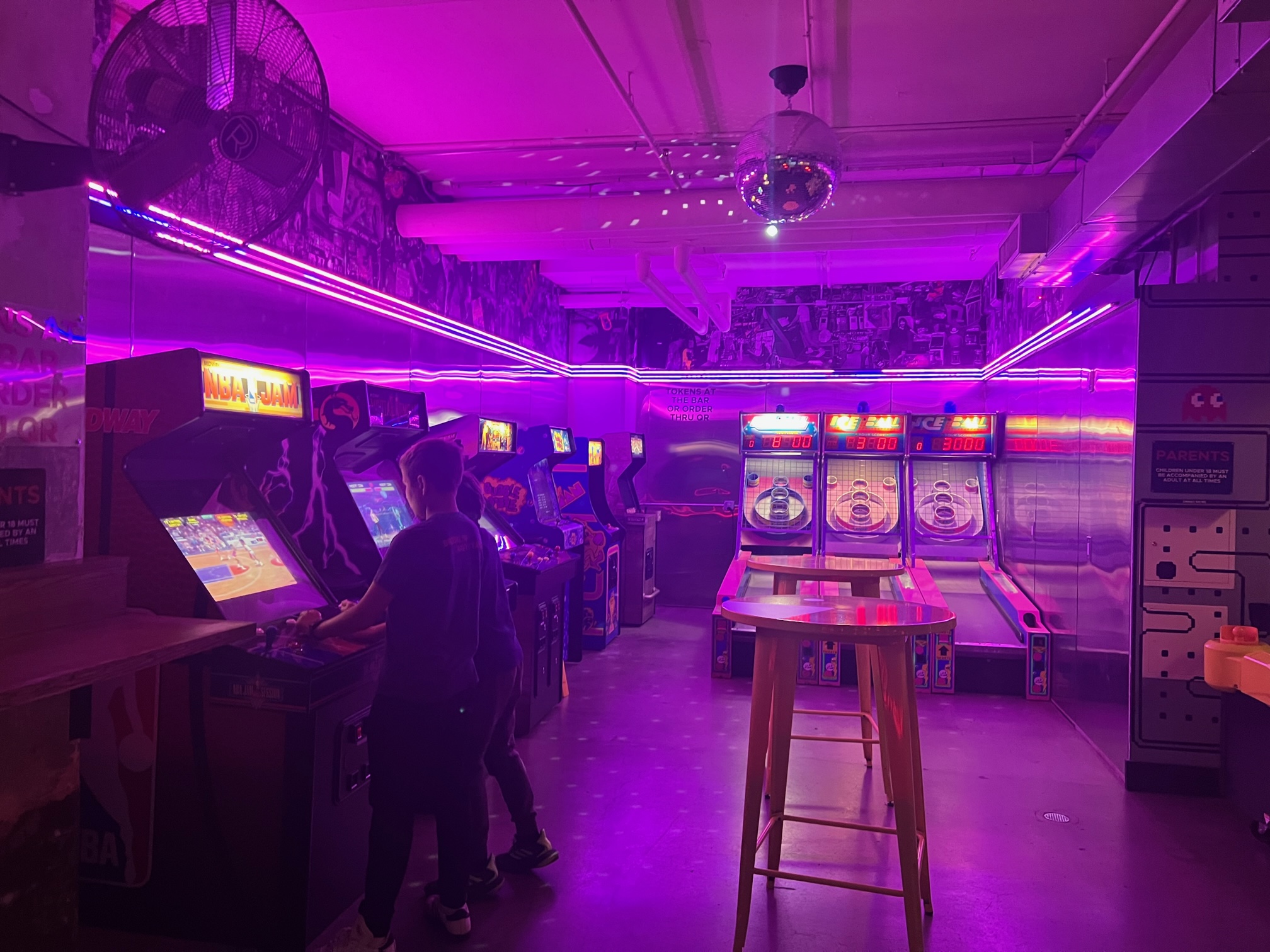 Trampoline & Adventure Park Urban Air – Sunset Park: Brooklyn's newest trampoline and adventure park has opened up in Sunset Park. From battle beams, to dodge ball, tumble track, slam dunk zone, to tubes playground and trampolines they have you covered at Urban Air Adventure Park. Open play tickets range from $24 to $54 per day (unlimited entry). They also host birthday parties and special events.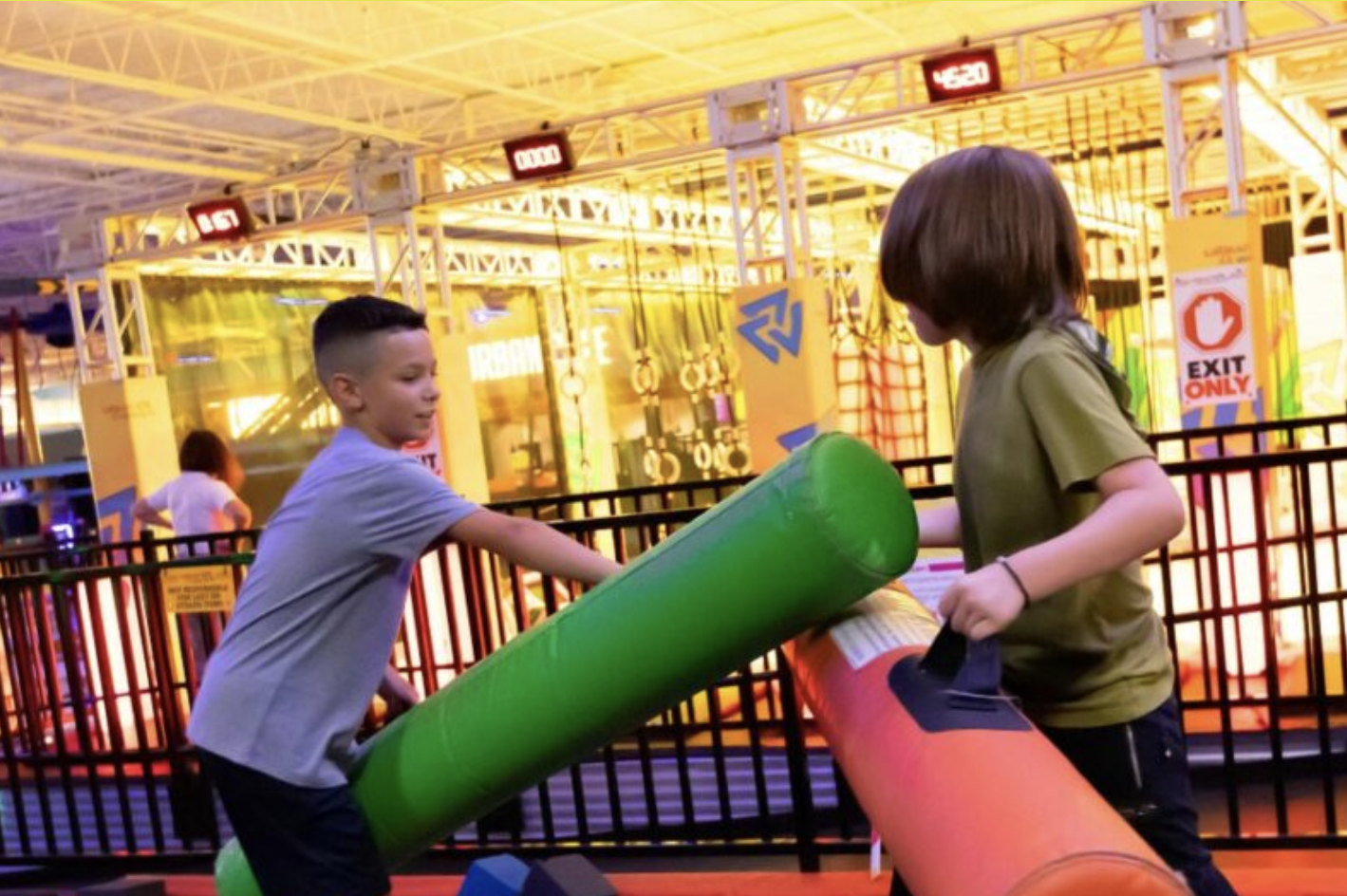 Playwell – Gowanus: "To provide our community with a safe, creative and fun, interactive movement based social play facility that feels more like a natural playspace than a busy metropolitan city storefront. We offer open play as well as group classes for kids of all ages and their families." Drop in play ranges from $39 – $55 per session. They will also offer story time, art and music class drop-ins for ages 0 – 6. Find out more here.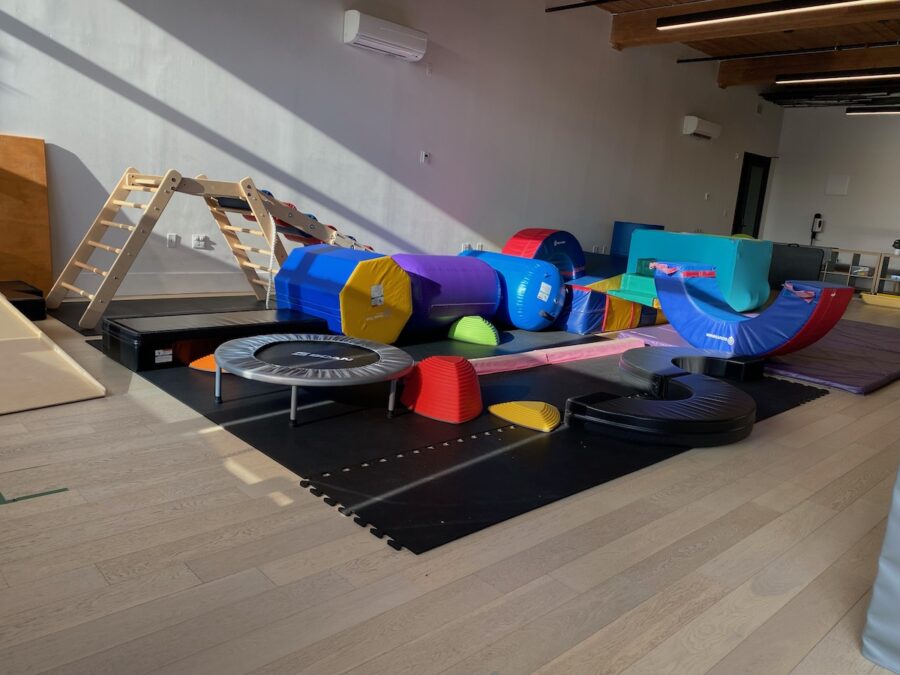 Climbing – Gowanus: Access to the Cliffs climbing gym on 3 floors, fitness areas, and locker rooms for the day for $32. Rental Add-ons $6 Climbing Shoes, $5 Harness, $3 Chalk Bag. Best for kids 6 and up, however parents have to be on site and clip the kids in before climbing.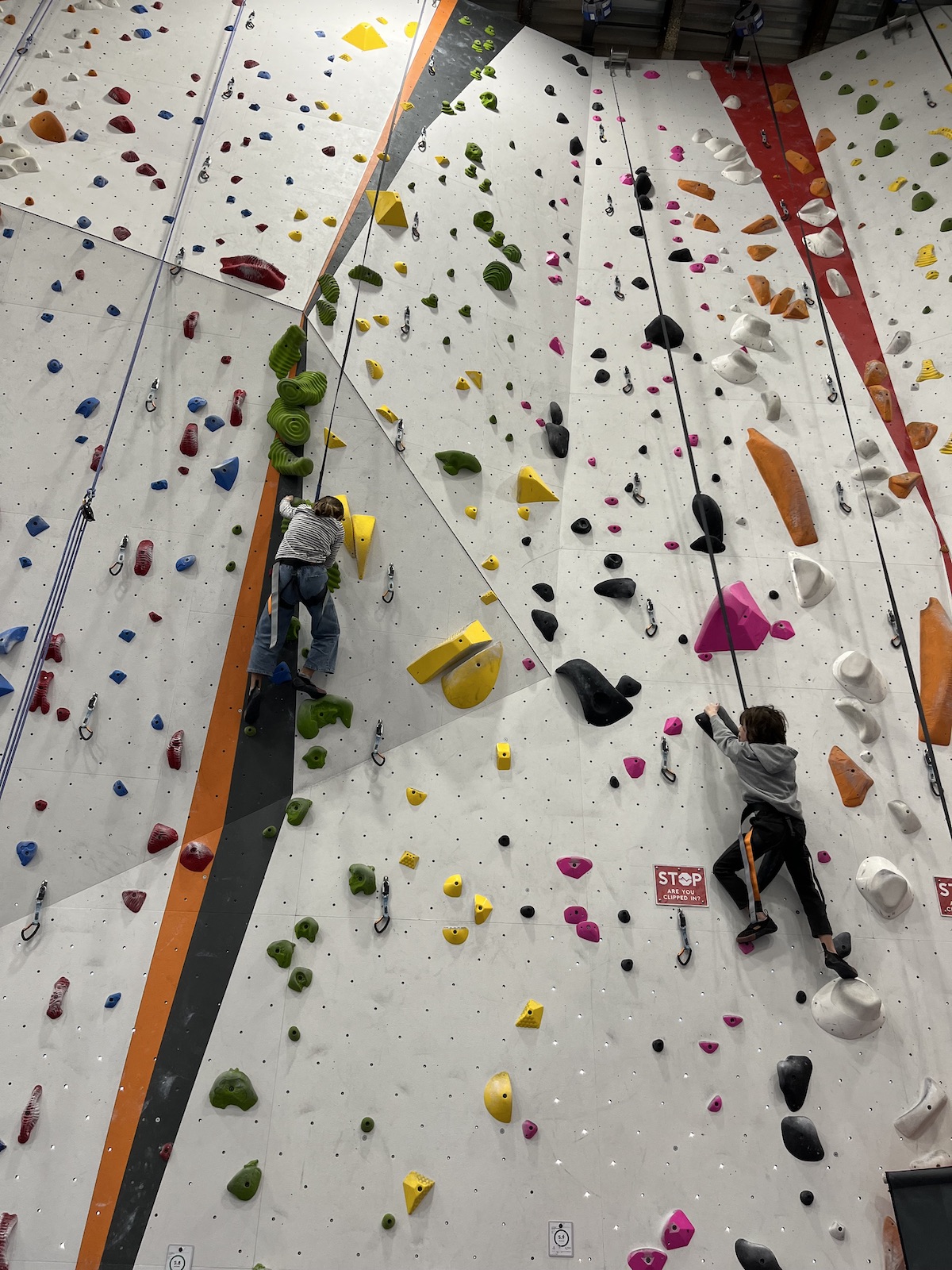 Indoor mini golf – Red Hook: Indoor miniature golf, arcade games and immersive mini escape rooms at Shipwrecked in Red Hook. The mini golf course is $17 – $22 per person, escape room is $35 and up per person and the arcade games are pay per game with rechargeable game cards.
Joy Gymnastics Open Play – Industry City: Open Joy is our open play time for children aged 1-6 years old. Currently held on select weekend mornings and afternoons. Open Joy is unstructured play lead by guardians. Coaches are not available to supervise children during session. Single session pass $20 per child. Find out more here.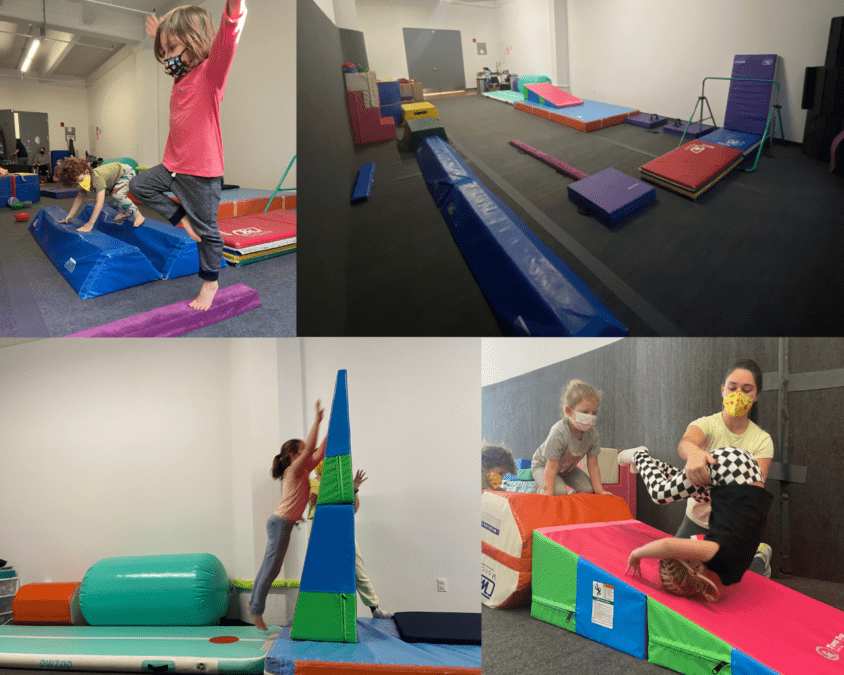 Main Photo: Randolph Beer in DUMBO Heights