An exclusive overview of local facilities that host birthday parties for children from 1 to 17 years. We have listed party spots in Brooklyn Heights, DUMBO, Downtown Brooklyn, Gowanus, Park Slope and Carroll Gardens for robot, art, pottery, magic, soccer, dance, laser tag fans and more.
Court 16 @ Downtown Brooklyn
We offer tennis birthday parties for students of all ages. During the party, the assigned coach will provide some instruction while incorporating fun, fast paced tennis games that all the students can enjoy with any level of experience.

Includes: Our parties include the court space, racket rentals and staffing. For other services included, it depends on the type of party. Please contact us for more information.Ages: 5-13

Cost: The cost for 10 kids at a Court 16 Brooklyn birthday party is $920 and then it is $40 for each additional child.

Location: 445 Albee Square W. Suite 4-500, Brooklyn
Contact: Website | hello@court16.com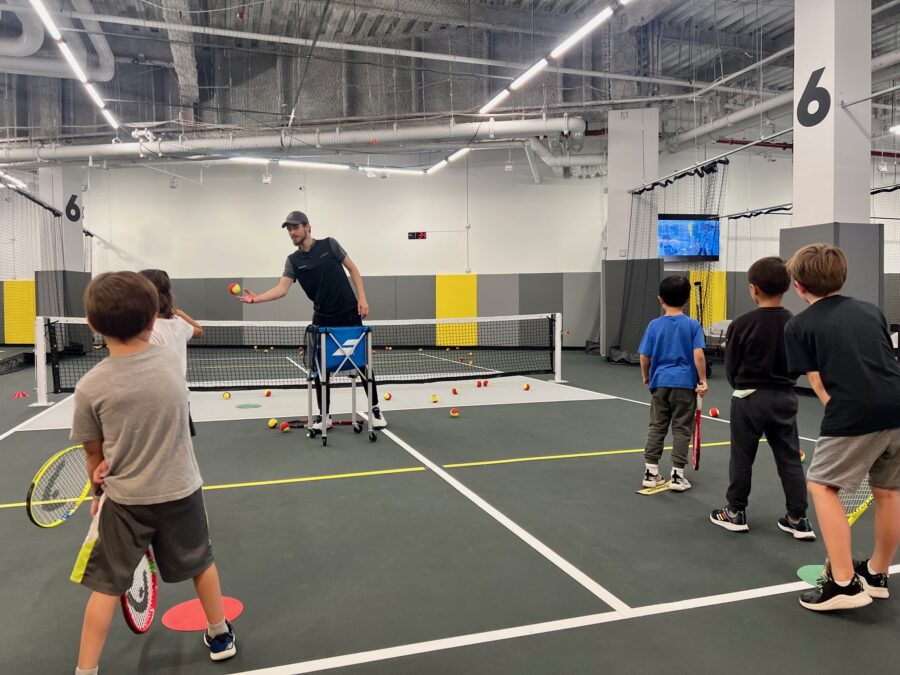 Ferox @ Greenpoint
Ready to throw the most unique birthday party in NYC? There is nothing like a Ninja Warrior Party at Ferox- where all your guests get to be a Ninja Warrior for the day! A host will greet you and assist with set-up in a private party room. You will have 2 hours of "open play"  session with access to the entire facility with trained staff onsite. There's rock climbing, a trampoline & flip zone, ninja obstacle course, and so much more for you and your guests to explore!
What's Included:
Free Admission for the birthday kid!

Kids / Adults Ninja Section

Trampolines

Rock climbing

Grip socks (1 Per Player)

Harnesses for Rock Climbing
Ages: Any (kinds under 5yo must be accompanied by a  parent / guardian)
Costs: Starts at $710 for 20 people 
Brooklearn @ 380 Court St Carroll Gardens
With four distinct birthday packages to choose from ranging from our most basic Space Rental to our extravagant Super-Duper Supreme party package Brooklearn has your child's special day covered! Join us for open-ended fun in our playroom, pizza and cake in our designated party room and a whole lot of good time with friends!
What's included: 2 hours exclusive use of our playroom including trampoline, uneven bars, obstacle courses, and age appropriate toys!  Access to WiFi and bluetooth speakers to blast your party playlist, set up and clean up, access to refrigerator and freezer, chosen add-ons (bounce house, face paint, extra time, etc).
Costs: Rent my Space $500, Super Party $700, Super Duper Party $1,000, and Super Duper Supreme Party $1,300 
Ages: 1-7 years
Contact: www.brooklearnbrooklyn.com | info@brooklearnbrooklyn.com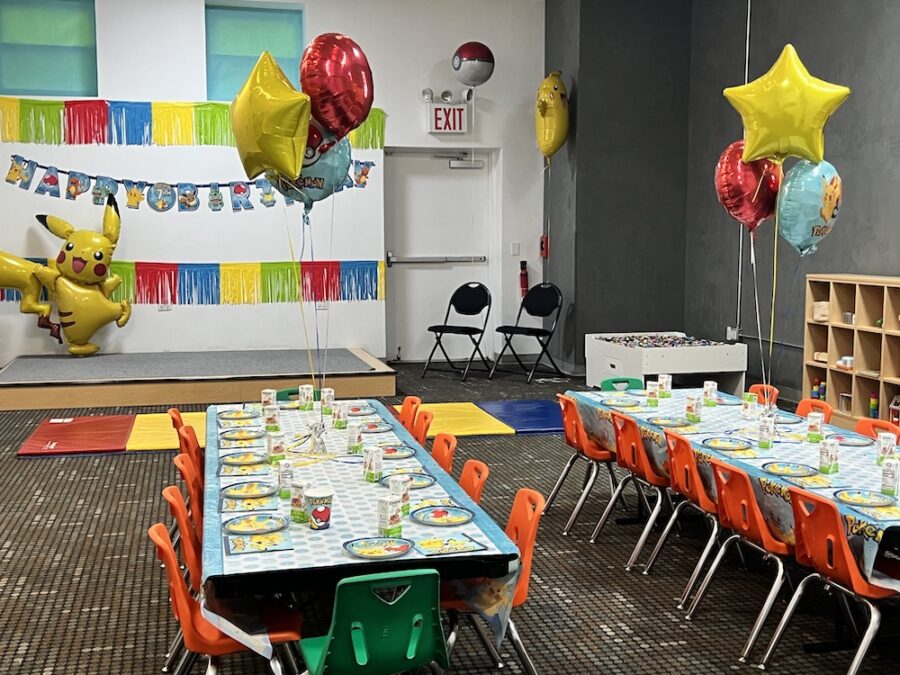 Brooklyn Strategist @ 333 Court Street in Carroll Gardens
Have a birthday? Of course you do! Celebrate at The Brooklyn Strategist with board games. We will teach and facilitate game play. We can even take care of the cake. While general board game parties are the most popular option we can also do parties themed around particular games like Dungeons & Dragons, Magic the Gathering, or chess – plus many more. Please email info@thebrooklynstrategist.com for more information.
Includes: Our parties include table space and staffing, other services included depending on your type of party please contact for more information.
Ages: 5 to Adult
Costs: Party options vary and range from $260 and up. Please contact for detailed pricing for your party needs.
Location: 333 Court St, Brooklyn, NY 11231
Contact: Website | info@thebrooklynstrategist.com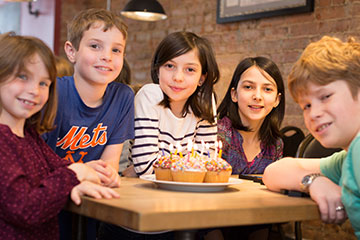 Brooklyn Magic Shop @ Smith Street in Carroll Gardens
Brooklyn Magic Shop is a magical place for children and adults alike. A place where anything and everything is possible through the power of the imagination. Cards, and wands, and tricks, oh my! Host a magical celebration filled with wonder. Complete with a custom age appropriate private Magic Show, in a beautifully lit parlor style magic theatre. Learn a magic trick, make magic slime, enjoy magic inspired cupcakes, amazing balloon creations, and more! The possibilities are truly endless when you enter the doors of Brooklyn Magic Shop.
Includes: Magic Theatre – Custom age appropriate private Magic Show in a parlor style magic theatre. Comfortably sits 20 chair seats; or 15 children seated on floor mats in front of stage and 15 chairs. A 30 minute show or a 1 hour show is available dependent on age. Front Space – Large cart for displaying cupcakes & party favors, 2 (4ft) tables for a maximum of 12 children, chairs, smooth kraft paper table covers with crayons, chalk wall access with water based non toxic chalk, front window seating, beautiful lighting. Add-ons – Magic Trick Lesson, Magic Slime, Balloon Creations with Birthday Crown, Magic Themed Cupcakes, Polaroids.
Ages: All Ages
Costs: Shows and Reservations range from $450 to $575, and add-ons range from $5 to $35. Please contact for detailed pricing and descriptions. Celebrations can be customized to meet your needs.
Contact: Owners/Magician Daniel & Diana at info@brooklynmagicshop.com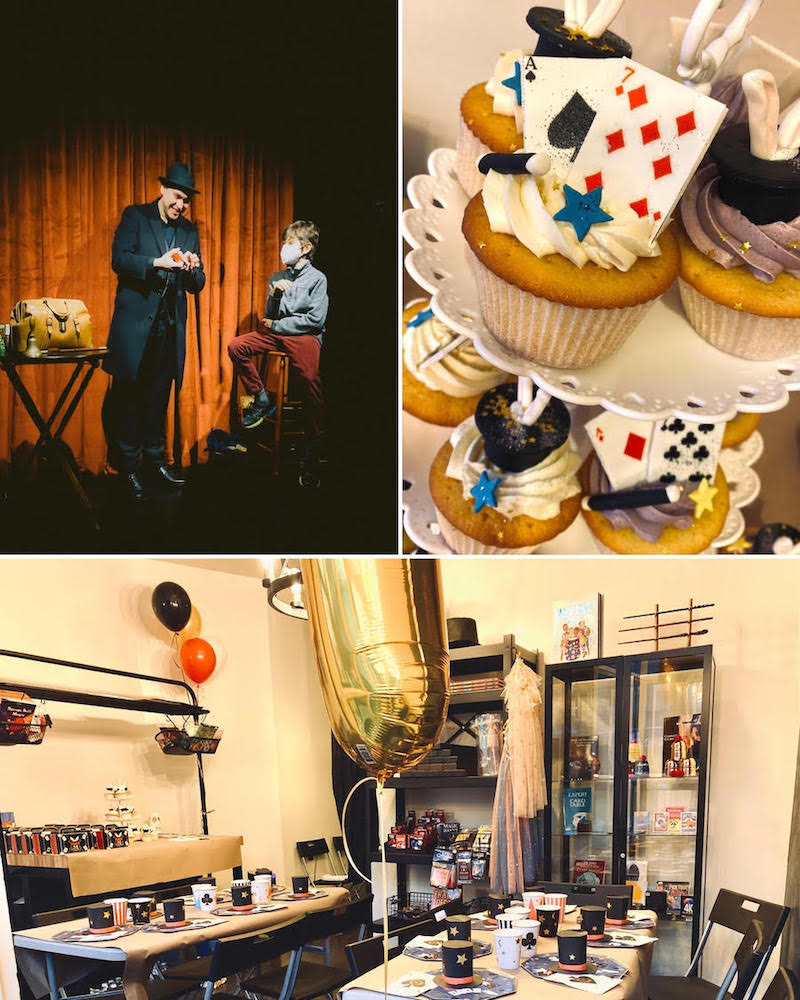 Playday @ Cobble Hill and Park Slope
PLAYDAY will work with parents to customize a creative, imaginative, and exciting birthday party for their little ones and guests. Children will experience two hours of dynamic fun with three chosen art activities, food and cake provided by the family, and free creative playtime. At the end of the celebration, children get to take home their masterpieces as party favors
What's Included: 2 Hours Exclusive Use of Plays, 3 Customized Creative Activities, Standard Art Supplies, Access to WiFi and Sonos, All Clean Up and Disposal, Access to Refrigerator and Freezer, Chosen Add-Ons
What You Bring: Food, Beverages (Alcohol Allowed), Cutlery, Napkins, Plates, Cups, Ice, Cake, Candles 
Costs: $950-$1,150
Contact: info@playdaycobblehill.com  Website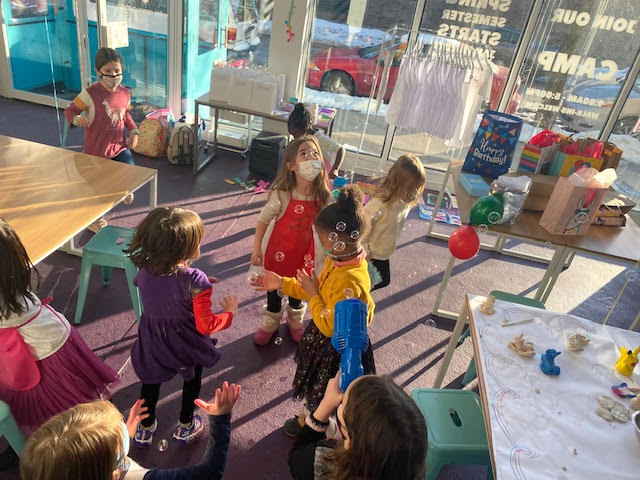 Loop of the Loom @ Plymouth Street in DUMBO
Weaving parties are a great way to share and make memories with others. Handmade creations make their party celebration extra special and unique!
Includes: Instructor and weaving material, no food allowed in the center
Ages: 6 years and up
Costs: $70 per person for 2 hours
Contact: More info here!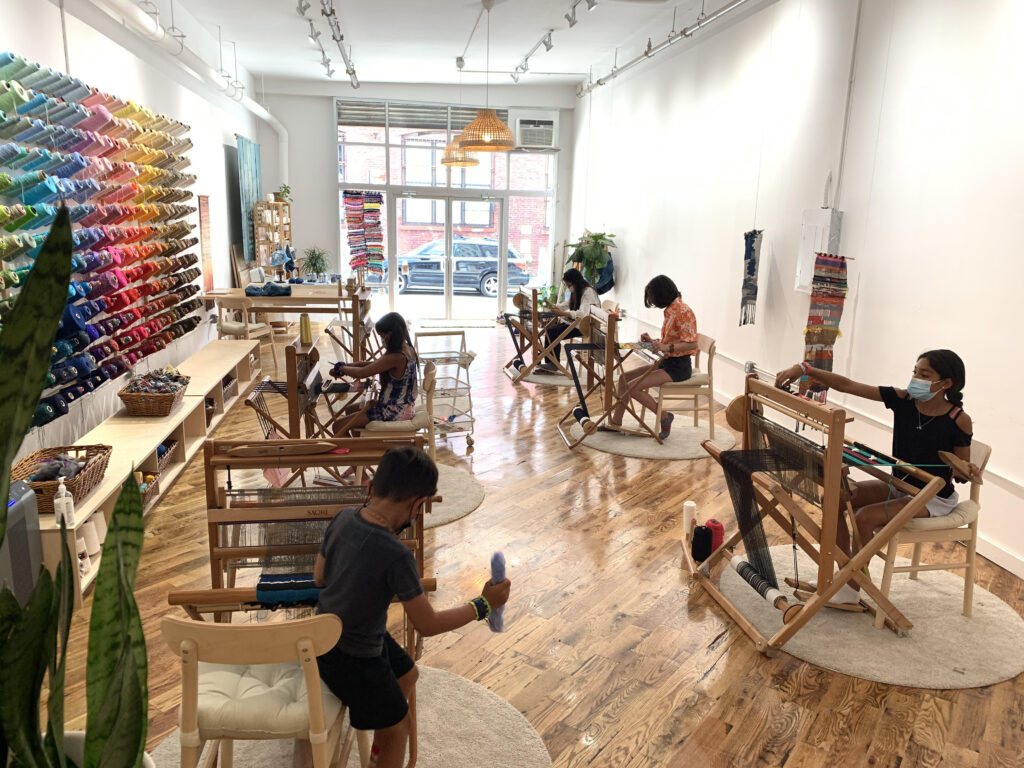 Area 53 @ 53 Bridge Street in DUMBO
Area 53 offers laser tag games, parties and events. There is no minimum age, but as the guns weigh around 4 pounds they suggest kids should be over 6 years old. You can play in groups of minimum 6 to 8 players and up to 18 players. The games are 1.5 hours that consist of 3 times 15 minutes games. Prices on weekdays are $39 per person and on weekends $49 per person. They are open from 10am to 10pm every day.
Includes: The games are 1.5 hours that consist of 3 times 15 minutes games.  You can bring your own birthday treats.
Ages: 6 to 99 years
Costs: Starts at $390 for 10 kids
Contact: More info here.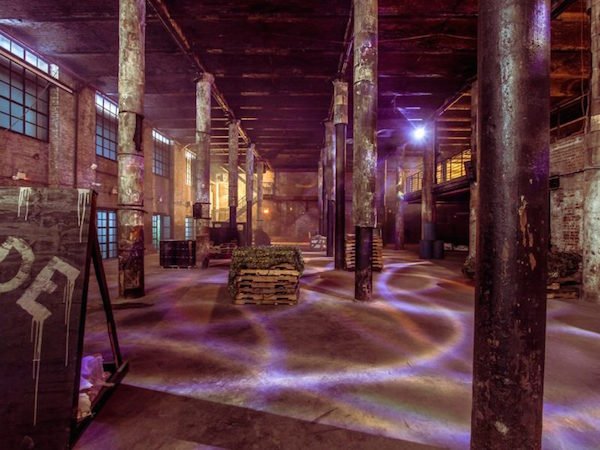 Lakeside birthdays including ice skating parties @ Prospect Park
Lakeside offers a number of festive ways to celebrate birthdays. From roller skating to boating and biking to the splash pad, our event planners will make sure you and your guests have a blast. Our packages are designed for kids turning 3-16, and include kid-favorite food, decor, goody bags, and activities for a minimum of ten children. Lakeside also offers birthday fun for adults, including a full catering menu with open bar options.
Includes: Skating for up to 10 kids and adults, 2 hour private party room, one party attendant, utensils, plates, and water/lemonade.
Ages: 3 – 16
Costs: $595 and up
Contact: Website
Shipwrecked | Red Hook
Let us make your event an ADVENTURE!  Sit back and relax as we steer the ship from set-up to clean-up. The guest of honor will feel like a VIP as they celebrate their special day with us.  We offer several party packages to choose from including parties for teens and adults!  The base party package includes the following. 
Ages: 4-12 years
Costs: Deluxe Mini Golf Party (2 hour party) $499 base price includes up to 10 children. Additional children $22 each. $100 Non-refundable deposit required at time of booking. 
Includes: A round of miniature golf for each child . A bag of gold coins for each group to activate the special effects/story throughout the course .An arcade card for each child  Cheese pizza for the kids , 1 dozen cupcakes, Table Covers ,Plates, Cups, Napkins, & Utensils for each child , 1 Gallon of water per room , 1 Juice per child, 1 pass for a round of miniature golf on a future visit for each child, souvenir gift for the guest of honor, Party Captain for the duration of the party  (Your Party Captain will set-up & clean-up, so that you can enjoy the celebration.  
Please note: We ask that the host family provide one adult chaperone per group of 5 children while on the course.)
Contact: https://www.shipwreckednyc.com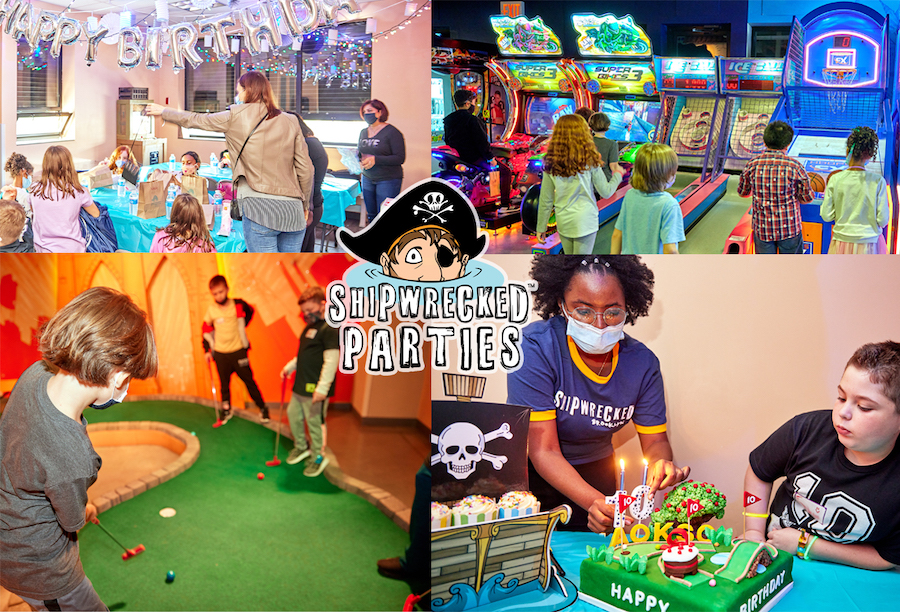 Brooklyn Bridge Skating @ Pier 2
Brooklyn Bridge Park Roller Skating Rink at Pier 2 offers birthday parties with skating and stunning views from April to October in Brooklyn Bridge Park.
Includes: Admission and Skate Rental, reserved seating, paper goods, a slice of Pizza for each guest, a 20 oz. Drink for each guest.
Ages: 4 years and up
Costs: Starts at $425 for up to 10 kids
Contact: More info here!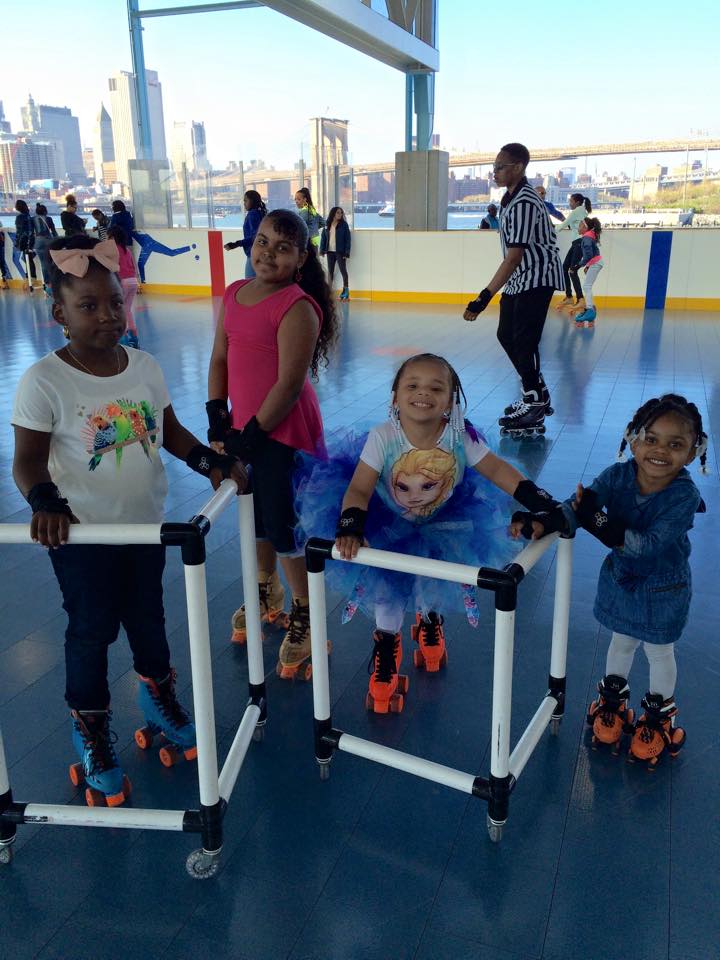 Brooklyn Game Lab @ Park Slope 
Whether it's for a birthday, celebration, or just for fun, Brooklyn Game Lab would love to host your next party! Choose from popular modern board games, epic Dungeons & Dragons RPG adventures, Pokemon, Magic the Gathering or, weather permitting, exciting Battle Lab live action role playing at Prospect Park! Our amazing Brooklyn Game Lab instructors keep everyone engaged and involved in the action.
Includes: Awesome party space, fantastic games, kid-friendly, fun party crew and party bag with favors
Ages: 6 years and up
Costs: $600 for 10 kids
Contact: More info here!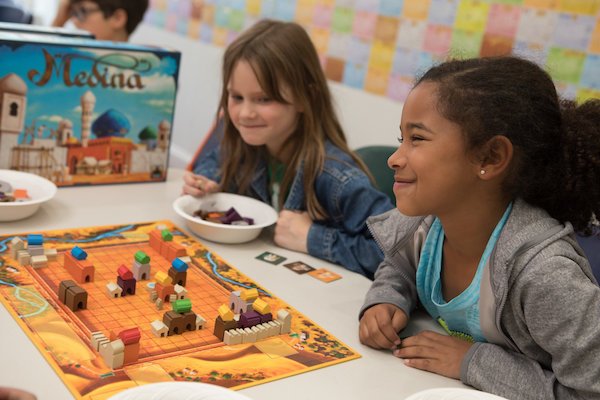 Brooklyn Robot Foundry @ 98 4th Street in Gowanus
Give your child a birthday party they, you, and all their friends will love! You choose the place and Brooklyn Robot Foundry will bring all of the fun to you! Their wonderful teachers will lead the group with some awesome robot-building and lots of silliness.
What's Included: Each child will get to build their own robot and bring it home afterward for more fun!
Ages: 2-12
Costs: Approx. $60 per child
Contact: contact@brooklynrobotfoundry.com | https://brooklynrobotfoundry.com/nyc/product/parties-at-4th/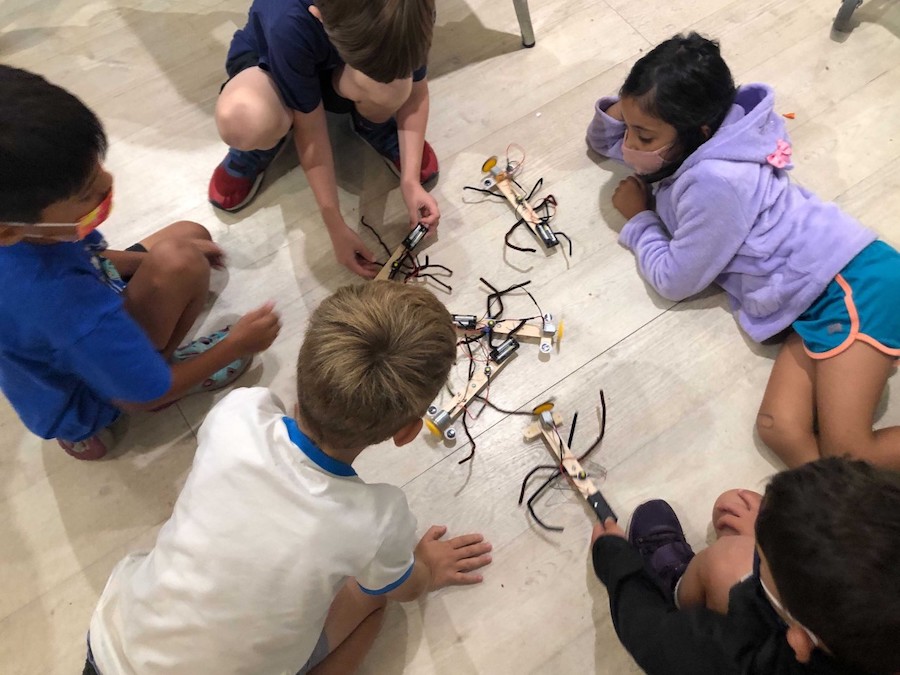 Brooklyn Zoo @ Williamsburg
Select from available activities including parkour, trampoline, and ninja warrior followed by a (safe foam dart) nerf battle. 
Includes: Two hours in the gym plus a half hour in the party area with dedicated instructor. Food not included.
Ages: 7 years and up
Costs: $1,500 for up to 25 kids
Contact: More info here!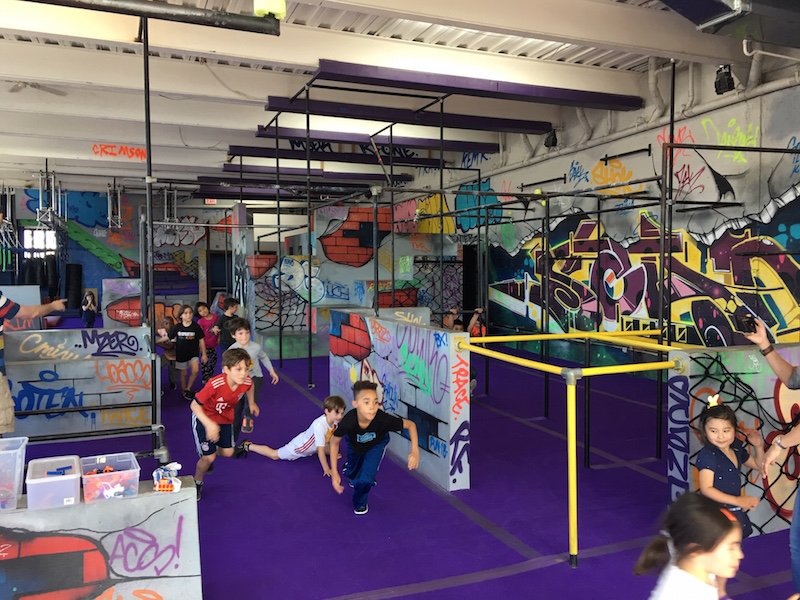 Child's Play NY @ Brooklyn
These customized parties are a celebration of what your child loves most. Joyful party games are tailored that fit your theme and make your child the star of the day. The team of professional actors help kids unleash their imagination and tap into their intrinsic sense of play. With themes like Harry Potter, Fairy Tales and Superheroes the party guests get to go on an exciting adventures that break the mold of the average birthday! For the last decade, Child's Play NY has been a trusted theater provider at dozens of NYC schools. Discover why the parties are the top ranked in Brooklyn Family Magazine and in Time Out Kids! 
Includes: Introductory conversation to customize party theme and games, 75 minutes of led dramatic play activities led by two expert theater teachers.
Ages: 3 years and up
Costs: Starting at $400 for up to 15 kids
Contact: emily@childsplayny.com | 347-759-6313
Chuck E. Cheese's @ Flatbush Avenue in Downtown Brooklyn
Our activities feature a mix of fun rides, and video games that will leave them smiling all afternoon. From racing and stand up arcade games, there's plenty to keep them occupied and entertained for hours.
Includes: 45 Play Points per child, 2 slices of a 1-topping pizza and a drink with free refills per child, 3 Helium Balloons per party, Exclusive Play Band, 250 Bonus Tickets, Birthday Show Recognition and Ticket Blaster experience for the Birthday Star.
Ages: 3 years and up
Costs: Starts a $26 per child
Contact: More info here!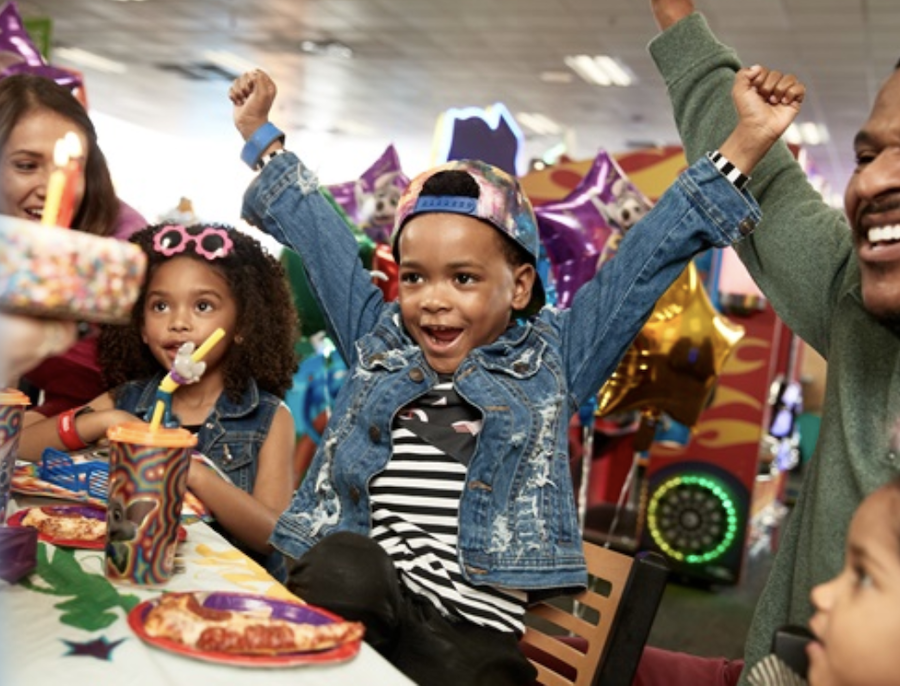 Families First Brooklyn @ 250 Baltic Street
Exclusive use of our Play Space, Movement Room and Art/Snack. Birthday party host to monitor activities and help with set-up and clean-up. Food, beverages, paper goods, and utensils are not included in the fee.
Includes: 2 hour use of space
Ages: 0-4 years
Costs: $300 for 10 total children and adults
Contact: More info here!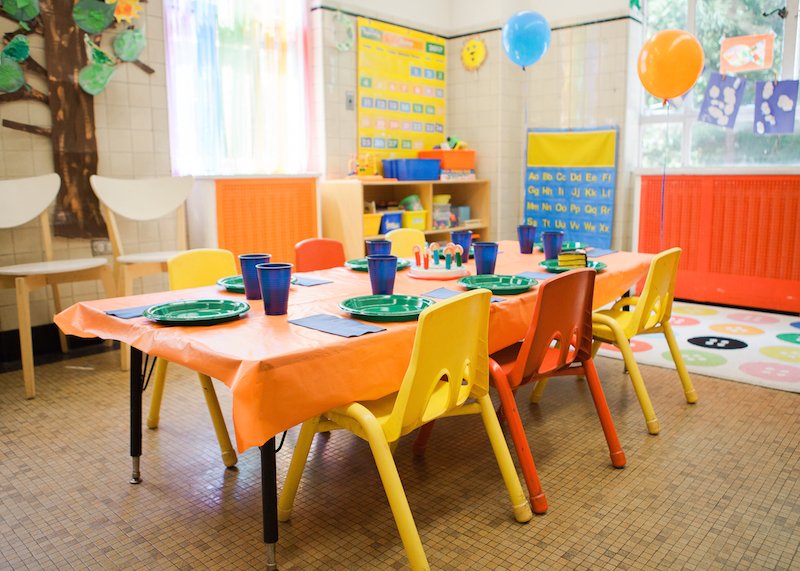 Brooklyn Force Soccer Club @ Gowanus
Brooklyn Force Soccer Club "MVP" Birthday Parties will treat your child like the "Most Valuable Person" on his or her birthday and make sure all of the kids have a memorable celebration! Parties run for 80 minutes- 50 minutes on the indoor, climate controlled turf field and include soccer games and activities for kids of all ages and abilities & 30 minutes for food and cake.
Includes: Use of space, party coordinator, pizza, drinks, paper goods
Ages: 3-17 years
Costs: $750 for up to 12 kids
Contact: More info here!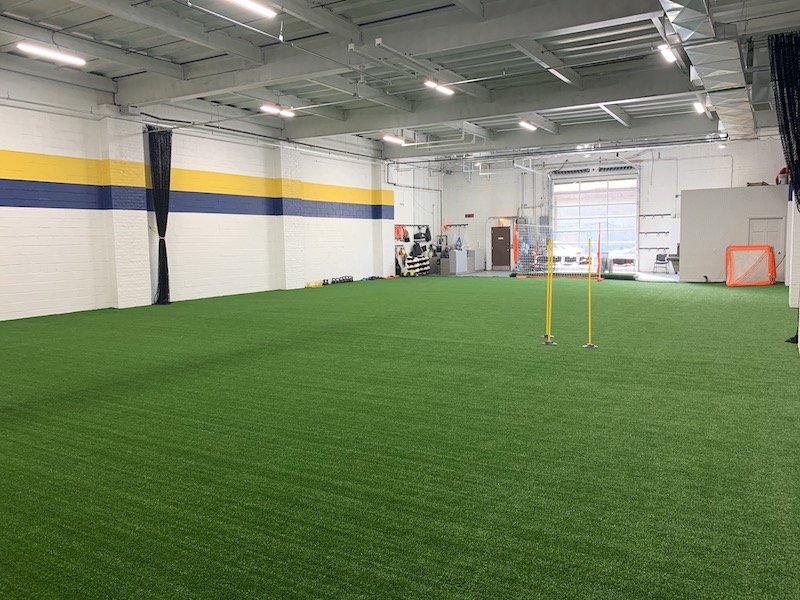 Gotham Gymnastics @ 315 Douglass Street in Gowanus
Our fantastic Gotham Birthday Parties include a big Bounce House obstacle course, trampoline, balance beam, bars and a huge foam pit! The amazing experienced birthday party staff at Gotham will be with you every step of the way and ensure that your kiddo has a memorable and fun experience ! 
Includes: Special T-shirt for the birthday kid and a few things for party bags, BYO food and drink.
Ages: 3 years and up
Costs: $850 for 10 kids. Bring your own food and drinks.
Contact: More info here!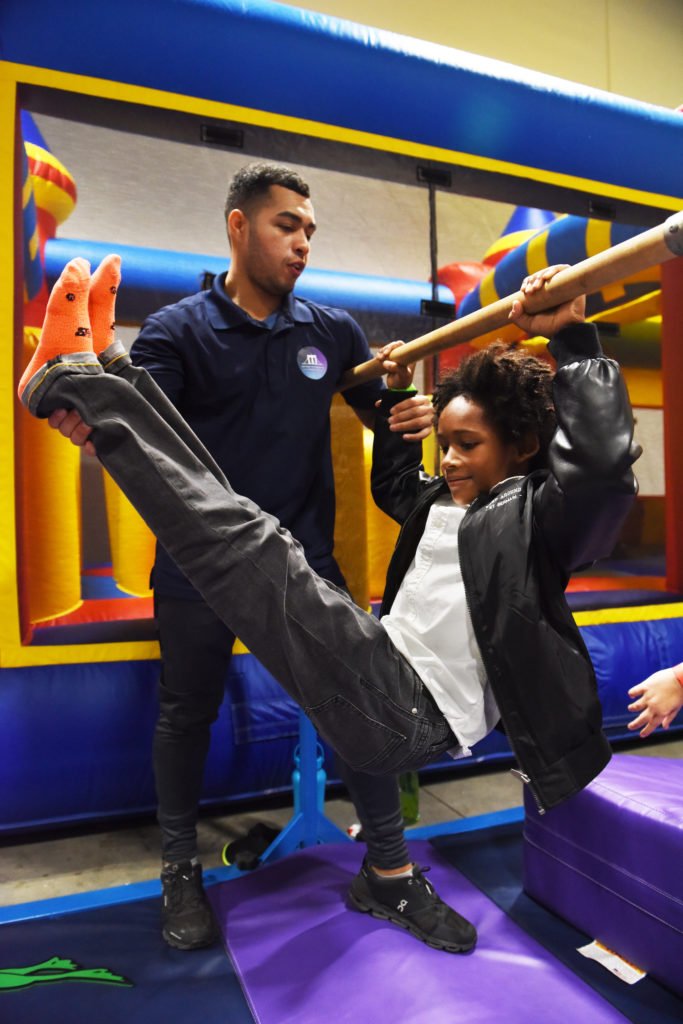 Creatively Wild Art Studio @ 98 Water Street in DUMBO
Creatively Wild's personal approach to planning your Birthday Party is unrivaled-our party team goes the extra mile to keep the Guest of Honor and all your party guests engaged + inspired Creatively Wild Style , we promise to deliver an unforgettable exciting day, and all guests leave with skills and their own individually created masterpieces! Choose from our popular list of Party themes-If you don't see what you like, we can customize your party theme based on your Guest of Honor's favorite things! Our studio is decorated to your party theme + we do our absolute best to accommodate all your special requests- hey we even spring a surprise Dance Party with Glow Sticks for an extraordinary finish!
What's Included: A two hr Party, Art supplies, A Party Planner, Custom designed Birthday Banner for the Guest of Honor, Pizza, Cupcakes, Honest Juice, Party decor on your chosen party theme, fun party paraphernalia, a surprise Creatively WILD Dance off at the end of your event complete with Glow Sticks. 
Ages: From 2-20yrs
Contact: hello@creativelywildartstudio.com | 917-543-8130 | Inquiry Click Here
Costs: $80 per child. Our additional party menu offers additional party favors like booking our Glitter Tattooist or Facepainter and even more yummy nibbles and treats!
Contact: Booking information here!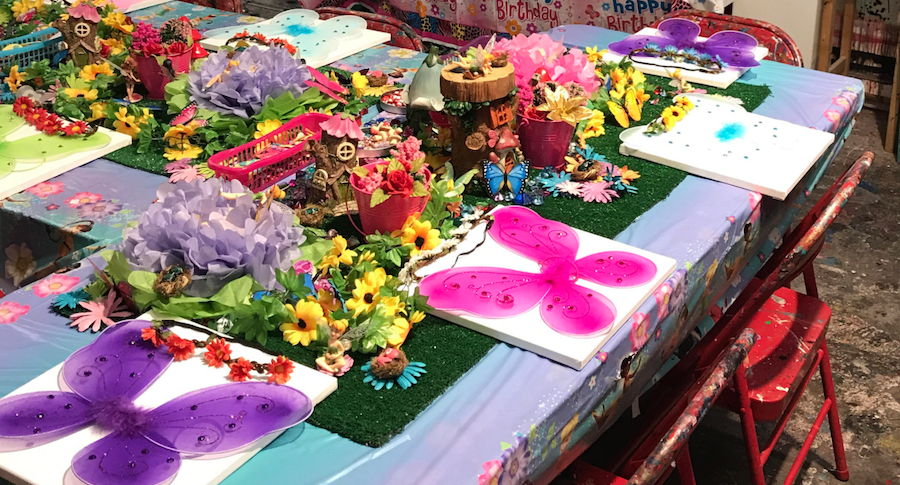 Jane's Carousel @ Brooklyn Bridge Park
Includes: Two-hour parties with reserved seating in the picnic grove or inside the Pavilion on rainy days. Unlimited Rides and one keepsake ticket for all Birthday Party guests. You are responsible for the coordination, set up and clean-up of your party.
Ages: 1 year and up
Costs: Starts at $350 for up to 10 children
Contact: More information here!
The Little Gym of Brooklyn Heights @ 221 Atlantic Avenue
The Little Gym gives your birthday kid and their friends the full run of the facility, filling the celebration with instructor-led games, music, and fun LEGO® Juniors or LEGO DUPLO® building activities created especially for your birthday boy or girl.
Includes: A qualified birthday leader plus an assistant, all the set-up and clean-up, paper goods (plates, forks, cups, napkins), drinks for each child in the party room, a gift registry (if you open your presents while you're with us), balloons for decoration. 90 minutes long.
Ages: 1 to 12 years
Costs: Starts at $705
Contact: More info here.
The Little Gym of DUMBO @ 75 Front Street
The Little Gym gives your birthday kid and their friends the full run of the facility, filling the celebration with instructor-led games, music, and activities created especially for your birthday boy or girl. The celebration continues in the party room with all mess and set-up handled by TLG staff.
Includes:  All packages include full exclusive use of the gym space, activities led by expert instructors, all set-up and clean up, a special gift for the birthday child! Options to add themes, décor, balloons, local food and other goodies available! 90 minutes, with option to extend to 2 hours.
Ages: 1 to 12 years
Costs: Starts at $715
Contact: More info here.
New York Kids Club @ Brooklyn Heights, DUMBO, Park Slope and Cobble Hill
Every party theme (gym princess, gym superhero, etc) includes perfectly planned activities in our state-of-the-art facility with plenty of time for refreshments in our beautiful party room.
Includes: 90 minutes exclusive use of the facility. Structured, age-appropriate activities; qualified birthday leader, 2 additional birthday performers and a birthday coordinator who will set up, lead the party, serve your guests and clean up.
Ages: 1 to 12 years
Costs: Starts at $820 for up to 10 kids
Contact: More info here!
The Painted Pot in Cobble Hill & Park Slope
The Painted Pot is a paint your own pottery studio in Brooklyn.
Includes: 90 minutes of creative fun; plates, napkins and utensils, 3 ballons, juice boxes. Each child chooses one of over 25 pieces of pottery. Birthday child receives a plate that we decorate with his or her name and will be signed by all the guests, creating a wonderful keepsake! We will take care of all your party needs and leave the cleaning to us!
Ages: 3 to 15 years
Costs: Party Fee of $50 plus $30/per additional child. Minimum of 8 kids.
Contact: More info here!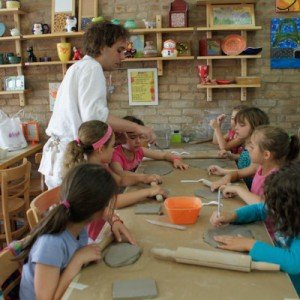 Supper Soccer Stars @ Soccer Post and outdoors in local parks
Includes: Super Soccer Stars birthday parties include a full hour of fun, age-appropriate soccer activities that can even be adapted into other exciting themes, such as superheroes, princesses, or anything that your child can imagine!  After the soccer fun, the kids will sit down to eat food and cake, sing, and celebrate your child's big day.
Note: Soccer Post at 359 Atlantic Avenue rental fee $95.
Ages: 2 years and up
Costs: Starting at $250 for 6 kids outside (inside plus rental fee)
Contact: More info here!
Treasure Trunk Theatre @ 141 Atlantic Avenue or we come to your venue!
Host a 2-hour party with us at our stunning studio space on Atlantic Avenue, or we can come to you with our exciting theatrical activity. Every party is tailored to the interests of the birthday kiddo, with a custom theme that brings your kiddo's dreams to life. Our magical treasure trunk will open during every party, containing hidden treasures to spark a world of imagination. 
Includes: Packages available @ Treasure Trunk Studio : Standard & Premium. Includes 15 guests + the birthday child, additional guests can be added for an additional fee. Standard package includes space rental, staffing for the full party, tables & chairs, and our 45 minute theatrical activity. Premium Package includes space rental, staffing for the full party, tables & chairs, themed decor, paper goods, balloons, pizza/beverages for the kiddos, and our 45 minute theatrical activity. Activity Only Parties include our 45 minute theatrical activity for up to 30 kiddos (pricing varies on headcount). 
Ages: 1-9 years old 
Costs: Activity Only Package starts at $250, Standard Package starts at $650, Premium Package starts at $975. Outdoor parties available.
Contact: More info here, or please contact us at birthdays@treasuretrunktheatre.com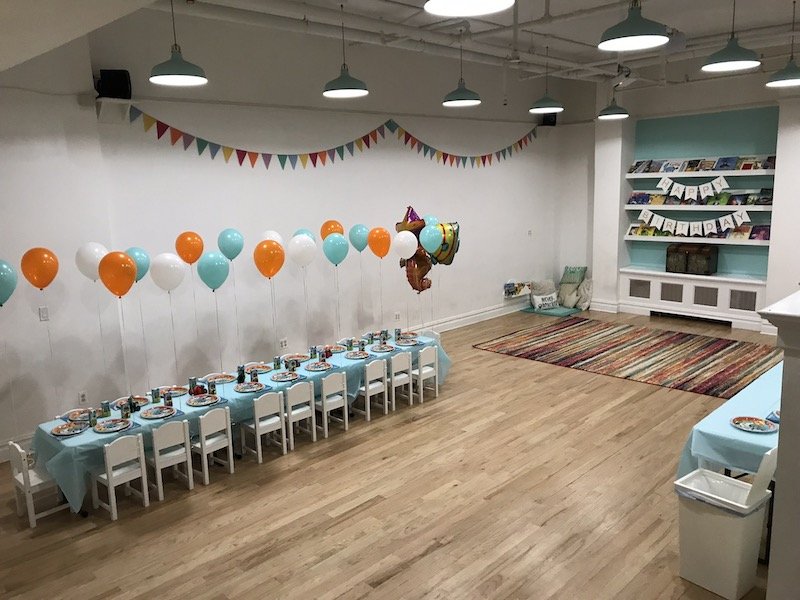 Joy Gymnastics | Sunset Park
Event details: Our birthdays provide a fun yet safe gymnastics experience for all your guests! All of our birthdays include a structured class appropriate for all skill levels as well as engaging gymnastics games and obstacles. 
What's Included: 
Exclusive use of the gym during your allotted time. One hour for "Mild" parties, 1.5 hours for "Spicy" parties.
Your guests will have 15 minutes before and after in the lobby to get ready.
Two or three coaches (depending on your party size) to lead structured class and activities during your reserved time slot.
Incorporate themed stations or games if requested.
Ages: 3-12
Costs: $240= Small (5-10 kids) Mild (1 hr), $360= Small (5-10 kids) Spicy (1.5hr), $360= Medium (11-15 kids) Mild (1 hr) and $540= Medium (11-15 kids) Spicy (1.5hr)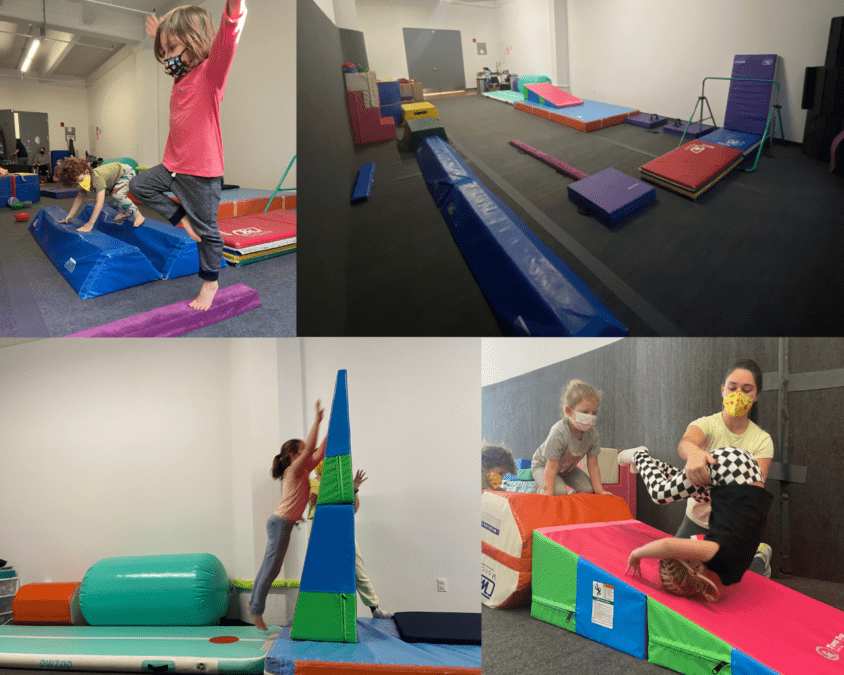 Updated: October 2023. Main photo: Creatively Wild Art Studio
Do you want all local parenting news in your inbox? Sign-up for our weekly newsletter now!