The nation's largest festival dedicated to African dance and music returns to the stages and streets of Brooklyn for its 46th year on Memorial day weekend. In 2023, the BAM celebrates with traditional dance and music from Ghana, find out more here.

DanceAfrica Bazaar | Fort Greene | Saturday to Monday
DanceAfrica's bazaar returns, featuring more than 150 vendors from around the world, offering African, Caribbean, and African-American food, crafts, and fashion. Celebrate the rich and diverse cultural heritage of Africa and its diaspora—and see the streets surrounding BAM transformed into a global marketplace.
Bazaar Hours
Sat, May 27, 12—10pm
Sun, May 28, 12—8pm
Mon, May 29, 12—8pm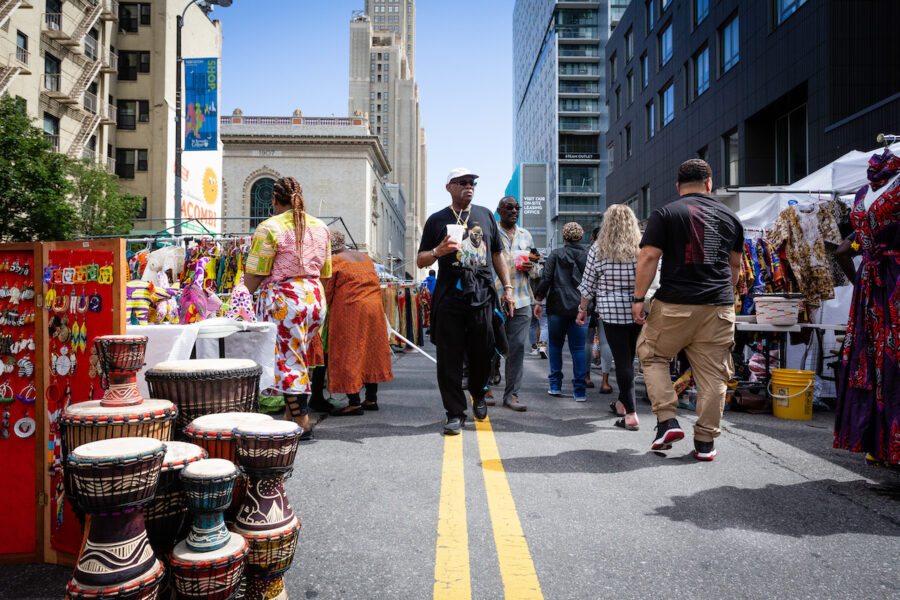 Free DanceAfrica Community Workshop | Brooklyn Bridge Park | Saturday
Caregivers and children alike deepen their engagement with DanceAfrica in this fun-filled, outdoor workshop led by BAM teaching artist and performance art education scholar, Dánice Jones on the fundamentals of Ghanaian movement and music. All ages. Walk-ups are welcome as space allows. Saturday, May 27 at 11 am (rain date Sunday, May 28 at 11 am) at the Pier 6 liberty lawn.
DanceAfrica Family Workshop | Mark Morris Dance Center | Monday
DanceAfrica invites caregivers and children to explore the fundamentals of Ghanaian dance movement and music in this fun-filled, hands-on workshop led by a member of the National Theater of Ghana's National Dance Company. All ages. Space is limited; pre-registration is recommended. Monday, May 29 at 10 am, RSVP here.