The fifth annual Dumbo Drop, Dumbo's signature tradition with flying elephants and block party will take place on Friday, June 2 (rain or shine). Thousands of parachuting toy elephants will make their way from the rooftops surrounding Washington Street at two times – 6 and 7 pm. Individuals can enter one of both Dumbo Drop events for a chance to win neighborhood prizes including a Life Time Dumbo family membership; a stay at 1 Hotel Brooklyn Bridge and dinner at The Osprey; a summer of cocktails at the newly opened Gair on Washington Street; a private party for twenty at Beat the Bomb; a Taste of Dumbo dining package; a free six month membership to Gleason's Gym; and a Summer of Coffee gift certificate to Joe Coffee. The elephant that most closely reaches the target wins each contest. Individuals can enter online here. Entries are on sale for $25, which include a limited edition parachute & toy elephant, along with the 2023 souvenir calendar and $20, which includes the 2023 souvenir calendar. Individuals who enter the contest do not have to be present to win.
Live entertainment on Washington Street
DUMBO Drops on Washington Street at 6 and 7 pm
Dumbo Drop Kids Zone from 4 to 7 pm featuring 20+ activities for ages 1-14 including face painting, science experiments, soccer, skateboarding, nerf range, arts & crafts, powered by Brooklyn Bridge Parents in the Archway and at the Pearl Street Triangle
Bedazzling extravaganza, powered by Creatively Wild Art Studio in the DUMBO Archway
Restaurant Row "Taste of DUMBO" on Water Street between Washington and Main Street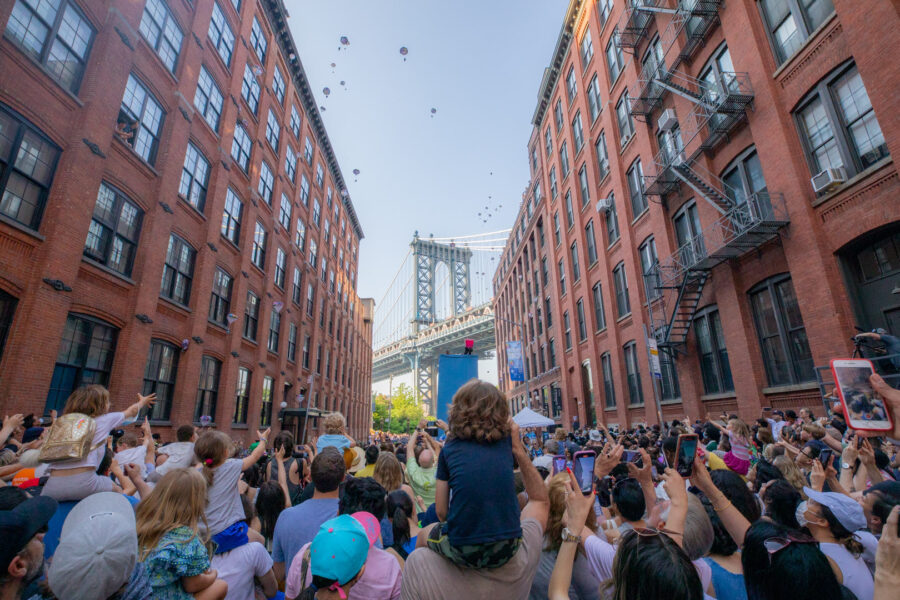 The Party is free + open to all. No RSVP needed.
All funds raised will go to Dumbo's Title 1 Schools – Dock Street & PS307 – which serve a majority low income student population. Dumbo Drop funds support FREE extracurricular activities for our students, recognizing that while not all families are in a position to afford extracurriculars, all students deserve them.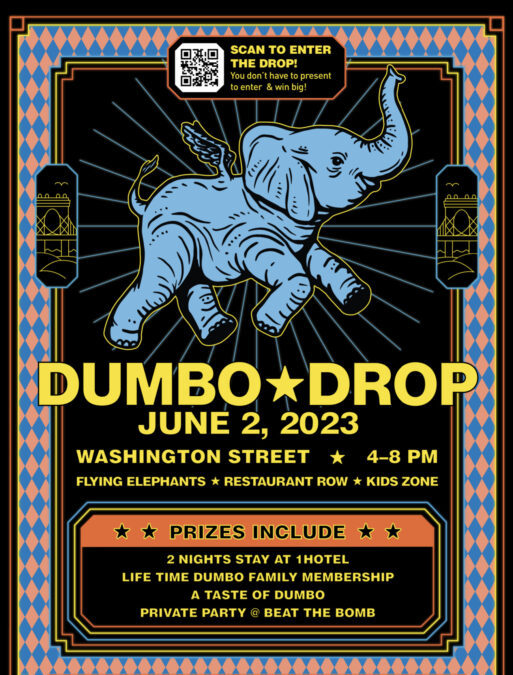 Brooklyn Bridge Parents Kids Zone Sponsors
BASIS Independent Brooklyn is a PreK–Grade through 12 private school providing students with an internationally benchmarked liberal arts and sciences curriculum with advanced STEM offerings. Their passionate, expert teachers are unwavering in their belief that with hard work, the right support, encouragement, and inspiration, any child can excel. Our PreK–2 campus is now open at City Point, sign up for your personal tour!
With their colorful spaces, cartoons on the TV and – most importantly – skilled pediatric dentists who specialize in caring for children, Bitesize is here for all your oral needs. They take a unique approach to each kid, and focus on preventative care + helping to build a strong foundation for lifelong oral health.
Dumbo Moving and Storage is a trusted, reliable, licensed, and insured moving company with 16+ years of experience, completing over one million moves in and out of NY successfully. They were founded right here in Dumbo, Brooklyn by Lior Rachmany in 2006, and it has since grown to become one of the largest and most highly regarded moving and storage companies in New York City!
Soccer Shots is an engaging children's soccer program with a focus on character development. Their age-appropriate curriculum teaches soccer skills holistically. Each weekly class begins by exploring a weekly theme and a character word of the day. Expect educational games, best-in-class coaching, and tons of goals scored on Soccer Island!
Vivvi provides child care and early learning for children 0-5. Their Dumbo campus is now open at 55 Prospect Street! With unrivaled flexibility, the campus is open 7AM to 7PM Monday to Friday. Vivvi follows an inquiry-based curriculum model, where educators use what the children show interest in to drive curriculum, all while hitting age appropriate developmental goals and learning domains. This model takes influences from the Montessori, Waldorf, Piaget, and Reggio learning pedagogies. Join their Dumbo Open House on June 7!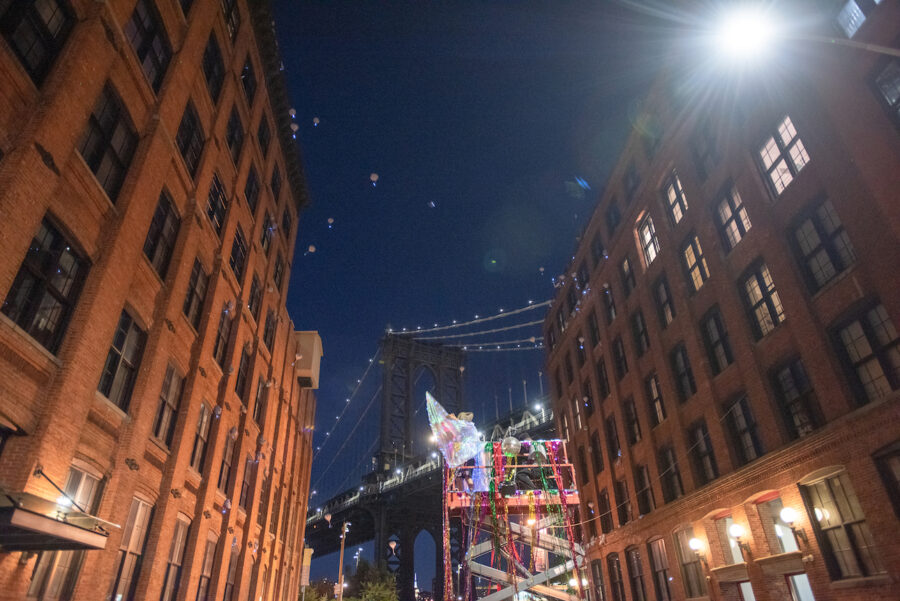 Thanks to all 2023 partners
CHAMPIONS: Dumbo Improvement District | ConEdison | Two Trees
ROCK STARS: Bitesize | BASIS Independent Brooklyn | Vivvi Dumbo | Dumbo Moving | Soccer Shots | 135 Plymouth Street | Juliana's Pizza
FRIENDS: Life Time Fitness | 1Hotel Brooklyn Bridge | Beat the Bomb | Gleason's Gym | Gair | Joe Coffee | Cecconi's Dumbo
PARTNERS: Brooklyn Bridge Parents | Mommy Poppins | Creatively Wild Art Studio | Dock Street School | PS307