Free family-friendly kayaking at Pier 4 and basketball clinics for kids at Pier 2 are back in Brooklyn Bridge Park.
Recommended for ages 7-17, join Brooklyn Bridge Park Conservancy for 2 hour basketball clinics led by KING Hoops, NYC's premier youth basketball organization. Learn basketball basics as head coaches lead participants through drills and games. Clinics run on Tuesdays from May 30 through July 25 at Pier 2. Clinics for ages 7 to 12 will be from 4 to 5 pm, while clinics for ages 13 to 17 will be from 5 to 6 pm. Advanced registration and waivers are required, although walk-up registrations can be accommodated as space allows. Registration will open at this link every Tuesday at 10:00am for class the following week.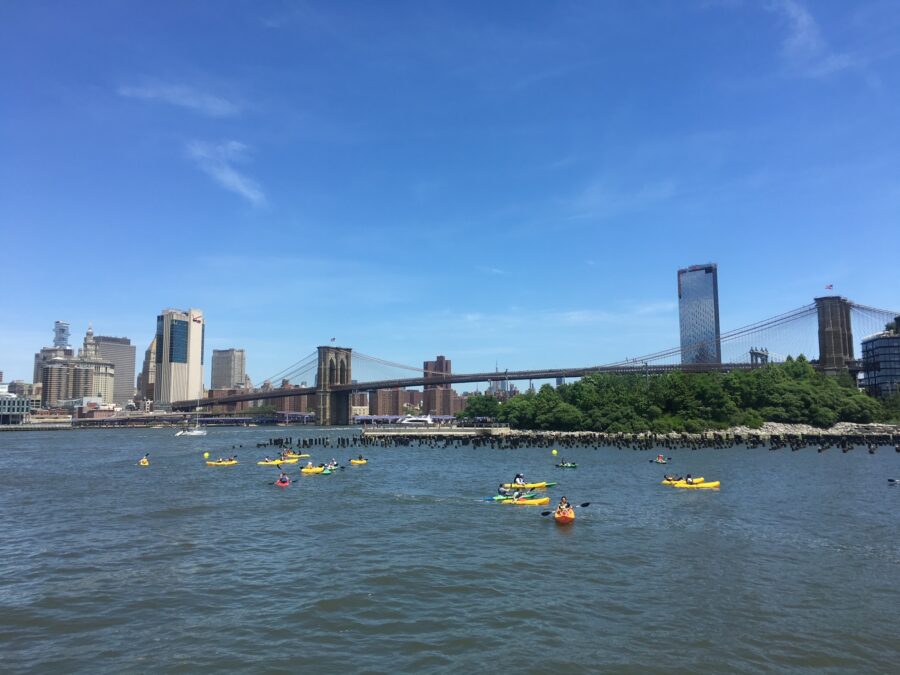 Presented in partnership with Brooklyn Bridge Park Boathouse, free kayaking is offered throughout the summer on Wednesday and Thursday evenings, and Saturday and Sunday afternoons through September. All levels are welcome including first-time kayakers – life vests and all equipment provided, as well as instruction. Children under 18 must have an adult guardian present.
Wednesdays, 5 – 7 PM
Thursdays, 5 – 7 PM
Saturdays, 10 AM – 3 PM
Sundays, 12 – 2 PM (family kayaking)
The free public kayaking program is temporarily running off Pier 4 Beach. Subject to change back to Pier 2 Dock. Advanced registration required, providing 20 minute timed slots. Free registration opens 2 weeks ahead of each date. Make a reservation here.