Our weekly overview of events and things-to-do for families in Brooklyn is out! Highlights include our epic summer party at Atlantic Terminal Mall plaza with pop-up junk yard playground, DJ, balloon twisting and free treats, Wimbledon live screening in Brooklyn Bridge Park and the launch of our Sunday games indoors at CityPoint.
Block Building and Happy Hour | Albee Square in Downtown Brooklyn | Thursday, July 7
Join us on Thursdays from June 30 to July 21 from 3 to 6 pm on Albee Square in Downtown Brooklyn for community block building for the kids (Lego, blue blocks and chess) and happy hour for the grown-ups.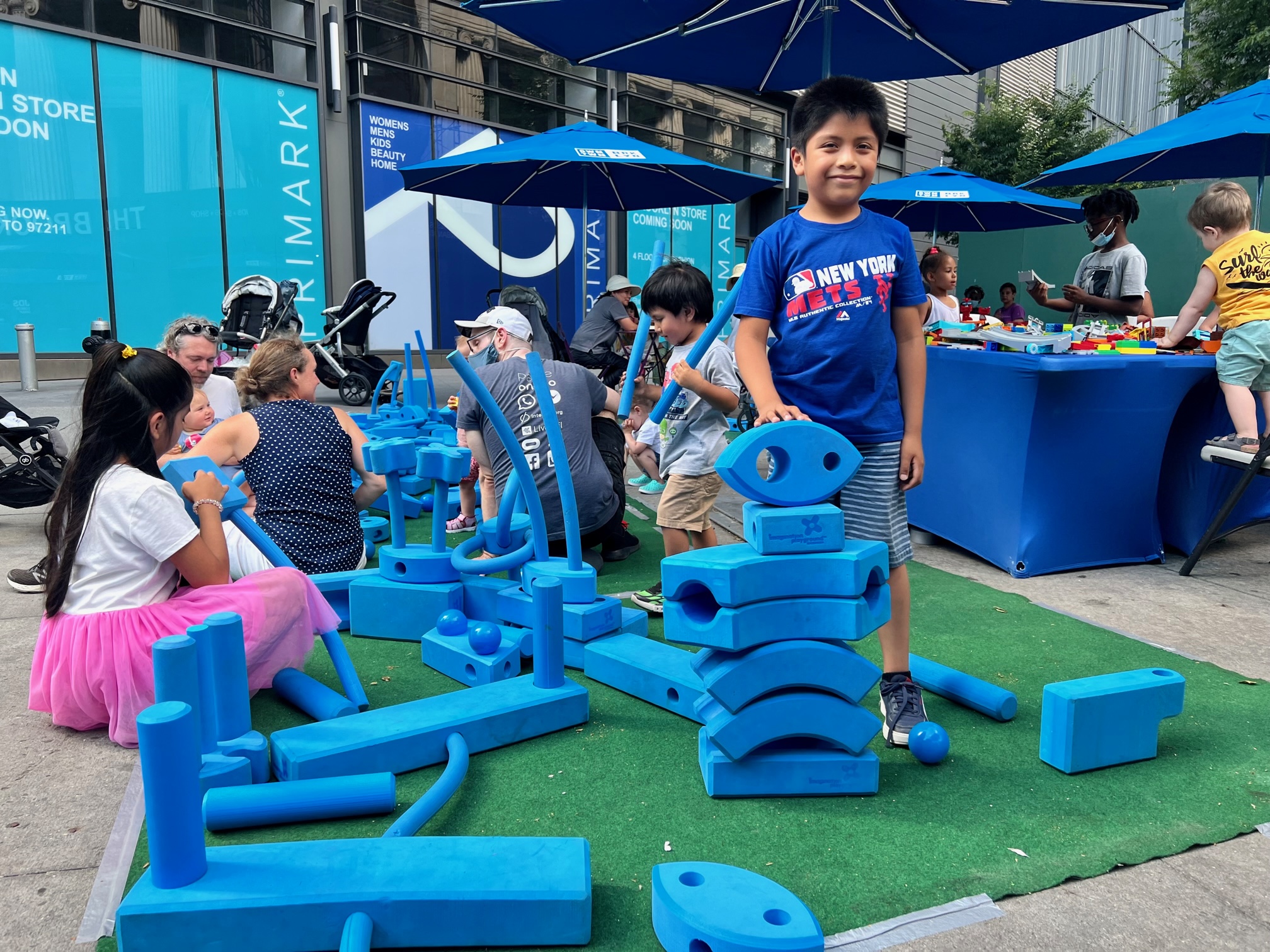 Beats & Eats | Bklyn Navy Yard | Thursday, July 7
Yard Beats & Eats is a fun summer series pairing two favorites – great sounds with great food. Every first Thursday between July and September, enjoy live music or DJs spinning the summer's hottest sets at one of Brooklyn's most iconic sites. Bring friends, meet your neighbors, and just enjoy a fun and unique outdoor experience. For those who enjoy friendly competition, there is always a selection of games and activities to inspire. Enjoy 80s and 90s-inspired karaoke and beats from DJ LOGAN. Have fun while playing over-sized Jenga and Connect Four. Thursday, July 7 from 5 to 8 pm. Free RSVP here.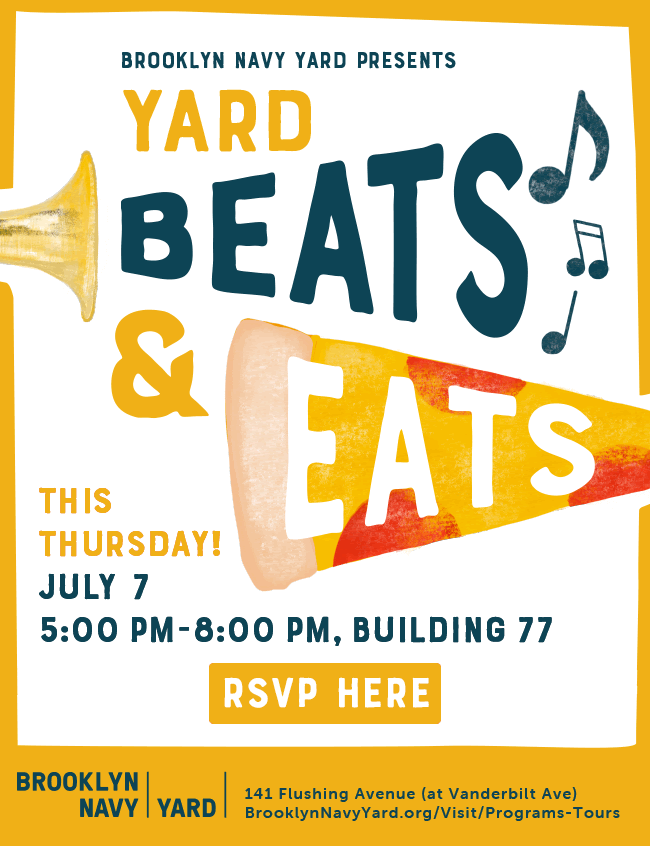 Summer Plaza Party @ Atlantic Terminal Mall Plaza | Downtown Bklyn | Friday, July 8
This Friday, we are turning Atlantic Terminal Mall Plaza into one big summer playground! We will host a pop-up junkyard playground (with our friends from the junkyard playground at Governors Island), a game party with New York Society of Play, epic block building, balloon twisting and more. Plus free kids books and prizes from Atlantic Terminal retailers!  The party will take place on Friday from 4 to 7 pm. Free RSVP here.
Wimbledon in Brooklyn Bridge Park | Pier 6 | Friday 7/8 – Sunday 7/10
For three days only, Wimbledon's iconic fan destination is coming to Brooklyn! Watch the finals live and get the authentic Championships experience, transported across the Atlantic from London to Brooklyn. Men's semi finals on Friday, women's finals on Saturday and men's finals on Sunday at the Liberty Lawn at Pier 6. Find out more here.
DUMBO Family Game Time | Car-free Washington Street in DUMBO | Saturday, July 9
Join us for DUMBO Family Game Time on Saturdays from June 25 to September 10 (Labor Day weekend) from 10 am to 12 pm on pedestrian-only Washington Street with free games for kids 1 to 10! Rain date Sunday, July 3 from 10 am to 12 pm.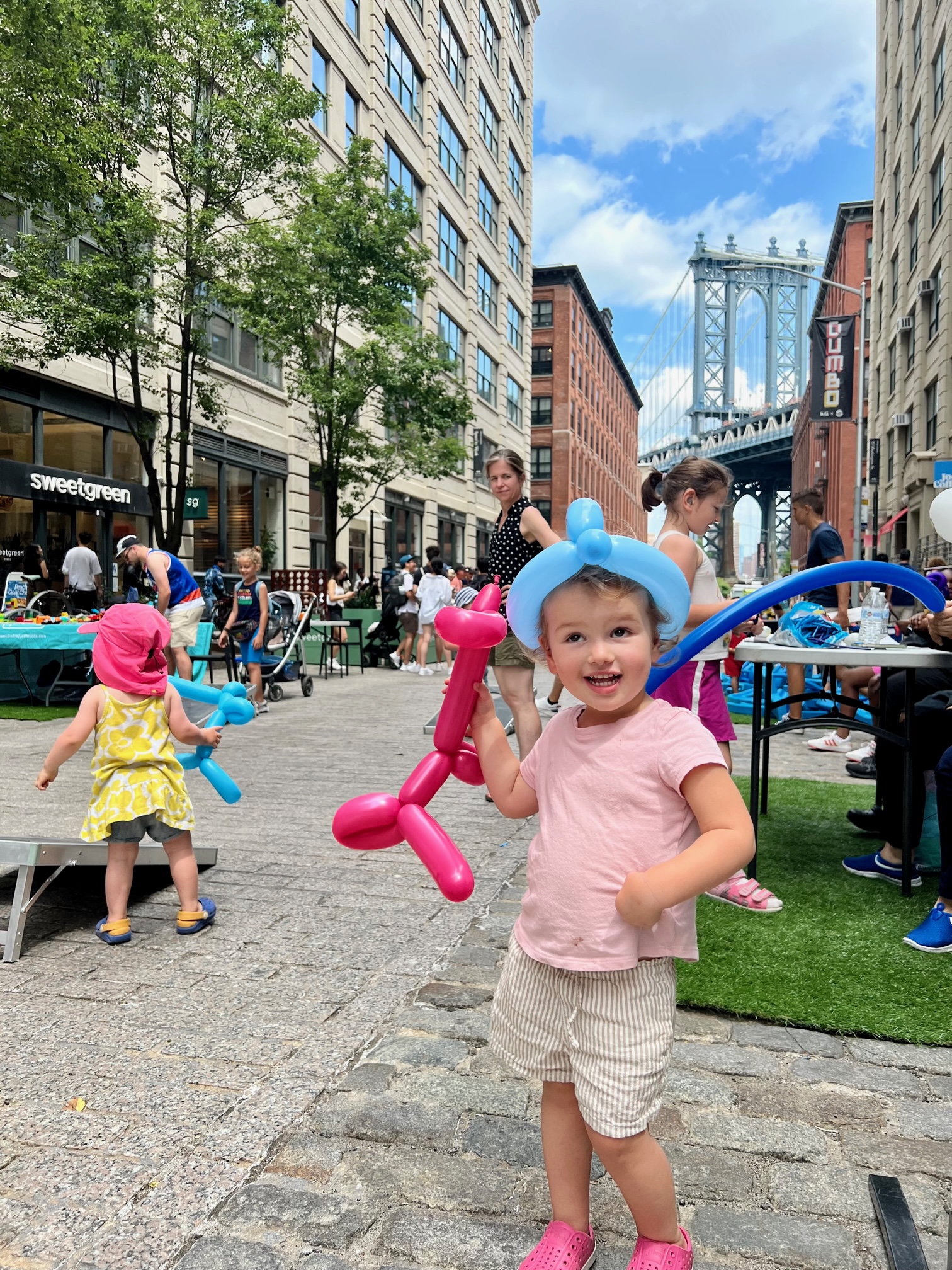 Afro-Latin Jazz concert | Pier 1 | Saturday 7/9
St. Ann's Warehouse presents the free concert, Fandango At The Wall with Arturo O'Farrill and the Afro-Latin Jazz Orchestra. Arturo O'Farrill and 30 musicians from the U.S., Mexico and beyond reunite to celebrate a lush blend of jazz big-band and the 300-year old Son Jarocho sound of Mexico. Fandango At The Wall  has its roots in a cross-border Fandango, or jam session, that has been performed annually on both sides of the Tijuana/San Diego border wall since 2008. Free and open to all at the Harbor View Lawn in Brooklyn Bridge Park on Saturday 7/9 from 7 to 9 pm.
Sunday Games @ CityPoint | Downtown Brooklyn | Sunday, July 10
Free games for children 2 to 10 years old on Sundays in July from 12 to 3 pm. Come play and cool down at City Point! Sunday Games will take place inside at City Point with Foam Sword Battles, Beyblading, Dungeon Tiles, Lego and block building, Chess and more for kids 2 to 10 years old. FREE on Sundays in July in the ground floor hallway at City Point. RSVP here.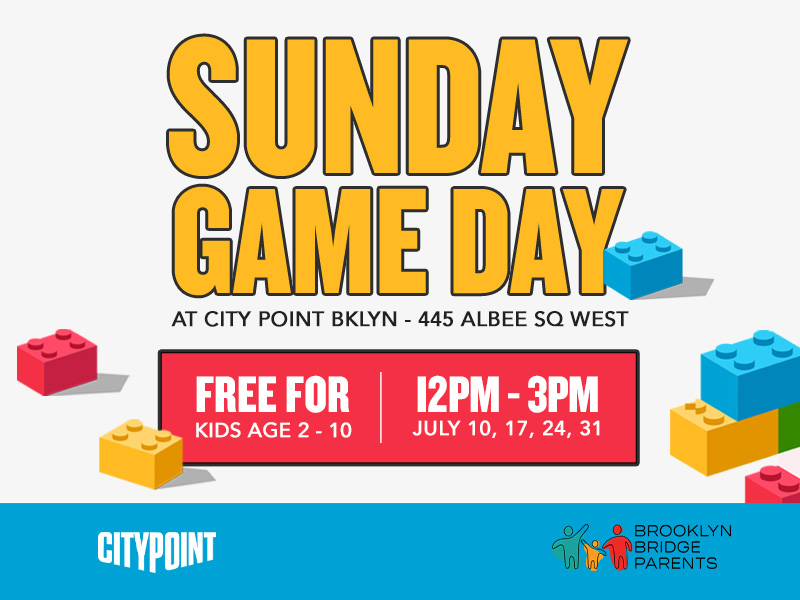 Basketball clinics | Brooklyn Bridge Park | Tuesdays
Free Youth Basketball Clinics will be hosted on Tuesdays, May 31 through August 30; two age group ranges are offered for 7-12 and 13-17 year olds at the Pier 2 Courts. You can register your children one week in advance, starting Tuesdays at 10 am.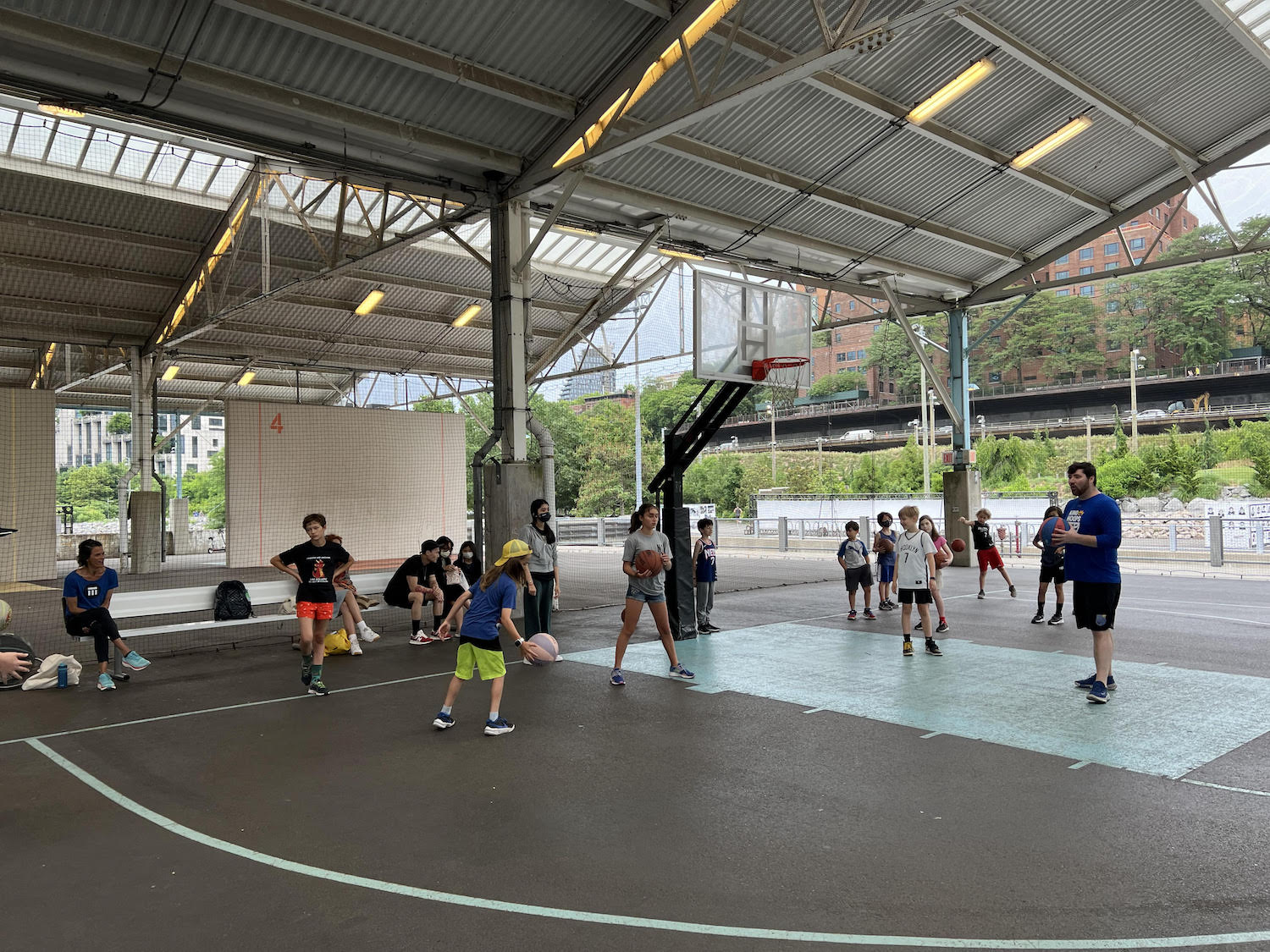 Summer storytime | Brooklyn Bridge Park | Wednesdays
Join the Brooklyn Public Library for a rollicking good time listening to stories, singing songs, and enjoying the breeze from the water! Recommended for ages 2 to 8 years. Every Wednesday June 15 through July 20 from 10.30 am to 11.15 am. Find out more here.
Live at The Archway | DUMBO | Thursdays
From June 16 to September 1, family-friendly, free concerts in the Archway under the Manhattan Bridge ranging from Afro-soul to salsa and Japanese pop. Thursdays from 6 to 8 pm.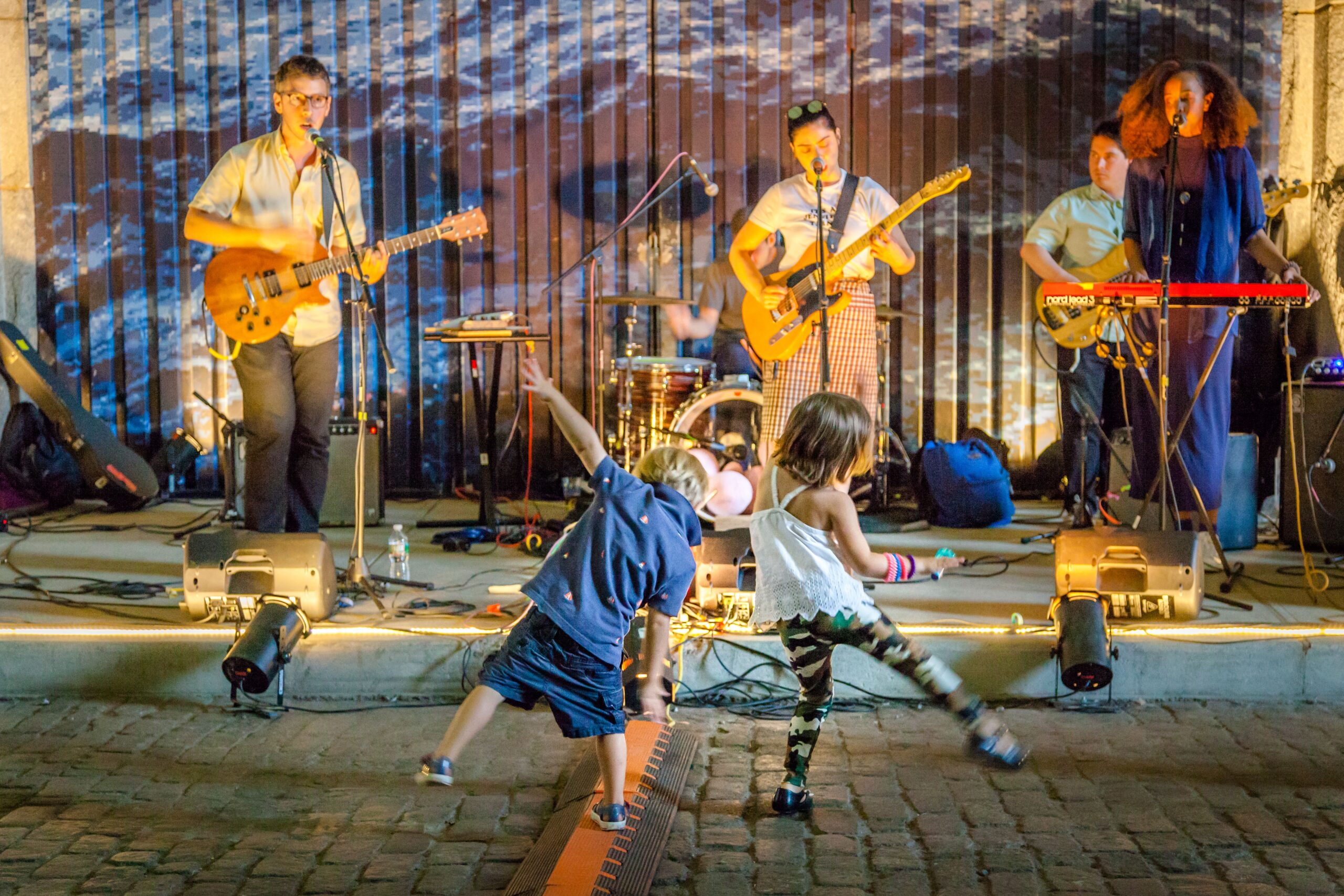 Kayaking | Brooklyn Bridge Park | Wednesday, Thursday Saturday & Sunday
With the Conservancy's ever-popular kayaking program held in partnership with Brooklyn Bridge Park Boathouse, visitors can enjoy gliding across the East River on Wednesday and Thursday evenings as well as Saturdays starting in June through the end of September. New family kayaking on Sundays will also be offered. Advance registration is required for all, starting first weekend of June, make reservation today. Make a reservation here.
Library programming | Brooklyn Heights library | Tuesdays to Saturday
Library programming | DUMBO library | Tuesdays to Saturday
Tuesdays from 1.15 to 1.45 pm and 2.15 to 2.45 pm: Babies and books for 0 to 18 months. RSVP here, opens one week before the event.
Tuesdays from 3.30 to 4.30 pm: Teen time with arts & crafts and board games for ages 10 to 17 years. No RSVP required.
Wednesdays from 10.30 to 11 am and 11.30 am to 12 pm: Toddler time for ages 18 months to 3 years. RSVP here.
Thursdays from 4 to 5 pm: Teen Tech Time with video gaming. No RSVP required.
Cumbe Dance Series | Fort Greene Park | Sundays
Join the Cumbe Center for African and Diaspora Dance and the Fort Greene Park Conservancy every Sunday from 11am to 12pm in July for rotating Afro Diasporic Dance groups who will teach a family-friendly workshop followed by a performance.