Our weekly overview of events and things-to-do for families in Brooklyn is out! Highlights this week are our epic Back to School Party on car-free Montague Street on Saturday, the Carroll Park fall fair, a family-friendly Rosh Hashanah celebration in DUMBO's Archway and the African Film Festival family day.
Jewish

New

Year

Festival | Dumbo's Archway | Thursday 9/15

Prepare for Rosh Hashanah at the Jewish New Year festival with the Chabad of DUMBO. Entertainment for the young and old! Learn how honey is made with Andrew the beekeeper. Get your face painted! Make a beautiful honey jar. Create a New Year card at our unique Rosh Hashanah photo booth and watch a great juggling show and more! Free RSVP here. The event will take place in the Archway under the Manhattan Bridge on Thursday from 4 to 6 pm.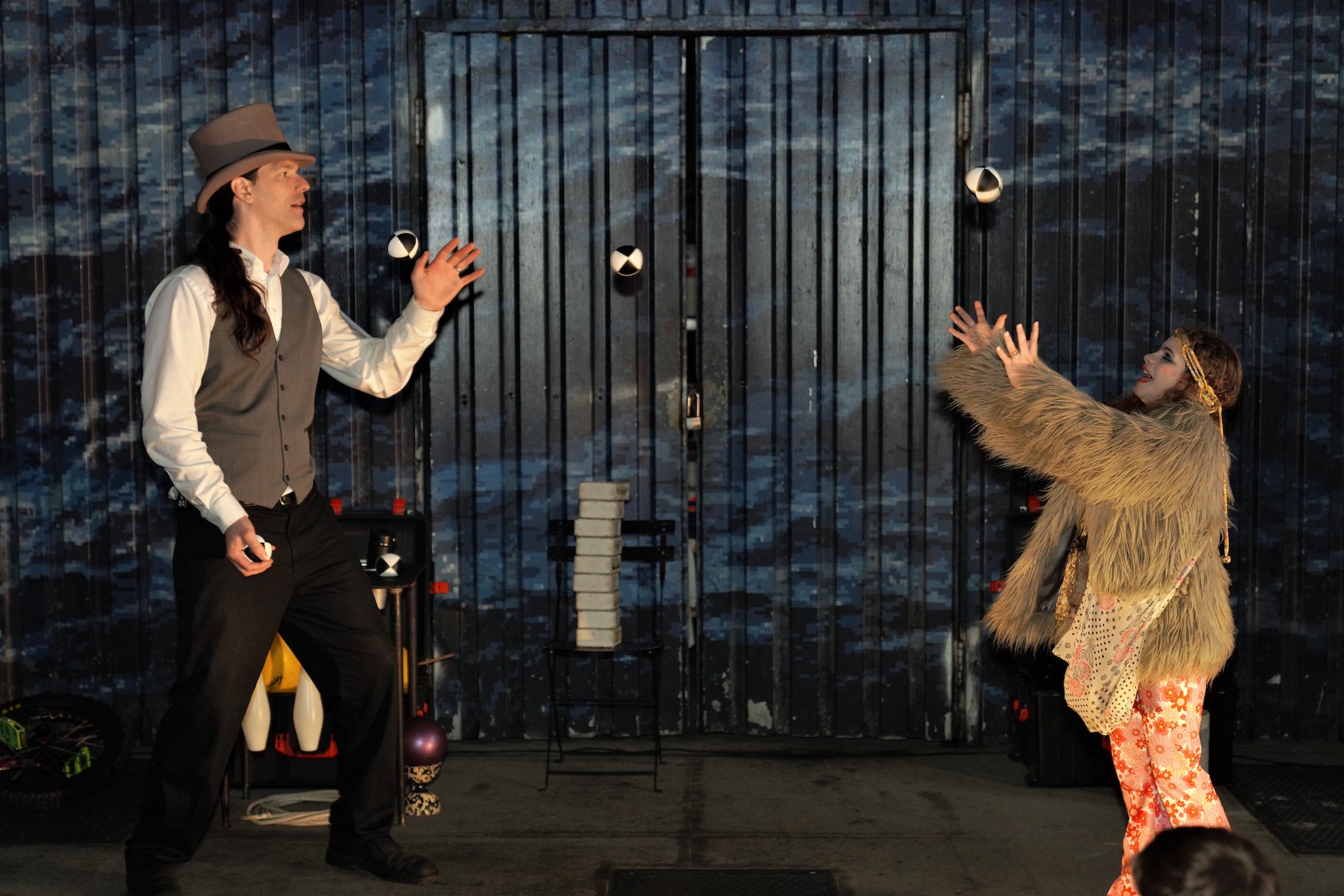 Nature Storytime | Education Center Brooklyn Bridge Park | Thursday 9/15
Join for Nature Storytime at the Environmental Education Center in DUMBO! Held at 4 pm on the third Thursday of every month (during Open Hours). Librarians from Brooklyn Public Library Adams Street location lead for an exciting and engaging storytime session, along with singing and rhymes. Each month they select a book to pair with the Education Center's monthly nature theme. Be sure to get there early to check out all the animals and activities in the room before storytime officially begins – open hours on Thursdays are currently 3:00-5:00pm! Storytime is typically about a half hour long.
Back to School Party | Brooklyn Heights | Saturday 9/17
Brooklyn Bridge Parents is taking over Open Streets on Montague Street to bring 20+ free kids activities to the neighborhood! Join us for our Back to School Party during Open Streets on Montague on Saturday, September 17 from 1 to 5 pm with free kids activities, performances and more. We will have games, arts & crafts, soccer, chess, golf, dungeon building, balloon twisting, Ninja warrior training, science shows and much more. The Puppet Mobile will offer free puppet shows for kids 2 to 8 years at 2 pm and 3.30 pm (each show takes about 30 minutes, be there on time to get a seat). A magic show will take place at 4.15 pm. The car-free blocks will be from Clinton, Henry to Hicks. Free RSVP here.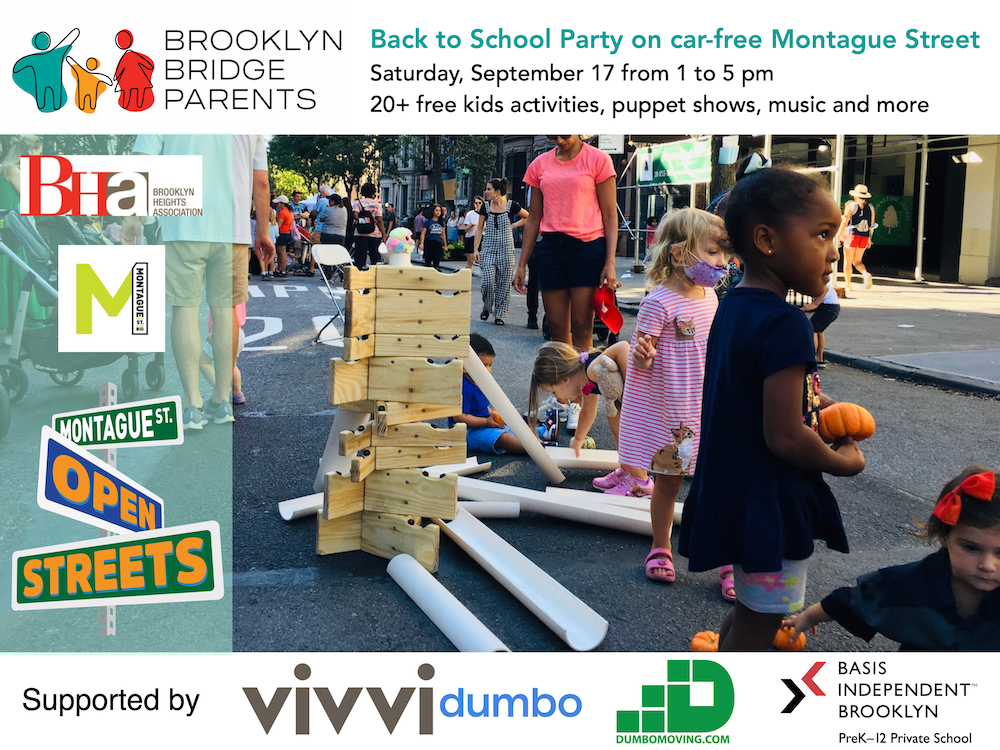 Carroll Park Fall Fair | Carroll Gardens | Saturday 9/17
The annual Carroll Park Fall Fair will take place on Saturday 9/17 from 10 am to 5 pm with free arts & crafts, shopping, music and more.
DUMBO Family Games | DUMBO | Sunday 9/18
Join us for DUMBO Family Game Time on Sundays from 9/11 until 10/30 from 10 am to 12 pm on pedestrian-only Washington Street with free games for kids 1 to 10!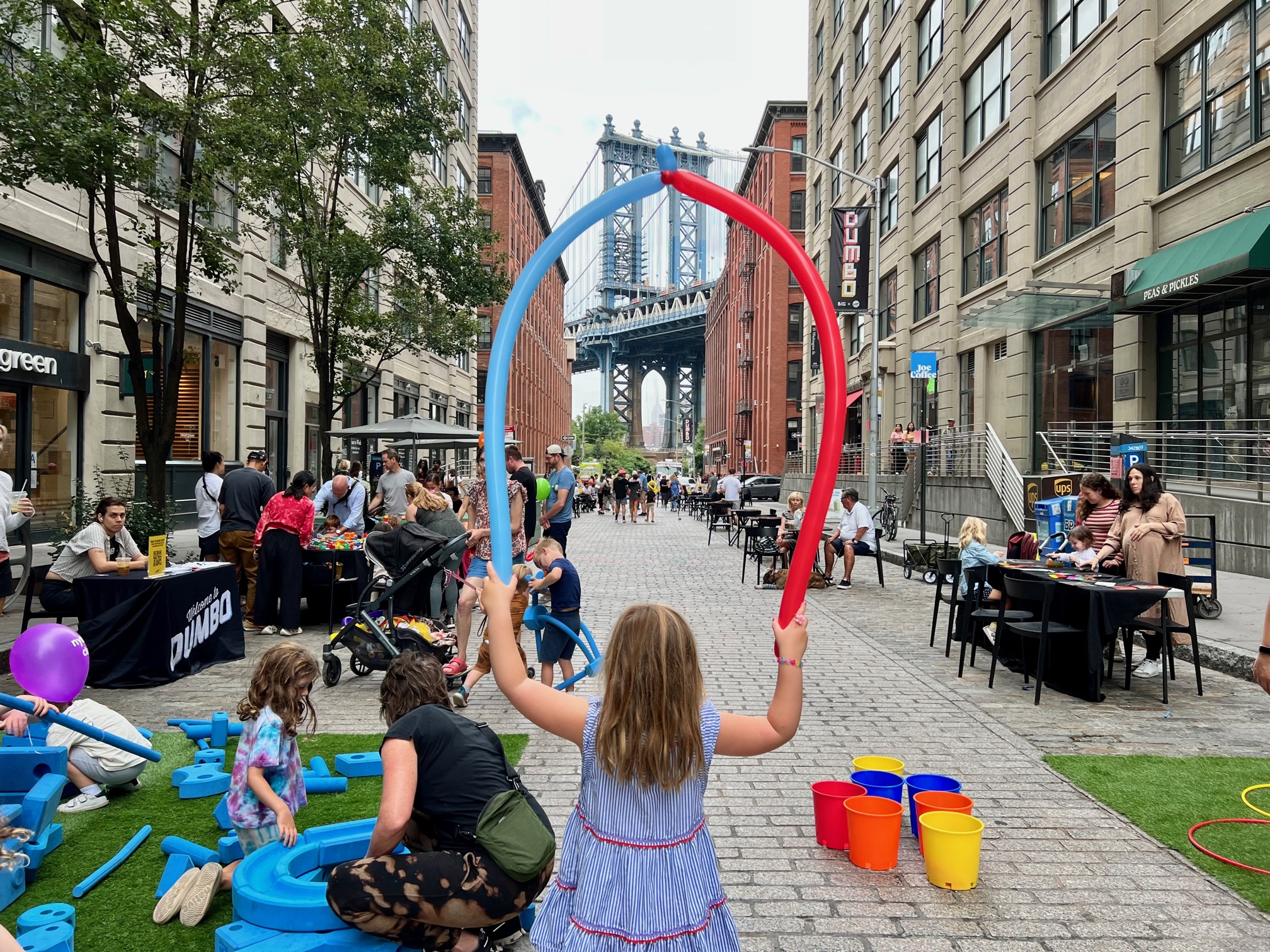 African Film Festival Family Day | Governors Island | Sunday 9/18
AFF's annu­al Fam­i­ly Day Cel­e­bra­tion is back and indi­vid­u­als of all ages are invit­ed to join for an enchant­i­ng day of free activ­i­ties includ­ing sto­ry­telling, dou­ble-dutch, dance and drum work­shops led by world-renowned instruc­tors, arts and crafts and a selec­tion of short films, all cel­e­brat­ing Africa and the diaspora. The free event will take place in Nolan Park from 12 to 6 pm on Sunday, September 18.
Ping Pong | Brooklyn Commons | Tuesdays
DJs set the soundtrack on Tuesday evenings while you enjoy family-friendly ping pong games with The Push. Tuesday from 4.30 to 6.30 pm at Brooklyn Commons in Downtown Brooklyn. RSVP here.
Kayaking | Brooklyn Bridge Park | Saturdays
With the Conservancy's ever-popular kayaking program held in partnership with Brooklyn Bridge Park Boathouse, visitors can enjoy gliding across the East River on Saturdays starting in June through the end of September. Make a reservation here.
Library programming | Brooklyn Heights library | Monday to Friday
Tuesday 3.30 – 4.30 pm: Back to School concert
Wednesdays 2.00 – 3.30 pm: Make your own Origami Crane
Wednesdays 3.30 – 4.30 pm: Teen Time. RSVP here.
Thursdays 10.30 – 11.00 am: Babies & Books for 0 to 18 months. RSVP here.
Friday 3.30 – 5.00 pm: Teen time
Library programming | DUMBO library | Monday to Saturday
Tuesday 3.30 – 4.30 pm: Kids explore acting for ages 6 to 12, RSVP here.
Wednesday 3- 5 pm: Family movie Zootopia
Thursday from 10.30 to 11 am and 11.30 am to 12 pm: Toddler time for ages 18 months to 3 years. RSVP here.
Thursdays from 3.30 to 4.30 pm: Teen Tech Time with video gaming. No RSVP required.
Friday from 1.15 to 1.45 am and 2.15 am to 2.45 pm: Babies & books. RSVP here.
Saturday 2 – 2.30 pm: Preschool storytime