Native American dancing, culture festival, photo exhibit kids programming and an epic block party with flying elephants happening this week in Brooklyn.
The Thunderbird American Indian Dancers | Downtown Brooklyn | Thursday 6/1
Bare Feet with Mickela Mallozzi returns to Downtown Brooklyn for another cultural journey through music and dance. Seasoned pros and first-time dancers are all welcome to join on The Plaza's dance floor for fun and exciting moves. Thursday,  6 to 8 pm at the Plaza at 300 Ashland. Find out more here.
DUMBO Drop street fair with flying elephants | DUMBO | Friday 6/2
The fifth annual Dumbo Drop, Dumbo's signature tradition with flying elephants and block party will take place on Friday, June 2 (rain or shine). Thousands of parachuting toy elephants will make their way from the rooftops surrounding Washington Street at two times – 6 and 7 pm. The Party is free + open to all. No RSVP needed. Get your elephants here.
Live entertainment on Washington Street
DUMBO Drops on Washington Street at 6 and 7 pm
Dumbo Drop Kids Zone from 4 to 7 pm featuring 20+ activities for ages 1-14 including face painting, science experiments, soccer, skateboarding, nerf range, arts & crafts, powered by Brooklyn Bridge Parents in the Archway and at the Pearl Street Triangle
Bedazzling extravaganza, powered by Creatively Wild Art Studio in the DUMBO Archway
Restaurant Row "Taste of DUMBO" on Water Street between Washington and Main Street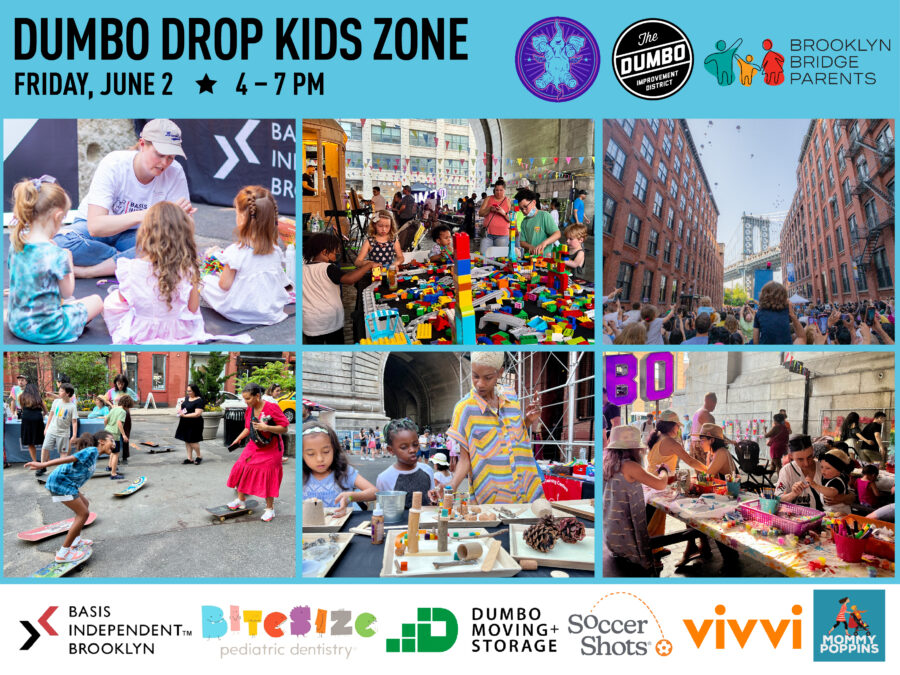 Photoville Opening Weekend | Brooklyn Bridge Park | Saturday 6/3 and Sunday 6/4
This free, family-friendly festival brings New Yorkers face-to-face with an abundance of local and international stories captured on camera. Photoville exhibit in Brooklyn Bridge Park with their classic shipping containers runs from June 3 to June 18 daily from 12 to 8 pm (closed Mondays). The Opening Weekend community celebration on June 3 and 4 will take place at Pier 1, Emily Warren Roebling Plaza and the Harbor View Lawn, where they will have in-person activities, evening programming, and lots of photo exhibitions.
Highlights for families on Saturday, June 3
12-5 pm various kids crafts
All day Smorgasburg pop-up
Highlights for families on Sunday, June 4
12-5 pm various kids crafts
2-4 pm free pet portraits
All day Smorgasburg pop-up
Yama Culture Festival | Bay Ridge | Saturday 6/3
Get ready to experience an explosion of cultures at the first culture festival at the Shore Road Park on Saturday from 2 to 7 pm with dances, music and kids activities from 3 to 6 pm.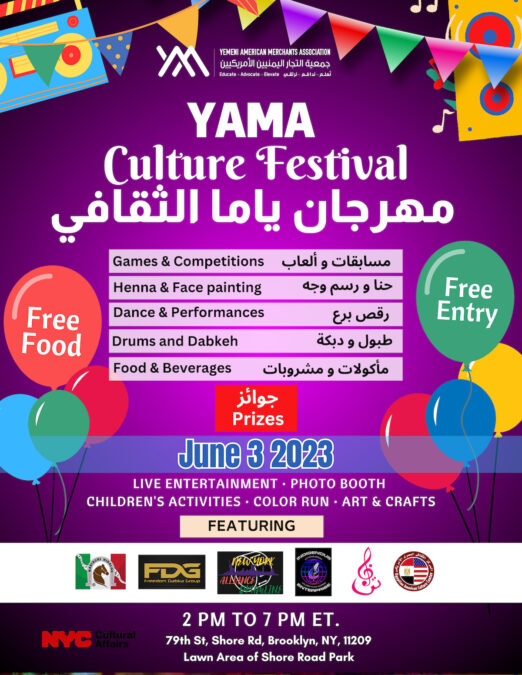 PS 8 Paddle Wheeler | Brooklyn Heights | Saturday 6/3
Block party fundraiser for PS 8 with bouncy castle, swingin' pirate ship, photo booth, hair painting and much more outside PS 8 in Brooklyn Heights on Saturday, June 3 from 12 to 4 pm. Suggested donation $30 per child.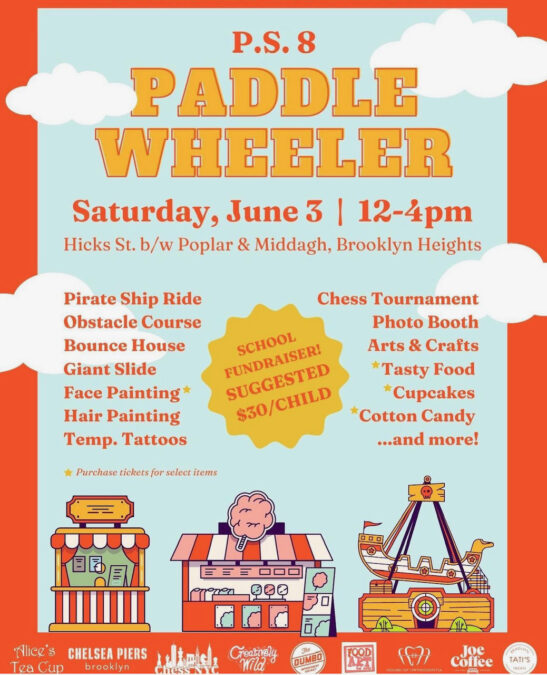 Spring Carnival | Boerum Hill | Saturday 6/3
Families First's Spring Carnival is back! This event We will have a huge bouncy slide, bounce castle, carnival games, snacks, arts & crafts, and more. Hopalong Andrew will perform at 11:30 am. Tickets available for purchase for all activities. Saturday, June 3 from 10 am to 2 pm.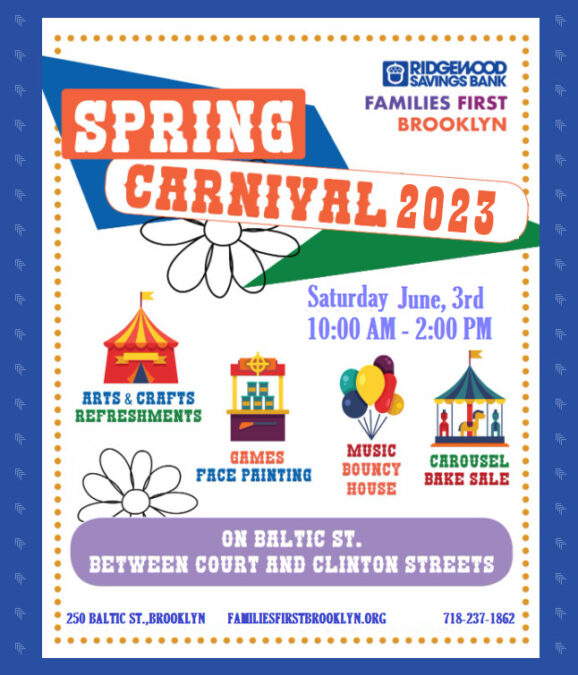 Basketball clinics | Pier 2 | Tuesdays
Recommended for ages 7-17, join Brooklyn Bridge Park Conservancy for 2 hour basketball clinics led by KING Hoops. Learn basketball basics as head coaches lead participants through drills and games. Clinics run on Tuesdays from May 30 through July 25 at Pier 2. Clinics for ages 7 to 12 will be from 4 to 5 pm, while clinics for ages 13 to 17 will be from 5 to 6 pm. Advanced registration and waivers are required, although walk-up registrations can be accommodated as space allows. Registration will open at this link every Tuesday at 10 am for class the following week.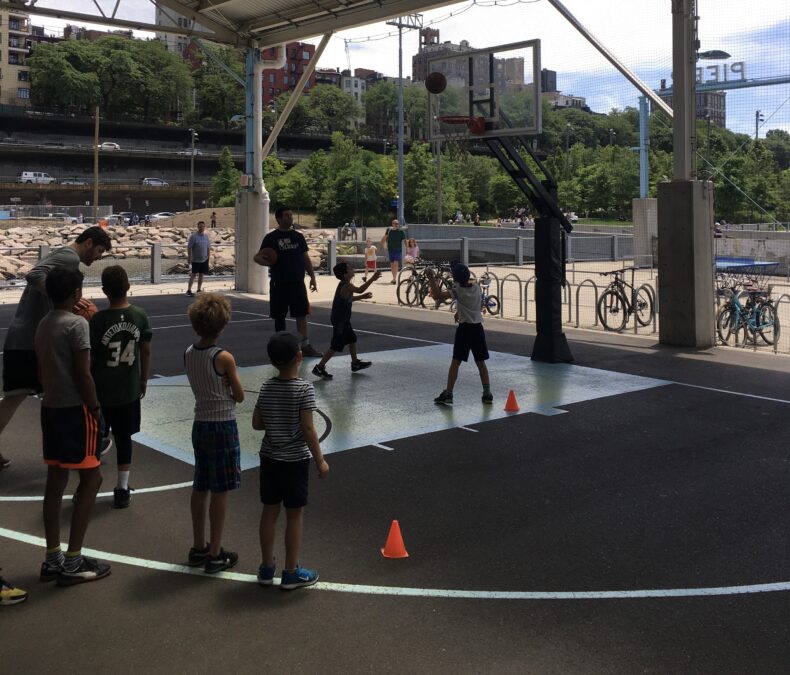 Kayaking | Pier 4 | Wednesdays, Thursdays, Saturdays & Sundays
Free family-friendly kayaking is offered throughout the summer on Wednesday and Thursday evenings, and Saturday and Sunday afternoons through September in Brooklyn Bridge Park. Find out more here.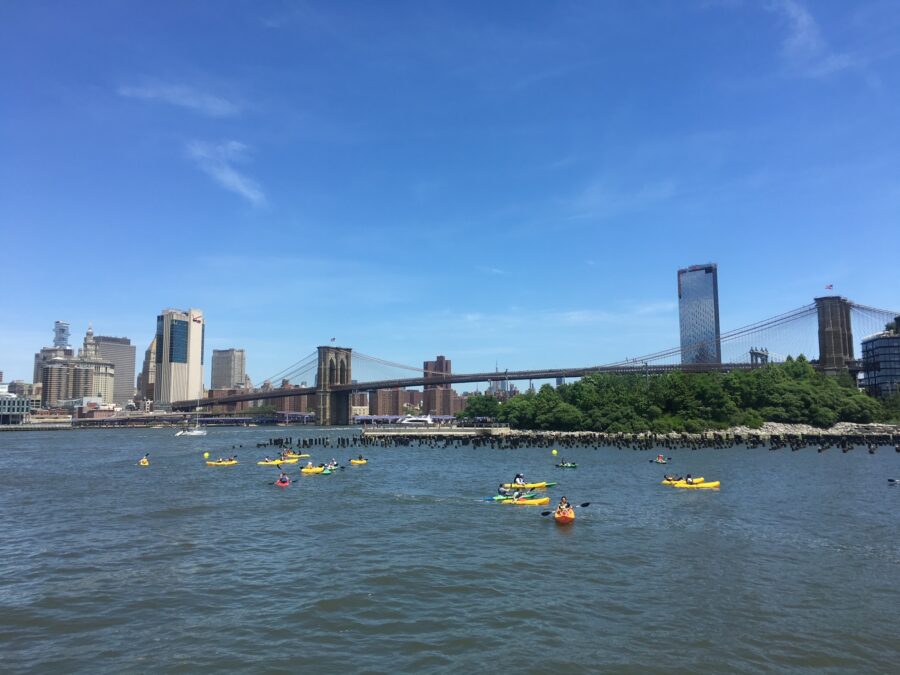 Pickleball and badminton | Brooklyn Commons | Wednesday – Sunday
Grab your favorite opponent to play two fun racquet sports – pickleball and badminton at Brooklyn Commons in Downtown. All participants will be required to sign waivers for themselves and any minors. Equipment provided. 11 am to 5 pm daily until June 11. Find out more here.
Open Streets | Montague Street | Saturday 6/3
Tip toe through Montague Street Blooms, a 6-foot flower pop up park, and enjoy the magical public space, practice and learn to score goals, dribble, and zigzag from the pros at Super Soccer Stars, use your imagination to play with New York Society of Play. After you've worked up an appetite, visit Mad for Chicken, 80 Montague Street, where kids eat free from 12-5pm.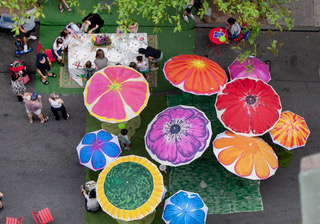 Free Concerts at Bargemusic | Pier 1 | Saturday 6/3
Bargemusic's free concert series has returned for the season. Come hear world class professional musicians…for free! All ages are welcome as this is a unique opportunity to expose younger children to classical music. Programs are less than 1 hour long. The next performance is this Saturday, June 3rd @ 4pm at 1 Water Street. Future performances are June 24th, July 9th, July 23rd, August 19th and August 26th.
Ping Pong Happy Hour | Brooklyn Commons Park | Tuesdays
DJ Mike Doelo and The Push are back for another series of ping pong match ups on Tuesdays from 5 to 7.30 pm. Free RSVP here.
Storytime | McNally Jackson CityPoint | Tuesdays and Wednesdays
McNally Jackson bookstore is hosting free story times upstairs in their children's section Tuesdays and Wednesdays at 4 pm for ages 4 to 8. No RSVP required, just show up.
Storytime | Barnes and Noble in Cobble Hill | Saturdays
Weekly story time on Saturdays at 11 am for kids ages 2 to 8 is back at the new Barnes & Noble location on Atlantic Avenue in Cobble Hill.