May is packed with outdoor events for families including the Family Fun Fest in Fort Greene, the Bklyn Block Party in Downtown Brooklyn, the DUMBO Drop, outdoor STEM labs, a day with free carousel rides and the DanceAfrica bazaar in Fort Greene!
Jane's Carousel 100th Birthday Celebration | DUMBO | 5/7
Join the horsies on May 7th from 11 am to 6 pm to celebrate Jane's Carousel Day at Brooklyn Bridge Park! Commemorating the 100-year history of the Carousel, they will be offering free rides for the community and fun activities for the whole family. There will also be free face painting, guest speakers, and balloon animals.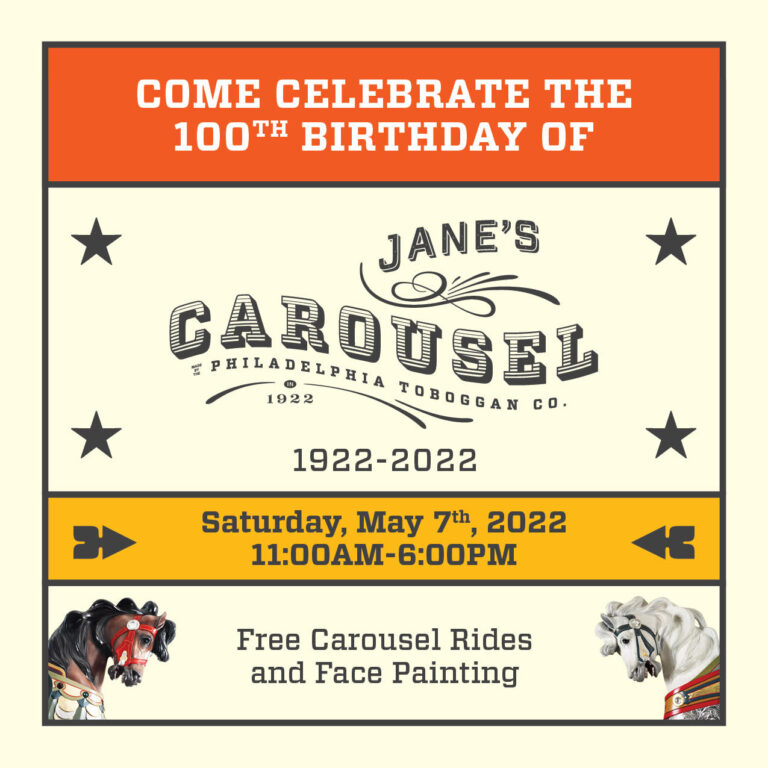 PS 29 Super Science Saturday | Cobble Hill | 5/7
Join us as we turn PS29's play yard into our very own hand-on science museum. We will have rocket launches, balloon races, catapult making, sun prints, morse code bracelets, the physics of soccer, taste and smell tests, light up card-making, heart-rate monitoring, mine-craft blasters, DIY chalk, upcycled bag making, three Mad Science stage shows, animal shows from Ranger Eric, and more! Visit our website to learn more and purchase tickets (donation $20 per family). May 7 from 11.30 am to 3.30 pm at PS 29 in Cobble Hill.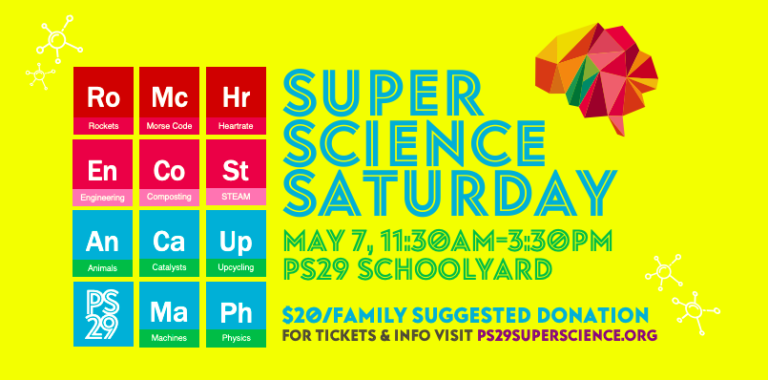 The Big Question | Commodore Barry Park | Saturdays
Explore some of life's biggest questions at this series of interactive workshops led by STEM scientists from the American Museum of National History and NYU. After every workshop, kids get to take home books and curiosity kits about what they learned! Hosted in collaboration with Brooklyn Book Bodega. The free workshops are hosted in Commodore Barry Park on Saturdays at 10 am.
What Is an Animal? (Ages 5–8)
Saturday, May 7 / 10 am / Commodore Barry Park
Why Are There So Many Insects? (Ages 5–8)
Saturday, May 14 / 10 am / Commodore Barry Park
Did Cavepeople Really Live in Caves? (Ages 5–8)
Saturday, May 21 / 10 am / Commodore Barry Park
Brass Bands Festival | Brooklyn Bridge Park | 5/14
Brooklyn Bridge Park Conservancy is excited to announce their second annual Brass Bands Festival in the Park on Saturday, May 14! Visitors will experience the performance in an interactive and self-guided way throughout the afternoon, as New Orleans' second-line style processionals welcome the public across multiple lawns and plazas. The free event will take place across Pier 3 to Pier 6 in Brooklyn Bridge Park on Saturday 5/14 from 2 to 6 pm.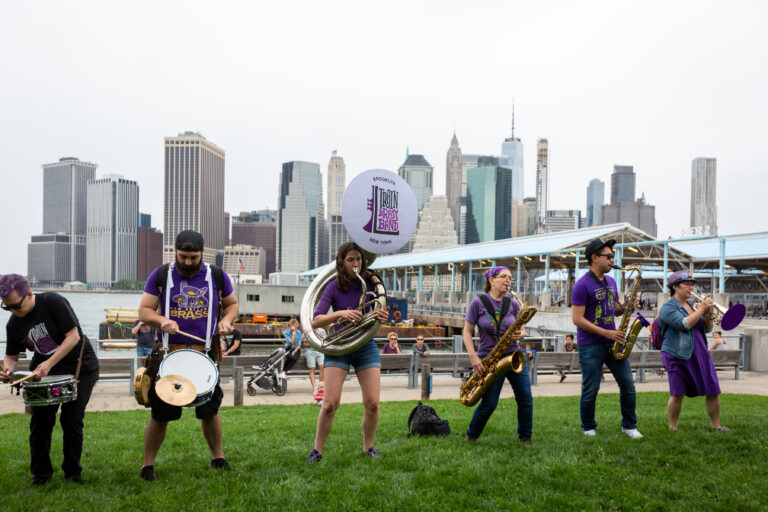 Bklyn Outdoor and Indoor Block Party | City Point Brooklyn | 5/14
Back by popular demand, Brooklyn Bridge Parents will bring the party to Downtown Brooklyn at both City Point (indoors) and Albee Square (outdoors) with free, fun activities for families with kids, ages 1 to 12! Bouncy house, block building, arts & crafts, live music, Pokemon trading and games, soccer games and the Brooklyn Library Kids Mobile at City Point at 445 Albee Square West and Albee Square outside. Kids are encouraged to bring their Pokemon cards to trade. Rain date: May 15 from 11 am to 3 pm. Free RSVP here.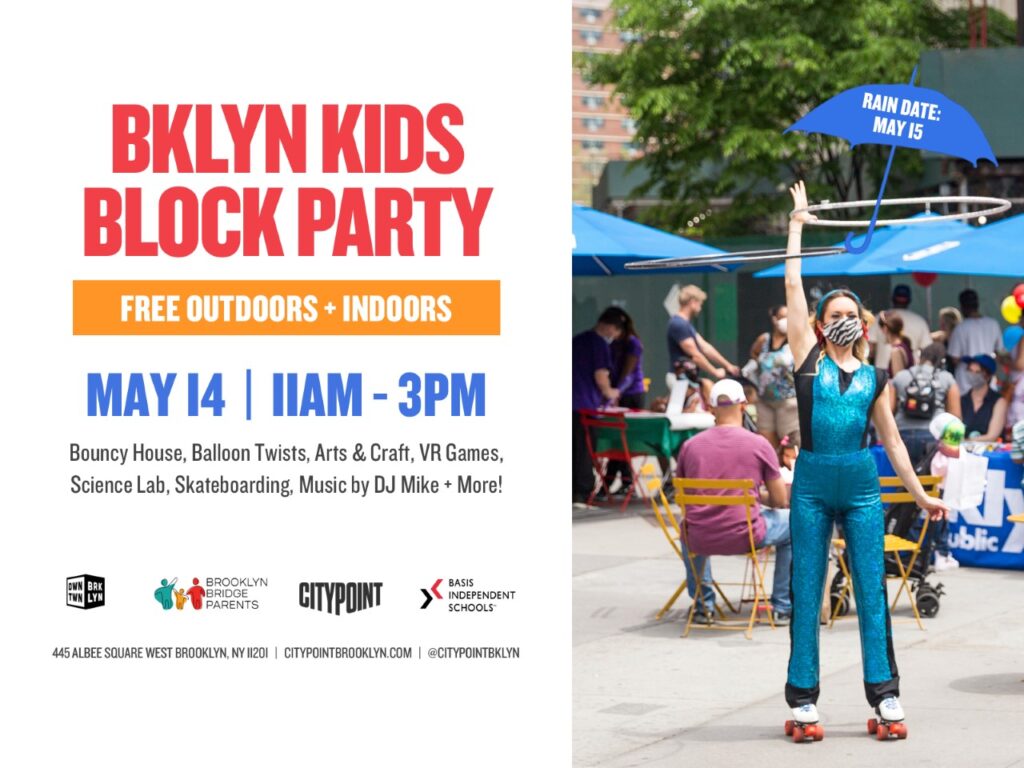 Brooklyn Public Library Outdoors | Fort Greene Park | 5/14
Join the library at the northeast corner of Fort Greene Park for free activities and giveaways. (Rain date: Saturday, May 21, 2022 from 10am-1 pm.)  Events will include: Pot decoration station with free wildflower seed giveaway—plant native wild flowers to support native bees and pollinators! Drag Story Hour at 11-11:45 am, Green Storytime with Miss Rachel at 12:15-12:45pm, contribute to communal SAORI (Japanese Zen) weaving from Loop of the Loom and more.
Swamp in the City Festival | Governors Island | 5/14
Swamp in the City is NYC's only Cajun & Cre­ole music fes­ti­val that cel­e­brates the vibrant musi­cal, cul­tur­al and culi­nary tra­di­tions unique to South­west Louisiana. This FREE daytime event will take place on Governor's Island (Colonels Row) on Saturday, May 14 from 11a-5p and will feature two stages of live music featuring world-class Louisiana dancehall bands, intimate duos/trios between sets, a Swamp in the City bar, a food truck parked near the main stage, and plenty of open space to dance, have a picnic and soak up the scene. Free RSVP here.
Willowtown Spring Fair | Brooklyn Heights | 5/21
The annual Spring Fair in Willowtown this year will take place on on Saturday, May 21, 12 pm to 5 pm. The location is Willow Place between Joralemon and State Street. Food, crafts, kids activities and more.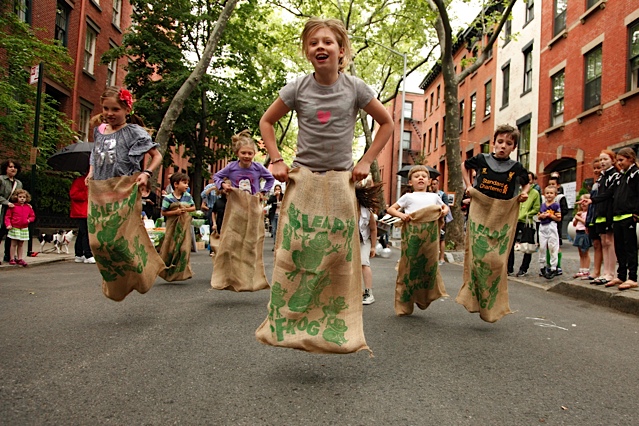 DUMBO Drop 2022 | DUMBO | 5/21
Brooklyn's most iconic Block Party with a spectacle twist – thousands of elephants dropping onto Washington Street. Purchase your child's elephant today! The event will take place on Saturday May 21 from 3 to 8 pm in car-free DUMBO. 20+ free kids activities including Pokemon trading, a nerf test range, arts & crafts, book giveaways, block building, face painting and much more will take place in the Brooklyn Bridge Parents kids zone in the Archway and the Pearl Street Triangle from 3 to 7 pm. Find out more here.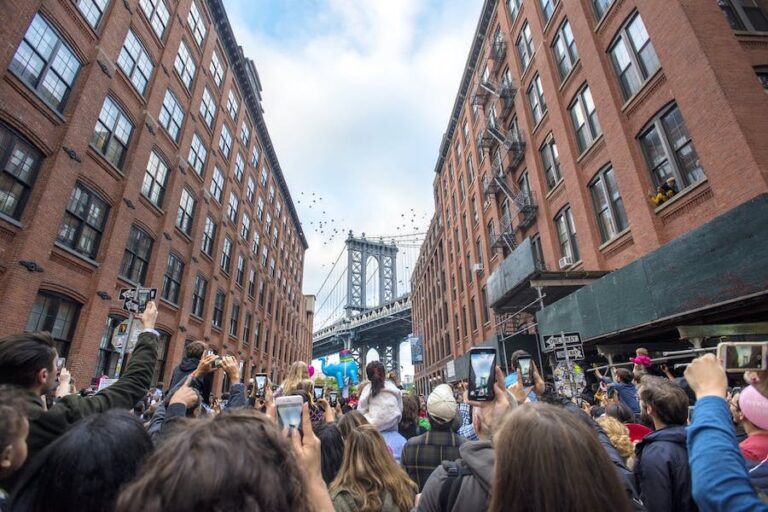 Family Fun Fest | Fort Greene | 5/22
Join us for our Spring Family Fun Fest with Brooklyn Bridge Parents at Atlantic Terminal Plaza on Sunday, May 22 from 12 to 4 pm. There will 30 free kids activities including a bouncy house, learn to ride a bike classes, tennis games, arts & crafts, dance lessons, live music, raffles, food trucks and more. Free RSVP here.
Moms Night Out | DUMBO | 5/24
Brooklyn Bridge Parents and Melissa Joy Manning have partnered up to host a spring moms' night out to connect with fellow mothers, have a drink together and explore the DUMBO-designed jewelry collection at this new jewelry store. Featuring a 10% discount and 10% donation to Brooklyn Bridge Park Conservancy, the free event will take place on Tuesday, May 24 from 7 to 9 pm. Free RSVP here.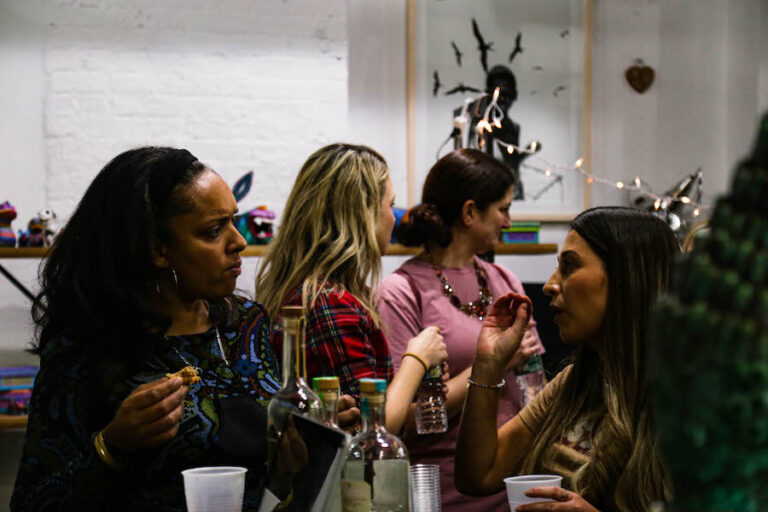 BAM DanceAfrica Bazaar | Fort Greene | 5/28 – 5/30
DanceAfrica's beloved bazaar returns, featuring more than 150 vendors from around the world, offering African, Caribbean, and African-American food, crafts, and fashion. Celebrate the rich and diverse cultural heritage of Africa and its diaspora—and see the streets surrounding BAM transformed into a global marketplace.Bazaar Hours (rain or shine): Saturday, May 28, 12—10pm, Sunday, May 29, 12—8pm and Monday, May 30, 12—8pm on Ashland Place (between Hanson Pl & Fulton St). Find out more here.
Japan Per­form­ing Arts Festival | Governors Island | 5/28
Japan Per­form­ing Arts presents their free Ear­ly Sum­mer Fes­ti­val on Gov­er­nors Island! Join in Nolan Park on May 28 from 12 to 6 pm, for Japan­ese food ven­dors, per­for­mances, a play­ground area, kimono dress­ing demon­stra­tions and work­shops on Awaodori and Gujo Odori. Find out more here.