Our weekly overview of events and things-to-do for families in Brooklyn is out! Highlights this week are our Fall Fest with Touch-A-Truck lineup and 500+ pumpkins waiting to be decorated, a Sukkoth celebration for children and various new story times.
Storytime | McNally Jackson CityPoint | Wednesdays, Thursdays and Sundays
McNally Jackson book store is hosting free story times upstairs in their children's section Wednesdays and Thursdays at 4 pm and Sundays at 1 pm for ages 4 to 8. No RSPV required, just show up.
Children's Sukkot Party | Chabad of DUMBO | Thursday 10/13
Come celebrate Sukkot in the Dumbo community Sukkah! Join the Chabad of DUMBO for pizza and snacks together with a live animal show from the famous Nature Company. There will be many live animals to see, touch, and learn about! The event – open to all – will be held on Thursday from 4 to 6 pm at the Chabad of DUMBO on Plymouth Street. Find out more here.
Nature Storytime | Education Center Brooklyn Bridge Park | Thursday 10/13
Join for Nature Story time at the Environmental Education Center in DUMBO! Held at 4 pm on the third Thursday of every month (during Open Hours). Librarians from Brooklyn Public Library Adams Street location lead for an exciting and engaging story time session, along with singing and rhymes. Each month they select a book to pair with the Education Center's monthly nature theme. Be sure to get there early to check out all the animals and activities in the room before storytime officially begins – open hours on Thursdays are currently 3:00-5:00pm! Story time is typically about a half hour long.
Fall Fest | Downtown Brooklyn | Saturday 10/15
Over 500 pumpkins are being harvested this week in the Hudson Valley for our epic Fall Fest in Downtown Brooklyn. Don't miss our free mini pumpkin patch and pumpkin decorating for Brooklyn families! Atlantic Terminal Mall and Brooklyn Bridge Parents are hosting a FREE family-friendly fall festival on Atlantic Terminal's outdoor plaza and car-free Fort Greene Place on Saturday, October 15th from 12 to 3 PM (rain date: Sunday, October 16th from 12 to 3 PM). We will bring to life Brooklyn's first ever spooky Touch-the-Truck line-up – kids will be able to go inside the Halloween-decorated trucks, build a skeleton train and take photos in front of the very spooky vehicles. The outdoor plaza will feature arts & crafts, pumpkin painting (take home your own decorated pumpkin just like in the photos), block building, music & more! Kids are encouraged to come in costumes. Free RSVP here.
Free soccer classes | DUMBO | Saturday 10/15
Futbol Rebels is now offering soccer classes in DUMBO's new Dr. Susan Park and to celebrate, they are hosting a free soccer class on Saturday, October 15th (see below schedule for all ages)! Just show up.
3 – 4 year olds: Saturdays 9.30 – 10.15 am.
5-7 year olds: Saturdays 10.15 – 11.15 am.
9-12 year olds : Saturdays 11:15-12:15pm.
Pumpkin Party | Brooklyn Heights | Saturday 10/15
The Poplar Street Community Garden is hosting its annual pumpkin party with carving, painting and planting plants for all ages. Email poplargarden@gmail.com with your preferred time between 12 and 3 pm to join the party this Saturday.
Story time | Center for Fiction in Downtown Brooklyn | Saturday 10/15
In honor of Hispanic Heritage Month, the Brooklyn Conservatory of Music and The Center for Fiction are partnering to create and present a FREE and fun new show featuring interactive music, storytelling, and a petting zoo of instruments. The event will feature storyteller and author Areli Morales, who will read from her book "Areli is a Dreamer." In the first picture book written by a DACA Dreamer, Areli Morales tells her own powerful and vibrant immigration story. The show will run from 12 to 12:45pm. After that, musical crafts will be made from 1 to 3pm!
2022 Red Hook Harvest Festival | Saturday 10/15
Enjoy food, games, pumpkins, art, music, and more on Saturday from 11 am to 3 pm at 560 Columbia Street.
Terrarium Workshop | DUMBO Library | Saturday 10/15
Magdalena Levy from La Catrina Flower Studio in DUMBO will be leading a terrariums workshop for teens and tweens on Saturday, October 15th from 1:30 to 3:30 PM. Using natural materials like moss, soil, rocks, and succulents, create your very own terrarium to take home. Free RSVP here.
DUMBO Family Games | DUMBO | Sunday 10/16
Join us for DUMBO Family Game Time on Sundays until 10/30 from 10 am to 12 pm on pedestrian-only Washington Street with free games for kids 1 to 10!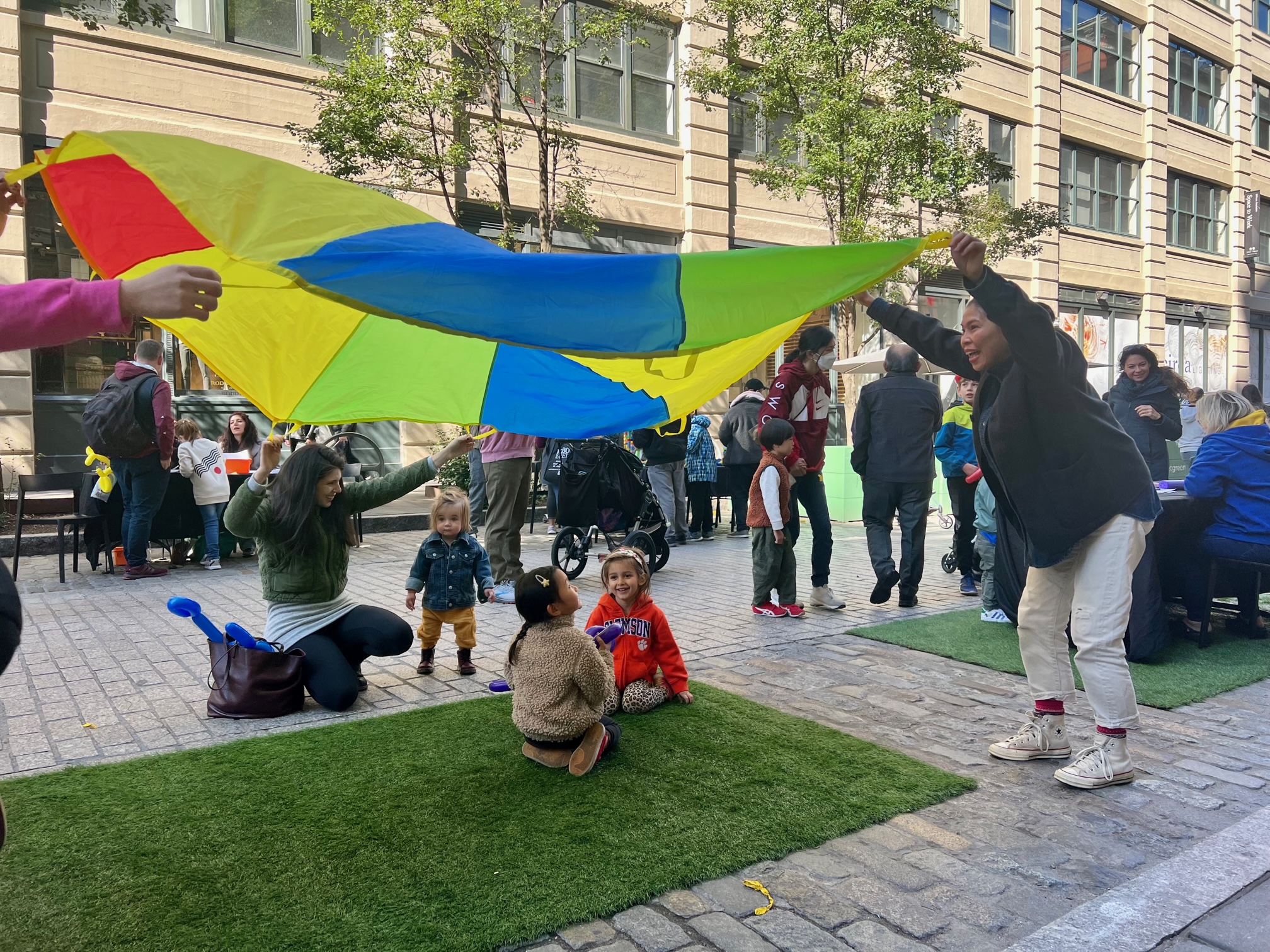 Beetlejuice screening | Cadman Plaza Park | Sunday 10/16
 Join the Cadman Park Conservancy this Sunday, October 16th for a screening of Tim Burton's 1988 cult classic Beetlejuice. Grab a seat on the lawn at 6 pm, the movie starts at sundown.
Library programming | Brooklyn Heights library | Monday to Saturday
Tuesday 3.30 – 4 pm: Preschool story time.
Wednesday 10.30 – 11 am: Toddler story time
Wednesdays 3.30 – 4.30 pm: Teen Time. RSVP here.
Wednesday 3.30 – 4.30 pm: Chess
Thursdays 10.30 – 11.00 am: Babies & Books for 0 to 18 months. RSVP here.
Friday 3.30 – 5 pm: Family movie
Saturday 11 – 11.30 am: Family storyt ime
Library programming | DUMBO library | Monday to Saturday
Tuesday 4 – 5 pm: Kids Explore Acting for ages 6 to 12 RSVP here.
Wednesday 4- 6 pm: Family movie CoCo
Thursday from 10.30 to 11 am and 11.30 am to 12 pm: Toddler time for ages 18 months to 3 years. RSVP here.
Thursdays from 4 to 5 pm: Teen Tech Time with video gaming. No RSVP required.
Friday at 1.15 and 2.15 pm: Babies and Books – explore books, sing songs, learn fingerplays and meet other babies and caregivers! Best for 0-18 months. RSVP here.
Saturday 11 am – 12 pm: Open Play for Pre-K – K: Adams Street Library will be offering "open play" for pre-k and kindergateners to explore and play literacy and math games as well as imaginary play.