Free Holiday tree lighting events and Santa visits are coming up in various neighborhoods including Downtown Brooklyn, Brooklyn Heights, DUMBO, Fort Greene and Park Slope.
Atlantic Avenue Tree Lighting | Boerum Hill | 11/22
The Annual Tree Lighting Ceremony will be officiated by Assembly Member Jo Anne Simon and New York City Council Member Lincoln Restler promptly at 6pm. Following the holiday greetings from elected officials, the charming Girl Scouts Brownie Troop 2518, first-grade girls from P.S. 261 Philip Livingston will count down to the lighting of the holiday tree. Attendees will then enjoy a live performance of classic holiday tunes from the Lafayette Inspirational Ensemble, a local performing arts group from nearby Cobble Hill. Tuesday, November 22 at 6pm at St. Cyril of Turov Belarusian Church, located at 401 Atlantic Avenue.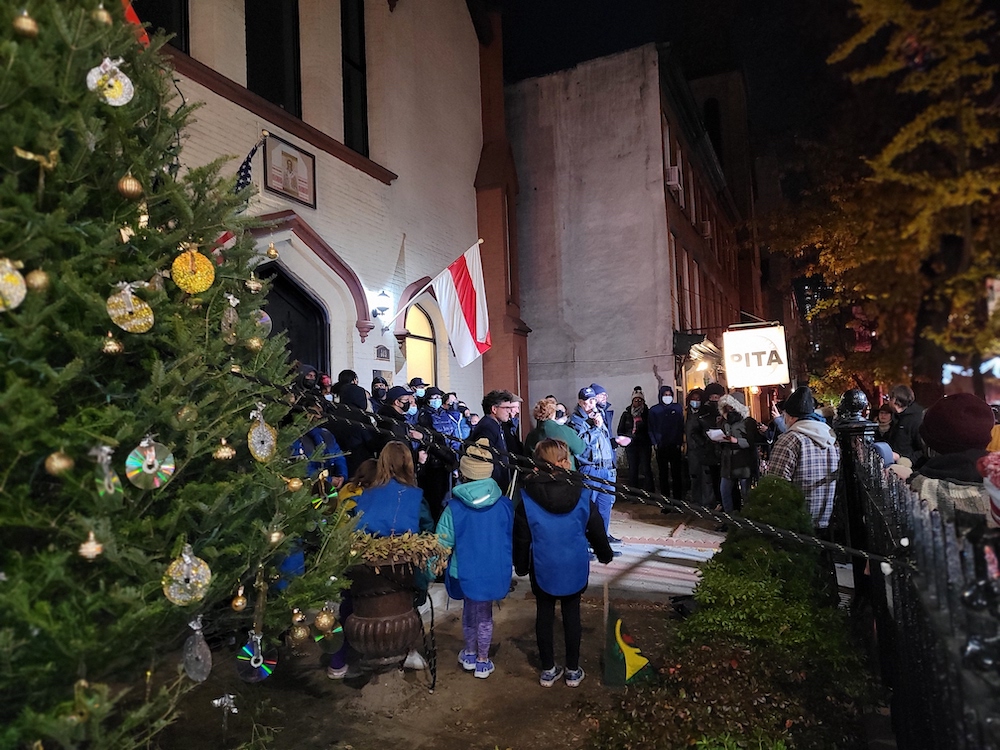 5th Ave Tree Lighting | Park Slope | 11/26
Bubble dad, dance performance, letters to and photos with Santa, face painting and more on Saturday November 26 from 5 to 6 pm at 4th Street Plaza.
Seaport Holiday Tree lighting | Manhattan | 11/29
The Seaport Holiday Tree will be lit on Tuesday, November 29. There'll be live music, surprises, and the countdown to the tree lighting that marks the official start of the holidays. The fun begins at 5pm, with the Tree Lighting Ceremony and live performances. An after-party on the Ice Rink follows at 7pm. A free skate gives kids the chance to join the Skating Princess and the Grinch on the ice, and the party will also feature a choreographed holiday performance by the Sky Rink All Stars. Find out more here.
Light up Brooklyn Commons | Downtown Brooklyn | 11/30 – CANCELLED
Celebrate the start of the holiday season while enjoying a variety of festive outdoor activities at the "Light Up Brooklyn Commons" event, presented by Brookfield Properties, and taking place Wednesday, November 30 from 5:30-7pm at Brooklyn Commons, in Downtown Brooklyn. Attendees can explore an exhibition of carved ice sculptures, behold a joyful musical performance by Brooklyn United, sample holiday treats and watch Santa light the Brooklyn Commons Christmas tree. The Rink at Brooklyn Commons will also spread holiday cheer by offering free ice skating during the time of the event! This event is free and open to the public, and will take place in Brooklyn Commons Park, located outside of 100 Myrtle Ave in Downtown Brooklyn. Free RSVP here.
DUMBO Holiday Tree Lighting | Archway & Pearl Street Triangle | 12/1
The DUMBO Improvement District is thrilled to sponsor the 16th Annual DUMBO Holiday Tree Lighting Ceremony on Thursday, December 1 from 4 to 7 pm. Tree lit at 5:30 pm sharp! Santa Claus, photo booth, Calypso music, Christmas covers, hot cocoa and sweet treats. Find out more here.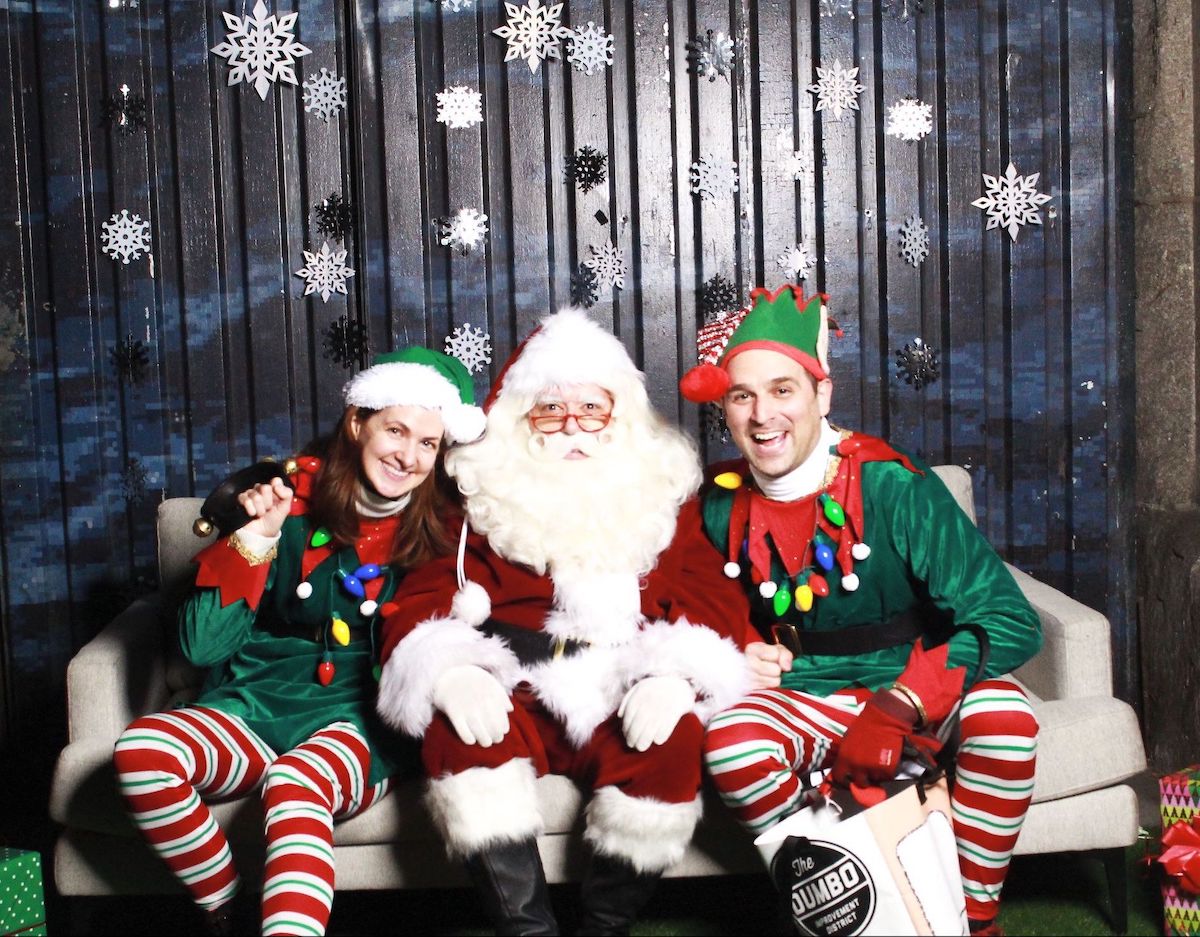 Fort Greene Park Holiday Tree Lighting | 12/4
FREE hot cocoa, cider & cookies from local Myrtle Ave restaurants during the Fort Greene Park tree lighting on Sunday 12/4 from 4 to 5 pm. Selfies with Santa! Toy drive collection. Bring new, unwrapped toys to support toy drives that serve local families. Live holiday music. Watch the tree light up from 4 to 5 pm The lighting this year will take place at the northwest corner of Fort Greene Park, near the Myrtle Ave & St Edwards St entrance.
Brooklyn Heights Christmas Tree Lighting | Montague Street | 12/14
The tree lighting ceremony on the Promenade – foot of Montague Street – will be December 14th at 5:30 pm.
Borough Hall Holiday Tree Lighting | Downtown Brooklyn | 12/8
Join the Borough president for the Holiday tree lighting and live music on Thursday, December 8 at 5 pm outside Borough Hall.
Carroll Park Holiday Tree Lighting | Carroll Gardens | 12/9
The annual holiday tree lighting at Carroll Park will take place on December 9 from 5 to 7 pm with the tree lighting at 6 pm. Music starting on the Court Street end of the park at 5 pm. Actual tree lighting (and Santa's arrival) at 6 pm. Refreshments and Santa encounters 6 to 7 pm at the park house on the Smith Street end of the park.
Christmas Tree Lighting | Grand Army Plaza | 12/14
This year, the Diocese of Brooklyn's Christmas Tree will be lit on Thursday, December 14 at 4 pm at the Soldiers' and Sailors' Memorial Arch. The tree will remain lit 24/7 in red lights—the only such tree in NYC—until January. This annual tradition of displaying the Christmas Tree and Nativity Creche brings the spirit and joy of the Christmas season to Prospect Park and the Brooklyn community.
Gingerbread House and Hanukkah Cookie Decorating | CityPoint | 12/4, 12/11 & 12/18
Kids ages 3 years and up are invited to decorate and design their own One Girl Cookies gingerbread houses and dreidel cookies with royal icing colors and decorative elements such as sanding sugar and candy. Participants will be able to take home their creation in boxes we provide and One Girl Cookies will be on site to support the decorating process. Each child needs a ticket to attend – tickets are $12 per person. The events take place on the main floor (across the hall from McNally Jackson bookstore). Additionally, Children will be able to meet Santa and take photos with Santa at CityPoint for free on December 4, 11 and 18 from 11 am to 2 pm. Watch out for Santa before or after cookie decorating at CityPoint. Get your tickets today!