A new craft studio in Boerum Hill and an indoor roller skating rink in Downtown Brooklyn are opening this week! Plus story times, chess and Lego clubs, our Skate & Play deal for $20 including skate rentals at Industry City and more fun things to do with kids this week in Brooklyn.
Movie night at Bklyn Explorers | Friday 2/10
Need a Friday night to yourselves? Register your Explorer for a night of fun, food, & activities. Cost is all inclusive. For ages 2-12. Must be fully potty trained. Feb 10, 6:30 PM – 9:30 PM at Explorers on Atlantic Ave. Single child $40, additional child $20. RSVP here.
Indoor roller skating rink opening | Saturday 2/11
The Roller Wave roller skating rink is returning to Brooklyn with its newest concept opening at Atlantic Terminal Mall on Saturday, February 11. There will be live music, food and beverage offerings, a live podcast space, VIP section and arcade. The 9,000 square-foot rink within the 24,000 square-foot space will offer additional family programming, skating lessons and more. The Roller Wave will be open Wednesday and Thursday from 12 pm – 10 pm, Friday through Sunday from 11 am – 2 am.Skaters can find The Roller Wave at 625 Atlantic Ave, in between Party City and Old Navy. Tickets start at $19.50 for adults plus a $10 skate rental fee, and $14.50 for children plus a $5 skate rental fee. Tickets can be purchased here: https://www.rollerwavenyc.com/events.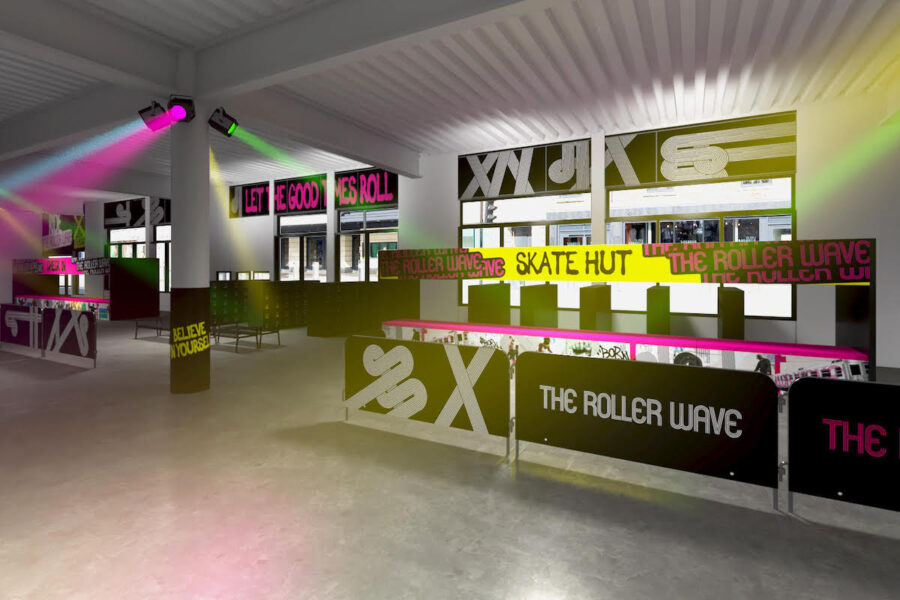 The Craft Studio opening party | Sunday 2/12
The Craft Studio is opening its first Brooklyn outpost at 295 Atlantic Ave on the corner of Smith street. Since the 90s, The Craft Studio has been bringing family fun to NYC with the birthday parties, walk-in crafting, workshops, classes, craft kits and summer camps. Their grand opening day is this coming Sunday, February 12th from 10 am to 6pm. Great for ages 3+ with free mini crafts all day, popcorn, Swag, dance parties and free cookie do from 12 pm to 6 pm.
Storytime at Barnes and Noble in Cobble Hill | Saturdays
Weekly story time on Saturdays at 11 am for kids ages 2 to 8 is back at the new Barnes & Noble location on Atlantic Avenue in Cobble Hill.
Storytime | McNally Jackson CityPoint | Wednesdays, Thursdays and Sundays
McNally Jackson bookstore is hosting free story times upstairs in their children's section Wednesdays and Thursdays at 4 pm and Sundays at 1 pm for ages 4 to 8. No RSVP required, just show up.
Library programming | Brooklyn Heights library | Monday to Saturday
Tuesday 3.30 – 4.00 pm: Preschool story time
Wednesday 10.30 – 11 am: Toddler story time
Wednesdays 4.00 – 5.00 pm: Tween Time. RSVP here.
Wednesday 3.30 – 5.30 pm: Chess Club
Wednesday 4 – 5 pm: Tween time
Thursday 10.30 – 11 am: Babies & Books
Friday 3.30 – 4.30 pm: Kids live music. Free with RSVP.
Friday 3.30 – 5 pm: Teen Tech time
Saturday 11 – 11.30 am: Family story time
Library programming | DUMBO library | Monday to Saturday
Tuesday 4 – 5 pm: Lego Club
Wednesday 4 – 6 pm: Homework Help
Thursday 10.15 – 12 pm: Toddler Time
Friday 1.15 and 2.15 pm: Babies and Books – explore books, sing songs, learn fingerplays and meet other babies and caregivers! Best for 0-18 months. RSVP here.
Family Skate & Play at Industry City on Thursdays
Brooklyn Bridge Parents has partnered up with Mommy Poppins and Industry City to create exclusive Skate + Play packages, including ice skating admission, skate rental plus unlimited play in the game room at the IC Skating Rink for a discounted price. Skate + Play Package – $20: Includes ice skating admission, skate rental, and game room with table tennis, arcade games and more (save $13). Best for kids ages 4 to 12. Get your tickets here.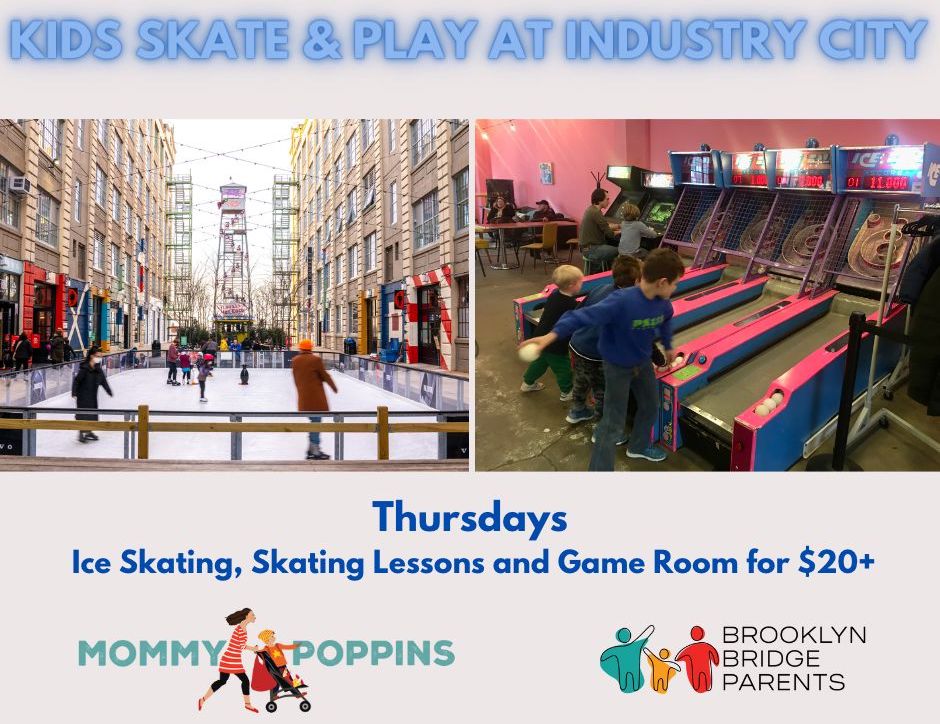 Read our overview of the best drop-in indoor activities in Brooklyn here.