The joyous Jewish holiday of Purim begins the evening of Monday, March 6 and continues through Tuesday, March 7 this year. Purim commemorates the courage and valor of the reluctant heroine Queen Esther and her cousin Mordechai. They played a key role in the salvation of the Jewish people in Persia in the 4th century BCE. To celebrate this, Jews around the world read the megillah, give charity to the poor, give gifts to friends, enjoy a festive meal and dress up in costumes.
Hamantashen Bake @ Chabad of Brooklyn Heights | March 2
Chabad of Brooklyn Heights will host a hamantashen bake at Congregation B'nai Avraham, 117 Remsen Street on Thursday, March 2, starting at 5:30 PM. This is an event for the family, and admission is free. Please RSVP to www.heightschabad.org
PurimFest @ Senesh in Carroll Gardens | March 5
Hannah Senesh invites all families with children 2 to 10 years old to join them for family-friendly festivities to celebrate Purim! Enjoy a Purim puppet show "Esther Saves the Day" from Wonderspark Puppets, story time and book nook, singalong musical performances, and more! The event will take place at the school on Sunday, March 5 from 10 am to 12 pm. Cost: $5 per child 2 and older at the door or here. This event is held in partnership with Kane Street Synagogue, The Neighborhood, PJ Library, and Tkiya Music.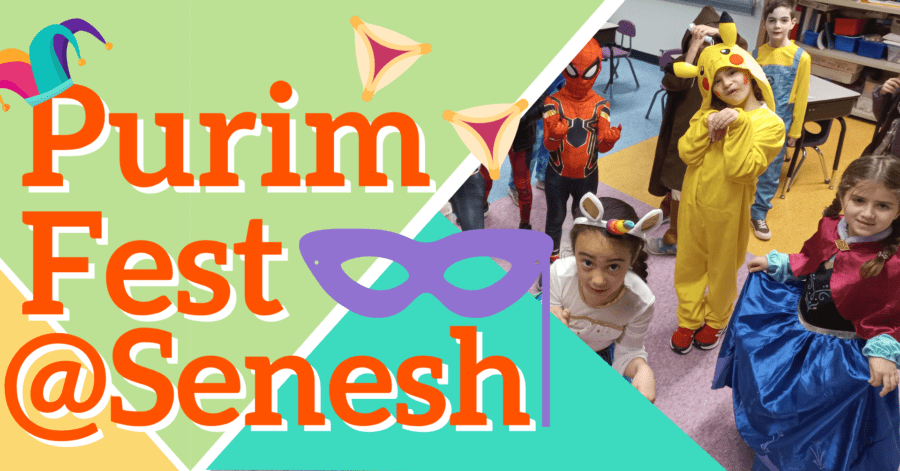 Purim @ Brooklyn Heights Synagogue | March 5
11:30 am: TOT MEGILLAH READING | The Preschool welcomes children ages 0-5 and their grownups to join us in a reading of the Megillah.
12:00 pm: PURIM CARNIVAL | Join us for the Religious School's annual Purim Carnival. This event is for grades K-7 and will include pizza, dancing, and a bounce house. Find out more here.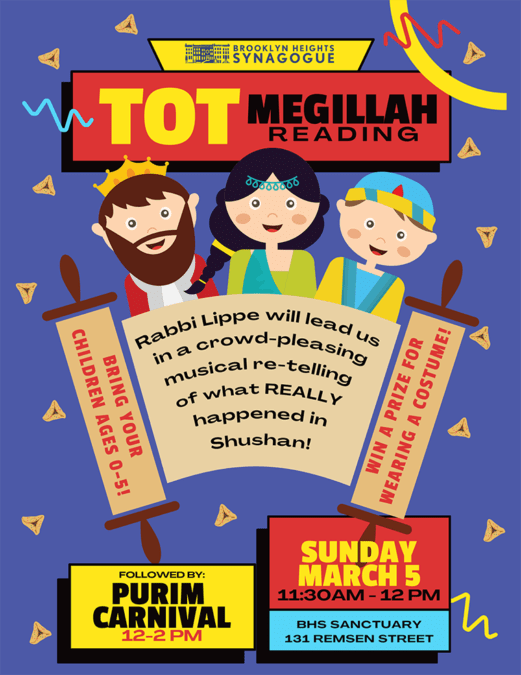 Purim Carnival with Chabad of DUMBO | March 7
The Chabad of DUMBO is hosting a Purim carnival for the whole family on Tuesday, March 7th from 4 to 6 pm at the DUMBO Loft in DUMBO. Clowns, acrobats and jugglers, carnival games, costume prices, interactive Megillah reading, Purim foods (popcorn, cotton candy and hot dogs for $1, bring cash) and much more for children of all ages. All are welcome. Suggested donation $20 per family. For more information email jewishdumbo@gmail.com. Free RSVP here.
Purim Community Celebration with Dirah Brooklyn | March 7
Join friends and neighbors to celebrate a Persian-themed community Purim celebration. Come dressed in your best costume (or not) to join the Purim festivities and enjoy: Live Music and Dancing, Delicious Dinner and L'chaims, Hamentash Bar, Henna tattoos and face painting and Family Entertainment. Megillah reading 4.45 pm, event starts at 5.15 pm at Bison & Bourbon at 191 7th Street between 2nd and 3rd Avenue. Find out more here.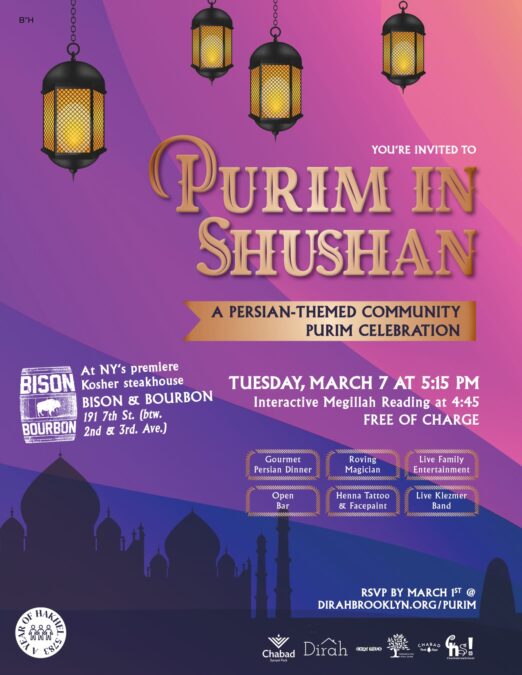 Purim around the World in Prospect Heights | March 7
Purim celebration at Chabad Jewish Center Prospect Heights on Tuesday, March 7 starting at 4.30 pm with Megillah reading, kids activities, live music and more. Children $12 and grown-ups $25. Find out more here.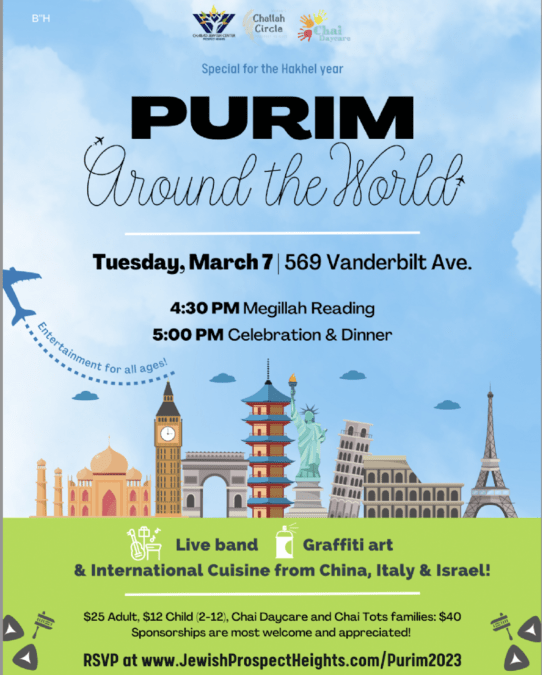 Purim Luau with Chabad of Brooklyn Heights | March 7
Purim Luau for families of all ages! Join Congregation B'nai Avraham and the Chabad of Brooklyn Heights for a Purim celebration featuring a magic show, live band, open bar with festive drinks, face painting, and more! Come dressed in costume on March 7th at 117 Remsen St. Doors open at 5 PM, dinner is at 6:30 PM. Cost is $36 per person or $100 per family.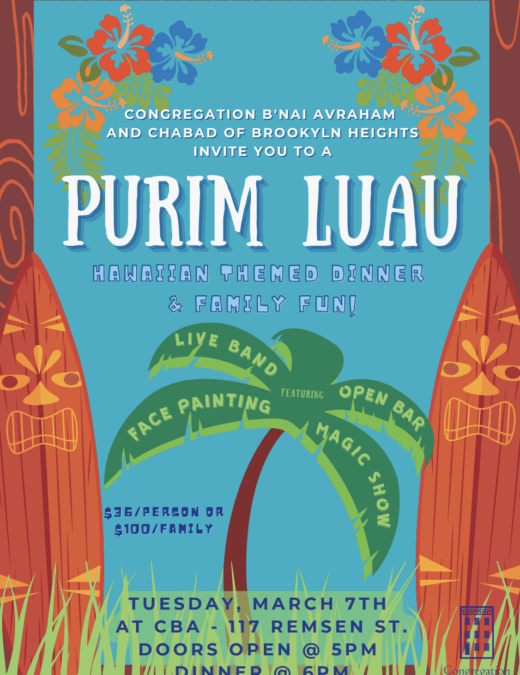 Main photo: Hannah Senesh