Our overview of Santa visits includes holiday events in Downtown Brooklyn, BoCoCa, DUMBO and beyond where kids can meet Santa and snap a photo with him this year!
Light up Brooklyn Commons with Santa | Downtown Brooklyn | 11/30 – CANCELLED
Celebrate the start of the holiday season while enjoying a variety of festive outdoor activities at the "Light Up Brooklyn Commons" event, presented by Brookfield Properties, and taking place Wednesday, November 30 from 5:30 7pm at Brooklyn Commons, in Downtown Brooklyn. Attendees can explore an exhibition of carved ice sculptures, behold a joyful musical performance by Brooklyn United, sample holiday treats and watch Santa light the Brooklyn Commons Christmas tree. The Rink at Brooklyn Commons will also spread holiday cheer by offering free ice skating during the time of the event! This event is free and open to the public, and will take place in Brooklyn Commons Park, located outside of 100 Myrtle Ave in Downtown Brooklyn. Free RSVP here.
5th Ave Tree Lighting | Park Slope | 11/26
Bubble dad, dance performance, letters to and photos with Santa, face painting and more on Saturday November 26 from 5 to 6 pm at 4th Street Plaza.
DUMBO Holiday Tree Lighting | Archway & Pearl Street Triangle | 12/1
The DUMBO Improvement District is thrilled to sponsor the 16th Annual DUMBO Holiday Tree Lighting Ceremony on Thursday, December 1 from 4 to 7 pm. Tree lit at 5:30 pm sharp! Santa Claus, photo booth, Calypso music, Christmas covers, hot cocoa and sweet treats. Find out more here.
Children's Party with Santa at Hoyt Street Garden | Boerum Hill | 12/4
Children are invited to decorate the Hoyt Street Garden, 98 Hoyt Street with DIY ornaments and Santa will make a special appearance on December 4 from 12 to 3 pm. The kid's band Rollie Pollie Guacamole will perform and Macaroni Kid Brooklyn NW will be there hosting giveaways and kids' activities.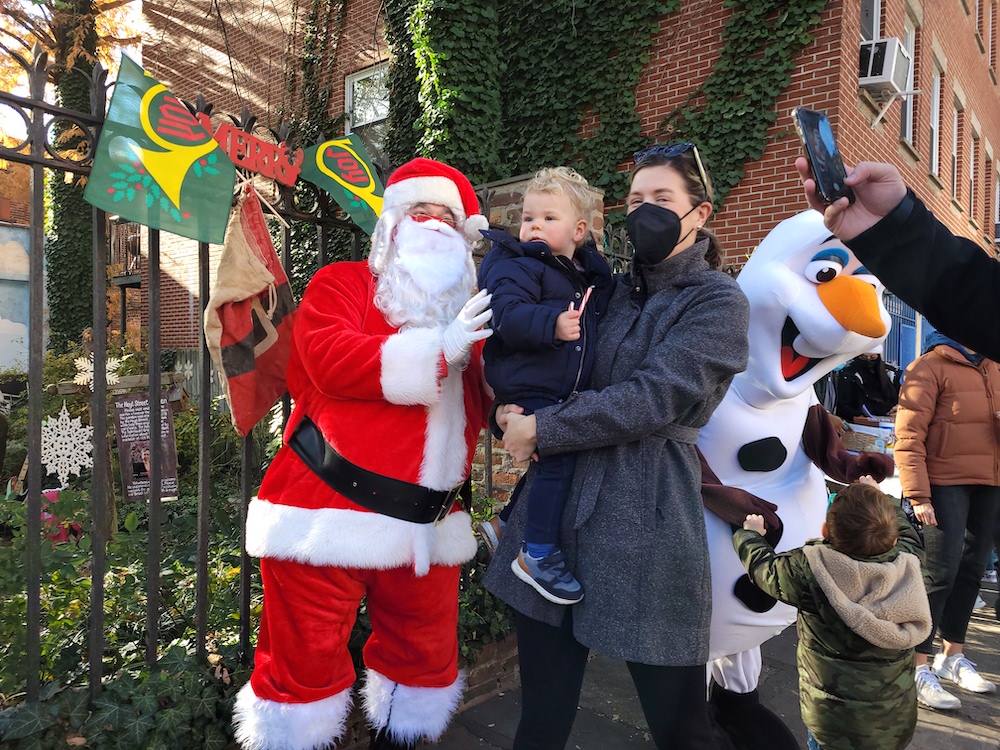 Holiday party with Mommy Poppins at The HUGH | Manhattan | 12/3
Mommy Poppins is partnering with The Hugh for a Holly Jolly Holiday Party! Meet Santa (and take a photo with him), take a free family portrait for your holiday cards, make snowmen crafts and share some joy by bringing a toy for our toy drive! The Hugh, located conveniently at the corner of 53rd and Lex., is Midtown East's newest food hall with 14 restaurants in an open and airy indoor garden. Free RSVP here. 
Fort Greene Park Holiday Tree Lighting | 12/4
FREE hot cocoa, cider & cookies from local Myrtle Ave restaurants during the Fort Greene Park tree lighting on Sunday 12/4 from 4 to 5 pm. Selfies with Santa! Toy drive collection. Bring new, unwrapped toys to support toy drives that serve local families. Live holiday music. Watch the tree light up from 4 to 5 pm The lighting this year will take place at the northwest corner of Fort Greene Park, near the Myrtle Ave & St Edwards St entrance.
Meet Santa at CityPoint | Downtown Brooklyn | 12/4, 12/11 & 12/18
CityPoint is ringing in the Holidays with Santa selfies, cookie decorating and holiday markets on Sundays in December. Kids ages 3 years and up are invited to decorate and design their own One Girl Cookies gingerbread houses and dreidel cookies with royal icing colors and decorative elements such as sanding sugar and candy. Participants will be able to take home their creation in boxes we provide and One Girl Cookies will be on site to support the decorating process. Each child needs a ticket to attend – tickets are $12 per person. Get your tickets today! The events take place on the main floor (across the hall from McNally Jackson bookstore). Additionally, Children will be able to meet Santa and take selfies with Santa at CityPoint for free on December 4, 11 and 18 from 11 am to 2 pm. Watch out for Santa before or after cookie decorating at CityPoint.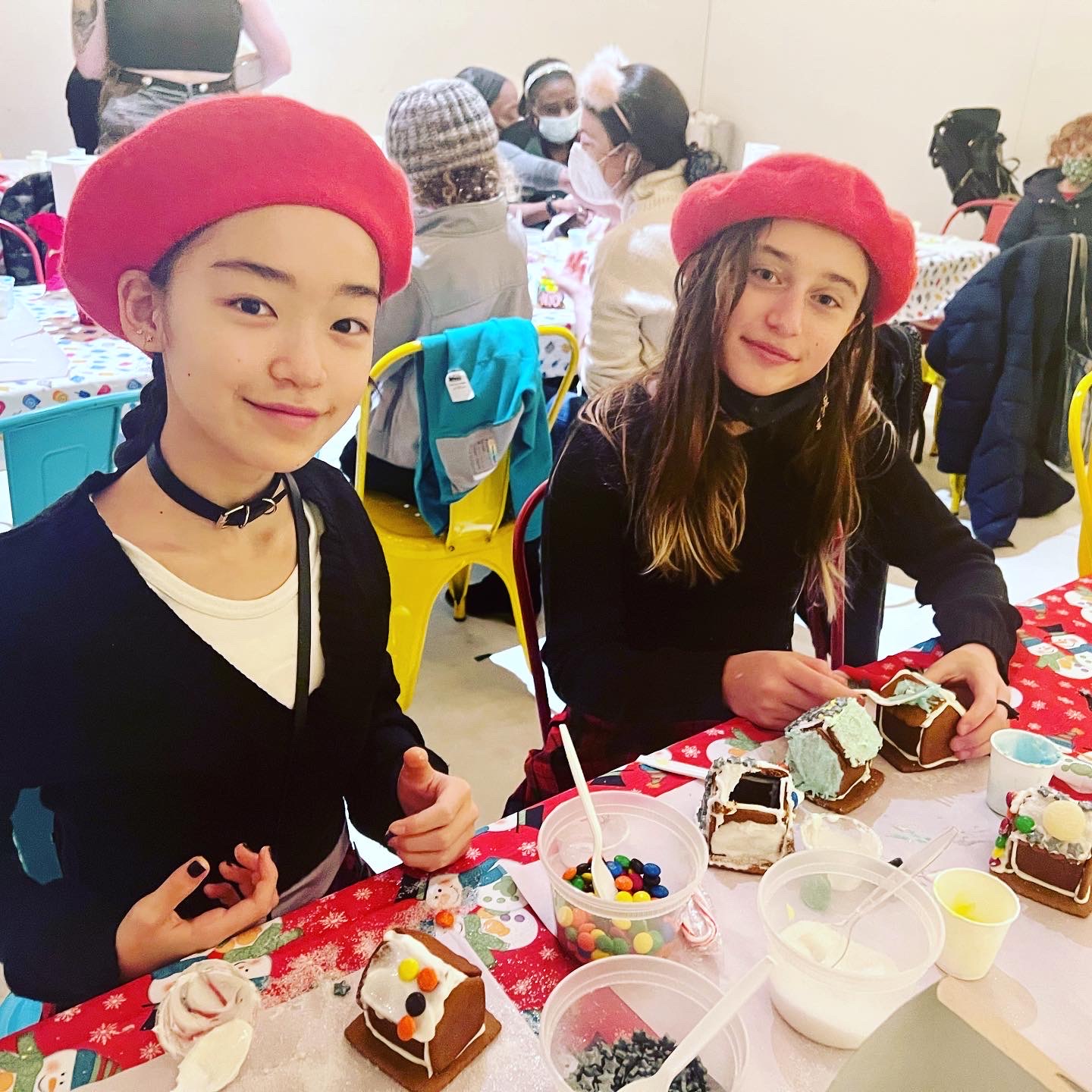 Santa at Carroll Park Holiday Tree Lighting | Carroll Gardens | 12/9
The annual holiday tree lighting at Carroll Park will take place on December 9 at 6 pm at the Court Street end of the ball field. Santa will be there!
Meet the NYPD Santa | Various neighborhoods | 12/4 – 12/11
The 84th Precinct is bringing Santa in a police car back to Brooklyn this year.
12/4 at 10 am 181 Smith Street (Black Forest Brooklyn)
12/4 at 12 pm 139 Smith Street
12/4 at 2 pm 217 Court Street
12/4 at 5 pm 195 Smith Street
12/4 at 6.30 pm 68 Bergen Street
12/7 at 3 pm 201 Court Street
12/7 at 5.30 pm 191 Smith Street
12/8 at 4.30 pm 129 Boerum Place
12/8 at 6.30 pm Old Fulton and Furman Street / Pier 1 Brooklyn Bridge Park
12/11 at 11.30 am 151 Atlantic Avenue
12/11 at 3 pm 159 Bridge Park Drive / Pier 5 in Brooklyn Bridge Park (Estuary restaurant)
12/11 at 6.30 pm 1 John Street Celestine Restaurant
12/11 at 14 Old Fulton Street at Pier 1 Brooklyn Bridge Park
12/14 at 2.30 pm Dr Susan Park on York and Bridge Street
12/14 at 5pm at Iris Cafe at Pier 5 Brooklyn Bridge Park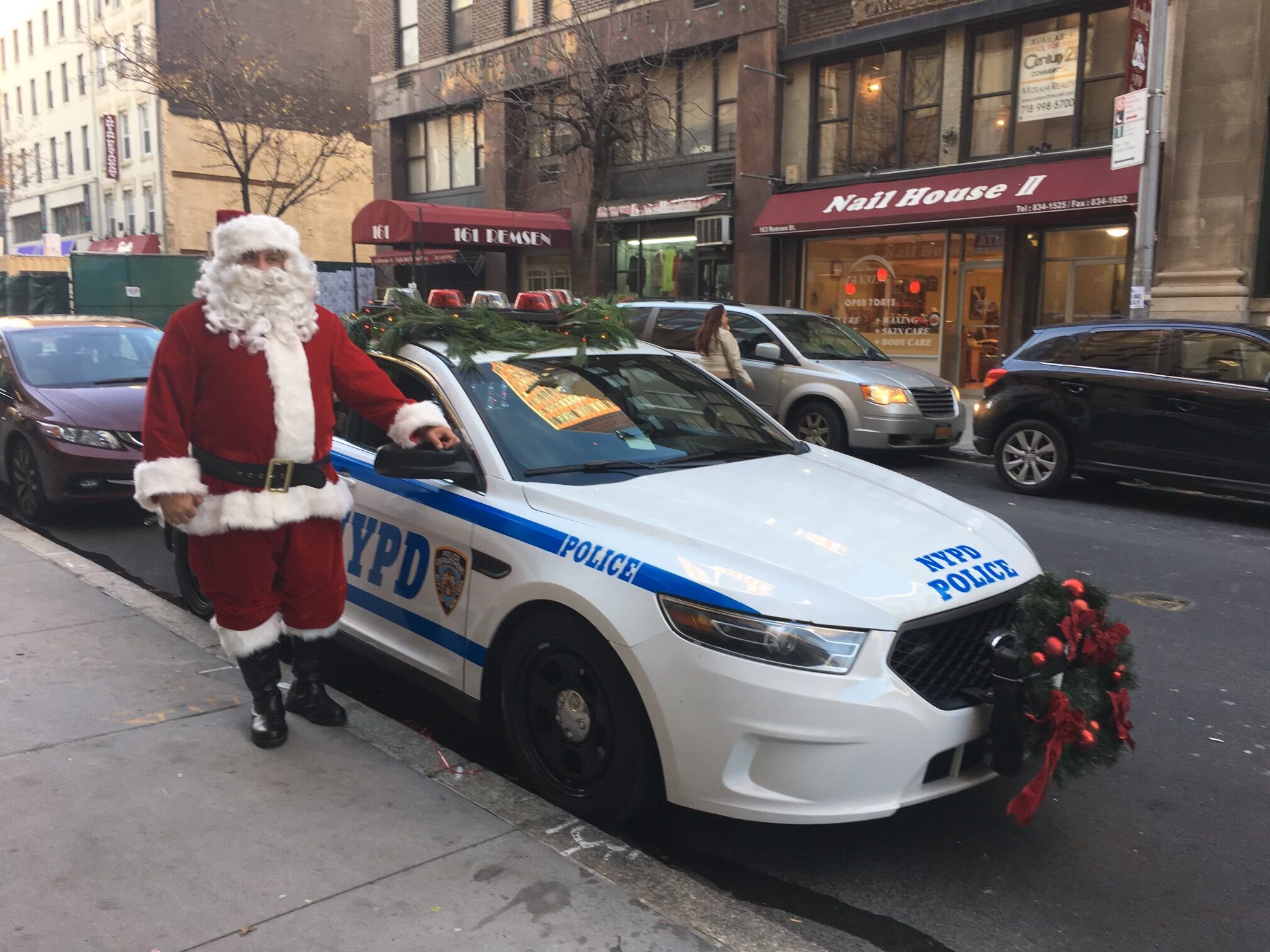 Meet Santa on Atlantic Avenue | December 10 and 17
Santa will stroll Atlantic Avenue from Fourth Avenue to Hicks Street on Saturdays in December. He will be at the corner of Court Street and Atlantic Avenue, near 139 Court Street from 12-12:30 pm on 12/10 and 12/17.
Santa at Iris Cafe | Pier 5 | Saturdays in December
Santa will make an appearance every Saturday in December from 2 to 4 pm at Iris Cafe in Brooklyn Bridge Park. Free balloon twisting, selfies with Santa and more.