Our weekly overview of events and things-to-do for families in Brooklyn is out! Highlights include the Hindu Lamp ceremony at the East River, National Night Out with the local NYPD department and a dance party on Governors Island.
84th Precinct National Night Out | Brooklyn Bridge Park | Tuesday, August 2
The 84th Precinct, which serves Brooklyn Heights, Boerum Hill and Vinegar Hill, has scheduled its event for Brooklyn Bridge Park, Pier 5 from 5 to 9 p.m this Tuesday. Activities include face painting, ice cream, barbeque, a DJ providing music, and crime prevention information.
Music in the Grove | Fort Greene Park | Wednesday, August 3
Join Flor Bromley on Wednesday, August 3 from 10-11am for an upbeat musical concert that brings parents and children of all ages together with live and in person music! Bring your blanket and set it down by the trees just south of the Prison Ship Martyrs. Performances are free and open to children and caretakers of all ages.
Family Movie | DUMBO Library | Wednesday, August 3
Please join us as we turn our program room into a mini movie theater.Robotics prodigy Hiro lives in the city of San Fransokyo. Next to his older brother, Tadashi, Hiro's closest companion is Baymax ,a robot whose sole purpose is to take care of people. When a devastating turn of events throws Hiro into the middle of a dangerous plot, he transforms Baymax and his other friends. Wednesday from 3 to 5 pm.
Movies with a View | Brooklyn Bridge Park | Thursday, August 4
Watch Jurassic Park at the Harbor View Lawn at sunset this Thursday, August 4. Find out more here.
Yard Beats & Eats | Brooklyn Navy Yard | Thursday, August 4
Groove and sing along to summer's Top 40 hits with one of the Yard's own Hip Hop Closet, enjoy fun games and activities like life-sized Chess, Jenga, and Connect 4. Building 77 from 4 to 7 pm. Free RSVP here.
DUMBO Family Game Time | Car-free Washington Street in DUMBO | Saturday, August 6
Join us for DUMBO Family Game Time on Saturdays from June 25 to September 10 (except Labor Day weekend) from 10 am to 12 pm on pedestrian-only Washington Street with free games for kids 1 to 10!
Creatively Wild Art Workshops: Building Bridges | Dumbo library | Saturday, August 6
What is a bridge? What does a bridge represent? Explore the theme of "bridges" in this free art workshop led by Creatively Wild Art Studio presented by Adams Street Library. For teens ages 12+: Saturday, August 6, 12-2pm. Free RSVP here.
Brooklyn is My Happy Place 90s pop themed dance party | City Point | Saturday, August 6
Brooklyn is My Happy Place: A Summer Pop Up Experience at CITY POINT in Downtown Brooklyn.  Spreading Good Vibes in Brooklyn and Beyond! Created by Lola Star, this colorful summer programming offers activities for toddlers to adults from Hula Hoop Classes for all Ages to Dance Parties for Kids and Toddlers to Go-Go Dance Workouts. Saturday, August 6: 10-10:45 AM 90's Pop Themed Happy Dance Party for Kids: Free for all Brooklyn Bridge Parents fans while tickets last! Free tickets here.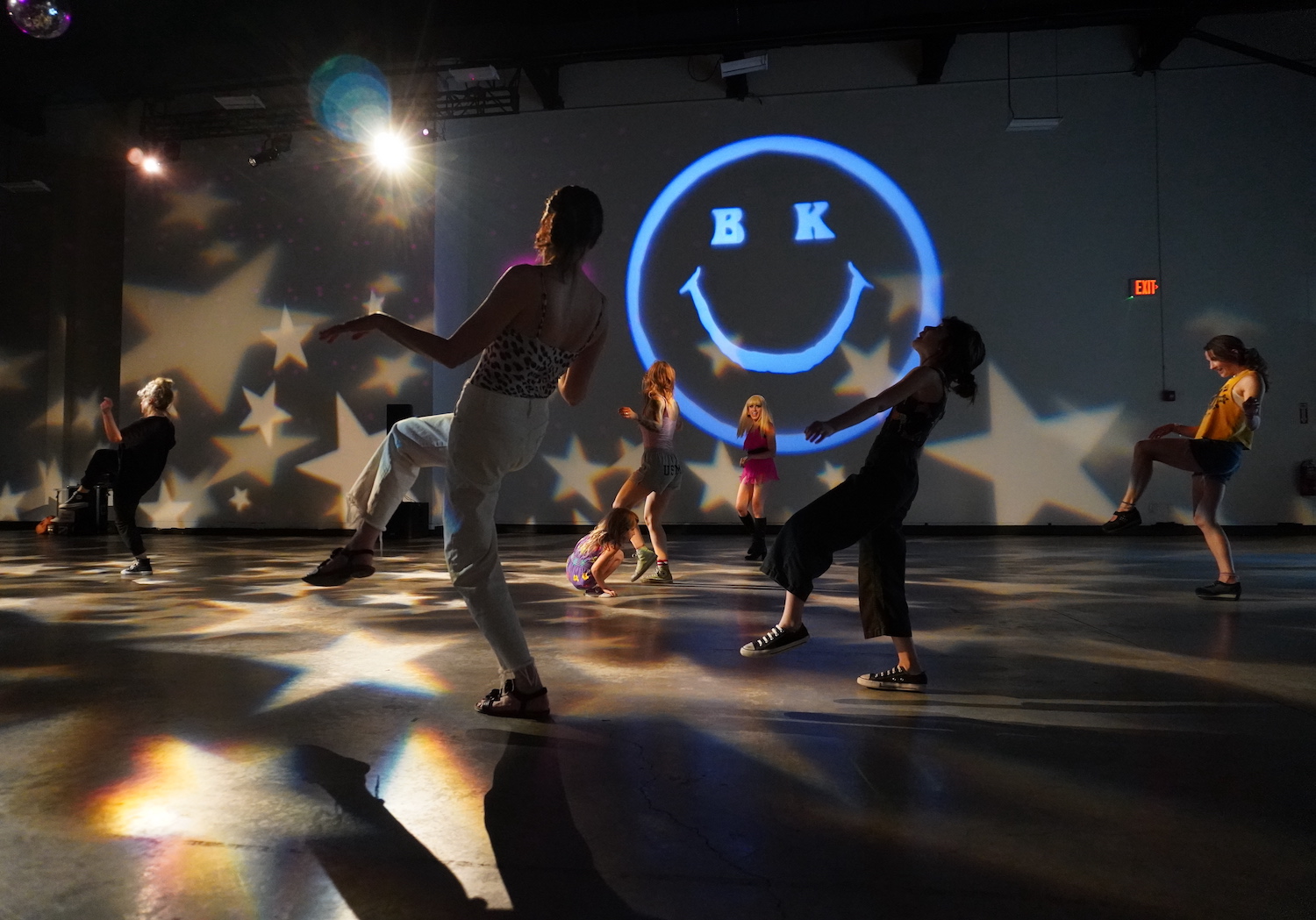 Hindu Lamp Ceremony | Brooklyn Bridge Park | Saturday, August 6
The Conservancy's 10th annual Hindu Lamp Ceremony returns to Brooklyn Bridge Park at the Pebble Beach in DUMBO from 4 to 7.30 pm. The Aarti ceremony is traditionally performed each morning and evening along India's rivers, in order to convey gratitude to mother river, reflect on community, and remember loved ones. Please join us as we decorate palm leaf lamps and release them along the East River to make prayers and pay our respects to loved ones.
Dance Par­ty 
NYC | Governors Island | Saturday, August 6
Part of The New York Pub­lic Library's sum­mer pro­gram, Dance Par­ty NYC is a joy­ous city­wide fes­ti­val that will take place at more than 80 venues across the city – includ­ing in Nolan Park on Gov­er­nors Island, with per­for­mances from Brook­lyn Unit­ed March­ing Band and Brass Queens, tunes from DJ Agua­pan­ela Mami and DJ Yung Mayne, food trucks, and a beer gar­den from Threes Brew­ing. Sat­ur­day, August 6, at 3pm, Nolan Park, Gov­er­nors Island.
Playground NYC pop-up playground | Prospect Heights | Saturday, August 6
Join the junk yard playground team at the Vanderbilt Avenue Open Street (between St. Marks and Bergen streets) to play! Their pop-ups provide young people with the opportunity to use their imaginations to build and create with other young people, through self-directed play, and to make their own decisions on how to use materials, space, and time. All materials will be provided, including cardboard boxes, fabric, markers, string, tape, and more. Feel free to bring more recycled materials! Saturday, August 6 from 2 to 4 pm.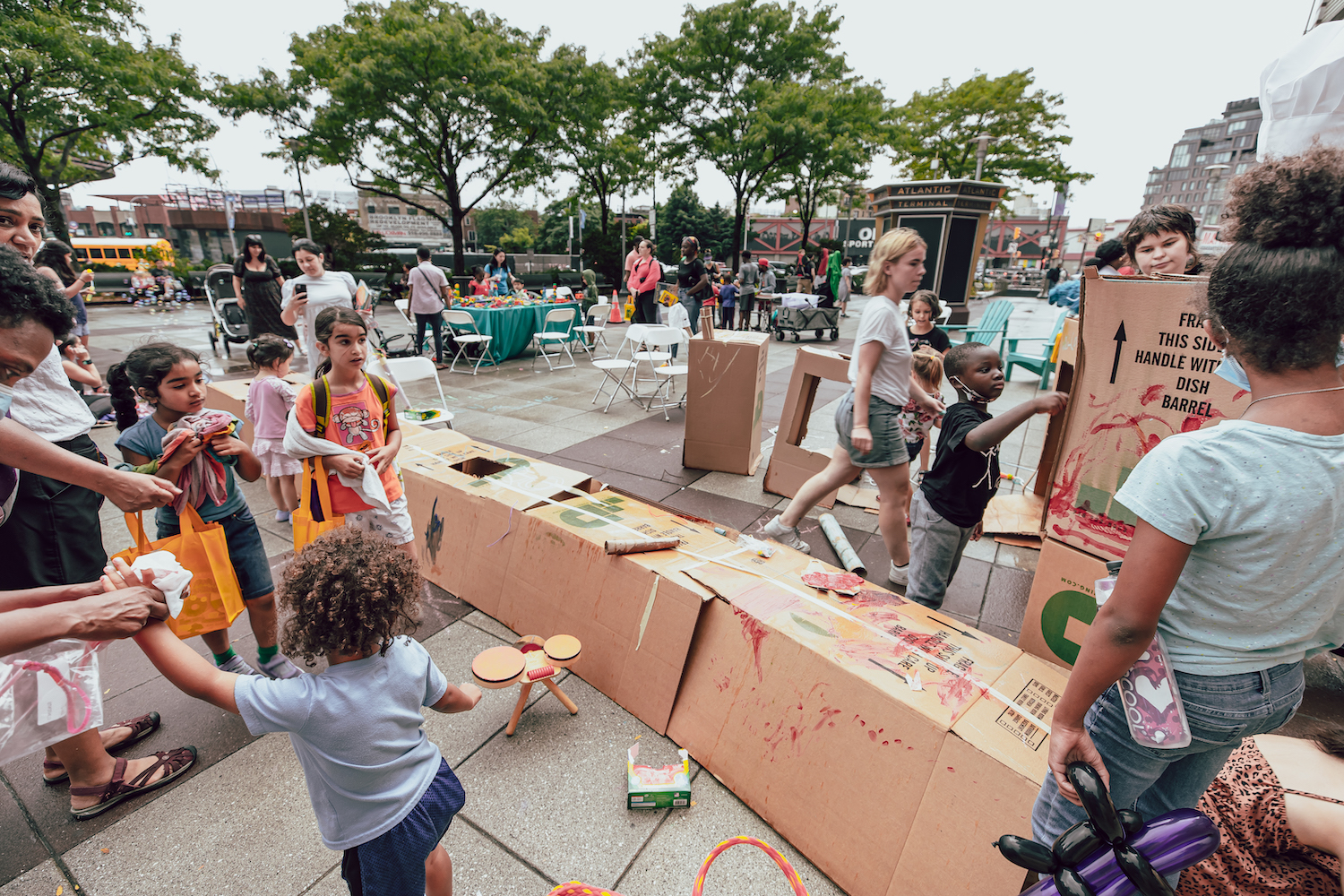 Basketball clinics | Brooklyn Bridge Park | Tuesdays
Free Youth Basketball Clinics will be hosted on Tuesdays, May 31 through August 30; two age group ranges are offered for 7-12 and 13-17 year olds at the Pier 2 Courts. You can register your children one week in advance, starting Tuesdays at 10 am.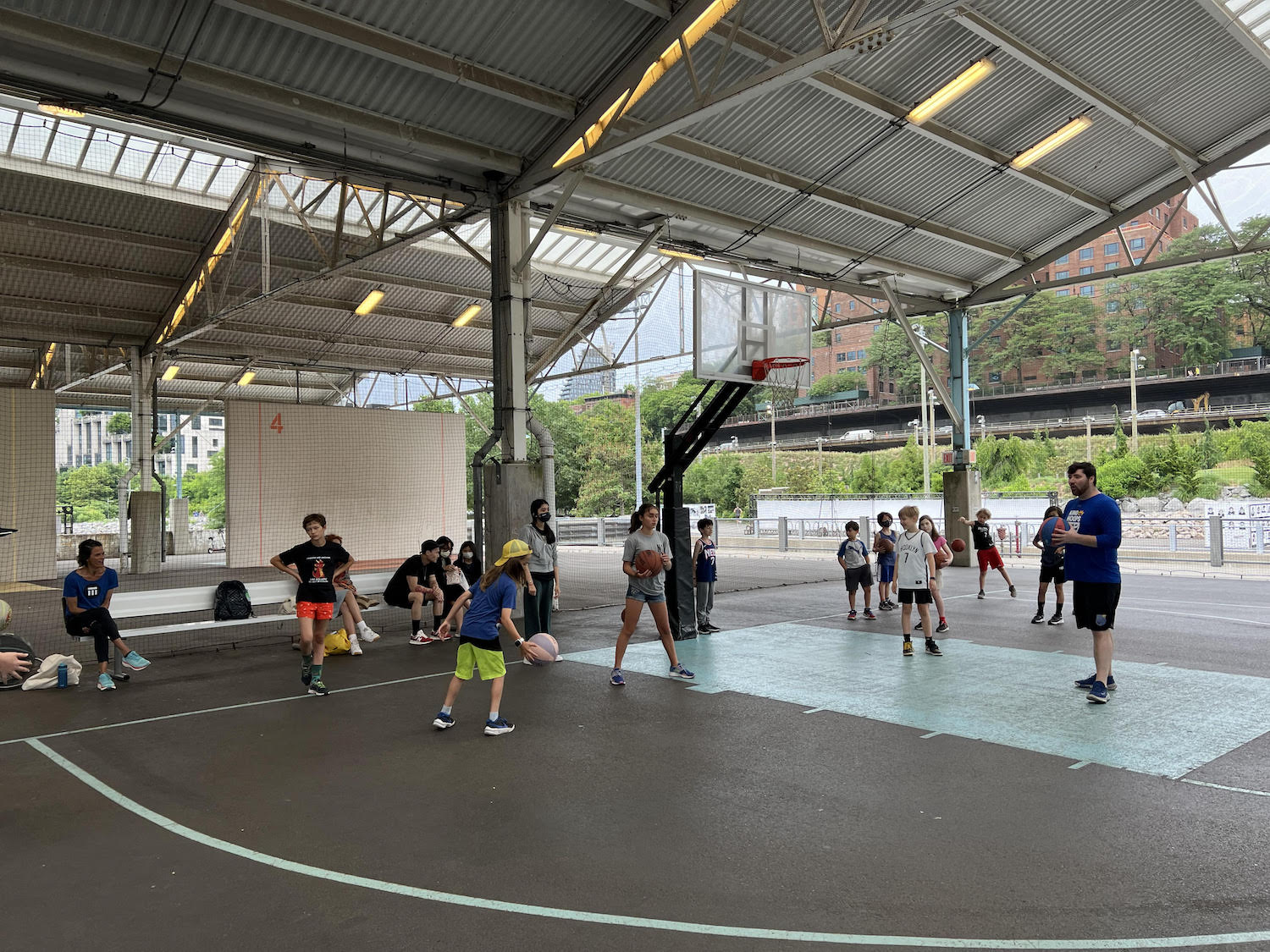 Live at The Archway | DUMBO | Thursdays
From June 16 to September 1, family-friendly, free concerts in the Archway under the Manhattan Bridge ranging from Afro-soul to salsa and Japanese pop. Thursdays from 6 to 8 pm.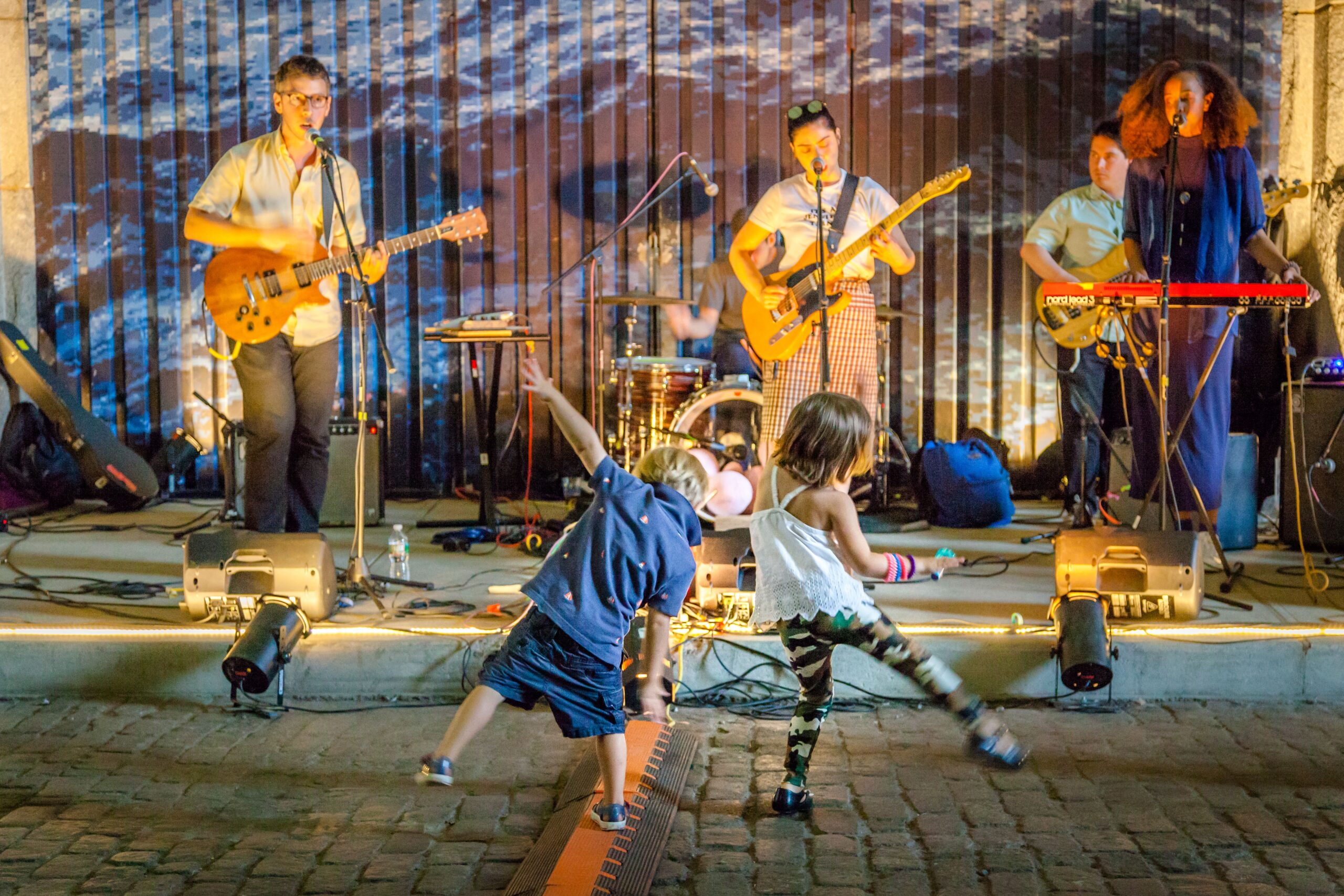 Kayaking | Brooklyn Bridge Park | Wednesday, Thursday Saturday & Sunday
With the Conservancy's ever-popular kayaking program held in partnership with Brooklyn Bridge Park Boathouse, visitors can enjoy gliding across the East River on Wednesday and Thursday evenings as well as Saturdays starting in June through the end of September. New family kayaking on Sundays will also be offered. Advance registration is required for all, starting first weekend of June, make reservation today. Make a reservation here.
Library programming | Brooklyn Heights library | Monday to Saturday
Wednesdays 10.30 – 11 am: Toddler Time
Wednesdays 3.30 – 4.30 pm: Teen Time. RSVP here.
Thursdays 10.30 – 11.00 am: Babies & Books for 0 to 18 months. RSVP here.
Library programming | DUMBO library | Monday to Saturday
Wednesdays from 10.30 to 11 am and 11.30 am to 12 pm: Toddler time for ages 18 months to 3 years. RSVP here.
Thursdays from 3.30 to 5 pm: Teen Tech Time with video gaming. No RSVP required.
Friday from 1.15 to 1.45 am and 2.15 am to 2.45 pm: Toddler time for ages 18 months to 3 years. RSVP here.