The outdoor ice skating rinks in Prospect Park, Industry City, at Brooklyn Commons in Downtown Brooklyn as well as the Artrink at Brooklyn Children's Museum are now open until end of February or even March.
LeFrak Prospect Park Ice Skating
Experience ice skating on two open-air rinks, designed for skaters of all ages and skill levels. Reserve your desired 90-minute skate session for access to one of our two available ice rinks online now and guarantee your ice time. Skate rentals are available at an additional cost or feel free to bring your own skates. Ice skating costs $8 – $12 per person and skate rental is $8 per person. They also offer skating lessons for ages 5 years and up this winter. Find out more here.
COVERED RINK: Monday – Thursday: 9 am – 4:30 pm, Friday: 9 am – 7 pm, Saturday: 1 pm – 9 pm & Sunday: 1 pm – 4:30 pm
OPEN AIR RINK: Monday – Thursday: 9 am – 7 pm, Friday & Saturday: 9 am – 9 pm, Sunday: 9 am – 7 pm
ArtRink @ Brooklyn Children's Museum
ArtRink is a 3,000 square foot outdoor ice skating rink and art exhibition showcasing the work of sixteen local artists. Together with a number of winter-themed activations, ArtRink is a one-of-a-kind art & play experience for families and kids this holiday season. Ticket are $10 (skates included) and need to be purchased in addition to general admission to the museum. Tickets available only at the museum as of now. ArtRink is open during regular Museum hours, Wednesday through Sunday 10 am to 5 pm and on school holidays.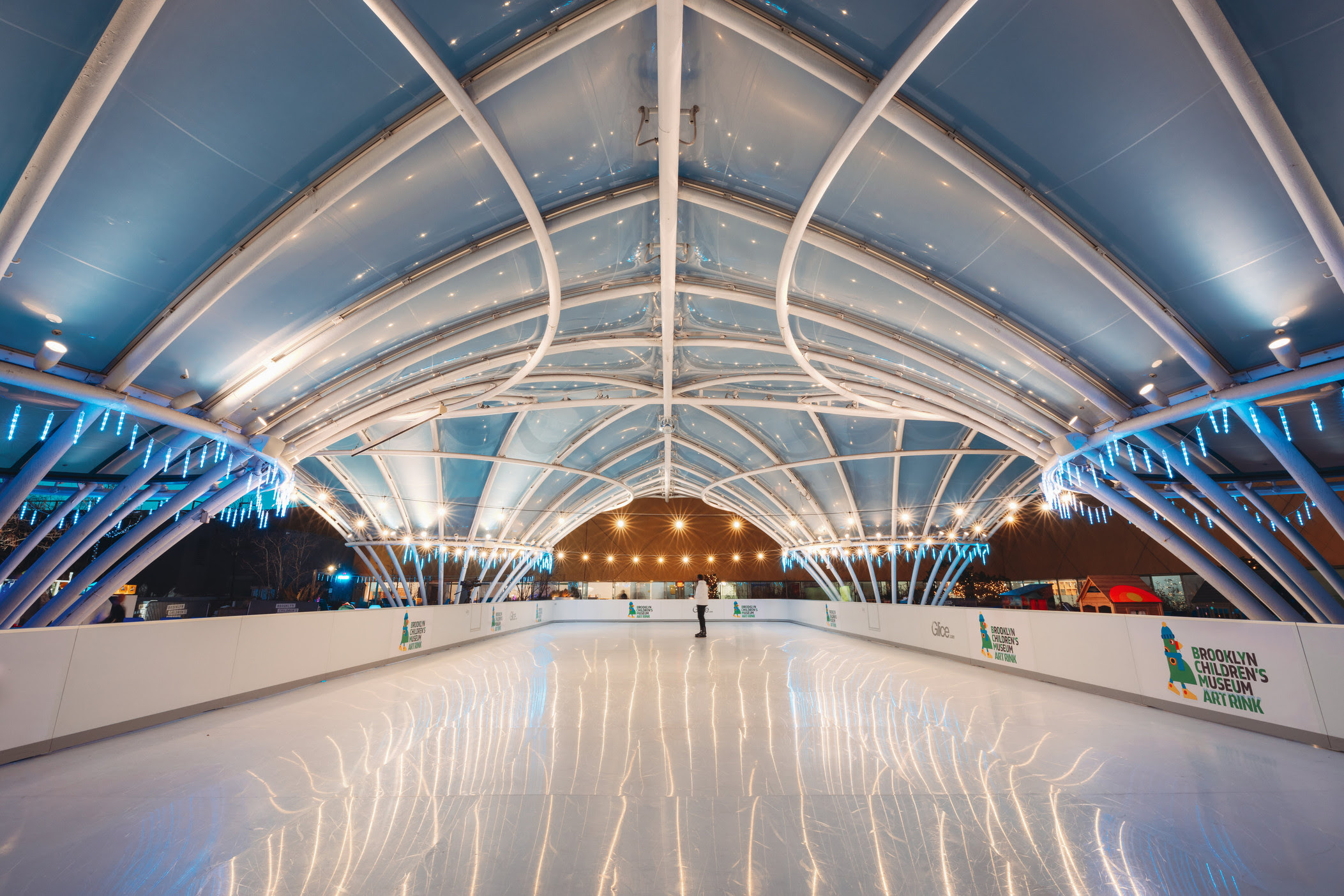 Industry City Ice Skating
Ice skating rink at Industry City is uncovered and outside, so dress appropriately for an enjoyable and comfortable skate. Open Friday 4 – 8pm, Saturday and Sunday: 10am – 8pm. All details and tickets here. Pricing: $15 Ticket Fee (adults, children, and seniors), $10 Skate rentals, $10 Skate Aid, $5 Helmet, $5 Bag check.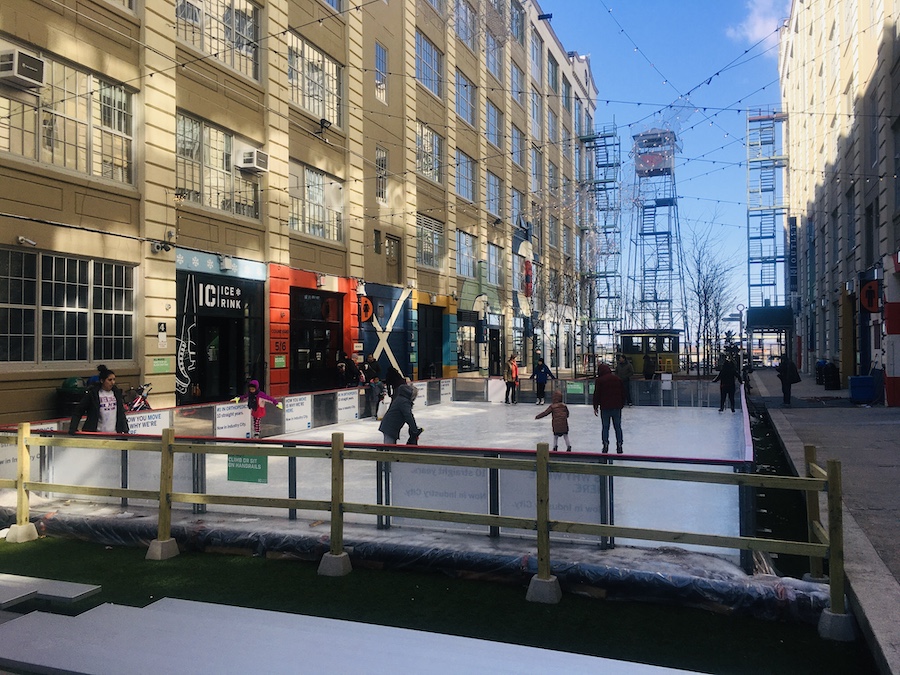 Brooklyn Commons Ice Skating Rink
Situated in Brooklyn Commons Park, families can enjoy a winter skating experience in Downtown Brooklyn until February 26, 2023. Weekdays: 2pm – 8pm, Saturday: 11am – 7pm and Sunday: 11am – 7pm. Find out more here. $15 – Public Skating Admission, $5 – Skate Rental and $15 – Skate Aid Rental (for 30 min).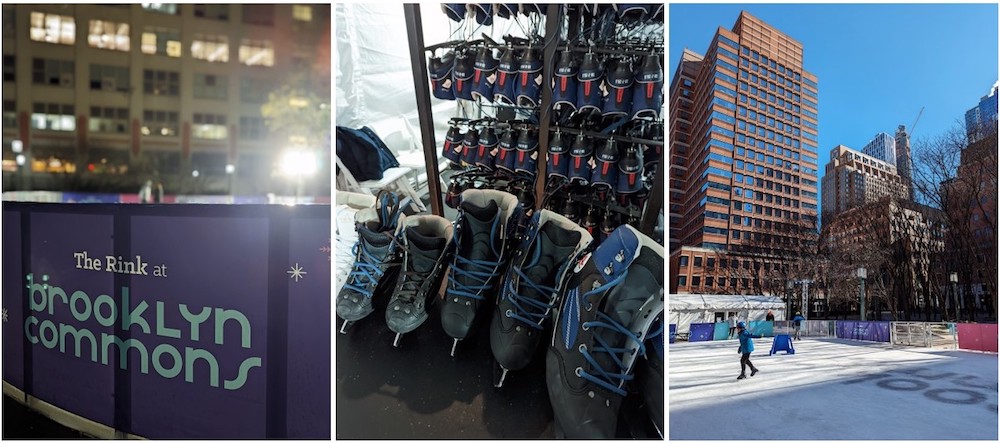 Ice skating on Governors Island 
The Winter Village includes a 7,500-square foot skating rink for visitors of all ages to enjoy, along with wintery activities, festive decorations, games, cold-weather food and drinks, and warming fire pits. The rink will be open Thursday through Sunday and all New York City public school holidays, with additional Winter Village activities available seven days a week. Expanding on last year's public hours, the ice rink will be open Thursdays and Fridays from 12 to 5:30pm and Saturdays and Sundays from 10am to 5:30 pm, with event packages and buyouts available during additional hours. The rink will also feature events, activities, and "Free Admission Thursdays," with admission fees waived for all visitors every Thursday. Admission: $12 Weekdays and $13 Saturday & Sunday (all ages),*Note: Free Admission Thursdays are walk up ONLY, Skate Rentals: $9 (all ages). Get your tickets here. The South Brooklyn ferry will serve Governors Island 7 days a week all winter, schedule here.
Seaport Ice Rink | Manhattan
The Ice Rink returns to the Seaport for a season of winter festivities and complimentary skating along the East River. The Ice Rink will be open daily. Rink admission is free with skate rentals available for cost ranging from $23 to $25. Located at Seaport Square between Piers 16 & 17. Monday to Thursday: 3pm – 10pm, Friday: 12pm – 11pm, Saturday & Holidays: 10am – 11pm and Sunday: 10am – 10pm. Get your tickets here.