Our weekly overview of things to do with kids and family-friendly events is out! Highlights this week are the Downtown Brooklyn Gets Lit Holiday Party, ice skating rinks opening, a kids World Cup, harvest get-togethers and the Lightscape after dark experience at Brooklyn Botanic Garden.
Trivia Night | Iris Cafe Pier 5 | Tuesday 11/15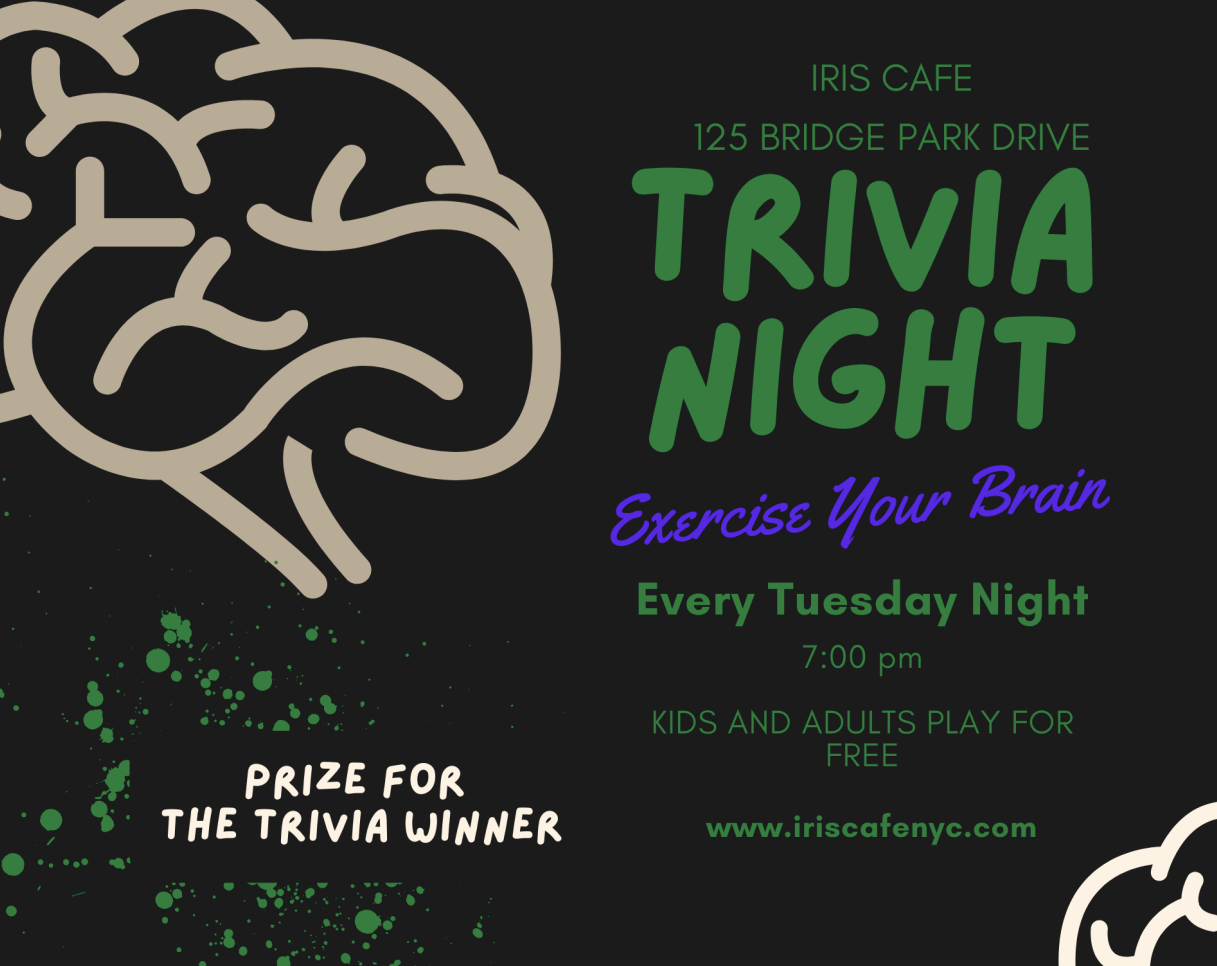 Brooklyn World Cup for kids | Pier 5 Brooklyn Bridge Park | Wednesday 11/16
On Wednesday, November 16th Metro Soccer and Brooklyn Bridge Park Conservancy will be holding a one-day Brooklyn World Cup tournament at Pier 5 for 4th to 6th Graders. Participation fee is $10 and it is open to all levels. Register here.
Nature Storytime | Education Center Brooklyn Bridge Park | Thursday 11/17
Join for Nature Story time at the Environmental Education Center in DUMBO! Held at 4 pm on the third Thursday of every month (during Open Hours). Librarians from Brooklyn Public Library Adams Street location lead for an exciting and engaging story time session, along with singing and rhymes. Each month they select a book to pair with the Education Center's monthly nature theme. Be sure to get there early to check out all the animals and activities in the room before storytime officially begins – open hours on Thursdays are currently 3:00-5:00pm. Story time is from 4 to 4.30 pm.
Governors Island Winter Village | Governors Island | Starting 11/17
The Governors Island Winter Village will open November 17 and will include a 7,500-square foot skating rink for visitors of all ages to enjoy, along with wintery activities, festive decorations, games, cold-weather food and drinks, and warming fire pits. Read more here.
Downtown Brooklyn Gets Lit Holiday Party | Albee Square | Friday 11/18
Join the community at Albee Square for a party with special guest performances by Bond Street Theater, Flowjuggle, DJ Mike Doelo, Mateo y Sus Pleneros and the countdown to holiday lights ON on Friday 11/18 at 5 pm!
Friends-Giving with free kids activities | Dr Susan Park DUMBO | Saturday 11/19
The Friends of Dr. Susan Park are inviting neighbors and community members to join them for their first Dr. Susan Park Friends-Giving & Neighborhood Meet-Up on Saturday 11/19 from 2 to 4 pm (rain date Sunday 11/20 same time).
GIVE & GET books, clothing, toys and kitchen items
Free kids activities including block building and games
Meet your neighbors
Bring items in good condition no longer needed for the neighborhood swap starting at 1.30 pm. Please also consider volunteering at one of the swap tables, sign up 
here
.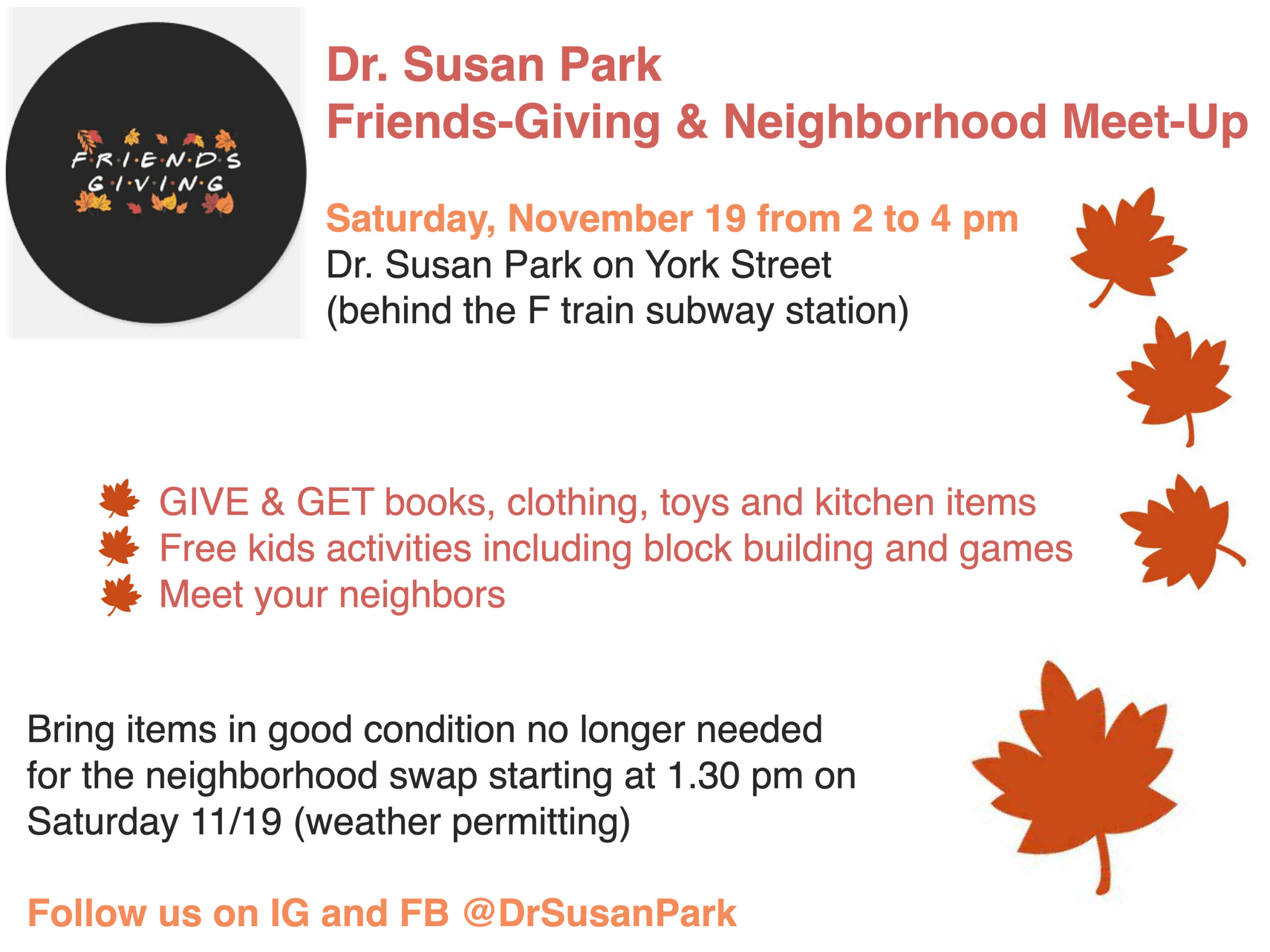 BYO Harvest Potluck | Cobble Hill Park | Saturday
SECOND ANNUAL BYO-WINTER SOCIAL POTLUCK ! Get up in your kitchenettes and get CREATIVE: cook, bake, make, or bring ONE dish – or (truly) just show up to eat. Please bring serving utensils with your fine dish. Saturday November 19 from 3 to 5 pm in Cobble Hill Park.
Panini Sticker trading event | Boerum Hill | Sunday 11/20
Buy and trade packs to finish your collection at Soccer Post BK at 396 Atlantic Avenue on Sundays at 12 pm.
Junkyard Playground | Governors Island | Saturday & Sundays
The wonderful junkyard playground will be open Saturdays and Sundays from 12 to 4 pm until end of November. Go straight to the playground from the ferry and get a timed ticket for an hour of free play at the yard before they run out of tickets for the day. The South Brooklyn Ferry services the island daily.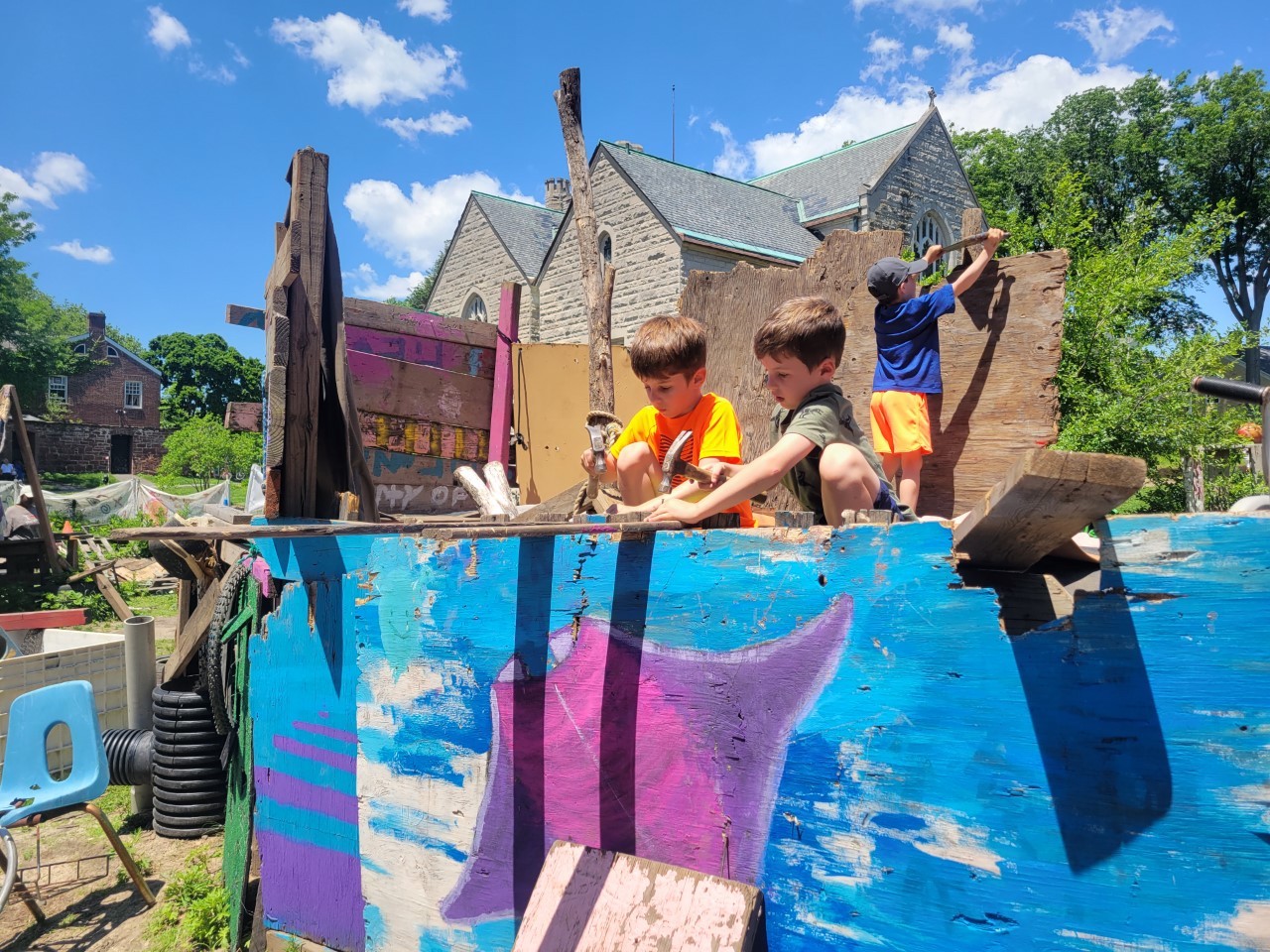 Robotics League | Various Bklyn Public Libraries | Various dates
Love LEGOs, robotics and teamwork? Then head to a participating Brooklyn Public Library location for Brooklyn Robotics League. The theme for this year is Super Powered, and kids and teens (ages 9–17) will learn to use LEGO EV3 Robotics and the LEGO Spike Prime set while exploring STEM concepts and making new friends. BPL will host workshops leading up to the big competition on January 21, 2023, at Central Library. The League will meet weekly leading up to the competition 1/21/23.
Adams Street Library: Thursdays weekly from 3.30 to 5 pm, register here
Brooklyn Heights Library: Wednesdays weekly from 4 to 5 pm, register here
Pacific Library on 4th Ave : Mondays and Fridays from 4 to 5 pm. Find out more here.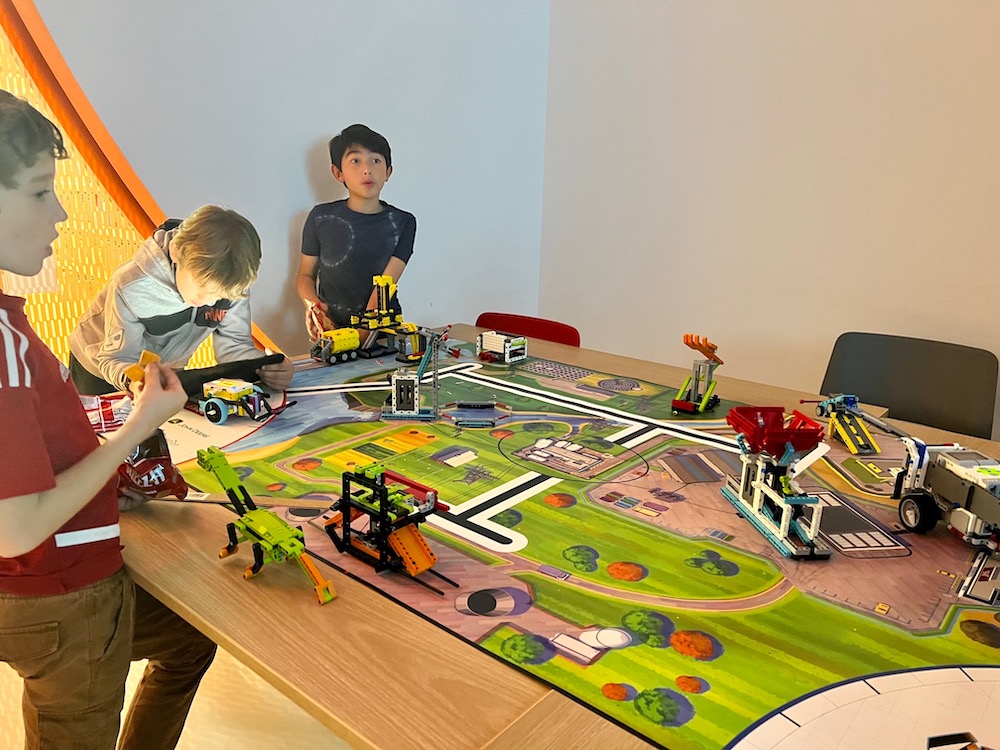 Lightscape | Brooklyn Botanic Garden | Various dates
Brooklyn Botanic Garden's after-dark, illuminated spectacular returns on November 16, 2022. This year's trail shines with over a million lights and features new works of art by both local and international artists along with the returning iconic Winter Cathedral and a reimagined Fire Garden. Lightscape runs on select dates through January 8, 2023. Nonmember regular admission tickets are $40 and $20 for children ages 3 to 12. BBG member regular admission tickets are $36 and $18 for children ages 3 to 12. Children 2 and under enter for free. Buy your tickets here.
Frida Kahlo Exhibit | DUMBO | Various dates
The immersive biography of Frida Kahlo is presented without reproductions of paintings by the artist featuring seven different rooms where you can explore the artist's biography through collections of historical photographs, original films, digital environments, artistic installations, collector's items and newly created music that reproduce the most relevant moments of her life. Tickets for the family-friendly exhibit at 259 Water Street in DUMBO start at $25, kids 4 years and younger are free and families get a 10% discount. Find out more and purchase tickets here.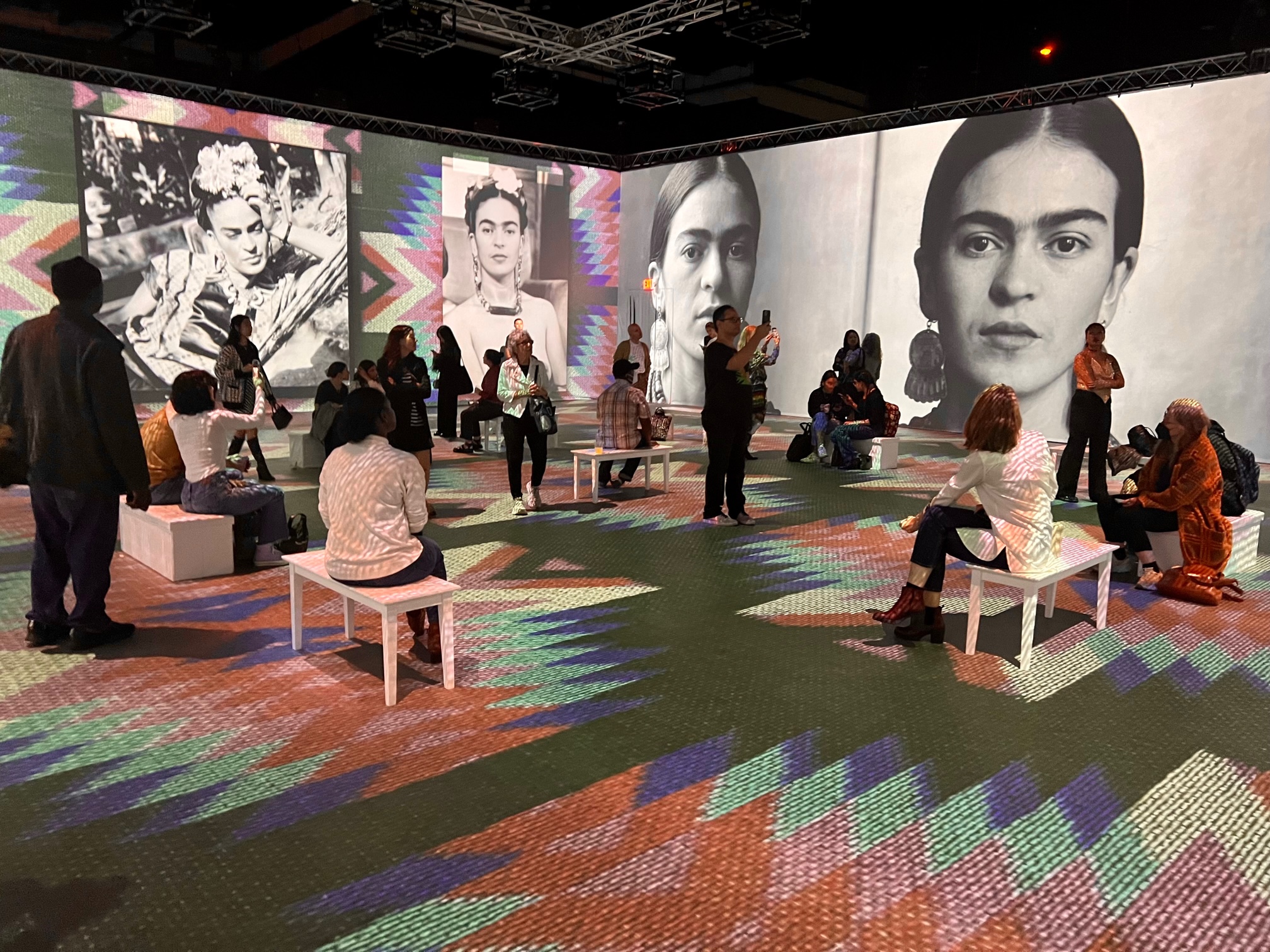 Storytime | McNally Jackson CityPoint | Wednesdays, Thursdays and Sundays
McNally Jackson bookstore is hosting free story times upstairs in their children's section Wednesdays and Thursdays at 4 pm and Sundays at 1 pm for ages 4 to 8. No RSVP required, just show up.
Library programming | Brooklyn Heights library | Monday to Saturday
Tuesday 3.30 – 4.00 pm: Preschool story time
Wednesday 10.30 – 11 am: Toddler story time
Wednesdays 3.30 – 5.00 pm: Teen Time. RSVP here.
Wednesday 3.30 – 5.30 pm: Chess Club
Wednesday 4 – 5 pm: Robotics League
Wednesday 3.30 – 4.30 pm: Teen time working with clay
Thursdays 4 – 5.00 pm: Teen Time RSVP here.
Friday 3.30 – 4.30 pm: Tween Tech Time
Friday 3.30 – 4.30 pm: Kids Create for ages 8 and up
Saturday 11 – 11.30 Family story time
Library programming | DUMBO library | Monday to Saturday
Monday 4 – 5 pm: Open Play for Pre-K and Kindergarten
Tuesday 3.30 – 4.15 pm: Toddler Art Studio RSVP here.
Wednesday 11.15 am  12 pm: Toddler Time
Wednesday 3.30 – 5 pm: Teen Tech Time
Thursday 10.15 – 11 am: Toddler time for ages 18 months to 3 years. RSVP here.
Thursday 3.30 – 5 pm: Robotics League
Friday 1.15 and 2.15 pm: Babies and Books – explore books, sing songs, learn fingerplays and meet other babies and caregivers! Best for 0-18 months. RSVP here.
Saturday 2 – 2.30 pm: Saturday Storytime  RSVP here.
Black Panther: Wakanda Forever | BAM Downtown Brooklyn | Various dates
Black Panther: Wakanda Forever now showing until December 1 at the Harvey Theater, tickets here. Catch other movies at the BAM for $8 until the end of the year with code BAMFILMFAN.