Governors Island will be open to the public this winter again with more amenities! The Winter Village will feature a bigger ice skating rink and holiday lights display, lawn games and fire pits, bike and sled rentals will be available, winter dog weekends are back and the island's spa will invite customers to relax in heated outdoor pools with heated paths to these pools.
The Governors Island Winter Village will open November 17, transforming Colonels Row into a singular seasonal destination for the second year in a row. The Winter Village will include a 7,500-square foot skating rink for visitors of all ages to enjoy, along with wintery activities, festive decorations, games, cold-weather food and drinks, and warming fire pits. The rink will be open Thursday through Sunday and all New York City public school holidays, with additional Winter Village activities available seven days a week. Expanding on last year's public hours, the ice rink will be open Thursdays and Fridays from noon to 5:30pm and Saturdays and Sundays from 10am to 5:30pm, with event packages and buyouts available during additional hours. The rink will also feature events, activities, and "Free Admission Thursdays," with admission fees waived for all visitors every Thursday. Rink admission and skate rentals can be reserved online at www.govisland.org starting mid-November.
In addition to the rink, the Village will feature bike and sled rentals from Blazing Saddles NYC and wintery activities including lawn games like cornhole, can jam and giant Jenga; fire pits; winter arts and cultural programming, and a sparkling display of holiday lights throughout historic Colonels Row. The Governors Island Winter Village will be open through February 2023.
QC NY Spa con­tin­ues to be open dai­ly on Gov­er­nors Island, with heat­ed out­door pools, heated paths to the outdoor pools, along­side saunas, steam rooms, relax­ation treat­ments, mas­sages, and a new bar and bistro. Admission ranges from $98 during the week to $118 on weekends, no kids allowed.
Win­ter Dog Days where dogs are allowed on Gov­er­nors Island on Sat­ur­days and Sun­days will run through­out the win­ter months. Dogs must be leashed while on Gov­er­nors Island except for in the Week­end Win­ter Dog Park, locat­ed adja­cent to Liggett Terrace.
The wonderful junkyard playground will be open Saturdays and Sundays from 12 to 4 pm until end of November. Free and best suited for ages 5 to 12.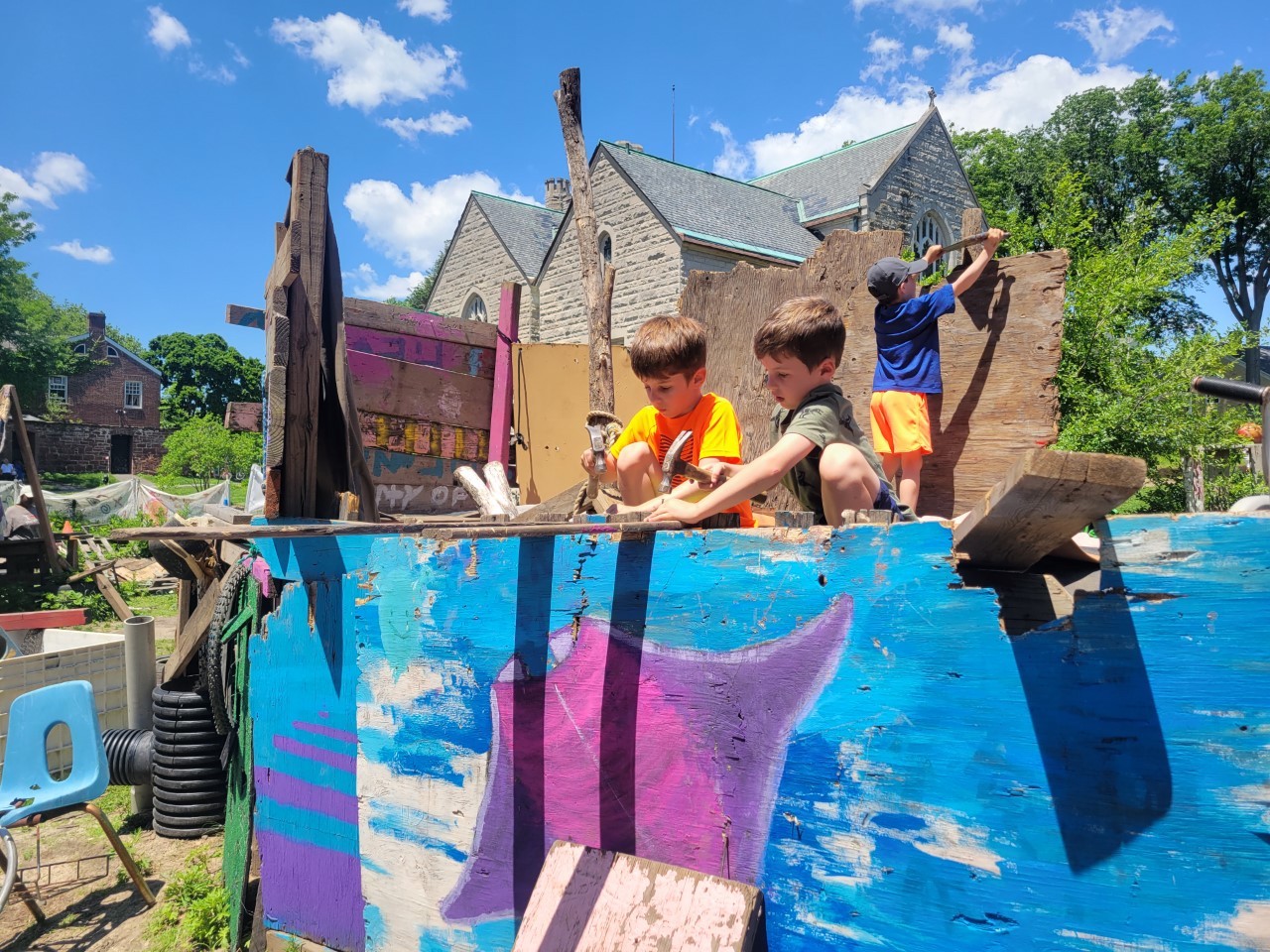 Sledding is possible on Governors Island at Grassy Hill, the side of Slide Hill and south slope of Discovery Hill. Bring your own sled or rent one at Blazing Saddles.
The South Brooklyn ferry will serve Governors Island 7 days a week all winter, schedule here.