Our new weekly overview of free things to do and events each week in our neighborhoods in Brooklyn is out! Highlights this week: Kayaking in Brooklyn Bridge Park is back, a Midsummer Night's Dream theater at Cadman, End of School Year party at the Bklyn Navy Yard and the opening day celebration of Photoville.
Red Hook Fest | Red Hook | Saturday, June 4
The festivities will continue on Saturday, June 4th starting at 2 pm with mainstage events at Valentino Park and Pier. Hook Arts Media partners with local nonprofits around Red Hook in addition to other NYC community organizations and agencies to provide free resources and family-friendly activities. Parents can enjoy the festival while kids can enjoy scavenger hunts, kayaking on the harbor, art classes, and face painting. The summer festival would come to a close with a headliner performance as the sun sets on one of Brooklyn's most scenic neighborhoods. Find out more here.
Photoville Festival Opening Day | Pier 1  | Saturday, June 4
Photoville Festival 2022 returns to Brooklyn Bridge Park for the 11th year, with multiple outdoor exhibitions presenting photography from around the globe. The festival will kick off with an Opening Day Community Celebration featuring artist-led walking tours, workshops, and opportunities to connect with the visual storytellers. Read more here.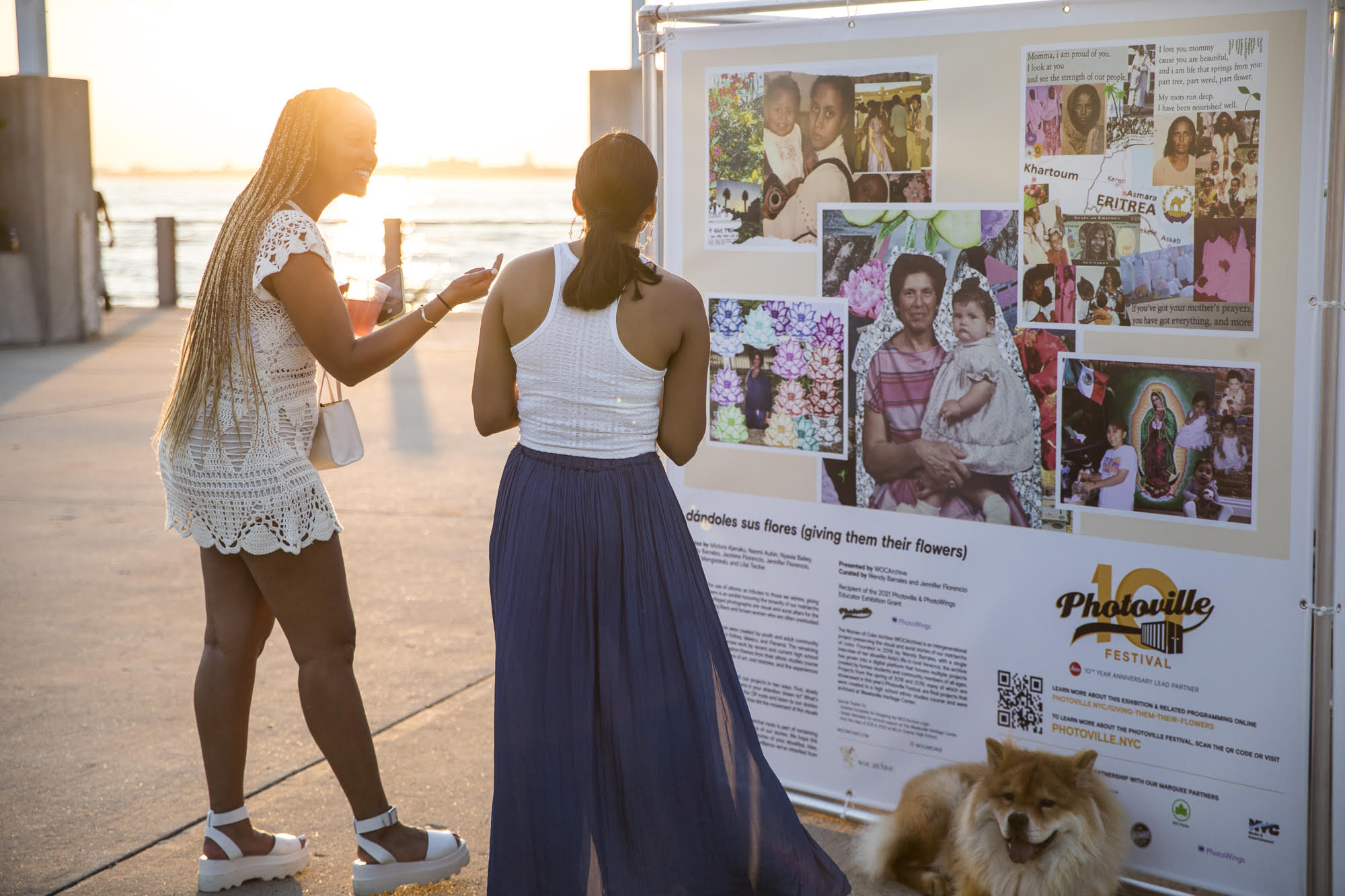 Jalopy School Music Festival | Columbia Waterfront | Saturday, June 4
Join the Jalopy School of Music for a FREE day-long celebration of music for all ages! Sing-a-longs for babies and toddlers, concerts by children and teens, a showcase of concerts by Jalopy teachers, a ukulele jam, a slow jam for beginners. Try a shape note singing workshop, sign up for a free mini-instrument lesson! Outdoors and in. 315 Columbia Street from 1 pm and onwards.
End of School Year Celebration | Brooklyn Navy Yard | Saturday, June 4
Brooklyn Navy Yard is inviting the community and all partners who serve the surrounding areas to come be a part of this celebration. There will be music, snacks, fun, games, and more! This event is for the whole family of all ages to come and spend some time at the Brooklyn Navy Yard! Sat, June 4, 11:00 a.m. – 2:00 p.m. Brooklyn Navy Yard, Building 77 Courtyard. Register today!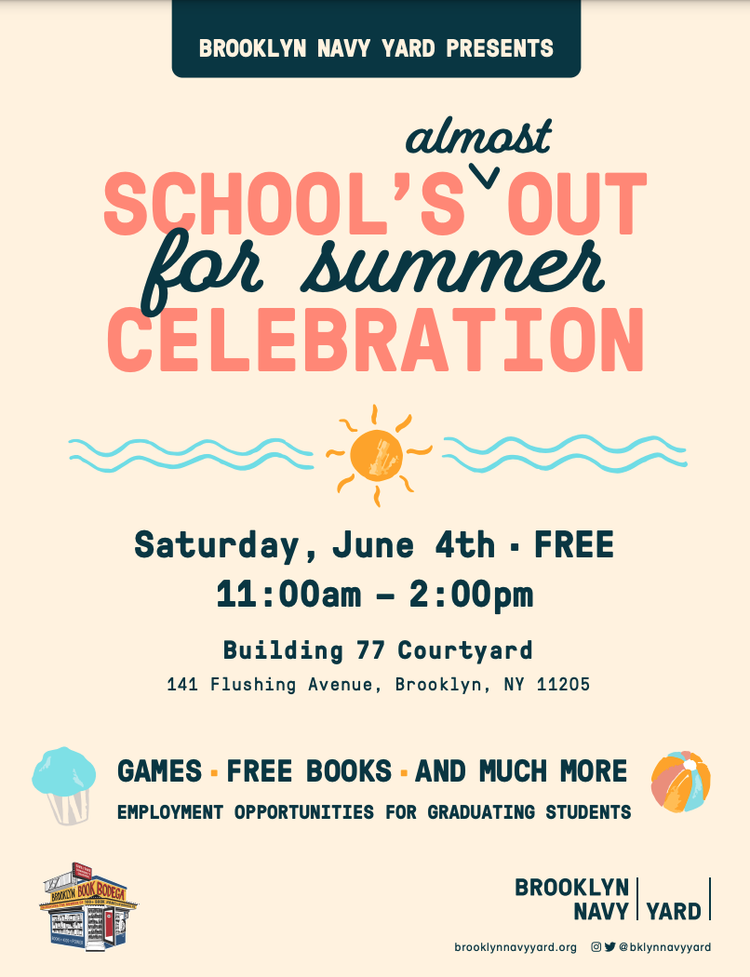 "A Midsummer Hour" | Cadman Plaza | Saturday, June 4 and Sunday, June 5
Join Theater 2020 and Cadman Park Conservancy for Shakespeare's classic comedy, "A Midsummer Night's Dream", distilled into one fast-paced hour on Saturday and Sunday from 6 to 7 pm. Bring blankets and the whole family. Read more here.
The Big Question Workshop | Commodore Barry Park | Saturday, June 4
The Big Question Workshops: designed to inspire curiosity through literacy and exploration, for kids ages 0–3.  Children and their caregivers will discover these answers and many more at The Big Question, a free series hosted by Adams Street Library and Walt Whitman Library, in collaboration with Brooklyn Book Bodega. At interactive workshops led by STEM experts, kids will explore some of life's biggest questions—plus, they'll get to take home books and curiosity kits about what they learned! What sights and sounds can we discover in the park? Saturday, June 4 from 10 to 11 am. RSVP here.
Cumbe Dance Series | Fort Greene Park | Sunday, June 5
Join the Cumbe Center for African and Diaspora Dance and the Fort Greene Park Conservancy every Sunday from 11am-12pm in June & July (except July 3rd) for rotating Afro Diasporic Dance groups who will teach a family-friendly workshop followed by a performance. Starts Sunday, June 5.
Kayaking | Brooklyn Bridge Park | Wednesday, Thursday Saturday & Sunday
With the Conservancy's ever-popular kayaking program held in partnership with Brooklyn Bridge Park Boathouse, visitors can enjoy gliding across the East River on Wednesday and Thursday evenings as well as Saturdays starting in June through the end of September. New family kayaking on Sundays will also be offered. Advance registration is required for all, starting first weekend of June, make reservation today. Make a reservation here.
Library programming | Adams Street Library in DUMBO | Mondays to Thursdays
Mondays from 3.30 to 4.30 pm: Kids activities including games, book adventures and arts and crafts for ages 6 to 12. No RSVP required.
Tuesdays from 1.15 to 1.45 pm and 2.15 to 2.45 pm: Babies and books for 0 to 18 months. Online registration required, opens one week before the event.
Tuesdays from 3.30 to 4.30 pm: Teen time with arts & crafts and board games for ages 10 to 17 years. No RSVP required.
Wednesdays from 10.30 to 11 am and 11.30 am to 12 pm: Toddler time for ages 18 months to 3 years. Online registration required, opens one week before the event.
Thursdays from 3.30 to 4.30 pm: Teen Tech Time with video gaming. No RSVP required.