A new public elementary school at One Willoughby Square in District 13 with 312 seats was originally scheduled to open in September 2023. The new school within a mixed use tower features music room, playground, gym, library, cafeteria, project room and medical suite. In December 2022, the Department of Education recommended not to open a new elementary school in this building but instead using the space temporarily for a new public high school for approximately two school years. The decision to move forward with this plan was made in January 2023 due to the low enrollment and below-capacity usage of public elementary schools nearby.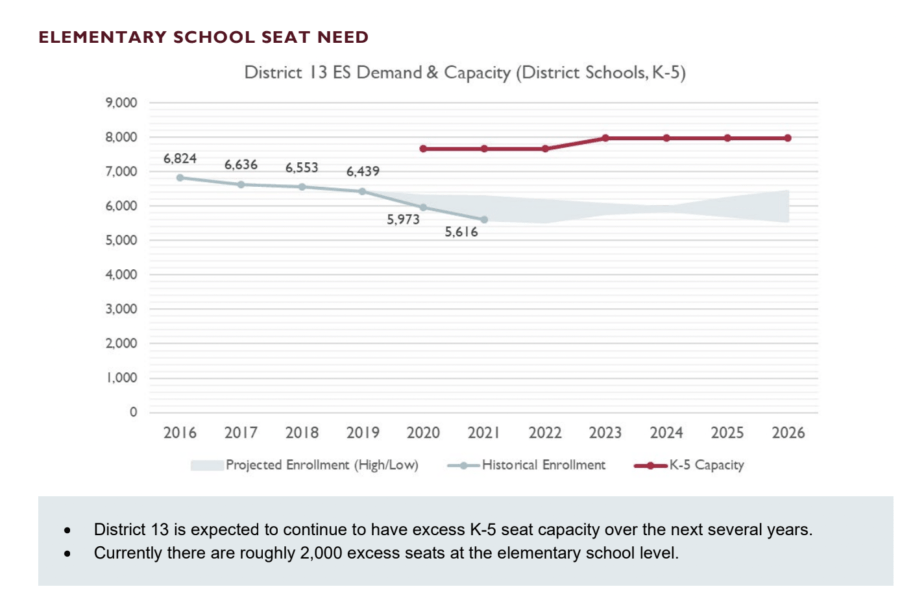 Most of Downtown Brooklyn continues to be zoned for PS 287 at 50 Navy Street offering 3K to 5th Grade. The school features a beautiful library, G&T program for Grades 3 and up, 3K for all and UPK, schedule a tour here. However, PS 287 is physically out of the way for some Downtown Brooklyn families who don't live in the immediate surrounding and would have to cross Flatbush and/or Tillary Streets with heavy traffic to get to the school. The school has also been struggling with poor test scores in State tests (22% of students passed the English exams in 2022 and 10% the Math exams) and low enrollment (119 students enrolled in school year 21/22 total). Not only is the new elementary school not opening in this fast growing neighborhood this year but the Brooklyn Prospect International Charter School currently located in Downtown Brooklyn is moving to their long-term home in Bed Stuy. The move of Brooklyn Prospect International Charter School (K to 5) in September 2023 will remove 54 tuition-free Kindergarten seats (plus the same amount in each grade 1st to 5th Grade) from the neighborhood.
Statement from the Department of Education with the newly assigned space use for a high school
The New York City Public Schools will be opening a new school, serving students in 9th grade in the 2023-2024 school year, that will be temporarily located in the Albee Square Building. This new school, Design Works (13K963), is being designed in partnership with Bank Street College of Education and Pratt Institute. The Department will work with the District 13 Community Education Council (CEC 13), the Citywide Council on High Schools (CCHS), and the District 13 community to identify a long-term site for the high school and to develop a plan at the Albee Square space to address elementary school needs in the area.
Statement from Council Member Lincoln Restler
It has been deeply frustrating that it has taken nearly 20 years for the School Construction Authority (SCA) and Department of Education (DOE) to follow through on the commitment for a new school as a part of the Downtown Brooklyn rezoning. In my opinion, the greatest need in School District 13 are high quality middle school seats and I hope that the temporary utilization of this site by the new design high school for up to two years will allow for community planning and a creative solution that addresses middle school capacity.
Statement from CEC 13
CEC13 is excited about the future of One Willoughby Square. The temporary location of Design Works High School will allow the CEC time to further engage with the DOE and the greater District 13 Community to ensure that this new elementary school meets the community's needs. District 13's CEC has a track record of advocating and serving our schools and community, often leading the change and leveraging our work for systemic shifts in education equity.
Background
The recommendation for this temporary siting was initially shared publicly at a joint CCHS/CEC 13 meeting on 12/12/22 and following subsequent conversations among the NYC Public Schools and various stakeholders, CEC 13 publicly shared that the decision was made to move forward with this plan on 1/17/23.