This week is packed with free Halloween-themed activities all over Brooklyn, street fairs and our last DUMBO Family Games of the year.
Storytime | Jane's Carousel | Thursday 10/26
Join Adam's Street Library staff at Jane's Carosuel for Storytime's in October and November! They will be singing songs, learning rhymes and reading books together. Storytime will take place before the carousel is open from 10:15-10:45AM on Thursday, October 26 for ages 0 – 5.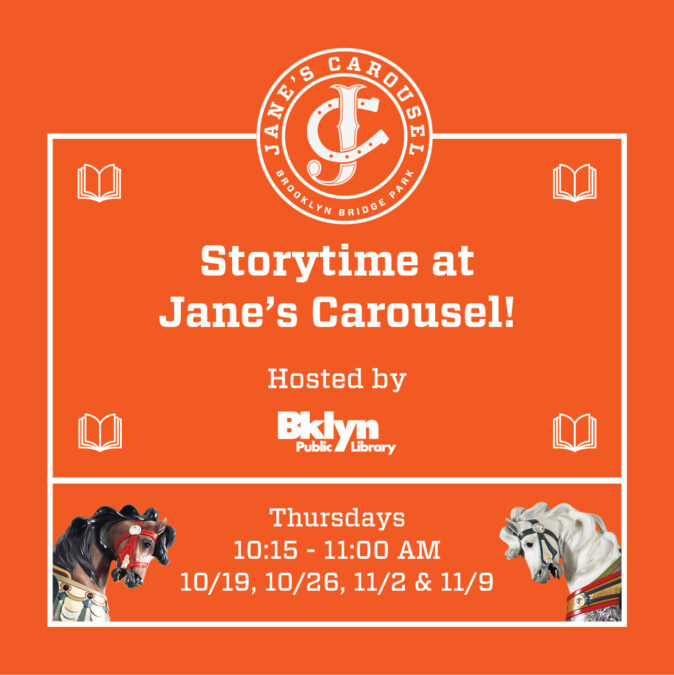 A free outdoor music series where families can expect tunes from award-winning children's performer Suzi Shelton and fun, kid-friendly activities. Join Suzi and Special Guest Chris Johnson for a spooky Halloween-themed show! Thursday, October 26 at 10 am to 11.30 am.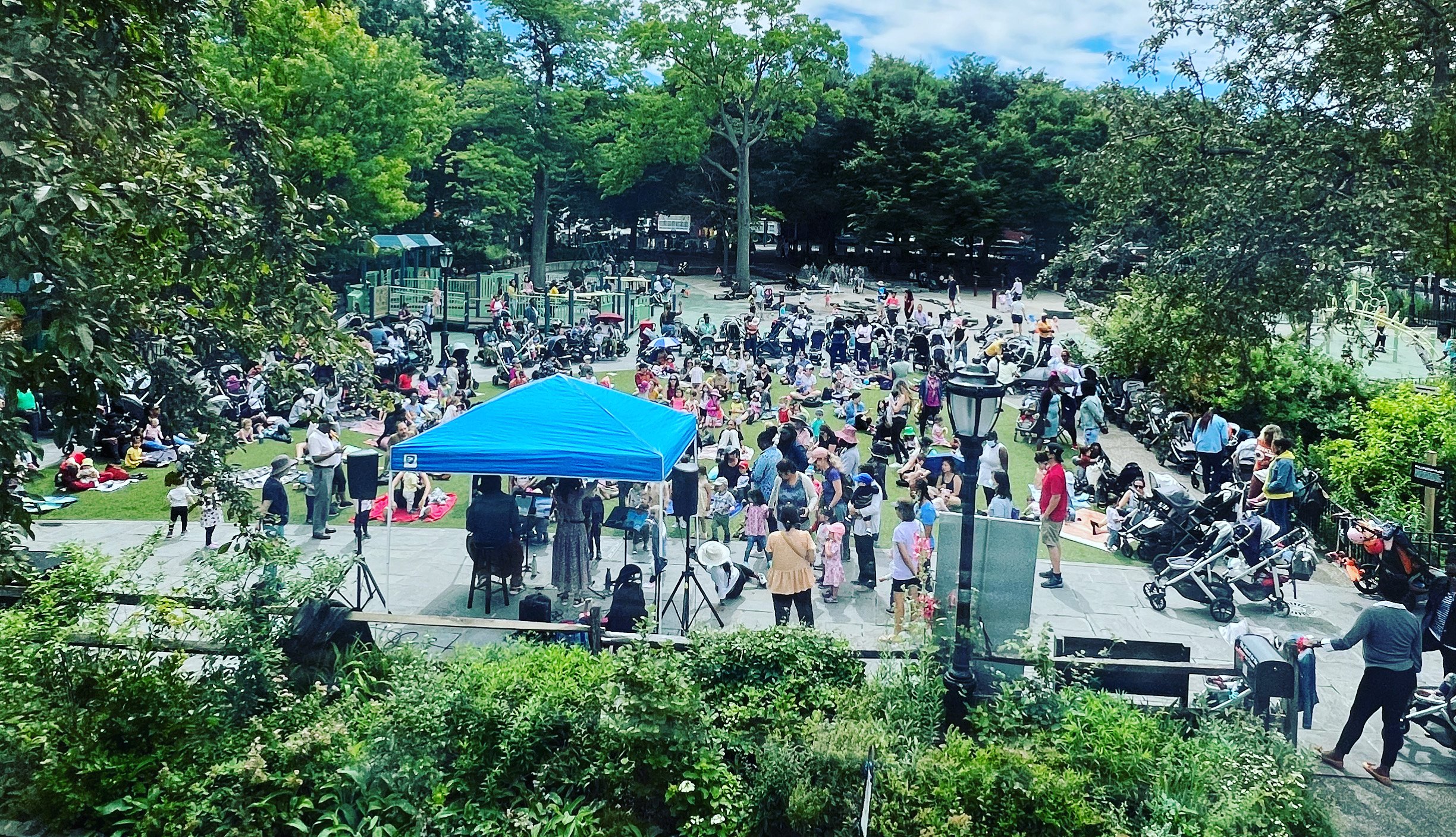 Plymouth Church Yankee Fair | Brooklyn Heights | Saturday, October 28
Plymouth's Yankee Fair is an old-fashioned church fair with modern Brooklyn flair. Outside on Orange Street and in Beecher Garden they will have a children's street fair, with rides, pumpkin decorating, face painting, glitter tattoos, popcorn and cotton candy. Inside there will be a a market filled with exceptional handmade crafts, holiday gifts, vintage jewelry and collectibles, books, baked goods and savories. The Underground Thrift Shop of curated high-end clothing for children and adults will be open all day. A children's sing-along at 1PM is a highlight. And lunch will be served! Saturday, October 28 from 10 am to 3 pm.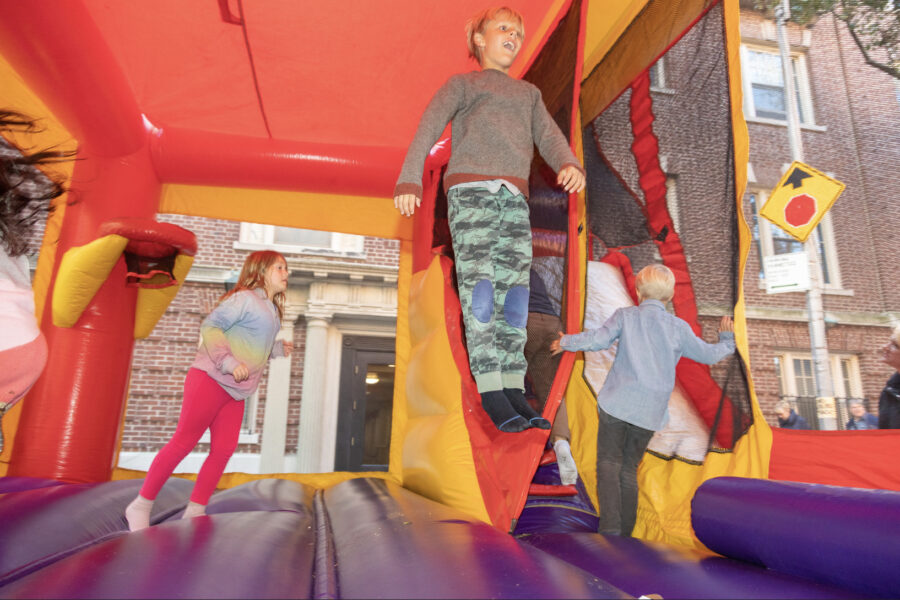 Pumpkin Point Festival | Governors Island | Saturday 10/28 & Sunday 10/29
Pump­kin Point, Gov­er­nors Island's annu­al free pump­kin patch and fall fes­ti­val, returns to Nolan Park for 2023! Vis­i­tors are invit­ed to pick out their own pump­kins on the week­end of Octo­ber 28-29 from 10 am to 5 pm. Find out more here.
The Cobble Hill Association is once again partnering with Mason Lane Art Advisory Services to host this wildly popular community event in which more than 75 local children (1st–8th grade) create their own Halloween-themed painting on the windows of participating Court Street businesses. Registration opens soon. For 1st -8th graders. Saturday, October 28 starting at 8.30 am.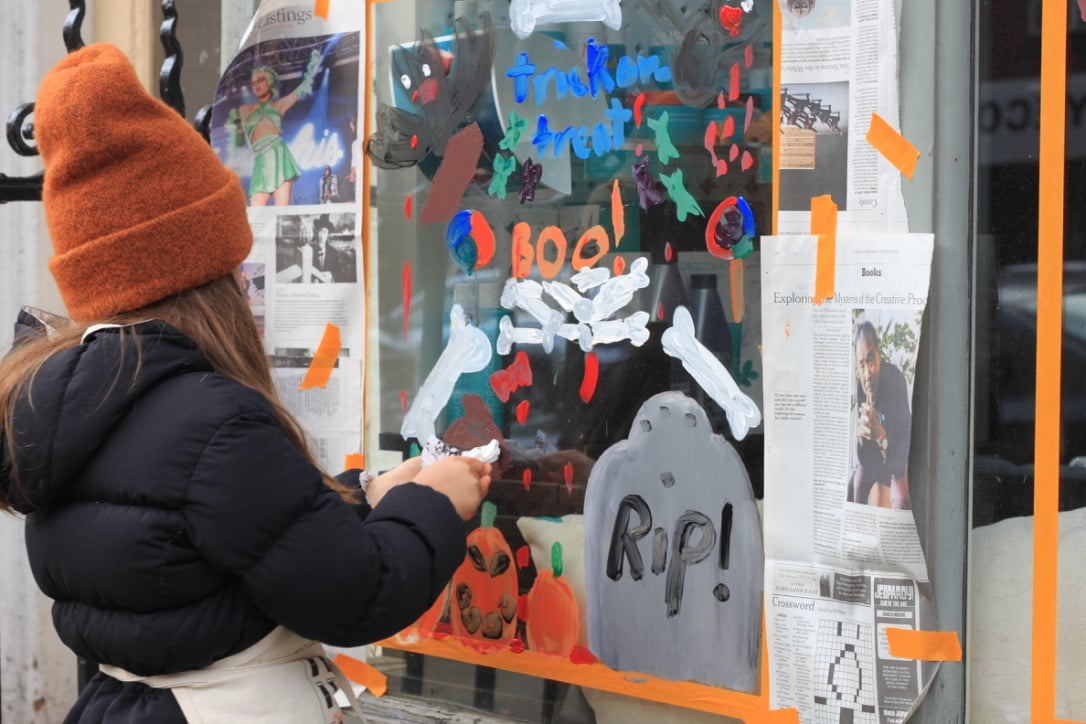 Red Hook Harvest Fest will feature food, pumpkin patch, games, animals, Hot Pepper Challenge, photo booth, and more! Saturday, October 28 from 11 am to 3 pm. 
Save the date for a Seaport Kids x Halloween Block Party, in partnership with Mommy Poppins and Brooklyn Bridge Parents. Front and Fulton Streets will transform into a Halloween-themed block party for kids 2–10 (and the bigger kids who love all things Halloween). Enjoy a live music performance from urban cowboy musician Hopalong Andrew, as well as pumpkin-decorating, live pumpkin carving, face-painting, trick or treating, STEM activities and, of course, a celebration of attendees' fabulous costumes. Saturday, October 28 at 11 am (rain date Sunday, October 29).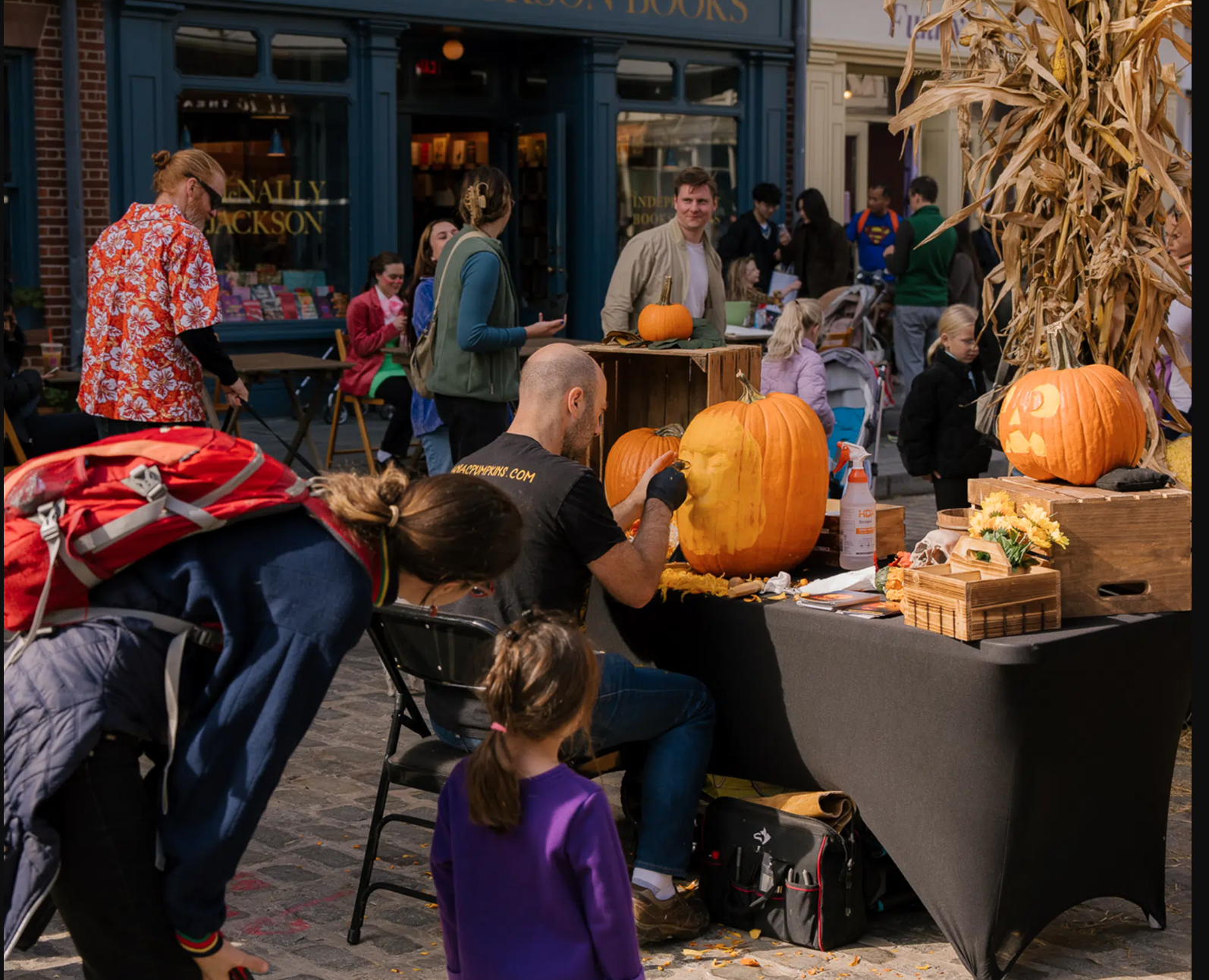 The Brooklyn Heights Association's Halloween Parade starts at the entrance to the Promenade on Clark Street and parades down to the Remsen cul-de-sac. Treats are provided at the end of the parade! Look out for updates on the BHA's Instagaram page. Saturday, 10/28 at 11 am. Rain date Sunday, October 29th.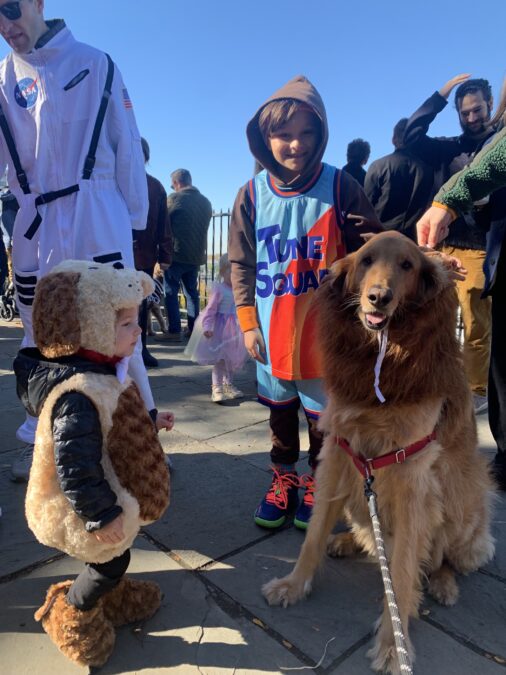 Come down to Montague Street for TBA Halloween fun on October 28th. A Halloween-Themed Zing! Kids Fit Zone will feature a SPOOKtacular kids fitness obstacle course, fit games & prizes, and mini fit classes on Saturday, October 28 from 12 to 2pm.
Now in their 25th year in Fort Greene Park, and sponsored by Fort Greene PUPS, the Great PUPkin is Brooklyn's largest and most outrageous dog costume contest. Scads of dogs enter and ruthlessly compete for the coveted Great PUPkin rosettes for the top pups! Saturday, October 28 at 12 pm. FREE to attend; $17 for dog registration.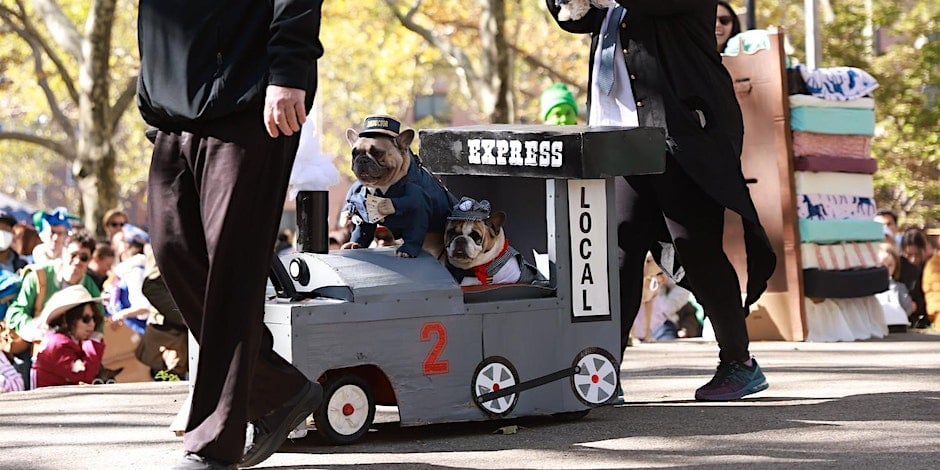 Halloween Fest | Fort Greene Park | Saturday 10/28
Dress up in your best costumes for the Haunted Costume Ball! Enjoy spooky stories, face painting, a haunted maze, music, family-friendly games, and more. Saturday, October 28 from 1 to 4 pm.
BKLYN BOO! returns for a fun and exciting afternoon of family-friendly Halloween activities, live music, and arts in partnership with City Point BKLYN. Schedule includes crafts, puppet shows, DJ set, and costume dance-off! Saturday, October 28 from 1 to 4 pm at Albee Square and City Point.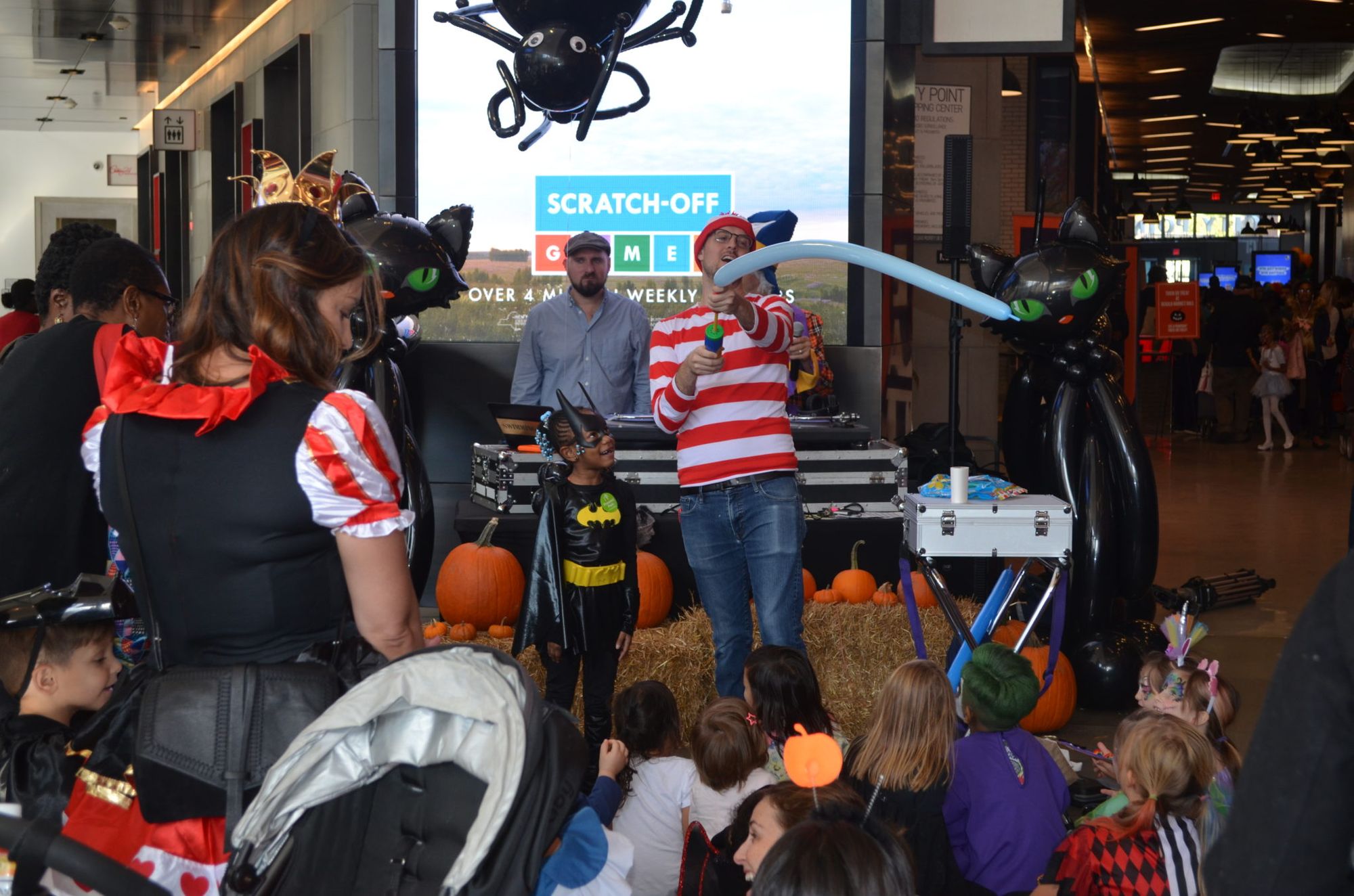 Dress up and join the Friends of Carroll park for a festival of fun with music, dancing, treats, scavenger hunt, and more. Located at the Park House and Monument area in Carroll Park from 11.30 am to 1 pm.
Howl-o-ween | Boerum Hill | Saturday 10/28
Celebrate the Halloween season with your pups! Join us for our first Howl-o-ween on Hoyt. Meet your neighbors, take a photo of your four legged friend in our "pupkin" patch, enjoy treats, try out an agility course, receive free pet health and training advice, and more. Saturday, October 28th from 1 to 4 pm.
Brooklyn Bridge Parents is partnering up with the 5th Avenue BID in Bay Ridge to host a big fall festival on 10 blocks on car-free 5th Avenue from 75th to 85th Street. Come enjoy the many restaurants from all over the world, the uniquely decorated houses in the side streets and a block party with bouncy houses, arts and crafts, pumpkin decorating, "Trunk-or-Treat", castle building, music, haunted trucks and much more. Kids are encouraged to come in costumes. Saturday, October 28 from 3 to 8 pm.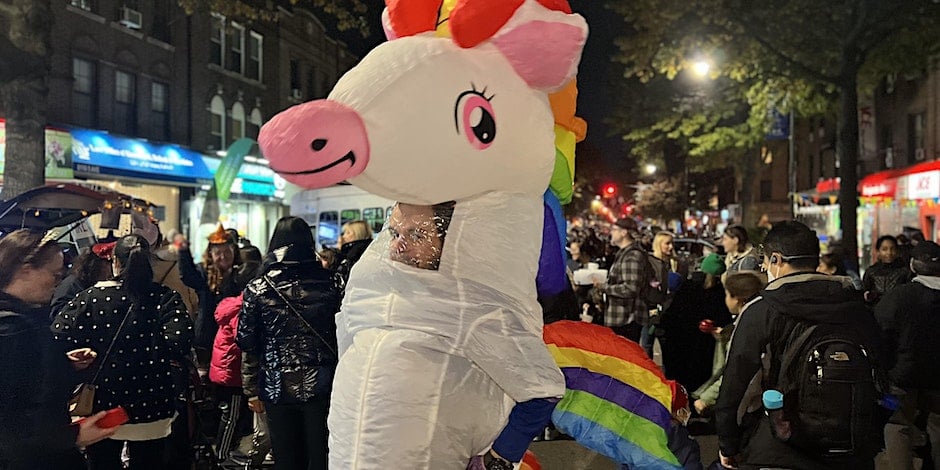 Dressed in their Halloween costumes, students from Brooklyn Conservatory of Music's Suzuki Piano studio will perform Halloween-oriented music and other fun pieces they've selected or composed. Students will perform solo or in duo with their teacher, a sibling or a parent on a festively decorated piano. 12.30 – 2.30 pm.
Join Redemption Church for their annual Fall Festival in Coffey Park at 1 pm. Come and enjoy a great time of community building, family fun, music, games, and lots of candy! 
Town Square's Halloween Parade and Party has been a seasonal highlight for North Brooklyn families for a decade. Costumed kids and kids-at-heart march down Manhattan Avenue and back to the starting point for a spooktacular party! Arts and crafts, contests, games, and yummy munchies. Spooktacular Party for little tykes at 10am + 11am; Parade at 1pm; Zombie Nerf War for older kids at 3pm + 4pm. Sunday, October 29 from 10 am to 5 pm, rain or shine. FREE for parade; $20 online/$30 doors for Spooktacular Party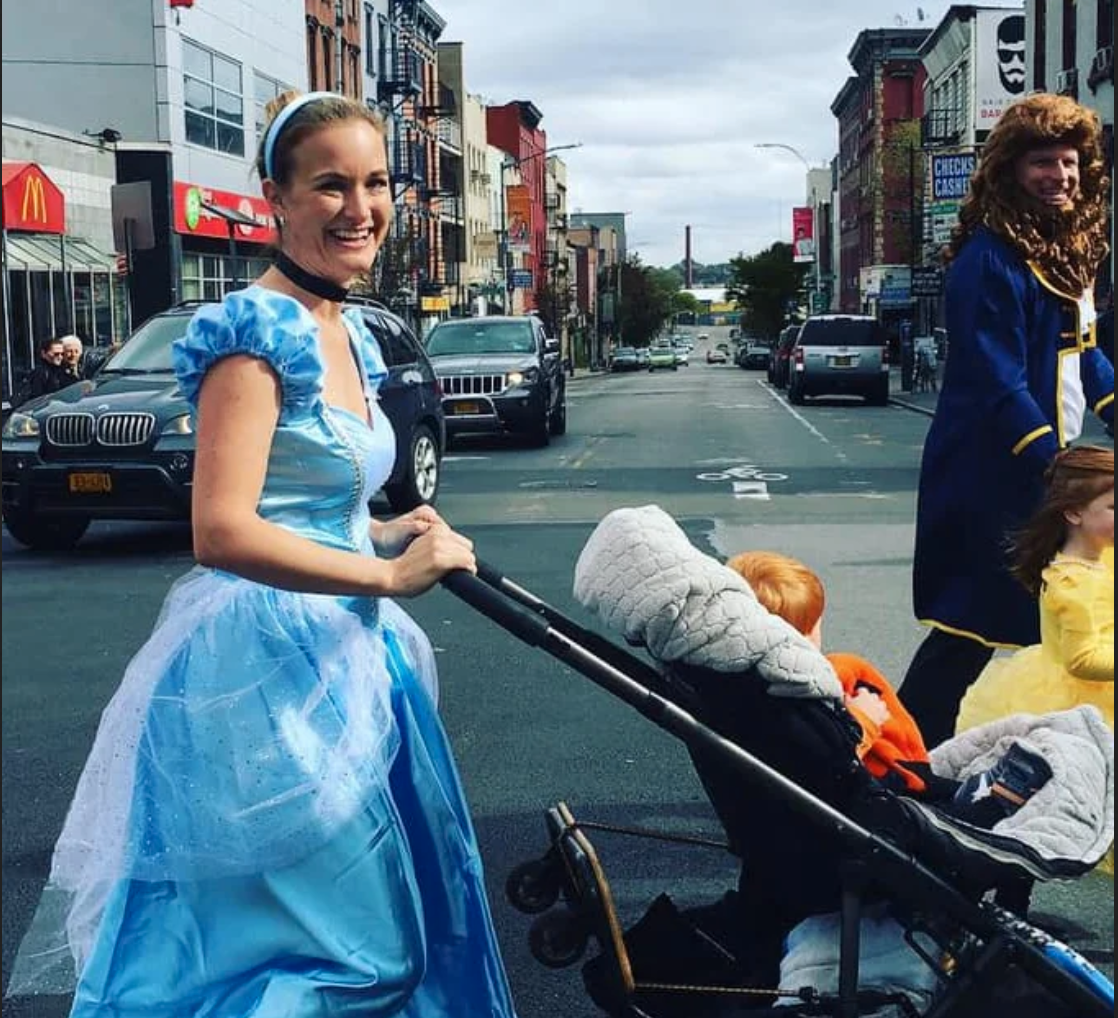 Court Street Spectacular Street Fair – located between Atlantic Avenue and Joralemon Street – is Brooklyn's last big street festival of the year! Take a stroll down Court Street and visit the merchants and vendors, good eats, and kiddie rides on Court Street. Sunday, October 29 from 11 am to 6 pm. 
Join Prospect Park Alliance at the Audubon Center for a special Halloween celebration. Take a second look at the creatures that give you the creeps, you may find you like them! Participate in fun activities and experiments that will make your spine tingle. The event will feature an Owl Pellet Dissection, Nature Chef's Surprise, Creepy Discovery Boxes, Snake Feeding, Creepy Crawly Walk. Sunday, October 29 from 12 to 4 pm.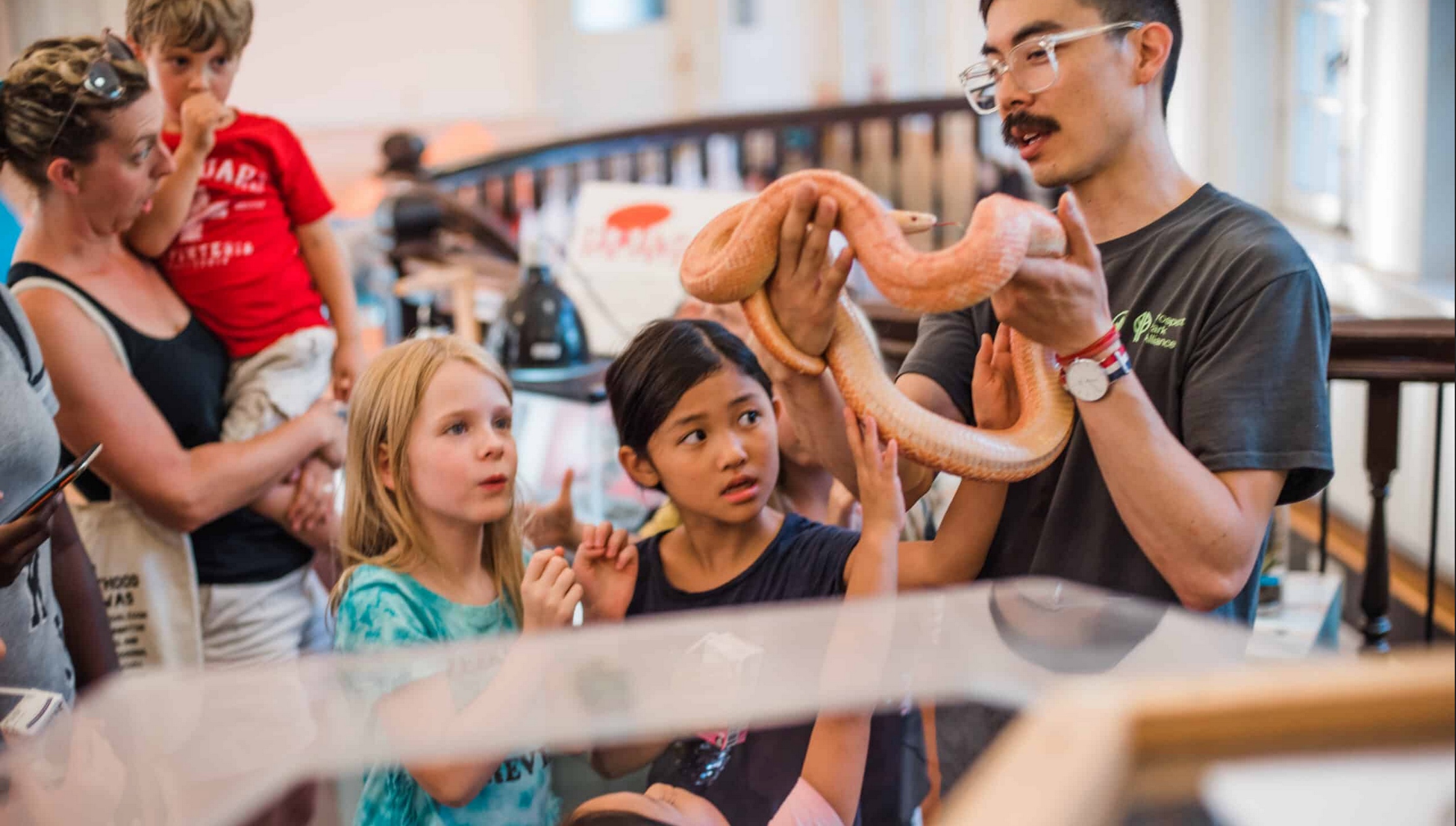 IKEA will have treats, crafts, scavenger hunt, trick or treat tote bag decorating, and a photo station for your little goblins. Costumed attendees can also enter to win a $50 IKEA Gift card! Sunday from 10 am to 2 pm. FREE w/ RSVP and IKEA Family registration.
Join The Old Stone House and Park Slope Parents in the park from 12-2 pm for creepy arts and crafts projects with Private Picassos. The costume contest will begin at 2 pm and mini parade around the Park will begin around 2:45pm. Extra credit for homemade costumes with lots of imagination and recycled materials.
Join Iris Cafe for some fun! Family Halloween Karaoke is on the 29th at 4 pm.
DUMBO Family Games | Washington Street DUMBO | Sunday 10/29 – cancelled
Last DUMBO Family Games of 2023! Enjoy our epic Lego table, plus building blocks, arts & crafts, Corn hole, Connect Four, arts & crafts, balloon twisting by Leaf Medical & Dental and more on car-free Washington Street on Sundays from 11 am to 1 pm (weather permitting). Curated by the DUMBO BID x Brooklyn Bridge Parents and supported by Leaf Medical & Leaf Dental in DUMBO. No need to RSVP, just show up.