Our weekly overview of events and things-to-do for families in Brooklyn is out! Highlights include the free practices at the E Formula race in Red Hook, the oyster carnival on Governors Island and our block building and game fun Thursdays at Albee Square, Saturdays in DUMBO and Sundays indoors at CityPoint.
Arts class | Cadman Plaza Park | Tuesday, July 12
Join Color Architect for a free arts class at Cadman Plaza Park on Tuesday this week at 10 am. Email to RSVP. An arts and crafts pop-up for children for ages 18 months to 5 years old. They are now running weekly sessions in Cadman Park on Tuesday mornings at 10am as well as a session to target the kids who are enrolled in camp at 4pm. The sessions are open format, messy play and sensory based for kids 18 months – 5. Find out more here.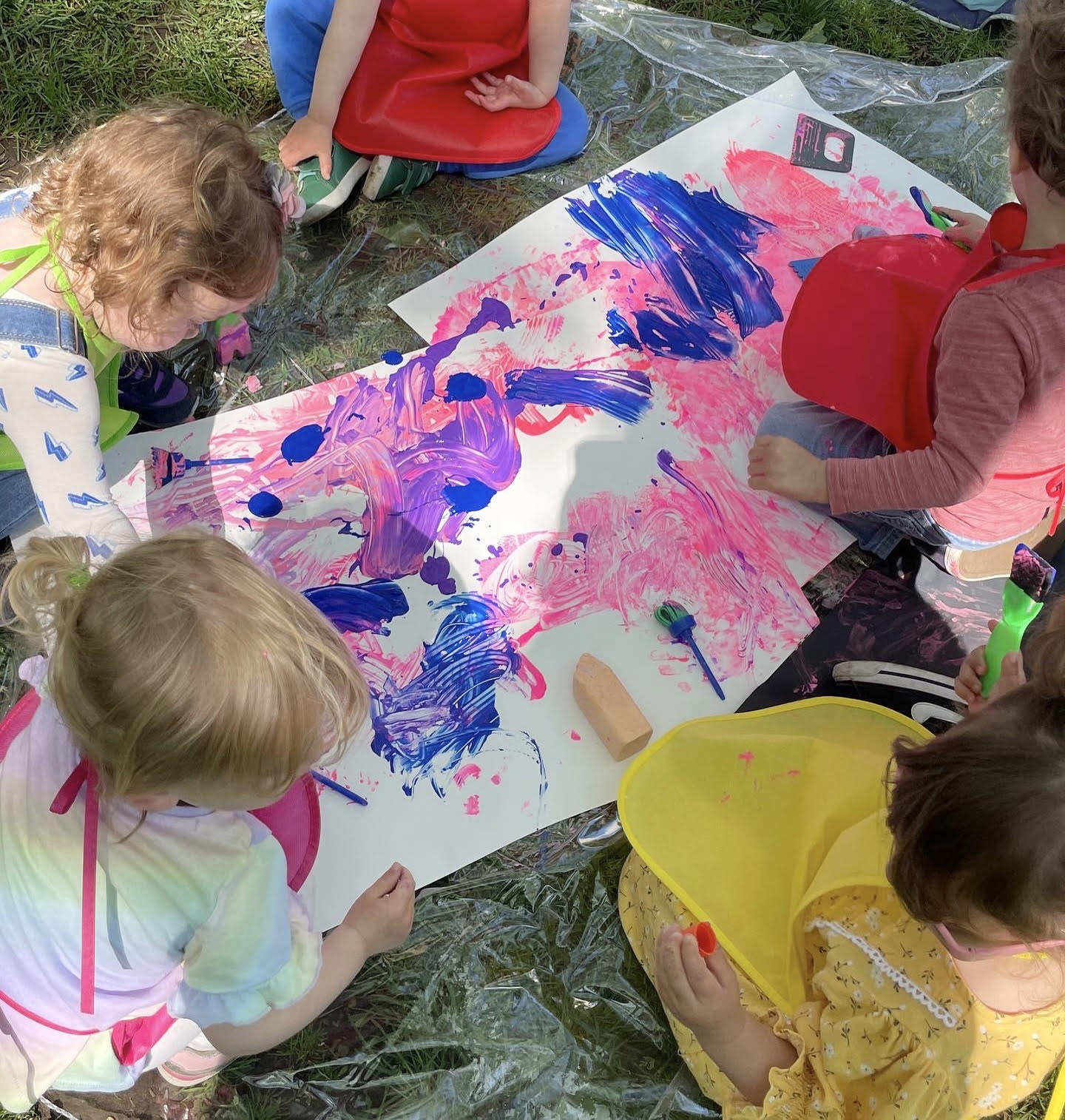 T-Shirt making | DUMBO library | Thursday, July 14
Free T-shirt making at the Adams Street library this Thursday for kids 10+ years old! Join teaching artist Susan Hale and make your own stylish T-Shirt using paints and stencils! No RSVP required, just show up before 2 pm. Find out more here.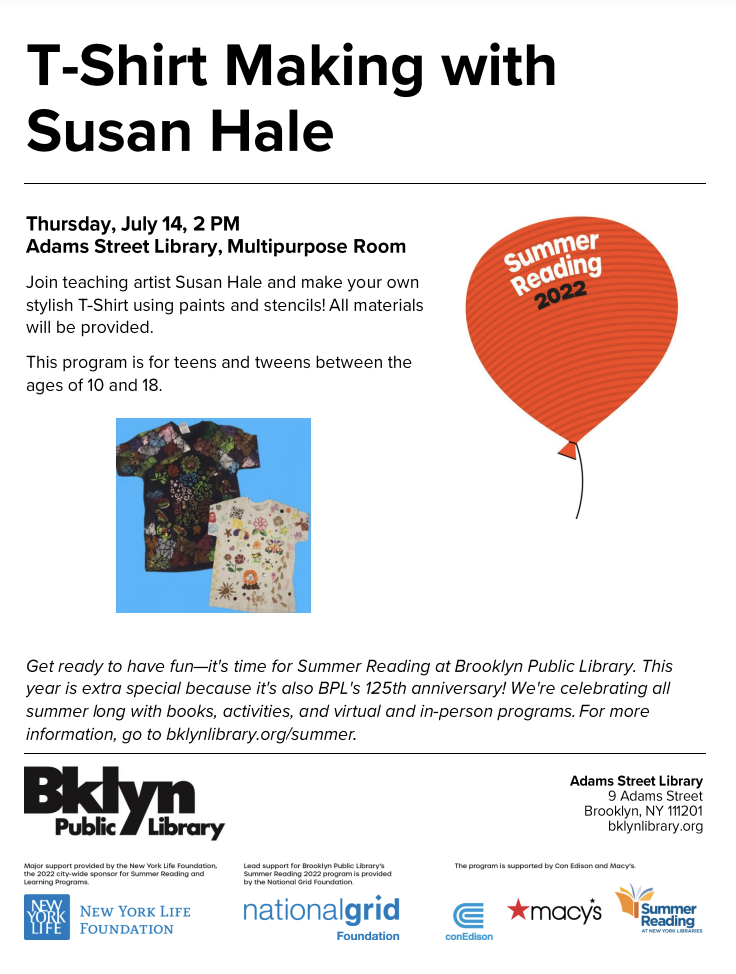 E Formula race practicing | Red Hook | July 14 and July 15
The ABB FIA Formula E World Championship will take place in Red Hook on Saturday, July 16 and Sunday, July 17. The 22 world-class drivers will want to put on an action-packed show with the Statue of Liberty watching in the background. Included with your ticket is access to the immersive Allianz E-Village with kids area, gaming area and live music. It's a full-day festival of entertainment and exploration for fans of all ages. Find out more here. THey are hosting free practices on Thursday, July 14 from 4 to 4.30 pm and Friday, July 15 from 7 to 7.30 am.
Block Building and Happy Hour | Albee Square in Downtown Brooklyn | Thursday, July 14
Join us on Thursdays from June 30 to July 21 from 3 to 6 pm on Albee Square in Downtown Brooklyn for community block building for the kids (Lego, blue blocks and chess) and happy hour for the grown-ups.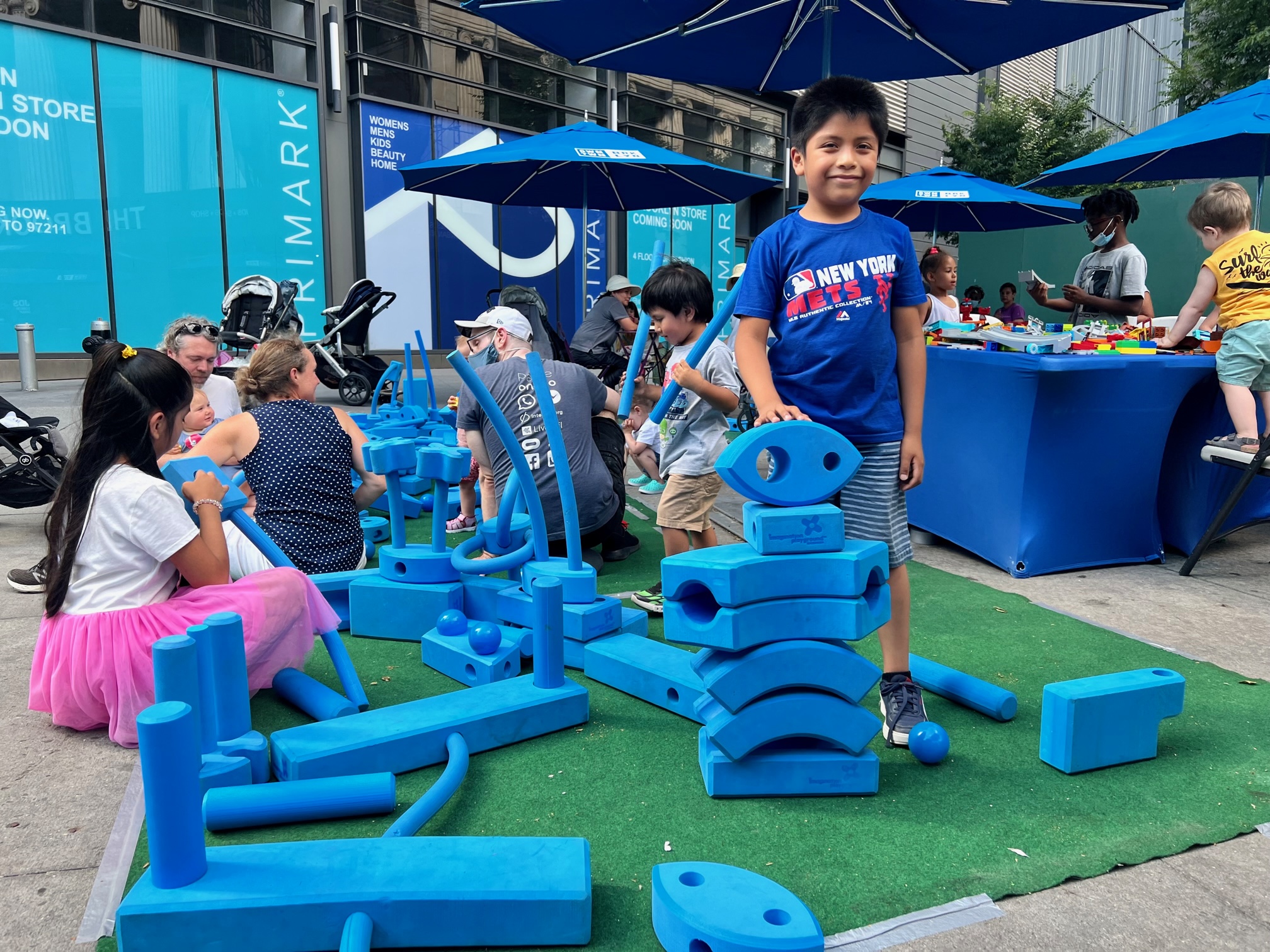 DUMBO Family Game Time | Car-free Washington Street in DUMBO | Saturday, July 16
Join us for DUMBO Family Game Time on Saturdays from June 25 to September 10 (Labor Day weekend) from 10 am to 12 pm on pedestrian-only Washington Street with free games for kids 1 to 10! Rain date Sunday, July 17 from 10 am to 12 pm.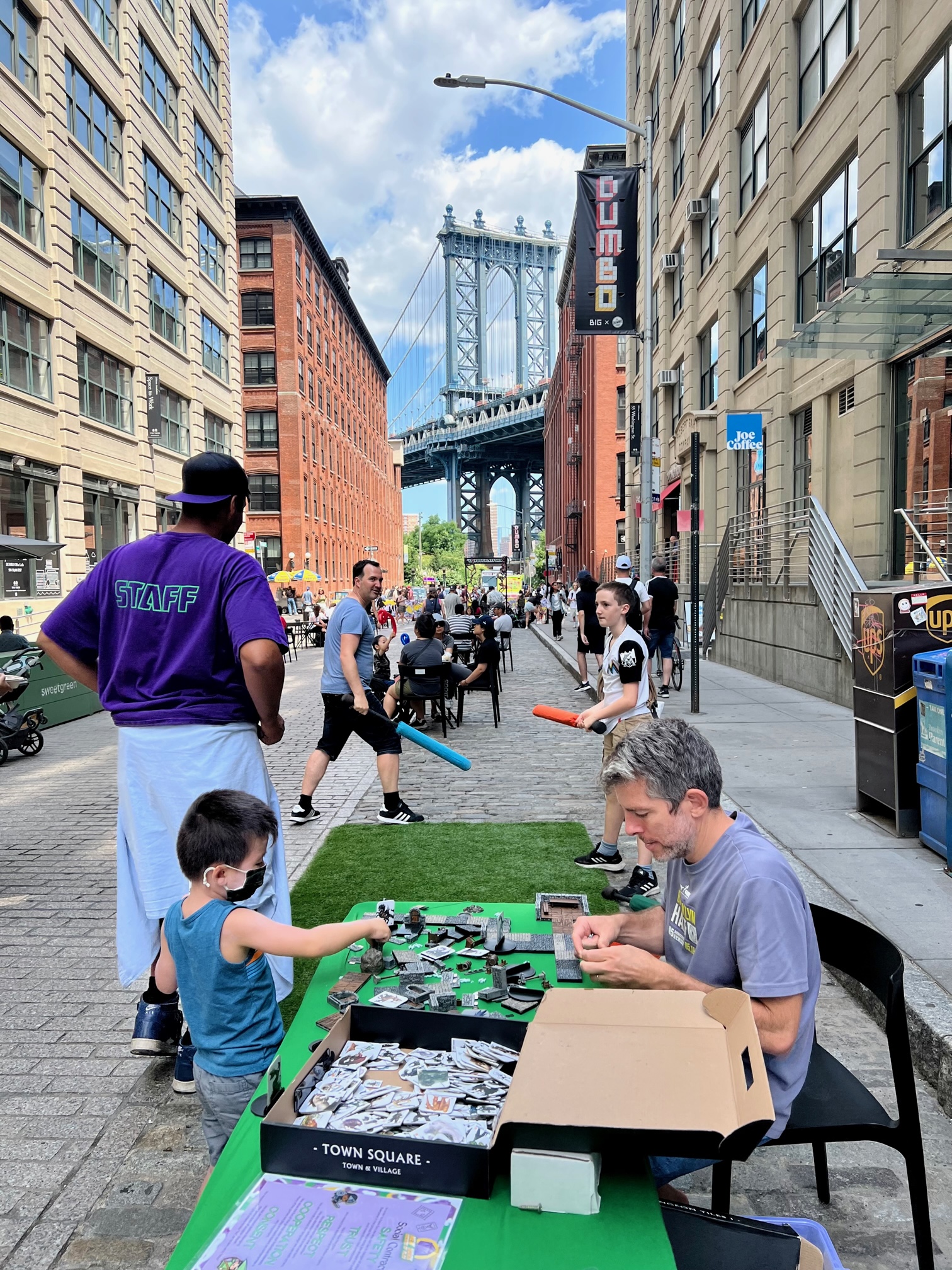 City of Water Day: Oyster Carnival on Governors Island | Saturday, July 16
The annual City of Water Day festival—organized by the Waterfront Alliance—celebrates NYC's surrounding waters with harbor tours, rowing and kayaking, races and children's activities. Celebrate NYC waterways with Billion Oyster Project and LMCC's Take Care Series on July 16th from 1 – 4 PM on Governors Island. RSVP here.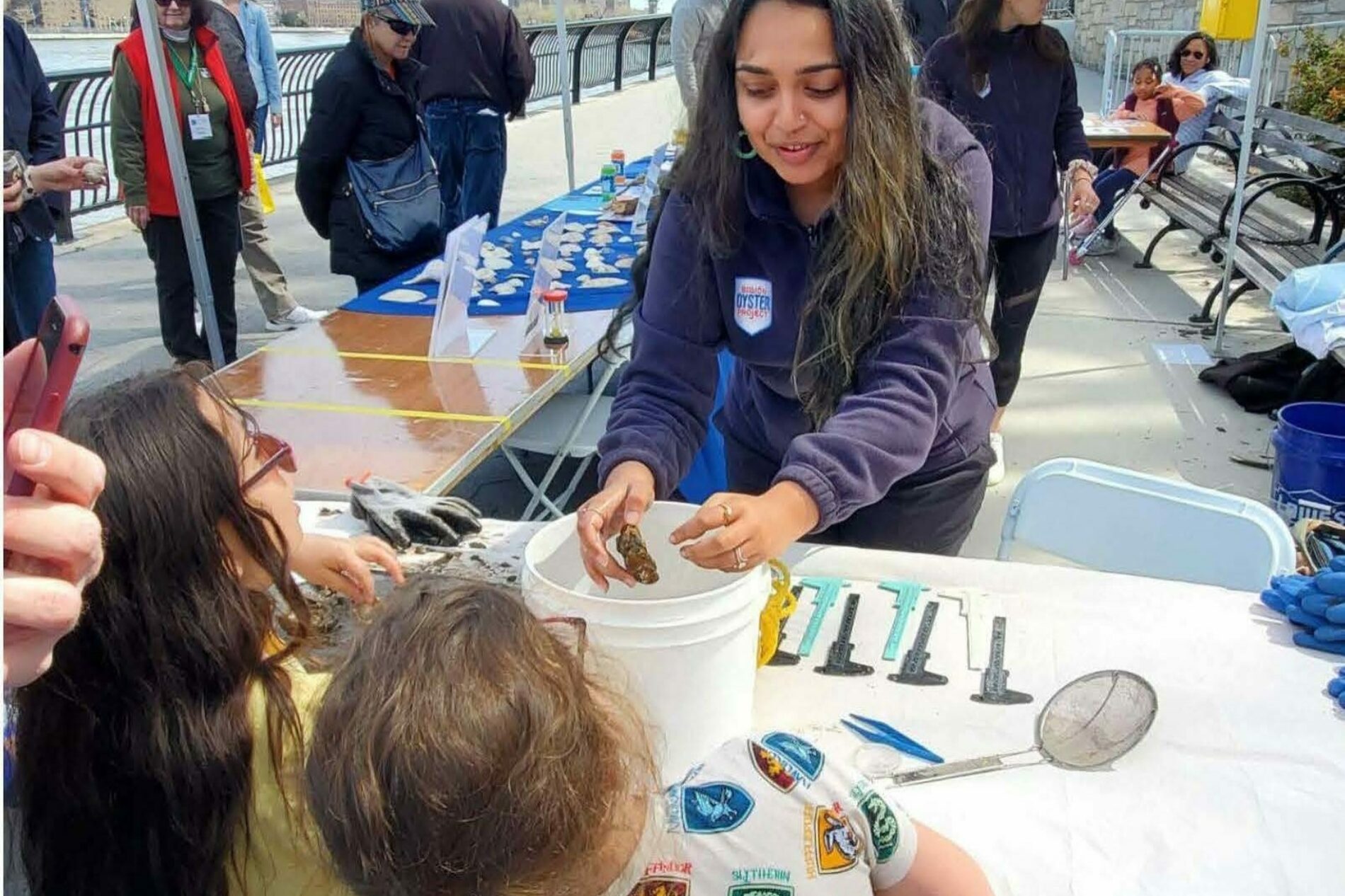 Fishing |Brooklyn Bridge Park | Saturday, July 16
Learn how to bait a hook, drop a line, and maybe even reel up a fish! Guided by our education team, learn the basics of rod and reel fishing while catching-and-releasing some of Brooklyn Bridge Park's finest. Saturday, July 16 from 4 to 7 pm at Pier 5.  Just walk up, all ages are welcome.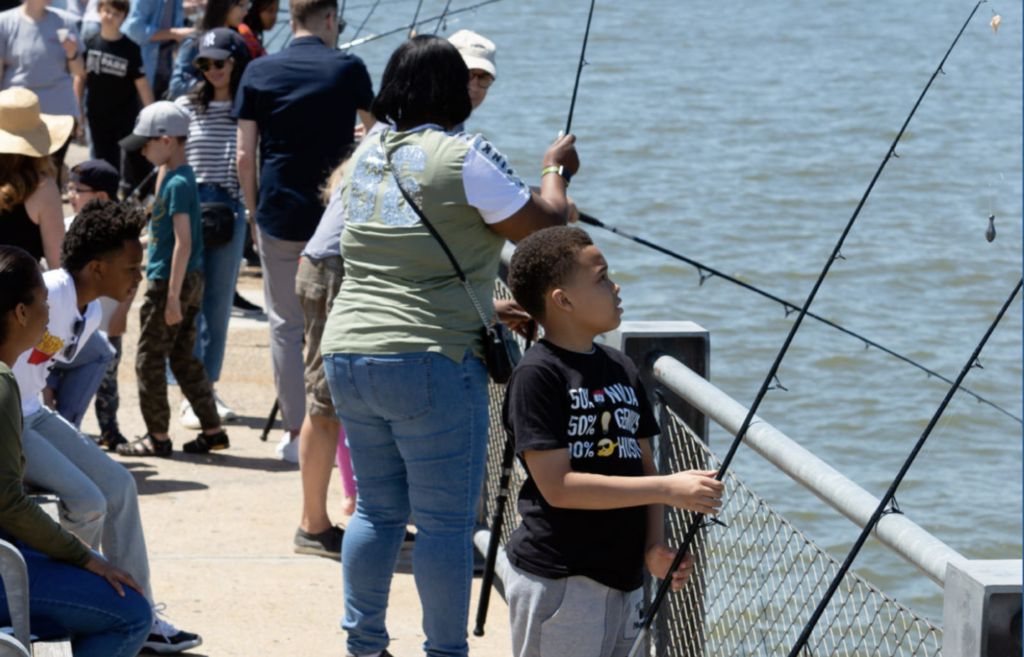 Sunday Games @ CityPoint | Downtown Brooklyn | Sunday, July 17
Free games for children 2 to 10 years old on Sundays in July from 12 to 3 pm. Come play and cool down at City Point! Sunday Games will take place inside at City Point with Foam Sword Battles, Beyblading, Dungeon Tiles, Lego and block building, Chess and more for kids 2 to 10 years old. FREE on Sundays in July in the ground floor hallway at City Point. RSVP here.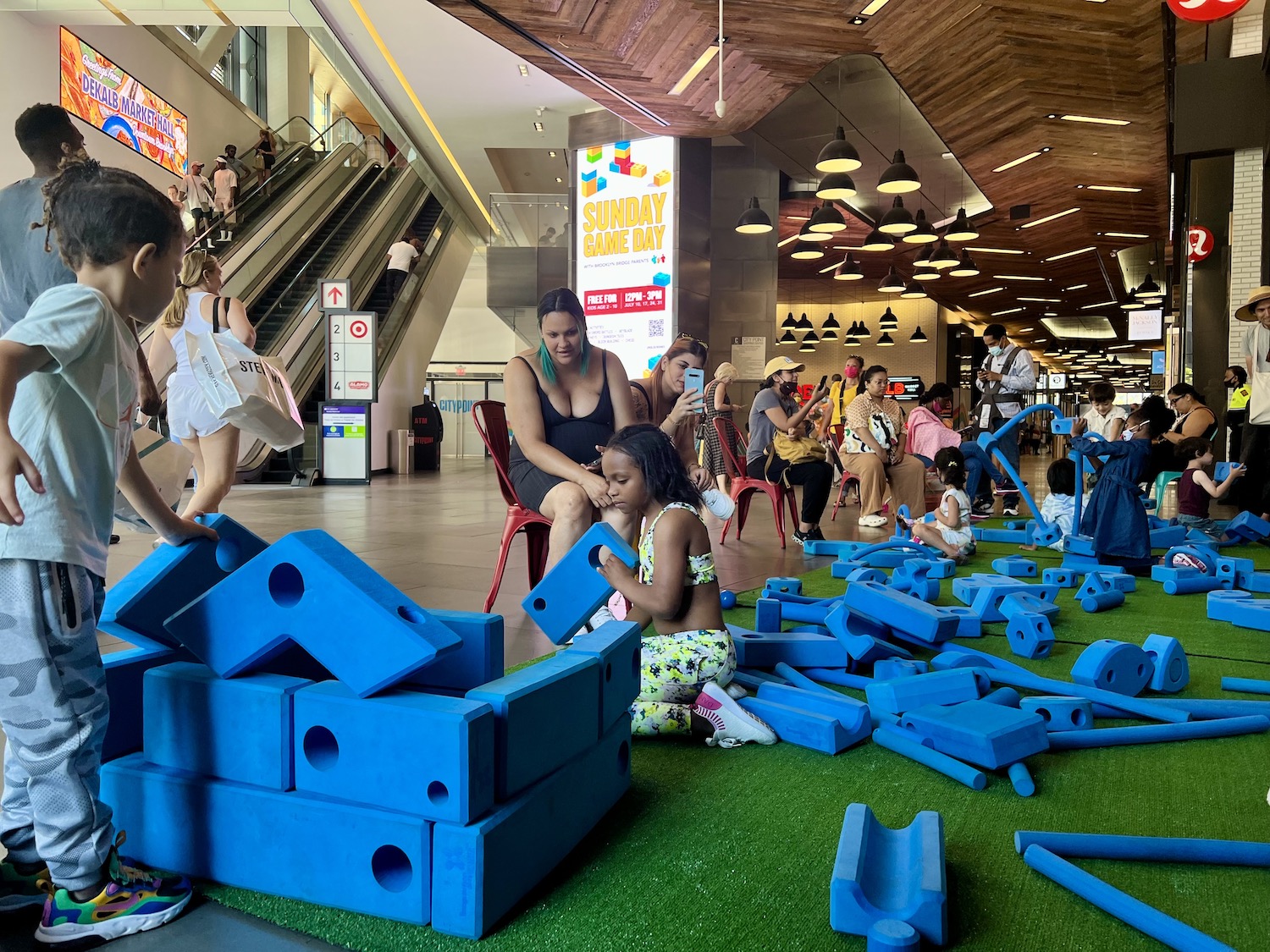 Basketball clinics | Brooklyn Bridge Park | Tuesdays
Free Youth Basketball Clinics will be hosted on Tuesdays, May 31 through August 30; two age group ranges are offered for 7-12 and 13-17 year olds at the Pier 2 Courts. You can register your children one week in advance, starting Tuesdays at 10 am.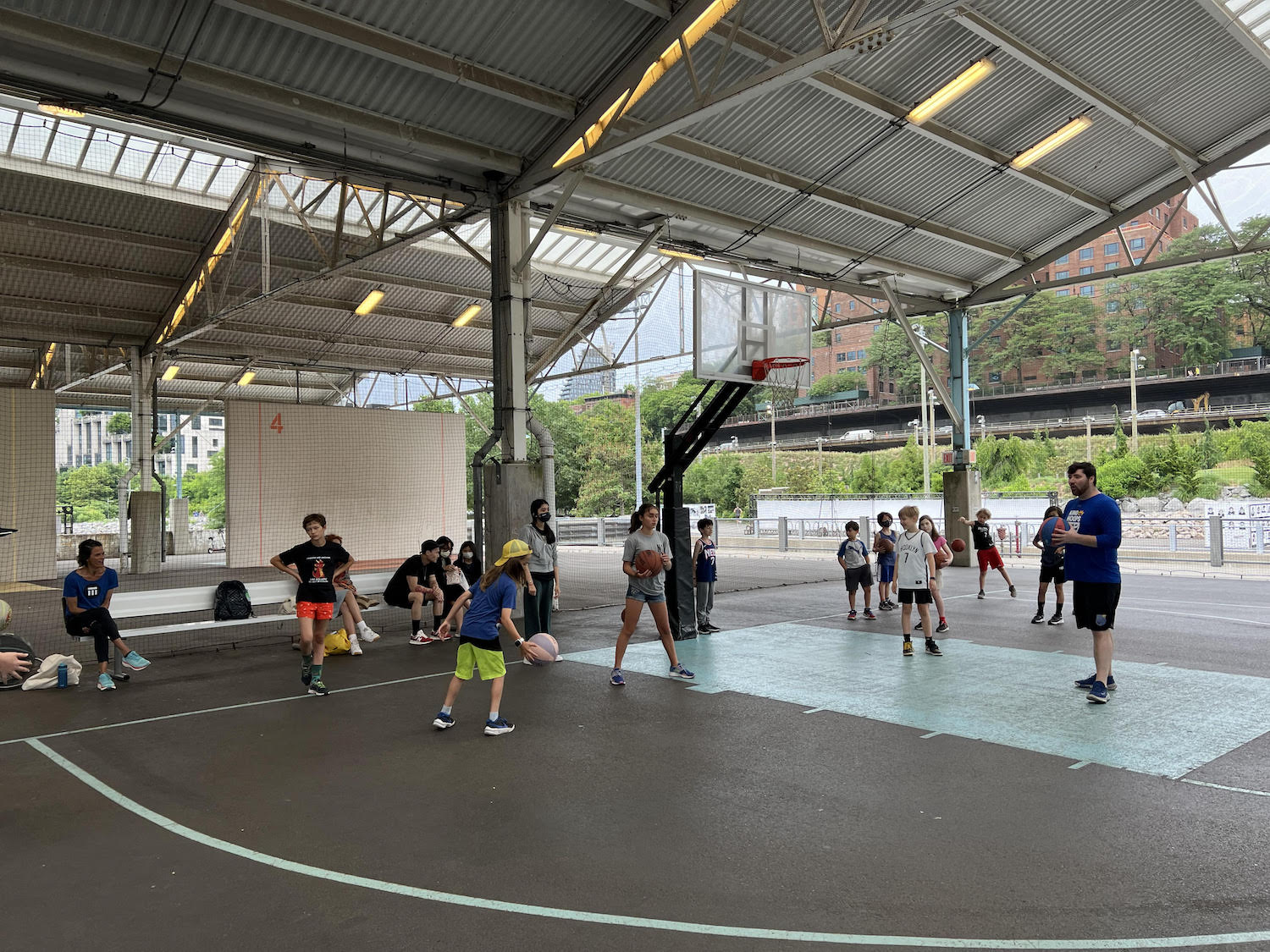 Summer storytime | Brooklyn Bridge Park | Wednesdays
Join the Brooklyn Public Library for a rollicking good time listening to stories, singing songs, and enjoying the breeze from the water! Recommended for ages 2 to 8 years. Every Wednesday June 15 through July 20 from 10.30 am to 11.15 am. Find out more here.
Live at The Archway | DUMBO | Thursdays
From June 16 to September 1, family-friendly, free concerts in the Archway under the Manhattan Bridge ranging from Afro-soul to salsa and Japanese pop. Thursdays from 6 to 8 pm.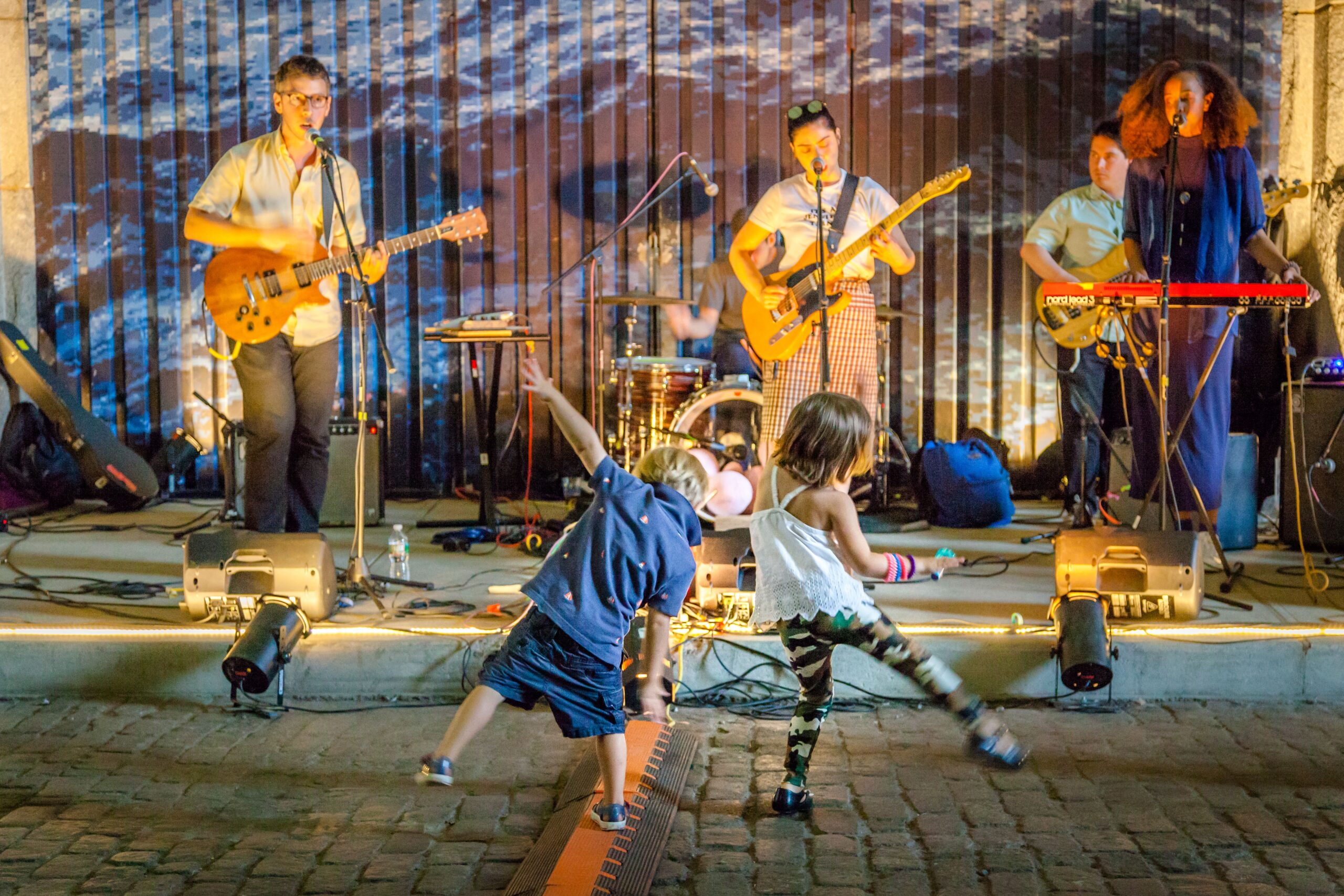 Kayaking | Brooklyn Bridge Park | Wednesday, Thursday Saturday & Sunday
With the Conservancy's ever-popular kayaking program held in partnership with Brooklyn Bridge Park Boathouse, visitors can enjoy gliding across the East River on Wednesday and Thursday evenings as well as Saturdays starting in June through the end of September. New family kayaking on Sundays will also be offered. Advance registration is required for all, starting first weekend of June, make reservation today. Make a reservation here.
Library programming | Brooklyn Heights library | Tuesdays to Saturday
Library programming | DUMBO library | Tuesdays to Saturday
Tuesdays from 1.15 to 1.45 pm and 2.15 to 2.45 pm: Babies and books for 0 to 18 months. RSVP here, opens one week before the event.
Tuesdays from 3.30 to 4.30 pm: Teen time with arts & crafts and board games for ages 10 to 17 years. No RSVP required.
Wednesdays from 10.30 to 11 am and 11.30 am to 12 pm: Toddler time for ages 18 months to 3 years. RSVP here.
Thursdays from 4 to 5 pm: Teen Tech Time with video gaming. No RSVP required.
Cumbe Dance Series | Fort Greene Park | Sundays
Join the Cumbe Center for African and Diaspora Dance and the Fort Greene Park Conservancy every Sunday from 11am to 12pm in July for rotating Afro Diasporic Dance groups who will teach a family-friendly workshop followed by a performance.