Block parties, summer nights, touch a truck and more festivals coming up this week in Brooklyn. Special highlight – our annual Bklyn Kids Block Party at City Point and Albee Square with giant ball pit, 20 kids activities and family Zumba class.
Third Thursdays | Cobble Hill Park | Thursday 5/18
BYO-whatever for all neighbors in Cobble Hill Park on Thursday from 6 to 8 pm.
Summer Nights | Myrtle Avenue Plaza | Friday 5/19
First 2023 summer nights up and down Myrtle Avenue with double dutch, games, chalk art, caricatures and tarot card reading on Friday from 5 to 8 pm.
Spring migration bird walk | Brooklyn Bridge Park | Saturday 5/20
Join expert birder Heather Wolf on a family-friendly 90-minute bird walk throughout Brooklyn Bridge Park. Starting at the Adams Street Library, we will travel through the parks and piers in search of migrating spring birds! This program is for all ages!  Saturday from 9.30 to 11 am, free RSVP here.
Shred Fest & Touch a Truck | Borough Hall Green Market | Saturday 5/20
Your kids can touch a truck during the Borough Hall Green Market on Saturday, May 20 from 9 am to 12 pm.
Bklyn Indoor Kids Block Party | City Point | Saturday 5/20
Back by popular demand, Brooklyn Bridge Parents will bring the party to Downtown Brooklyn at  City Point (indoors) with free, fun activities for families with kids ages 1 to 12! Epic ball pit, Lego building, arts & crafts, live music, soccer games, f more at City Point at 445 Albee Square West. Bring your kiddos and friends. Saturday, May 20 from 11 am to 3 pm. Free RSVP here.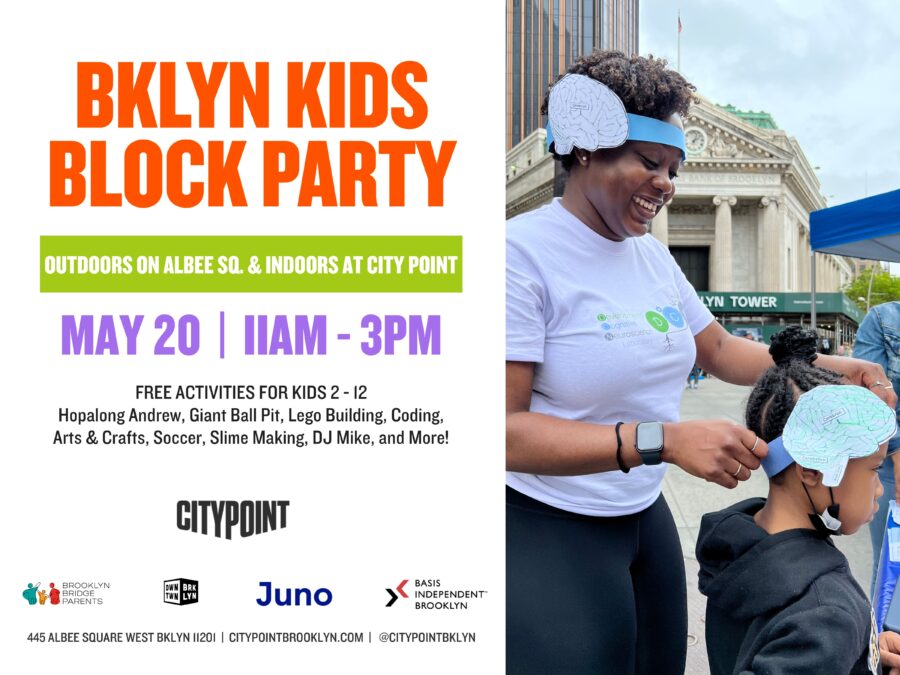 The event is supported by:
BASIS Independent Brooklyn is a PreK–Grade – 12 private school providing students with an internationally benchmarked liberal arts and sciences curriculum with advanced STEM offerings. Our passionate, expert teachers are unwavering in their belief that with hard work, the right support, encouragement, and inspiration, any child can excel. Our PreK–2 campus is now open at City Point, sign up for your personal tour!
Juno Medical — Brooklyn: Juno is your place for comprehensive health care that features exceptional hospitality, modern technology, and transparent prices that won't break the bank. We bring the best of high-quality pediatrics, primary care, women's health, and same-day care into one beautifully designed place to provide a modern medical experience for the whole family. Book now!
Block Party on St Felix Street | Fort Greene | Saturday 5/20
Join Brooklyn Independent Middle School for our 2nd annual Spring Festival fundraiser on Saturday, May 20th  from 1:00 – 4:00 PM. We'll be shutting down St. Felix Street in Fort Greene for musical performances, a bounce house, face painting, food, drink, $1 Book Fair, and so much more! Suggested donation $5 per child. RSVP here!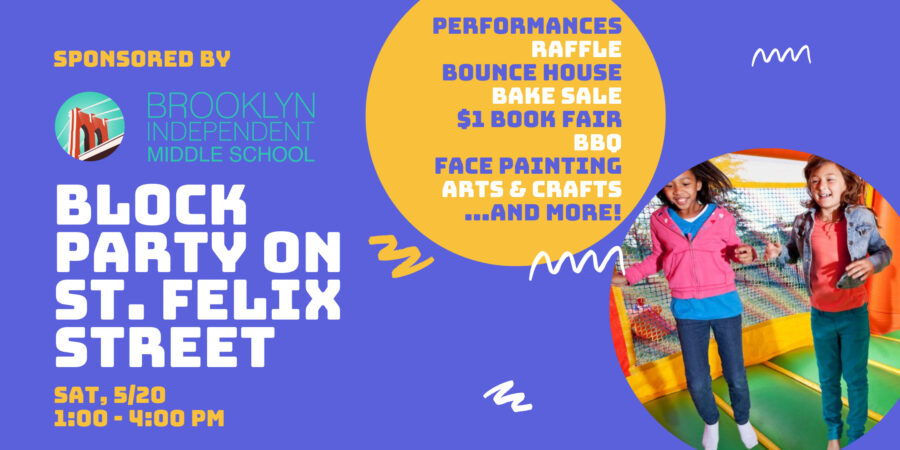 Spring Block Party | Fort Greene | Saturday 5/20
Two public schools are hosting a spring block party with free books, photo booth, games, treats and more on Saturday from 12 to 4 pm at PS 46 and Fort Greene Prep.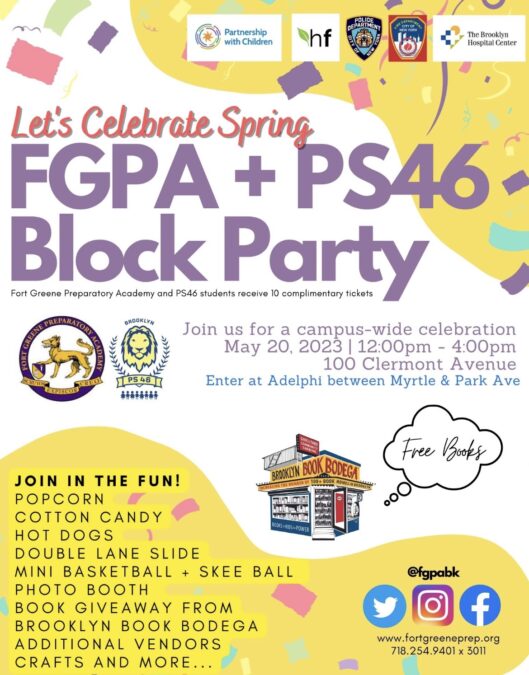 Willowtown Spring Street Fair | Brooklyn Heights | Saturday 5/20
The annual Willowtown spring fair will take place on Saturday, May 20th from 12 to 5 pm at Willow Place in Brooklyn Heights featuring face painters, bouncy house,  bake sale, magic show, games and more.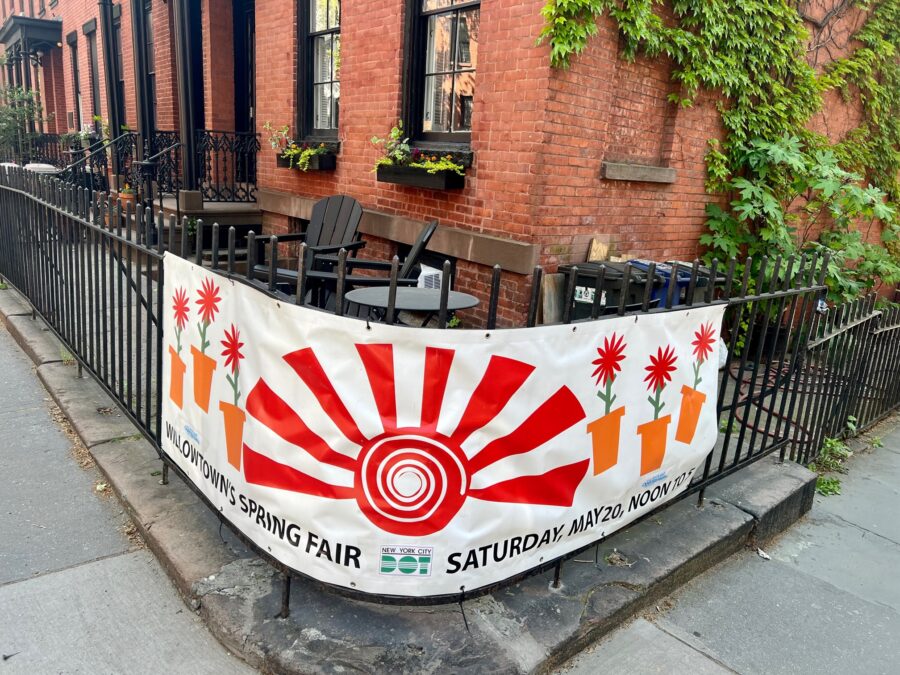 Open Streets | Montague Street | Saturday 5/20
Open Streets on Montague Street in Brooklyn Heights with free kids activities every Saturday in May, June and July from 12 to 5 pm. Tip toe through Montague Street Blooms' 6-foot flowers from 12-5pm. Eat free at Mad for Chicken, 80 Montague, from 12-5pm. Practice and learn to score goals, dribble, and zigzag from the pros at Super Soccer Stars from 1-1:30pm. Have fun with books, crafts and more with the Brooklyn Public Library from 1-4pm. Dance off extra energy to the sounds of Morrisania Band Project from 3-5pm. All activities happen on Montague Street, between Henry & Hicks this Saturday.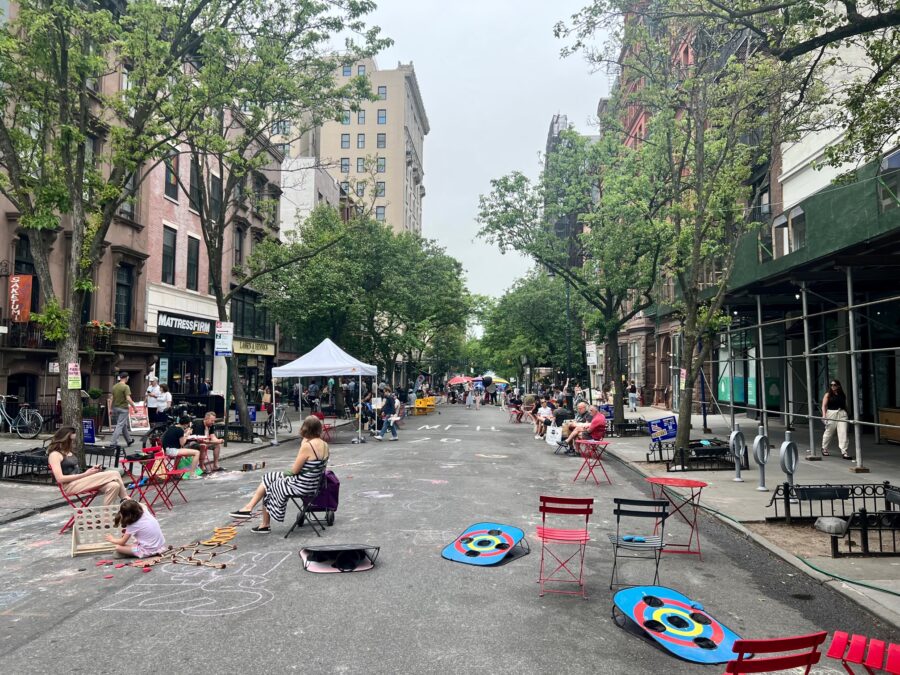 World Bee Day | Governors Island | Saturday 5/20
The Bee Con­ser­van­cy presents their 2nd annu­al World Bee Day fes­ti­val — a FREE fam­i­ly-friend­ly day that cel­e­brates the 20,000+ bee species that pol­li­nate 80% of the world's flow­er­ing plants! Saturday 12 to 4 pm.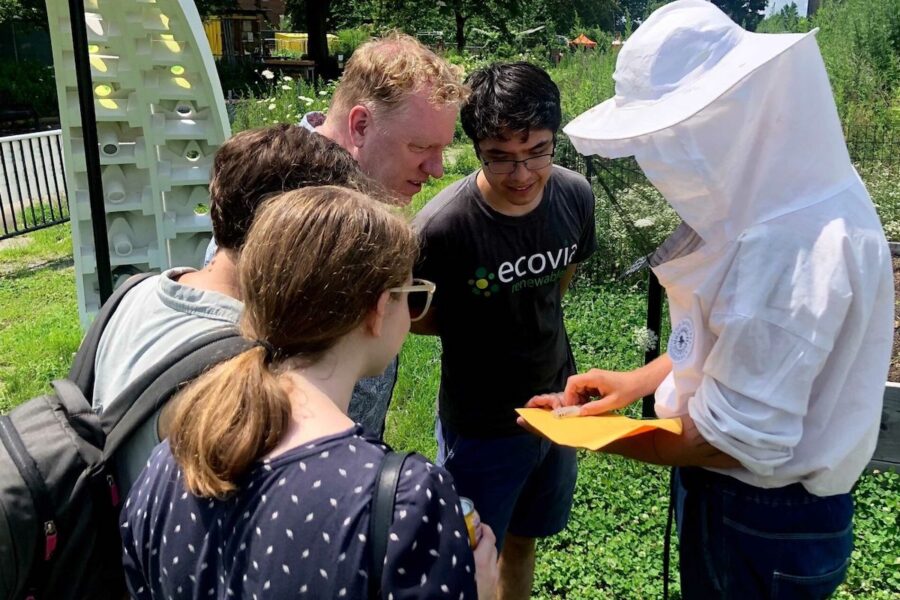 Kane Street Kids Preschool Rooftop Playdate | Cobble Hill | Sunday 5/21
Come enjoy the sunshine and play on the roof at Kane Street Kids. Meet Cam, the KSK director, as well as Rabbi Dardashti and Cantor Sarah from Kane Street Synagogue. Play with their new Imagination Playground blocks, join in a dance party, and twirl in bubbles! This is also a wonderful opportunity to meet other new and prospective families. Rain or shine on Sunday 10.30 am to 12 pm! They will play in our indoor play space if it rains. RSVP here
The Fabulous 5th Ave Fair | Park Slope | Sunday 5/21
A Park Slope tradition, explore from Sterling to 12th Street, listen to music, watch performances and celebrate spring from 11 am to 6 pm.
The 14th Annual 4th Window Concert | Brooklyn Heights | Sunday 5/21
TMH presents the annual 4th window concert at the corner of State and Henry Street on Sunday at 4 pm. Music by the Beatles, Aerosmith, Abba, Led Zeppelin and others.
Ping Pong Happy Hour | Brooklyn Commons Park | Tuesdays
DJ Mike Doelo and The Push are back for another series of ping pong match ups on Tuesdays from 5 to 7.30 pm. Free RSVP here.
Storytime at Barnes and Noble in Cobble Hill | Saturdays
Weekly story time on Saturdays at 11 am for kids ages 2 to 8 is back at the new Barnes & Noble location on Atlantic Avenue in Cobble Hill.
Storytime | McNally Jackson CityPoint | Wednesdays, Thursdays and Sundays
McNally Jackson bookstore is hosting free story times upstairs in their children's section Wednesdays and Thursdays at 4 pm and Sundays at 1 pm for ages 4 to 8. No RSVP required, just show up.