Free events this week in our neighborhoods in Brooklyn include family-friendly Rosh Hashana celebrations, outdoor story time, Open Streets reading event, Tango and Hustle in the park and more fun.
Dance CHURCH | Dumbo Archway | Thursday 9/14
Dance Church® is an all-levels movement class taught by professional dance artists that offers a fun and inclusive approach to dancing. Designed for people of all shapes and sizes, backgrounds and identities, Dance Church is a communal space for people who want to move their bodies. Plus, Dumbo Station will be open with beer + wine. Kids welcome. Thursday at 7 pm.
Honey Cake Bake @ Kiddie Korner | Brooklyn Heights | Thursday 9/14
Kids in the Kitchen honey cake bake for Rosh Hashana for all Ages on Thursday September 14, 2023 at Kiddie Korner/Heights Hebrew School | 117 Remsen Street  heightschabad.com/honeycakebake.
Storytime | Fort Greene Park | Thursday 9/14
Sing, read, and play with librarians from Brooklyn Public Library this Summer! Have fun hearing great picture books read aloud and playing with other children every Thursday from 4 to 4.45 pm at Fort Greene Park, from June – October.
Tango in the Park | Cobble Hill Park | Thursday 9/14
Thursday, September 14th, 6 to 7pm: Join your neighbors for a night of fun and fitness in Cobble Hill Park on September 14th sponsored by State Senator Andrew Gounardes. No previous tango experience required!
Open Streets Reads | Boerum Hill | Saturday 9/16
Open Streets Reads on Saturday, September 16th: 1 PM author reading, 12 PM to 3 PM free activities. Celebrate the back to school season on Hoyt Street between State and Atlantic Ave.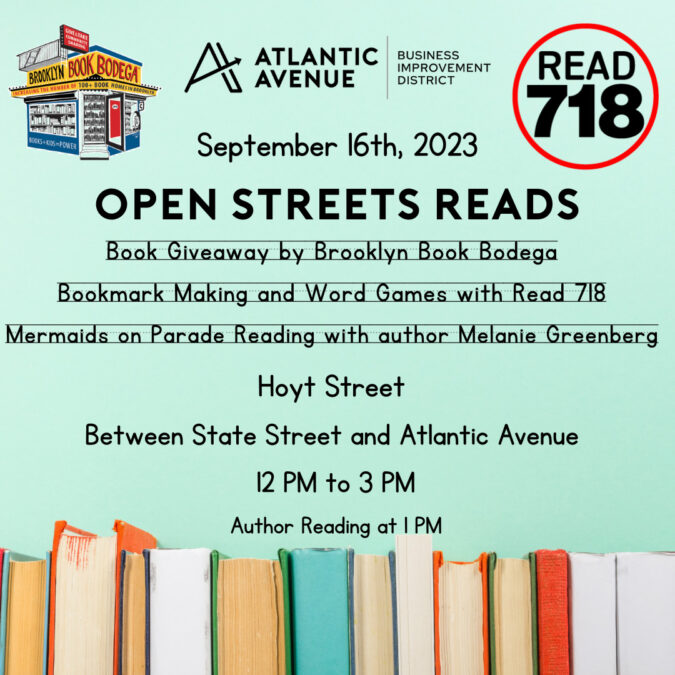 Cobble Hill Block Party | Saturday 9/16
This Saturday, Amity Street (btwn Henry & Clinton) will host a block party open to all.
Public seining | Pier 4 Brooklyn Bridge Park | Saturday 9/16
Discover the amazing biodiversity of the East River as our trained staff and marine biologists use a seine net to humanely catch-and-release incredible organisms that live below that water's surface. Be ready for exciting discoveries, including fish, jellyfish, and crabs! Catches vary greatly based on water temperature, tidal patterns, and day to day condition. Walk ups only, no RSVP. Saturday, September 16: 4 – 6 PM.
Waterfront Dance Socials: Hustle | Pier 1 Brooklyn Bridge Park | Saturday 9/16
Expert instructors and local dance legends teach you how to move, highlighting distinct dance styles that have important roots here in NYC. Get moving with free all-levels dance classes under the Brooklyn Bridge at Emily Warren Roebling Plaza! On Saturday, 9/16 from 7 to 9 pm join for Hustle led by Jeff Selby!
Open Streets on Montague Street | Brooklyn Heights | 9/16
Free street games, music, adult cocktail area and more fun on car-free Montague Street from 12 to 6 pm.
Open House Bklyn Music Factory | Gowanus | 9/16
Brooklyn Music Factory is having an Open House on  Sept 16th and 23rd from 1 to 4 pm, at 495 Carroll Street in Gowanus. There will tons of drum circles, songwriting activities and live performances. Stop by!
Rosh Hashanah @ Chabad of DUMBO | DUMBO | Saturday 9/16 & Sunday 9/17
High Holiday Services. Special children's Rosh Hashanah kids program with entertainment. Join us for Holiday Songs, Games, Stories and Shofar blowing at Chabad of Dumbo. 9/16 and 9/17 at 11 am at 205 Plymouth Street. Age recommendations: 2-10 years. More information here or contact jewishdumbo@gmail.com
Dirah Rosh Hashanah & Yom Kippur Children's Service | Carroll Gardens | Saturday 9/16 & Sunday 9/17
Engaging children's service for the High Holidays, including entertainment, High Holiday songs and activities. Age recommendations: 2-12. September 16 & 17 10:30-12:00 and September 25 10:30-12. Contact: Dirah @ Hannah Senesh Day School, 442 Smith Street www.dirahbrooklyn.org/highholidays  347-957-1291 menashe@dirahbrooklyn.org
Ping Pong Happy Hour | Brooklyn Commons Park | Tuesdays
DJ Mike Doelo and The Push are back for another series of ping pong match ups on Tuesdays from 4.30 to 7 pm.
DUMBO Family Games | Washington Street DUMBO | Sundays
Enjoy our epic Lego table, plus building blocks, arts & crafts, Corn hole, Connect Four, arts & crafts, balloon twisting by Leaf Medical & Dental and more on car-free Washington Street on Sundays from 11 am to 1 pm (weather permitting). Curated by the DUMBO BID x Brooklyn Bridge Parents and supported by Leaf Medical & Leaf Dental in DUMBO. No need to RSVP, just show up.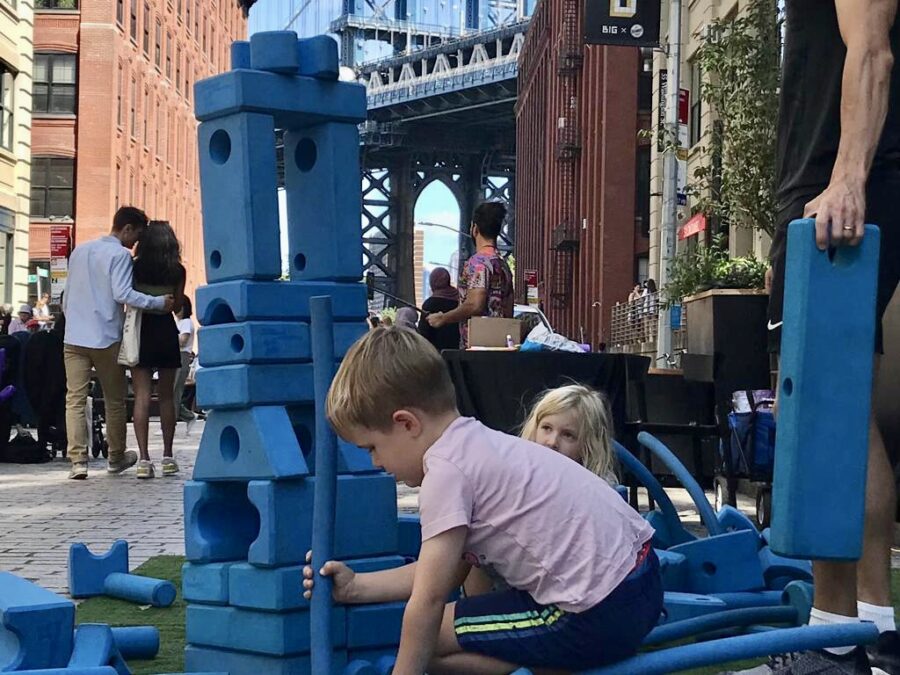 Book of HOV Jay-Z's life | Central Library Grand Army Plaza | Daily
The Book of HOV is a 40,000-square-foot exhibit at the Brooklyn Public Library Central about Jay-Z's professional life with the front of the building wrapped with his lyrics, a Jazz Grant-crafted mural in the building's atrium and six "zones" dedicated to the music icon's career and legacy. It presents thousands of archived objects, including original recording masters, never-before-seen photos, iconic stage wear, prestigious awards and recognitions, as well as videos and artifacts from every facet on JAY-Z's life. The exhibition follows library hours of operation MON–THURS 9AM–8PM, FRI–SAT 9AM–6PM and SUN 1PM–5PM. Find out more here.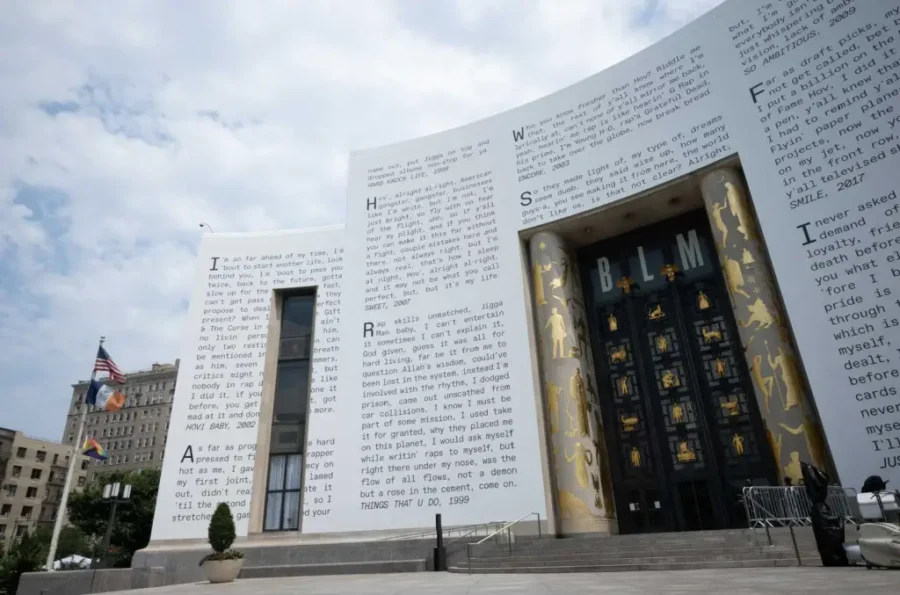 Kayaking | Pier 4 | Wednesdays, Thursdays, Saturdays & Sundays
Free family-friendly kayaking is offered throughout the summer on Wednesday and Thursday evenings, and Saturday and Sunday afternoons through September in Brooklyn Bridge Park. Find out more here.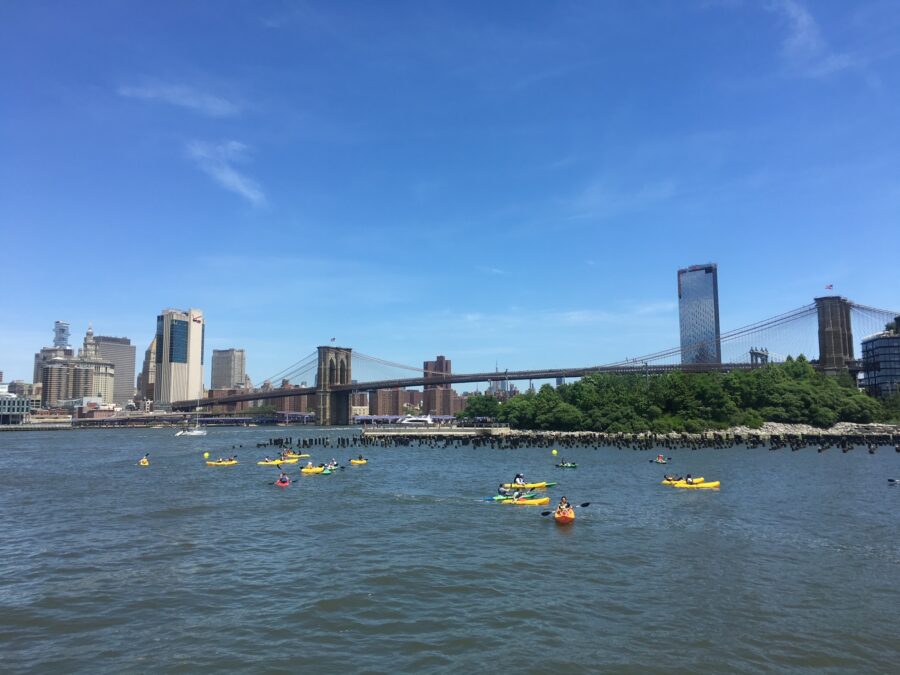 Waterfront Walks | Brooklyn Bridge Park | Sundays
Free waterfront walks through Brooklyn Bridge Park to learn about the history of the Brooklyn waterfront and the park's design.  All tours meet at Pier 1 entrance, weather permitting every Sunday at 10.30 am through October.