Our overview features holiday markets in our neighborhoods in Brooklyn including the Danish Christmas fair, a bigger than ever Holiday market and free Holiday Hub for families at CityPoint and a holiday market with Brooklyn made-gifts and free Brooklyn Bridge Parents Family Corner at the Bklyn Navy Yard.
Danish Christmas Fair | Brooklyn Heights | November 18 – 19
Shop unique Scandinavian designs, knitwear, gift items, holiday ornaments, Danish candy, and traditional food products for the Christmas Dinner at the annual Danish Christmas Fair. Or bite into delicious "æbleskiver" (puffed apple pancakes) – a traditional Christmas treat that all Danes give out at any social gathering through the holidays, and sip on hot glögg – the Danish take on mulled wine. It's served in our covered, cozy backyard at the Danish Seamen's Church. Visit the Danish Christmas Fair on Saturday and Sunday, November 18th and 19th from 10 AM – 4 PM at The Danish Seamen's Church 102 Willow Street in Brooklyn Heights. Find out more here.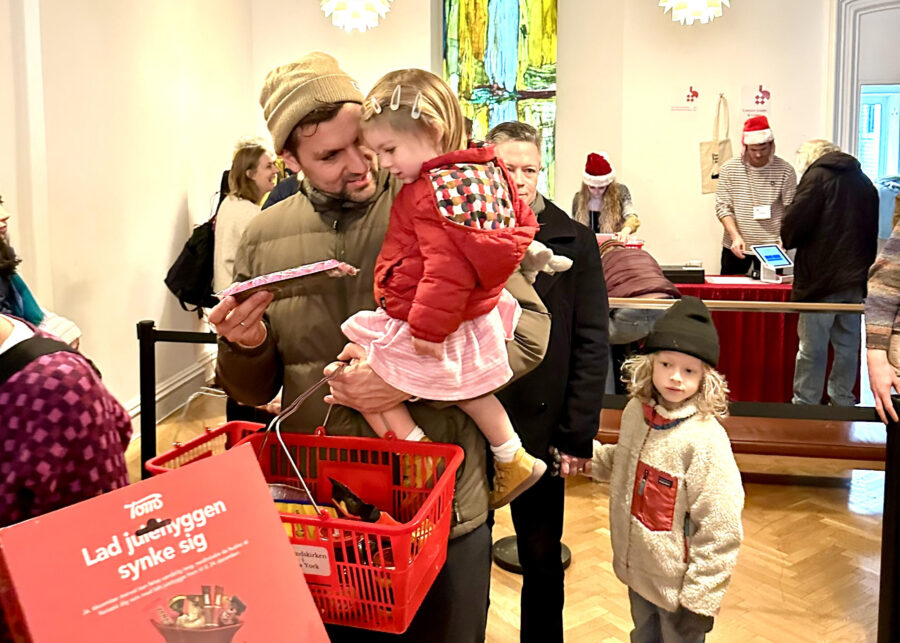 Treasure Trunk Holiday Pop-Up | Park Slope | November 19
Join Owl Tree and Treasure Trunk Theater for this exciting Holiday Pop-Up Collaboration of hopping, crafts and kids classes. Holiday shopping with the best curated kids' clothing collection, a fun fall craft, and drop-in classes throughout the day. Sing Along Adventure followed by a warm-up of beloved children's songs, open the magical treasure trunk and reveal special surprises to spark the adventure. Imagination Adventure inspires kids ages 2-8, begins with warming up bodies, voices and imaginations using exciting theatrical games and movement activities. Then, open the magical treasure trunk to find prop and costume items that spark adventure. Sunday November 19 from 10 AM to 4 PM at 179 4th Ave.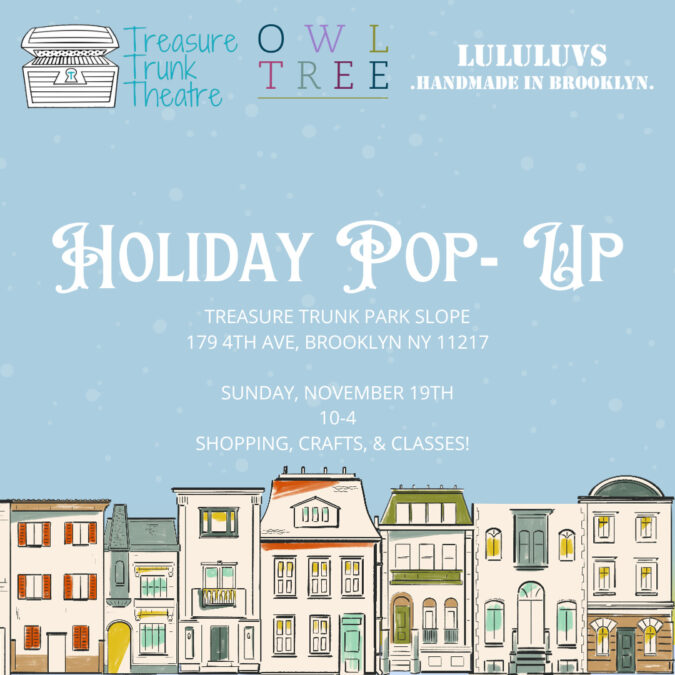 Wallabout Winter Wonderland | Brooklyn Navy Yard | December 2 + 3
Wallabout Wonderland pop-up market will host more than 200 vendors, the event will spotlight a wide array of locally made products, from home goods to clothing and accessories, art, and wellness products. The holiday market will feature a Brooklyn Bridge Parents Family Corner with free kids activities such as cookie decorating, holiday card making, Lego building and a balloon house. Jewelry customizations, live music, and peppermint scrub hand massages will also be available for market goers to enjoy. Guests can relax and unwind in the lounge while sipping on hot-coco and special holiday drinks from Kings County Distillery, Rooftop Reds, and Rustik Tavern. The holiday market will take place on December 2 and 3 from 12 to 5 pm in Building 293 at Assembly Road and Gee Avenue. Visitors must use the Cymer Street Gate to enter. RSVP here.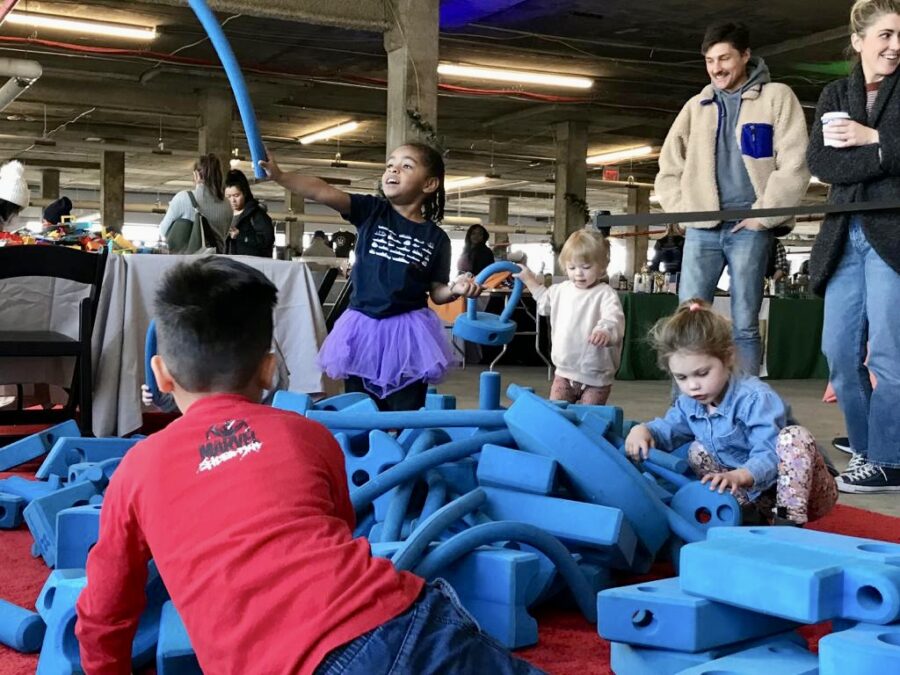 UniFair | Brooklyn Heights | December 2
UniFair is back at the First Unitarian Chapel. Come out and shop for great clothing, jewelry, baked goods, white elephants, beautifully decorated wreaths, a delicious lunch. All proceeds support the mission of First Unitarian. All shoppers are welcome! Have something to donate? Contact info@firstubrooklyn.org. December 2 from 10 AM to 3 PM at the First Unitarian Chapel at 119 Pierrepont Street.
Fort Greene Holiday Artisan Bazaar | Fort Greene | December 3
This Special Sunday Market will have 40+ vendors and will be part of the Fort Greene Park Holiday Tree Lighting celebrations, which include free hot cocoa, live holiday music, and this year a DJ too, letter writing to Santa and other kids' activities, and of course lighting the tree! This market will take place at the Northwest corner of the park, off Myrtle Ave along the alley of London Plane Trees that go toward the monument stairs. Sunday 12/3, 11 am to 5 PM.
BRIC'S Winter Wonderland | Downtown Brooklyn | December 9
BRIC House unveils a wintry realm brimming with family fun, where art, music, dance, and interactive media weave a magical tapestry. Craft winter-themed cookies, embark on a festive scavenger hunt with snowy surprises, and move to the electrifying beats of Teen DJ Annie Red. Marvel at the rhythms of Victory Music Dance, design your own winter-inspired tee with the celebrated Camella Elhke, and 'freeze' moments with polaroids, thanks to the artistic touch of Stephanie Alvarado. Free. December 9 from 12 to 5 PM at 647 Fulton Street. Find out more here.
Winter Pop-Up Market | Brooklyn Museum | December 10
Stop by our holiday market, co presented with Brooklyn Pop-Up, to shop for one-of-a-kind, handmade items from local artisans and vendors. Selections include artwork, jewelry, fashion, and home and apothecary goods. This event is free and open to the public. December 10 from 11 AM to 5:30 PM at Brooklyn Museum, 1st Floor.
FAD Market Holiday Pop-ups | DUMBO & Boerum Hill | November 27 – December 22
FAD Market is bringing the holiday spirit to Brooklyn with two holiday market locations—The Invisible Dog Art Center on Bergen Street on the first three weekends of December 2+3 | 9+10 | 16+17 from 11 AM to 6 PM and the Empire Stores in DUMBO on November 27 to December 22 from 11 AM to 6 PM. Come and discover unique presents and one-of-a-kind stocking stuffers while experiencing fun holiday activities, workshops, gift-wrapping stations, and more. Find out more here.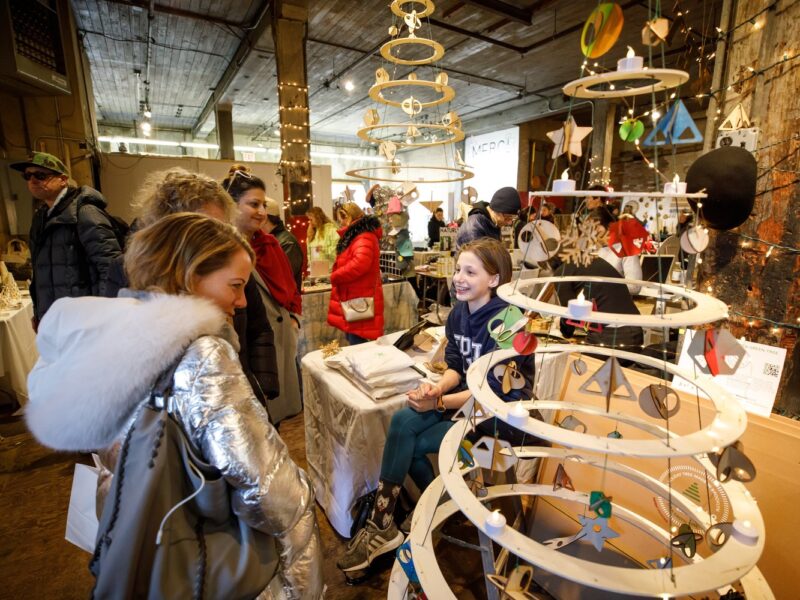 Dumbo Brooklyn Flea Holiday Market | Archway DUMBO | Weekends until Christmas
Saturdays and Sundays from Thanksgiving through Christmas from 10am to 5pm. The Brooklyn Flea brings 40+ vintage and handmade vendors to the Archway in a curated Holiday Market. Find out more here.
Holiday Market & Holiday Hub | CityPoint | November 24 – December 23
THE MAKERS SHOW Holiday Market at CityPoint featuring 60+ vendors will run from November 24 to December 23 Fridays to Sundays. Addditionally, City Point is launching a Holiday Hub: A December family experience co-hosted by Mommy Poppins and Brooklyn Bridge Parents where families can make holiday memories. The three weekends of programming geared towards children ages 1 to 10 will include Santa Portraits, Menorah making, cookie decorating, holiday crafts, Elf selfies, and more. Located on the first floor of City Point at 445 Albee Square West in Brooklyn, the Holiday Hub will be open on Saturdays and Sundays December 2, 3, 9, 10, 16, and 17 from 11 am to 3 pm. RSVP here.
Red Hook Holiday Market | Red Hook | December 2 – 17
The 4th annual Red Hook Holiday Market! Find one-of-a-kind, handmade gifts while supporting local artisans and crafters! each weekend in December – Dec 2-3, 9-10, 16-17 from 1 to 6 PM at Brooklyn Waterfront Artists Coalition: 481 Van Brunt Street, second floor.