Go-to Brooklyn parent resources Macaroni KID Brooklyn NW and Brooklyn Bridge Parents have teamed up to bring you some of the best local family events for Brooklyn families in September:
Friday, September 8, 3:30-6:30pm
Downtown Brooklyn and Macy's kick off the new school year with an afternoon of music, a fashion show, and giveaways! In addition to music courtesy of DJ Boogie, there will be makeup demos, fragrance testing, raffles, and school supplies giveaways.
Saturday, September 9, 12-4pm
Mommy Poppins & Brooklyn Bridge Parents present a Back to School Party during Open Streets on Montague with free kids activities, performances, and more. There will be games, arts & crafts, soccer, Ninja warrior training, face painting, kids fitness classes, squash, tennis, STEM stations, and much more. Puppet shows by Puppetsburg (for ages up to 5), a kids concert by Hopalong Andrew and a dance party by Hype Dance best (for ages up to 8). Bring a swimsuit and towel for hydrant sprinkler fun and water play powered by Macaroni KID Brooklyn NW. Enjoy car free blocks from Clinton – Henry & Henry – Hicks. Best for ages 0-12.
Saturday, September 9 12-2pm
Stop by for a live show with Fyütch and get free books from Brooklyn Book Bodega for the whole family. Fyütch is a Grammy-nominated music and social justice artist who combines Hip-Hop and visual storytelling to educate, entertain, and empower the next eneration with songs about history, community, and family.
4. Bring the family to a music festival
The Fort Greene Park Jazz Festival
September 9, 3-7pm 
Get ready to listen to soulful sounds at the park! The Jazz Festival provides live jazz entertainment for families, neighborhoods, communities, and New Yorkers twice annually. Bring a blanket and some friends!
Big Eyed Blues Festival in Prospect Park
September 22-24, Schedule tbd 
The Big Eyed Blues Festival is an intergenerational event that promotes blues music and culture of blues by featuring established and upcoming artists over three days in Brooklyn.
Brooklyn Americana Festival in Dumbo and Red Hook
September 28-October 1
The 9th Brooklyn Americana Music Festival takes place along the waterfront at The Dumbo Archway, Jalopy Theatre, 68 Jay St, Sunny's, and Superfine.
Saturday, September 9 10am-2pm (Rain Date on Saturday, Sept 16)
Touch A Truck Day on Myrtle Avenue will bring an opportunity for kids to get up close with all kinds of large trucks and vehicles! Big trucks plus crafts for kids, music, and more will fill the block on Clinton Avenue between Myrtle & Willoughby.
6. Check out a special event at Brooklyn Bridge Park 
Brooklyn Bridge Park's 8th Annual Ed Center Birthday in Dumbo
Sunday, September 10 1-5pm
Join the Education team in celebration of the 8th Anniversary of the Environmental Education Center! Celebrate with some special birthday crafts and activities, in addition to exploring their unique educational exhibits and animals.
Mark Morris Group performance and dance workshop at Brooklyn Bridge Park
Saturday, September 23 2-4pm
Mark Morris Dance Group (MMDG) returns to Brooklyn Bridge Park for an all-ages family-friendly workshop teaching some basic dance moves with members of the company  at Pier 1 Harbor View Lawn (2pm) and special performances from their repertoire (3pm).
Sunday, September 10 12-6pm
To celebrate the 50th anniversary of Hip-Hop and 10 years at BRIC House, they're throwing a Block Party featuring family art-making, musical performances, panel talks, and workshops inspired by the building blocks of Hip-Hop.
Friday, September 29 + Saturday, September 30 
The Downtown Brooklyn Arts Festival (DBAF) is an annual celebration of Downtown Brooklyn's cultural community and the artists who inspire the borough's creative spirit. DBAF 2023 will feature acclaimed arts organizations from across the Brooklyn Cultural District with performances and workshops at The Plaza at 300 Ashland. Family programming includes a Mark Morris Dance Group kids' hip-hop dance and "petting zoo" presented by The Brooklyn Conservatory of Music.
Saturday, September 30, 10am-4pm
Families will enjoy a full day of readings, workshops, performances, book signings, and art projects with favorite authors and illustrators. Kids can get creative with their favorite authors at workshops and get their books signed. The whole family can find new favorite books at the Marketplace of Books.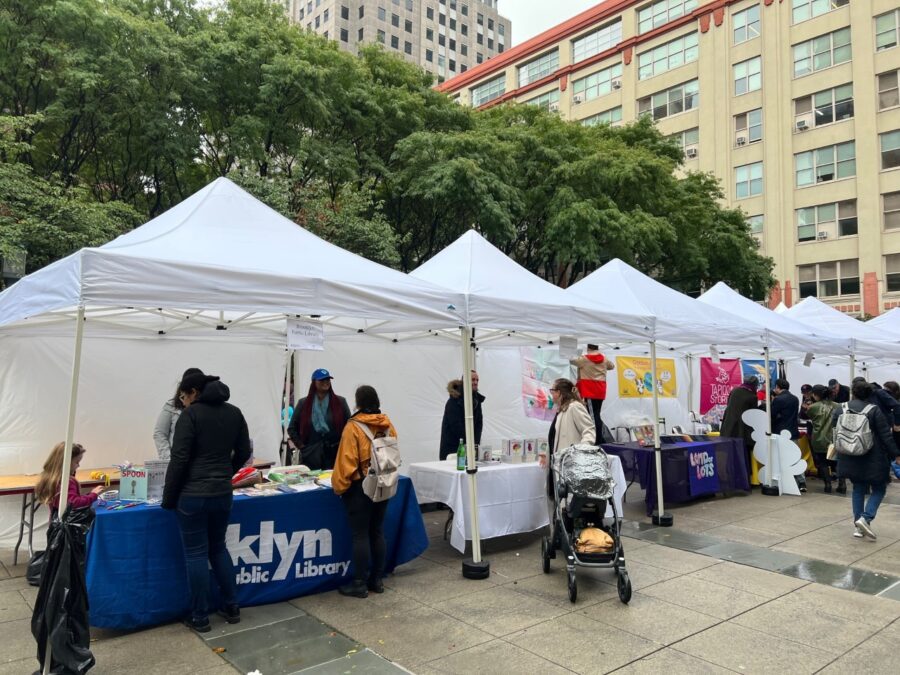 Saturday, September 30
Free and open to the public, their annual block party is a celebration of all things Gowanus – the vibrant, dynamic, and creative neighborhood they call home. On 9/30, join them outside of their Gowanus HQ for an afternoon of music, performance, and family-friendly crafts and games. Stay tuned for event highlights.