Go-to Brooklyn parent resources Macaroni KID Brooklyn NW and Brooklyn Bridge Parents have teamed up to bring you some of the best family events for Brooklyn families in November:
1. Celebrate Día de los Muertos
Celebrated throughout Latin America from October 31st to November 2nd,  this holiday is a time for family and friends to commemorate departed loved ones through prayer, altars, music, and dance.
Day of the Dead with Bilingual Birdies at Park Slope Library
Thursday, November 2 | 3:30-5pm | FREE | Park Slope
Join the Bilingual Birdies Band for a special Día de Muertos concert celebration in Spanish and English. Families are encouraged to bring photos of lost loved ones and meaningful offerings to add to a community altar. Together we'll have a joyous afternoon honoring their memories through live music, dance, puppetry, a fun art project, and some special surprises.
Celebrate Día de los Muertos at Brooklyn Children's Museum
Saturday, November 4 | 10am-5pm | $12-13 admission, free for under 1 | Crown Heights
Enjoy art-making, dance, music, and food throughout the weekend, explore our artist marketplace, and visit a community ofrenda to add memories and stories of your loved ones. This year, Brooklyn-based artist Mincho Vega returns as BCM's guest curator for a celebration of the traditions and histories of our ancestors from Latin America.
Sunday Art: Día de los Muertos Celebration at Brooklyn Museum
Sunday, November 5 | 2-4pm | Free with museum admission | Prospect Heights
Brooklyn Museum will honor Día de los Muertos (Day of the Dead) with family art-making and a performance by the MAZarte Dance Company.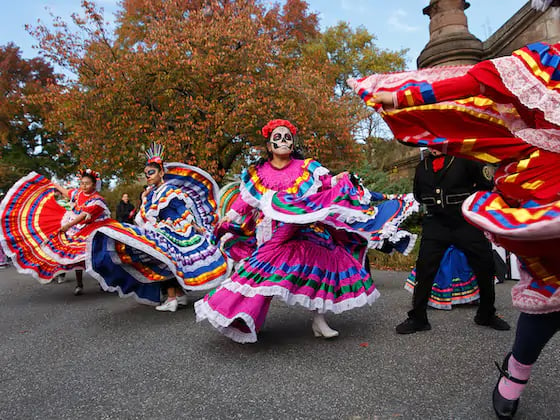 2. Celebrate Diwali
Diwali is the Hindu festival of lights. It symbolises the spiritual "victory of light over darkness, good over evil, and knowledge over ignorance". This year the holiday falls on Sunday, November 12. We will add more Diwali events here as they are announced.
Diwali at Brooklyn Children's Museum
Thursday, November 9 | 2-5pm | FREE
BCM and The Culture Tree invite families to celebrate Diwali during Amazon Free Hours! Hear the story of Diwali brought to life through a puppet show teaching children the meaning of devotion, love, kindness, and valor—all while learning why we celebrate Diwali! More activities: storytime with author Navina Chhabria, a mithai (Indian sweets) making workshop, and lantern making in their ColorLab art studio. Through these activities, children will learn about Diwali, one of India's biggest and most important festivals of the year.

Diwali Celebration at the Seaport MuseumFriday, Nov 10 | 3pm–6pm | Wavertree, Pier 16, Pier 17 | Free

Come enjoy the neighborhood Diwali Celebration that will include creative family activities, traditional dance workshop and performances, delicious Indian food, a live DJ, and more. From 3–5pm, come aboard the 1885 tall ship Wavertree, where you can make your own decoration inspired by the marigold garlands of Diwali, signifying good fortune and faith in the divine, with a maritime twist. Continue the Seaport Museum's festivities on Pier 16, where you can decorate your own "diya lamp"—or, in this case, a candle—and then set it afloat in a specially prepared pool to symbolize prosperity in the new year.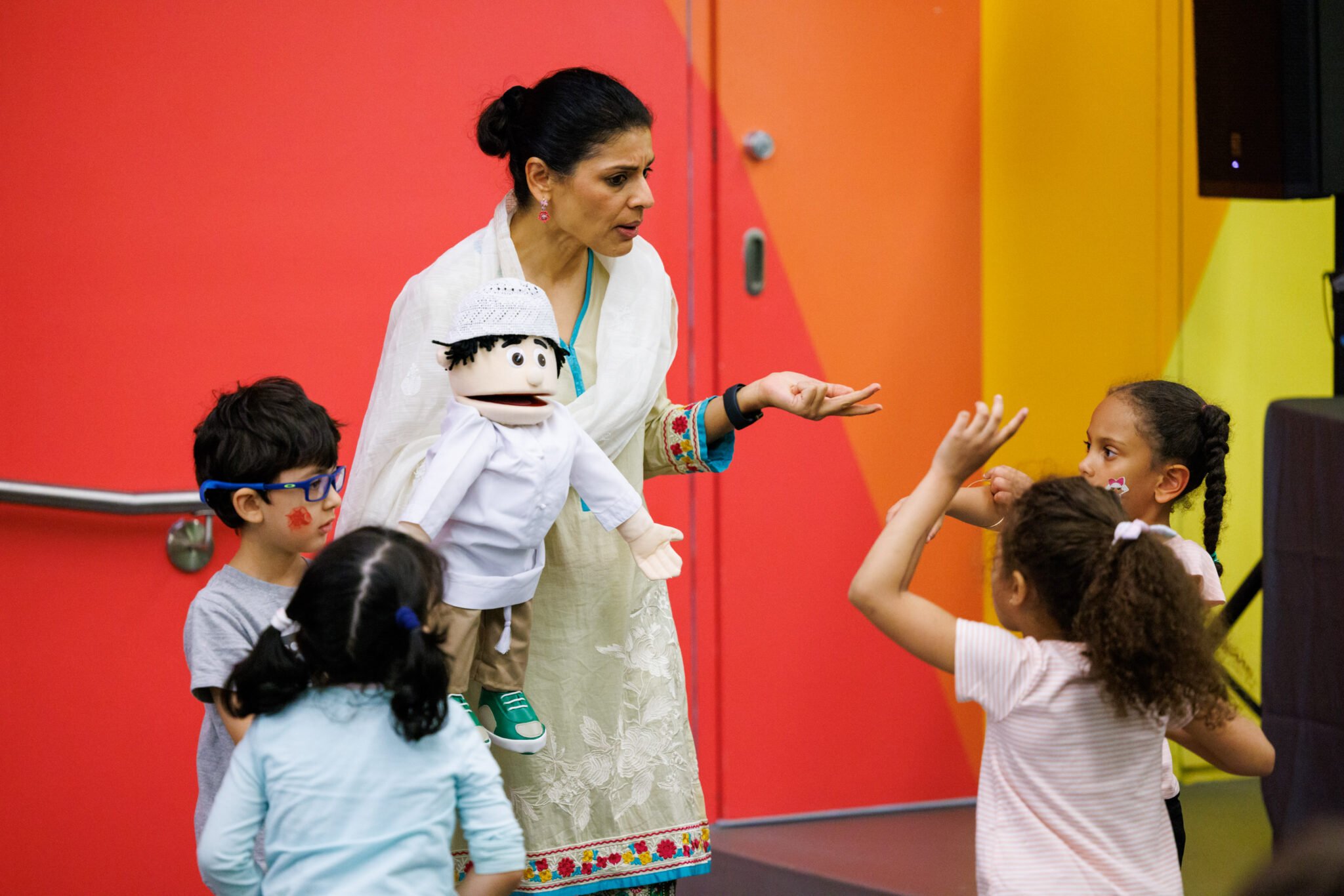 3. Cheer on NYC Marathon runners
Sunday, November 5 | 9am-1:30pm | FREE | From Bay Ridge to N. Brooklyn 
Cheer on fearless NYC Marathon runners as they embark on their 26.2-mile challenge starting at the Verrazano Bridge. Stake out a front row cheer spot or bounce around these Brooklyn neighborhood favorites: 4th Avenue in Sunset Park, 4th Avenue in Park Slope, Mile 8 Cheering Station at 300 Ashland in Fort Greene, Lafayette Avenue in Clinton Hill, Bedford Avenue in Bed-Stuy, Bedford Avenue in Williamsburg, Manhattan Avenue in Greenpoint.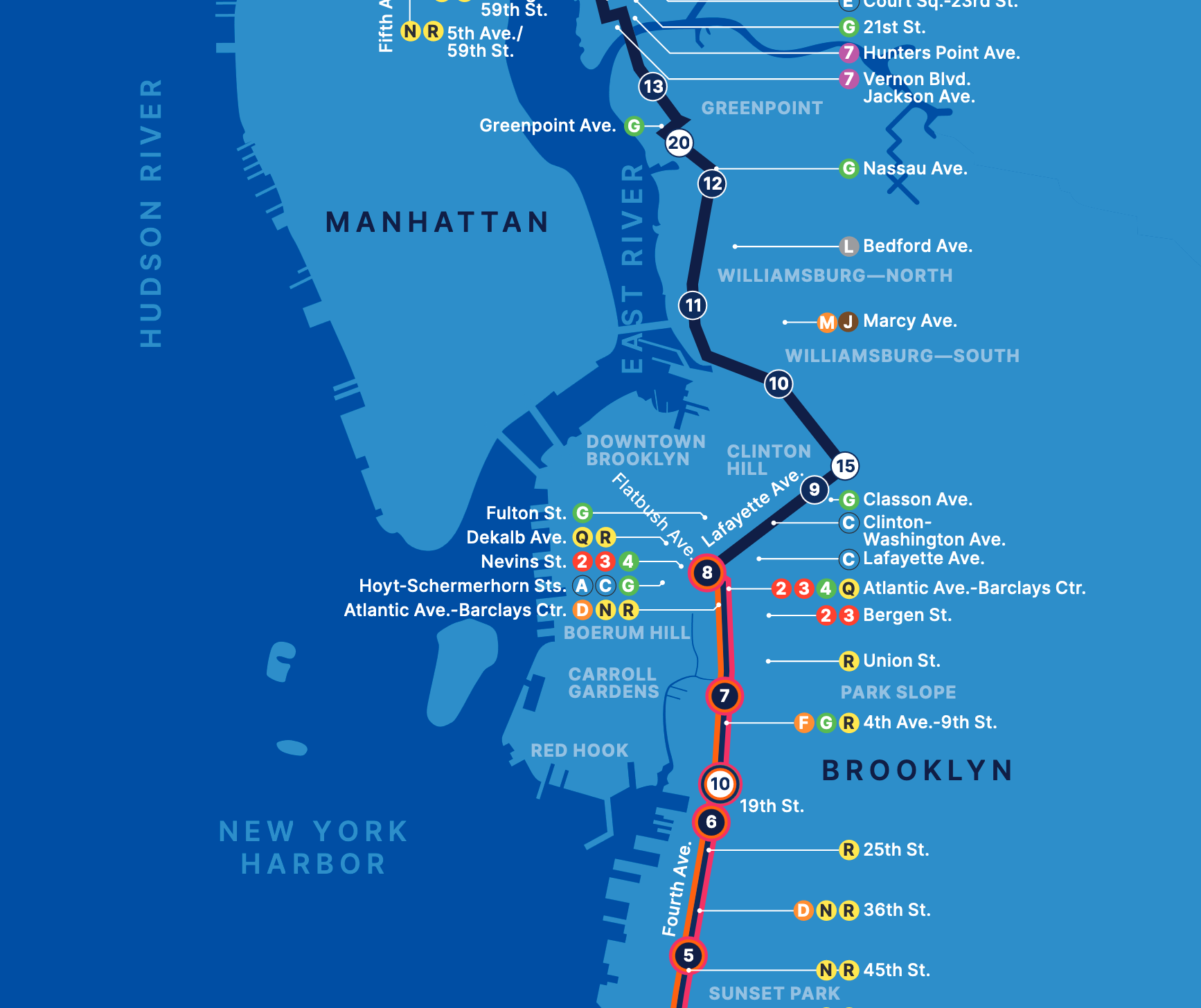 Friday, November 10-Sunday, November 12  | Day pass: $27.50 for kids 6-16, $35 for adults | Brooklyn Heights
The Brooklyn Folk Festival is a celebration of down home music, cultural diversity and memory. The annual festival provides an opportunity for community to come together, enjoy local, national, and international music and take part in workshops, film screenings, contests and jam sessions. The 3-day festival includes 30+ bands, vocal and instrumental workshops, a family-friendly square dance, jam sessions, film screenings, the famous Banjo Toss contest and more!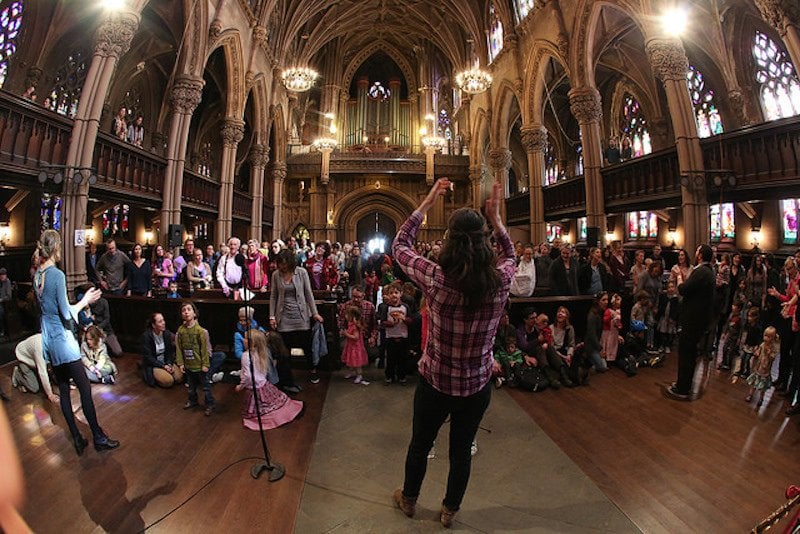 Saturday, November 11 | 11am | $14 adults, $10 kids | For ages 3-5 | Fort Greene
Join BAM at their Rose Cinemas for a handpicked selection of 2023 BAMkids Film Festival favorites, perfect for kids ages 3 to 5. Featuring happy monsters, a robot comedian, and a very uncoordinated T-rex, kids will love these imaginative, playful tales from all over the world.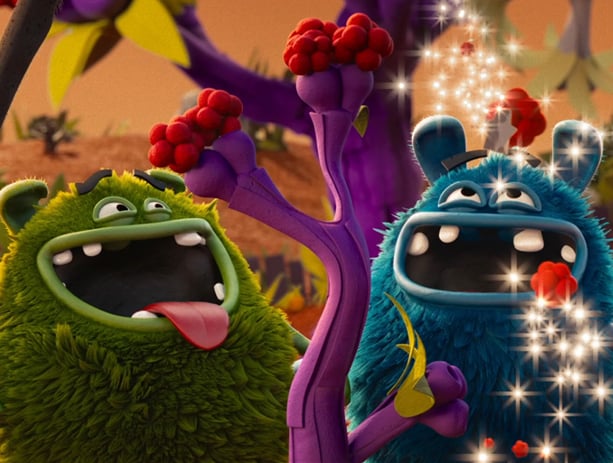 Sunday, November 12 | 11am-3:30pm | FREE | Prospect Heights
Meet forty of your favorite Brooklyn authors and illustrators as they share their latest books. This free event features storybooks, picture books, chapter books, and graphic novels—fiction and nonfiction—for young book lovers from preschoolers to middle schoolers. Highlights include books in Mandarin, Hindi, and Spanish, plus a book celebrating Diwali. Throughout the day, children can chat with authors and illustrators, listen to readings and watch artists sketch, get books signed, enjoy a performance by The Band Books, and participate in book-related art projects.
7. Ice Skating Rinks Open in Brooklyn
An ice skating outing is the perfect way to get outside and make the most of the cooling weather! Check out these rinks opening this month:
The ice skating season at the LeFrak Center at Lakeside begins Saturday November, 4 on the covered rink and Saturday, November 11, on the uncovered rink. The rinks will be open daily with timed tickets available for purchase in advance.
Glide BK – This exciting new rink in Brooklyn Bridge Park's Emily Roebling Plaza under the Brooklyn Bridge opens Wednesday, November 15!
More rinks expected to open with TBD November dates (will update with dates once announced):

Industry City – Sunset Park
Brooklyn Children's Museum ArtRink – Crown Heights
Plus, Governors Island and The Seaport – a ferry ride away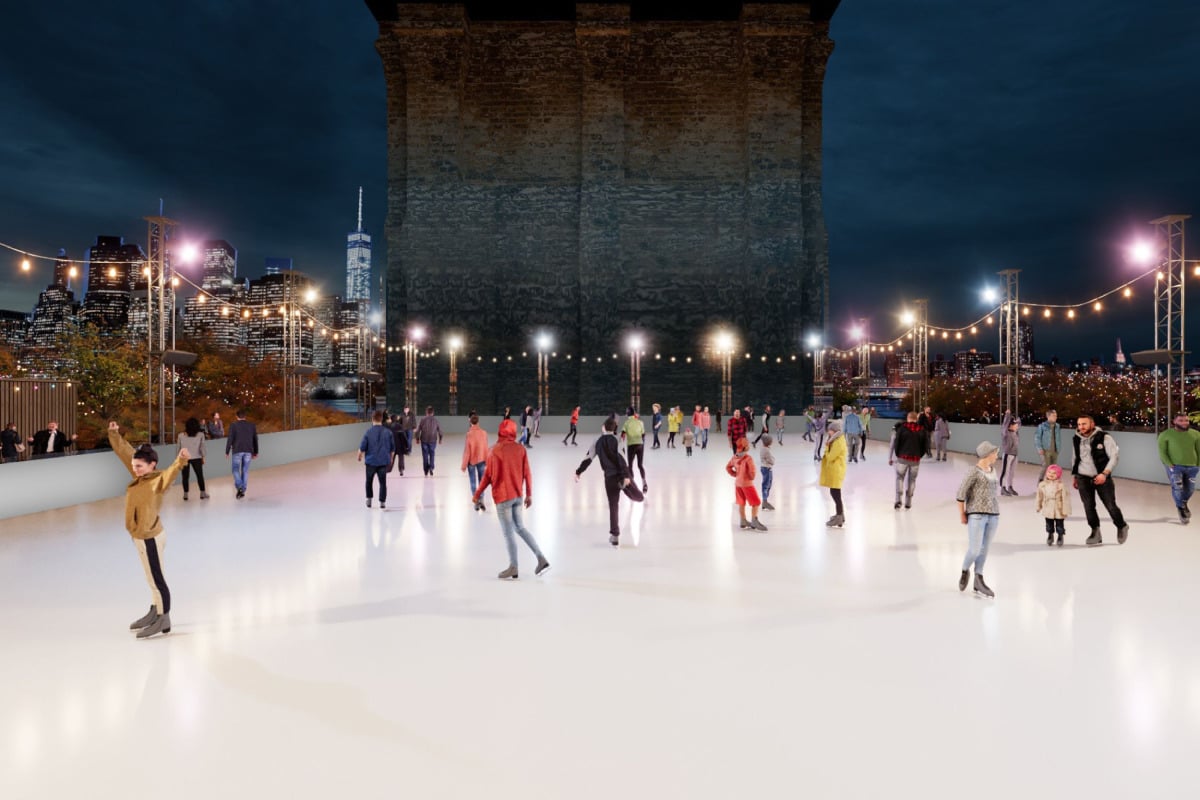 Opens Friday, November 17 | $17-29 for kids 3-12, $34-29 for adults | Value nights $12 kids, $24 adults on 11/19, 26, 30 | Prospect Heights
Experience the magic of Lightscape! The after-dark, illuminated trail returns to Brooklyn with brand new works of art and promises an even more immersive and magical experience for visitors of all ages. Explore the beauty of the Garden under moonlight while enjoying seasonal treats and festive music. There is no better way to celebrate winter and the holiday season with friends and family!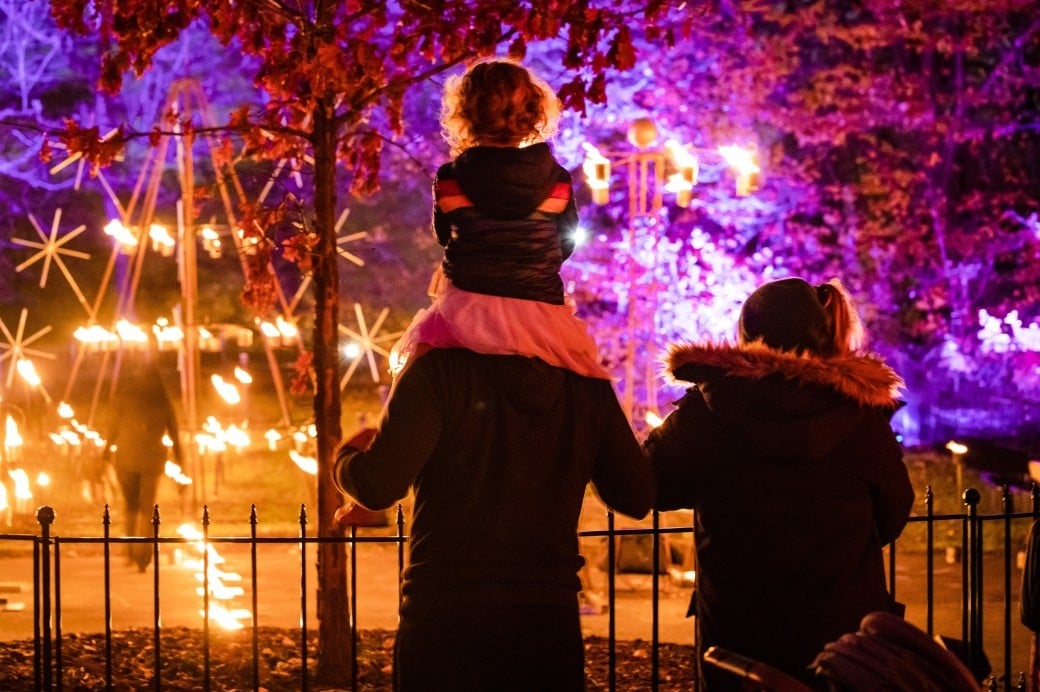 Saturday, November 18-Sunday November 19 | 10am-4pm | FREE entry | Brooklyn Heights
Shop unique Scandinavian designs, knitwear, gift items, holiday ornaments, Danish candy, and traditional food products for the Christmas Dinner at the annual Danish Christmas Fair. Or bite into delicious "æbleskiver" (puffed apple pancakes) – a traditional Christmas treat that all Danes give out at any social gathering through the holidays, and sip on hot glögg – the Danish take on mulled wine. It's served in our covered, cozy backyard at the Danish Seamen's Church.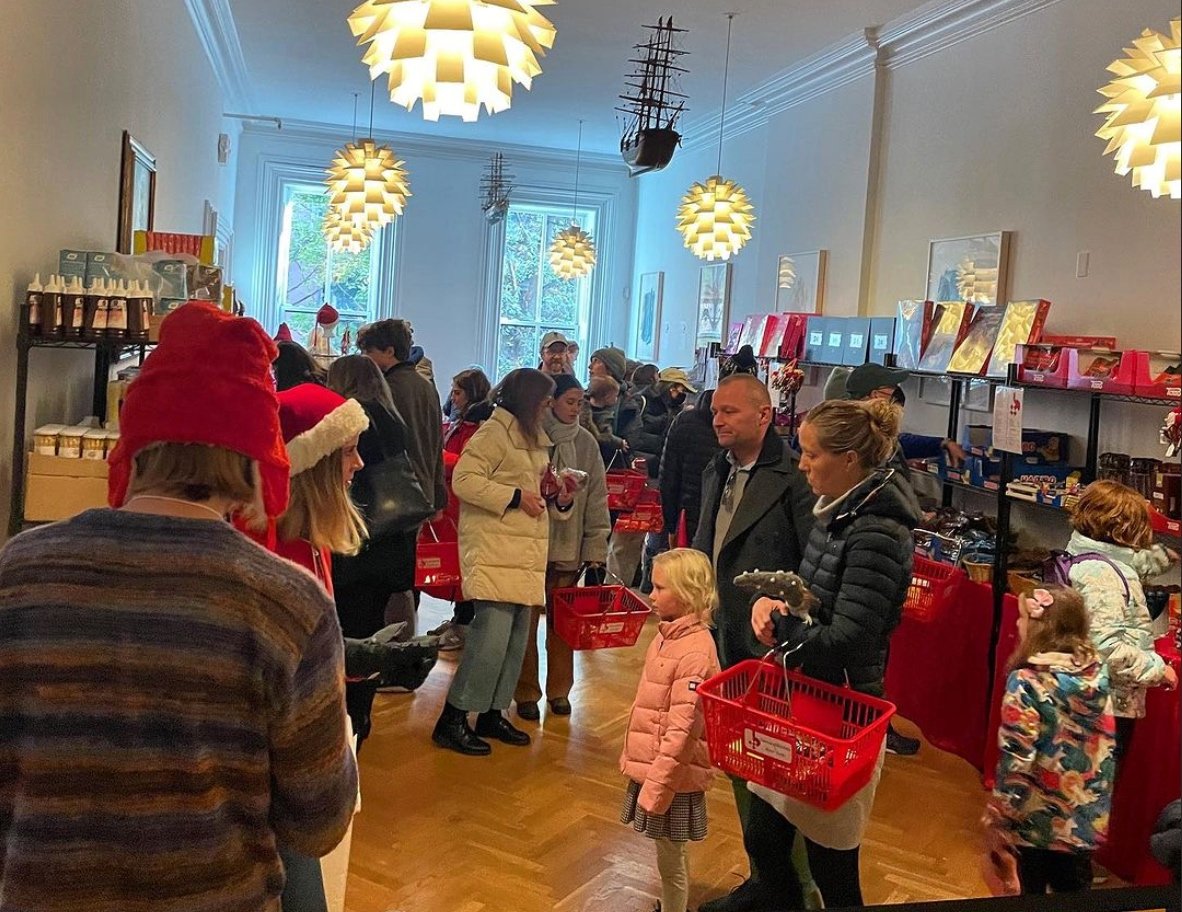 10. Holiday Tree Lighting celebrations begin
DTBK Gets Lit at Albee Square
Tuesday, November 21 | 5-6pm | FREE | Downtown Brooklyn


DTBK Gets Lit is our annual holiday season kickoff – Downtown Brooklyn style. P

erformances will be followed by the countdown to HOLIDAY LIGHTS ON!

 More info TBA.

Park Slope 5th Ave Tree Lighting
Saturday, November 25 | 4:30-5:30pm | FREE | Park Slope
Join 5th Avenue Park Slope  BID in lighting their Christmas Tree and celebrating the shopping season on Small Business Saturday. Activities on 4th Street Plaza Open Street include Touch a Truck, letters to Santa, Park Slope Parents Fun for the kids, Bubble Dad, Churros from Simple Loaf Bakehouse, and more!
Light Up Brooklyn Commons
Wednesday, November 29 | 5-8pm | FREE | Downtown Brooklyn
Festive outdoor activities presented by Brookfield Properties include an exhibition of exquisitely carved ice sculptures and a live carving, sample holiday sweet treats, and look on as Santa himself lights up the treasured Brooklyn Commons Christmas tree, for all to enjoy.