The Brooklyn Queens Connector (BQX) is a proposed streetcar envisioned to link the rapidly growing waterfront communities from Brooklyn to Queens. BQX's fully accessible & stroller-friendly vehicles will run along a largely exclusive right-of-way and have signal priority at intersections. Based on its analysis, the City proposes to move forward with an approximately 11-mile route and 26 stops that will run between Gowanus and Astoria. They are envisioning a schedule of 5-10 minutes during peak hours and travel times from Downtown Brooklyn to Astoria in 40 minutes and Downtown Brooklyn to Red Hook in 26 minutes.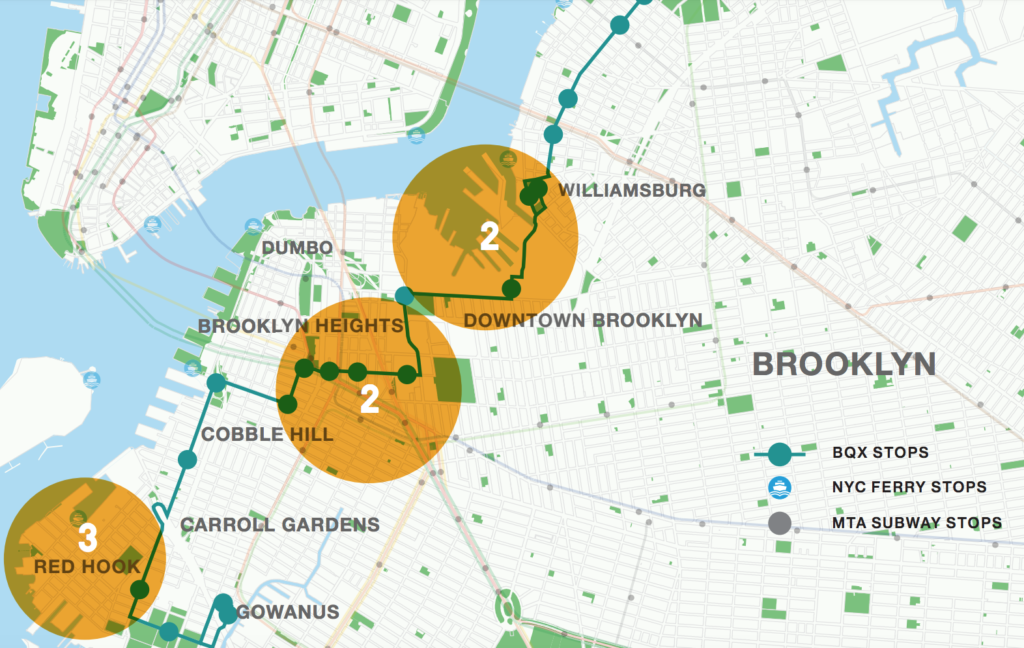 The city is proposing a shift inlands in parts, away from DUMBO in favor of Downtown Brooklyn. The proposed route in our neighborhood will have the BQX running from the Columbia Street Waterfront District along Atlantic Avenue to Court Street, where the streetcar will enter Downtown Brooklyn. BQX will run from Court Street along Joralemon Street to Willoughby Street, creating a direct link to the 2/3 and 4/5 subway lines at the MTA's Borough Hall station. The line will then run along Willoughby Street to Ashland Place. From Ashland Place, BQX will run north to Flushing Avenue and create a valuable transit link between Downtown Brooklyn and the south west corner of Brooklyn Navy Yard.
The planned opening date is 2029.
Read the full report here.