Our epic annual Fall Fest at Atlantic Terminal Mall Plaza and on car-free Fort Greene Place is coming up this Sunday with urban pumpkin patch, 1,000 pumpkins to be decorated, a kids concert with a cowboy riding a dinosaur and "haunted trucks for kids to go into if they dare". More family-friendly things to do this week include storytime in the park, a community dinner and DUMBO Family Games!
Native American Dancing | Governors Island | Monday 10/9
Indige­nous Enter­prise will present free dance per­for­mances in hon­or of Indige­nous People's Day. The com­pa­ny was estab­lished with the goal of shar­ing the pos­i­tive aspects of indige­nous cul­ture through film, fash­ion, and dance. Since their found­ing, Indige­nous Enter­prise has become one of the most dynam­ic and excit­ing cul­tur­al com­pa­nies in the world. Their per­for­mances have cap­ti­vat­ed audi­ences at some of the most icon­ic venues and events, includ­ing the Super Bowl, Syd­ney Opera House, Joyce The­ater, and the 2020 Pres­i­den­tial Inau­gu­ra­tion. Free performances in Nolan Park Mon­day, Octo­ber 9 at 2pm. RSVP here.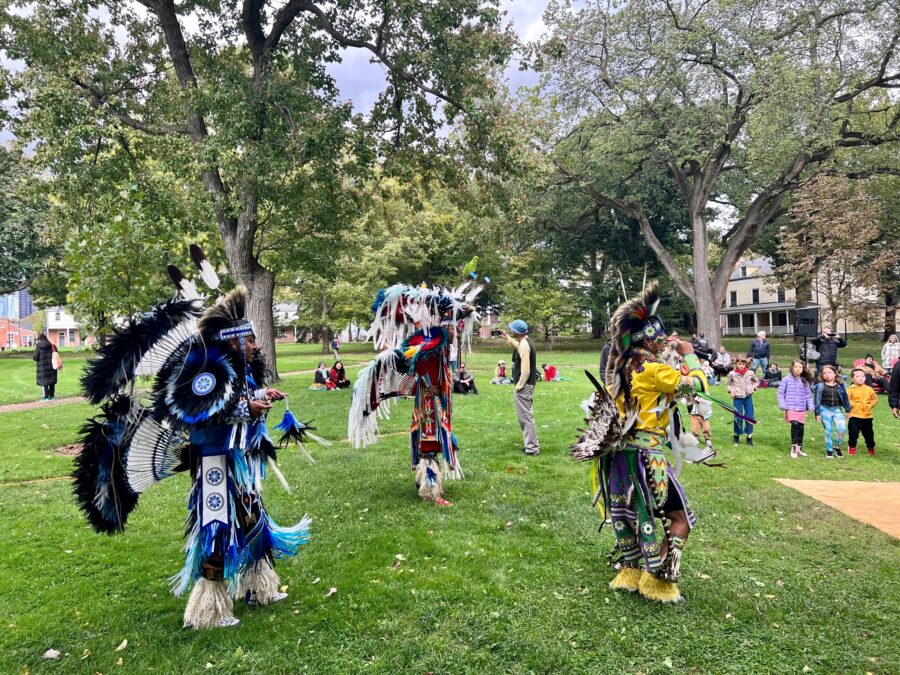 Storytime | Fort Greene Park | Thursday 10/12
Sing, read, and play with librarians from Brooklyn Public Library this Summer! Have fun hearing great picture books read aloud and playing with other children every Thursday from 4 to 4.45 pm at Fort Greene Park, from June – October.
Fishing Clinics | Brooklyn Bridge Park | Friday 10/13
Learn how to bait a hook, drop a line, and maybe even reel up a fish! Guided by our education team, learn the basics of rod and reel fishing while catching-and-releasing some of Brooklyn Bridge Park's finest. Friday, October 13: 4:00-6:00 PM at Pier 5. Free RSVP here.
Fall Fest | Downtown Brooklyn | Sunday 10/15
Atlantic Terminal Mall, Brooklyn Bridge Parents and Mommy Poppins are hosting a FREE family-friendly fall festival on Atlantic Terminal's outdoor plaza and car-free Fort Greene Place on Sunday, October 15 from 12 to 3 pm. They will set up an "urban pumpkin patch" with 1,000 pumpkins waiting to be decorated by the kiddos. The outdoor plaza and car-free Fort Greene Place will feature arts and crafts, pumpkin painting, block building, music, haunted trucks for kids to climb into and more! Kids are encouraged to come in costumes. At 12pm, Hopalong Andrew will perform.The event is supported by BASIS Independent Schools. RSVP here.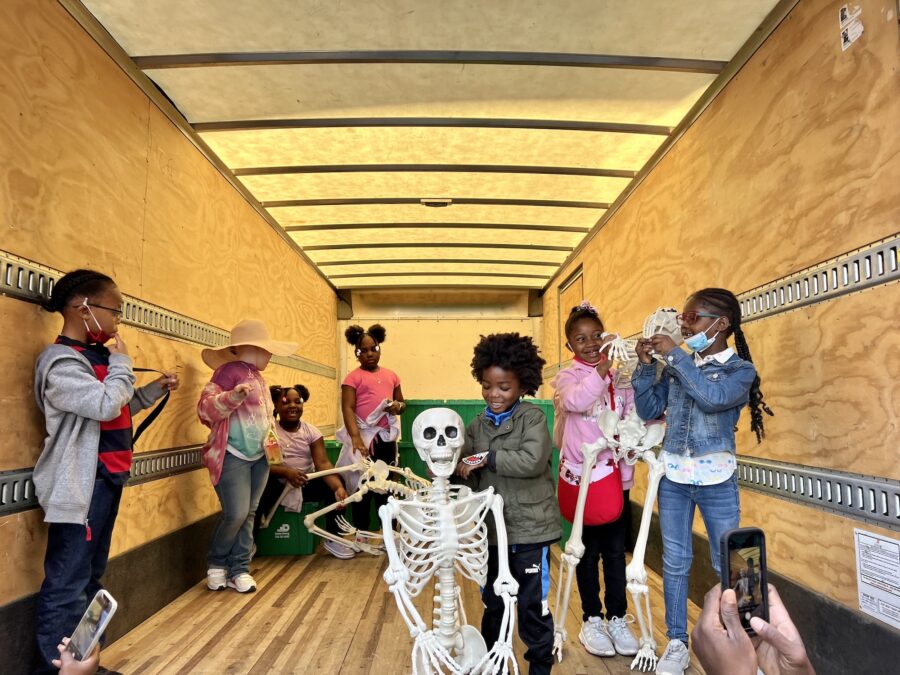 Puppet Making Workshop | Library in DUMBO | Saturday 10/14
Parents and kids will have fun with a Puppet Making and Feedback Session on Saturday October 14th at the Adams Street Library. The New York Neo-Futurists will be at Adams Street to make bag puppets with kids and talk to parents about an idea they are looking to create with the library.
City of Forest Day | Across Brooklyn | Sunday 10/15
After a successful inaugural City of Forest Day last year, this citywide celebration of the urban forest will take place again this fall. Presented by Forest for All NYC in partnership with the Parks and Open Space Partners – NYC Coalition and NYC Parks, City of Forest Day is an annual day of activities across the city to raise awareness of the importance of the New York City urban forest, and the essential role New Yorkers play every day in caring for the "lungs" of our city. Click the link to find an event near you. There are plentiful family-friendly volunteer opportunities, workshops, and family activities.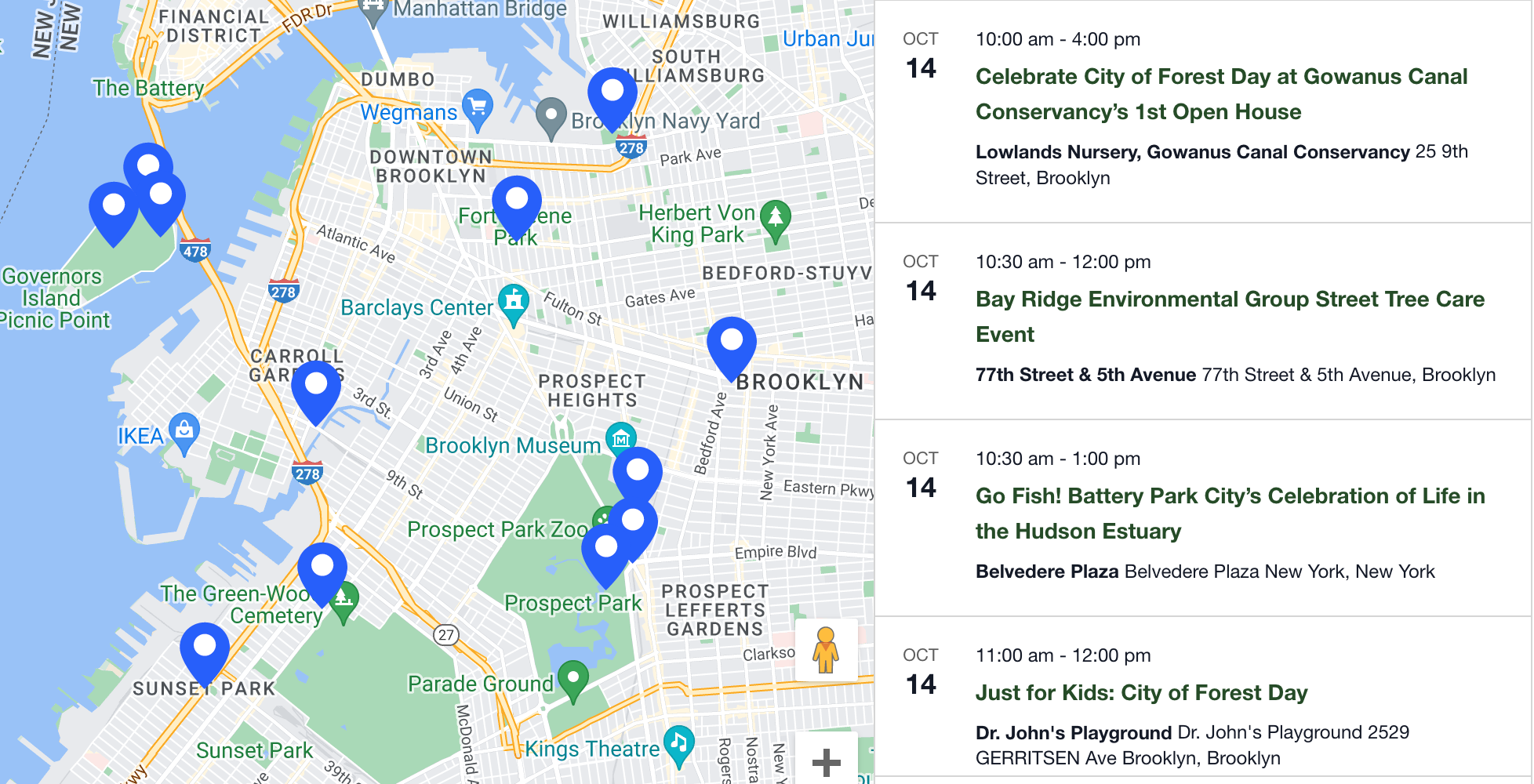 Hoyt Open Streets Movement Class | Boerum Hill | Saturday 10/14 – cancelled
Free movement class for kids and parents from 12 to 2 pm on Hoyt Open Streets between State and Atlantic.
Breaking Bread, Building Bonds Community Dinner | Carroll Gardens | Sunday 10/15
Breaking Bread, Building Bonds Community Dinner this coming Sunday, October 15th from 7 – 9 pm at Hanah Senesh School. All New Yorkers and Brooklynites who are raising children are invited to grab a seat around the table to break bread and build bonds with each other. Meet and engage with diverse neighbors and friends, share a delicious meal and tear down silos. This citywide initiative and special community dinner is open to the entire community. Kosher vegetarian food will be served.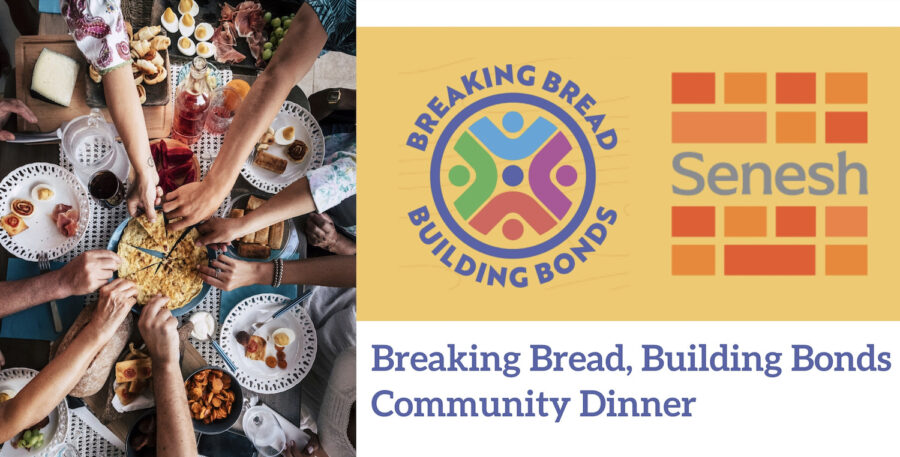 DUMBO Family Games | Washington Street DUMBO | Sunday 10/15
Enjoy our epic Lego table, plus building blocks, arts & crafts, Corn hole, Connect Four, arts & crafts, balloon twisting by Leaf Medical & Dental and more on car-free Washington Street on Sundays from 11 am to 1 pm (weather permitting). Curated by the DUMBO BID x Brooklyn Bridge Parents and supported by Leaf Medical & Leaf Dental in DUMBO. No need to RSVP, just show up.