Our weekly overview of events and things-to-do for families in Brooklyn is out! Highlights include Sunday Games indoors at CityPoint, the wonderful kids and teens programming at our public libraries and a series of family-friendly dance performances up in the air in Downtown Brooklyn.
Family movie | DUMBO Library | Wednesday, July 20
Family movie Diary Of A Wimpy Kid from 3 to 5 pm at the Adams Street Library in DUMBO. All ages are welcome.
Sway's Bloom | Bklyn Commons | Thursday, July 21 – Sunday, July 24
BLOOM! is the newest creation of SWAY atop their signature 14 foot sway poles."Bloom" will be performed at Brooklyn Commons Park 3 x per day from Thursday to Sunday this week at 12.30 pm, 3.30 pm and 5.30 pm. Free and open to the public. Find out more here.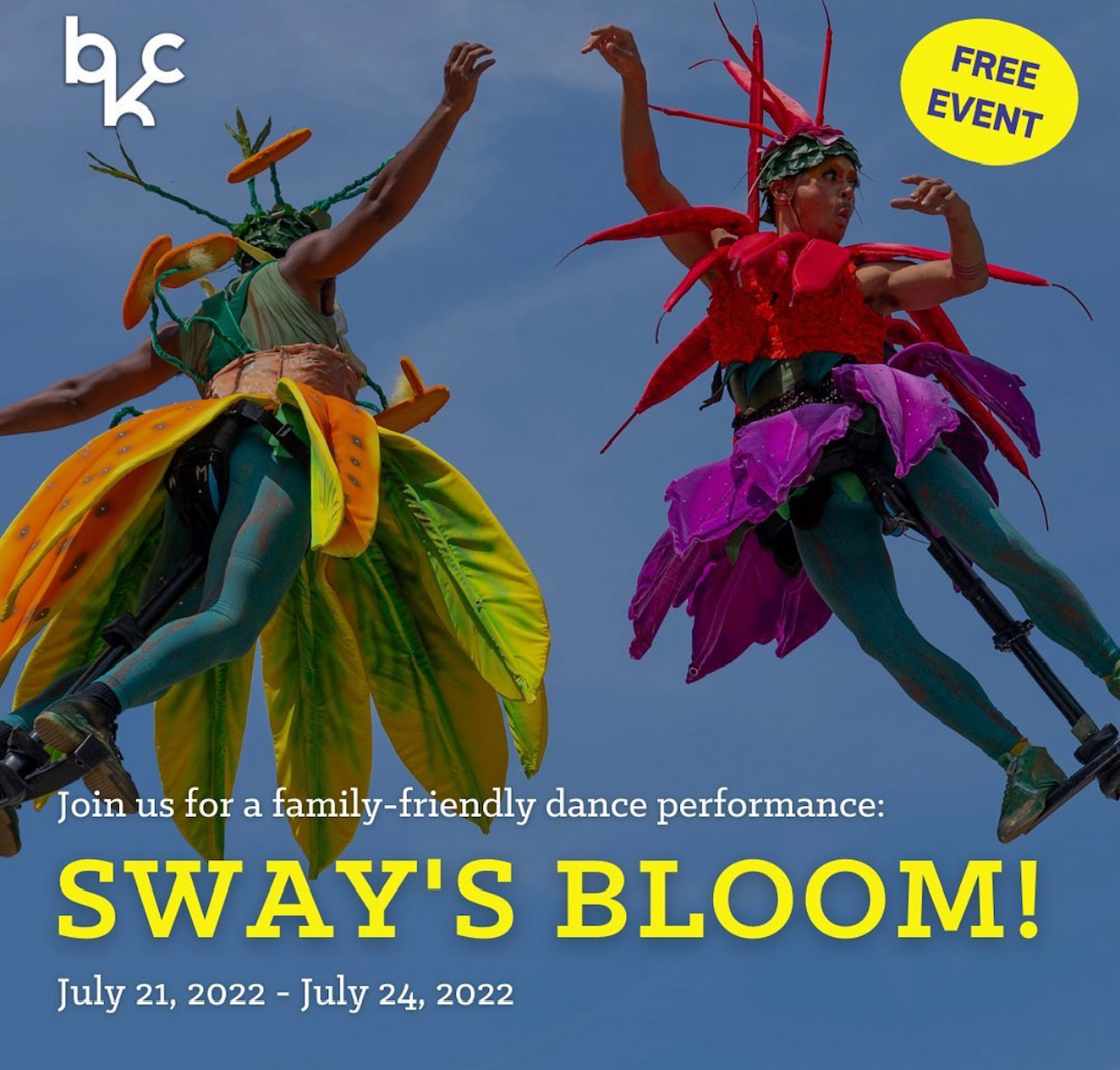 Block Building and Happy Hour | Albee Square in Downtown Brooklyn | Thursday, July 21
Join us on Thursdays from June 30 to July 21 from 3 to 6 pm on Albee Square in Downtown Brooklyn for community block building for the kids (Lego, blue blocks and chess) under umbrellas and happy hour for the grown-ups.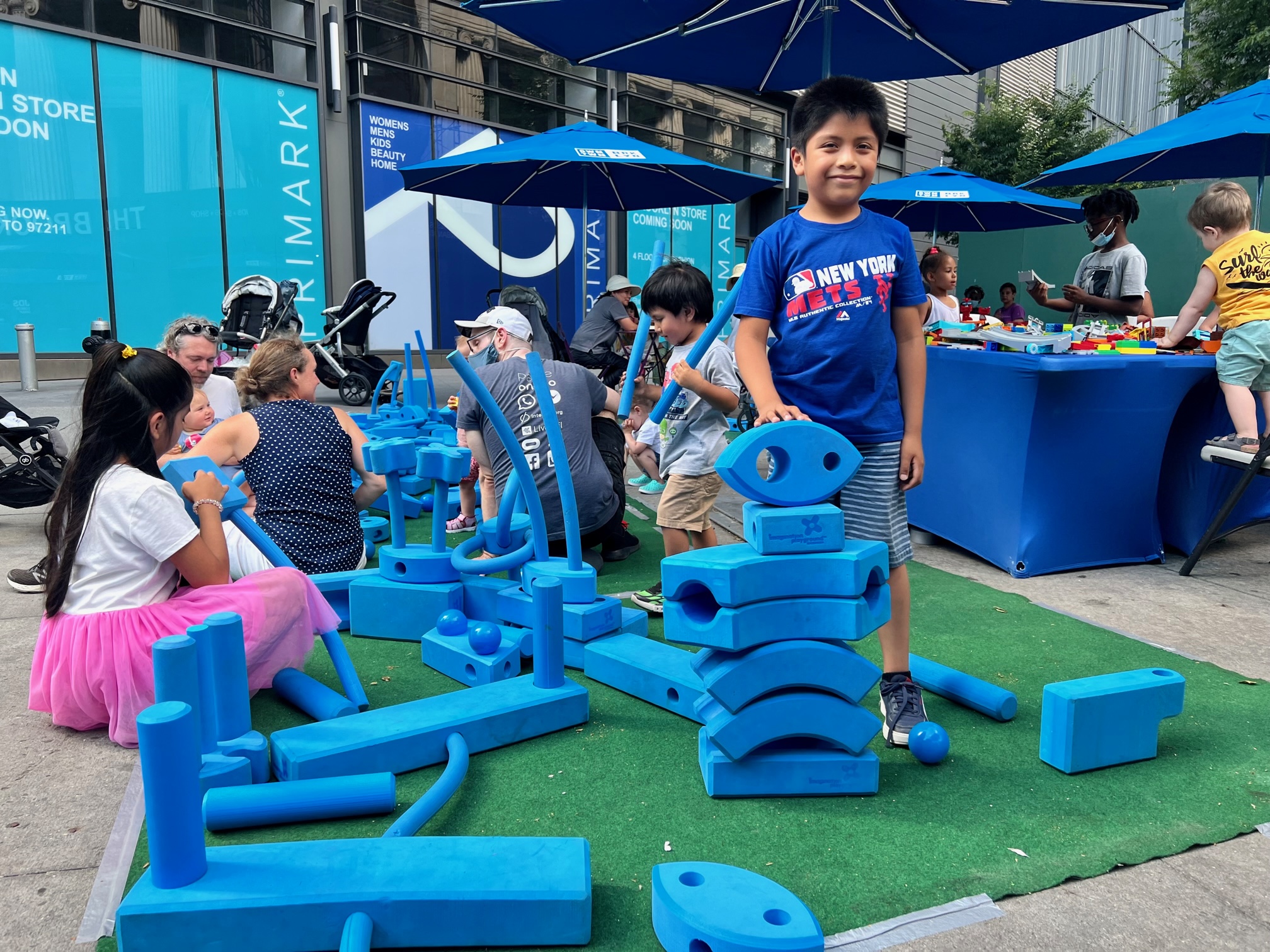 It's Showtime | Brooklyn Bridge Park | Friday, July 22
As choreographer of the Open Studios Residency, Christina "CocoMotion" Smith will stage a show which highlights the unique artistry of It's Showtime NYC dancers. In addition to the performance, audiences can learn a few of their moves, enjoy a meet and greet with the dancers, and finish with an open freestyle dance party! Starts at 6:00 PM, Pier 1 Harbor View Lawn; free.
Stargazing | Brooklyn Bridge Park | Friday, July 22
Join Amateur Astronomers Association of New York as they set up high-powered telescopes to observe the moon, stars, and distant planets from the Pier 1 promenade on Friday night! Walk-up and weather-permitting. Fridays 8.30 to 10.30 pm.
DUMBO Family Game Time | Car-free Washington Street in DUMBO | Saturday, July 23
Join us for DUMBO Family Game Time on Saturdays from June 25 to September 10 (Labor Day weekend) from 10 am to 12 pm on pedestrian-only Washington Street with free games for kids 1 to 10! Rain date Sunday, July 17 from 10 am to 12 pm.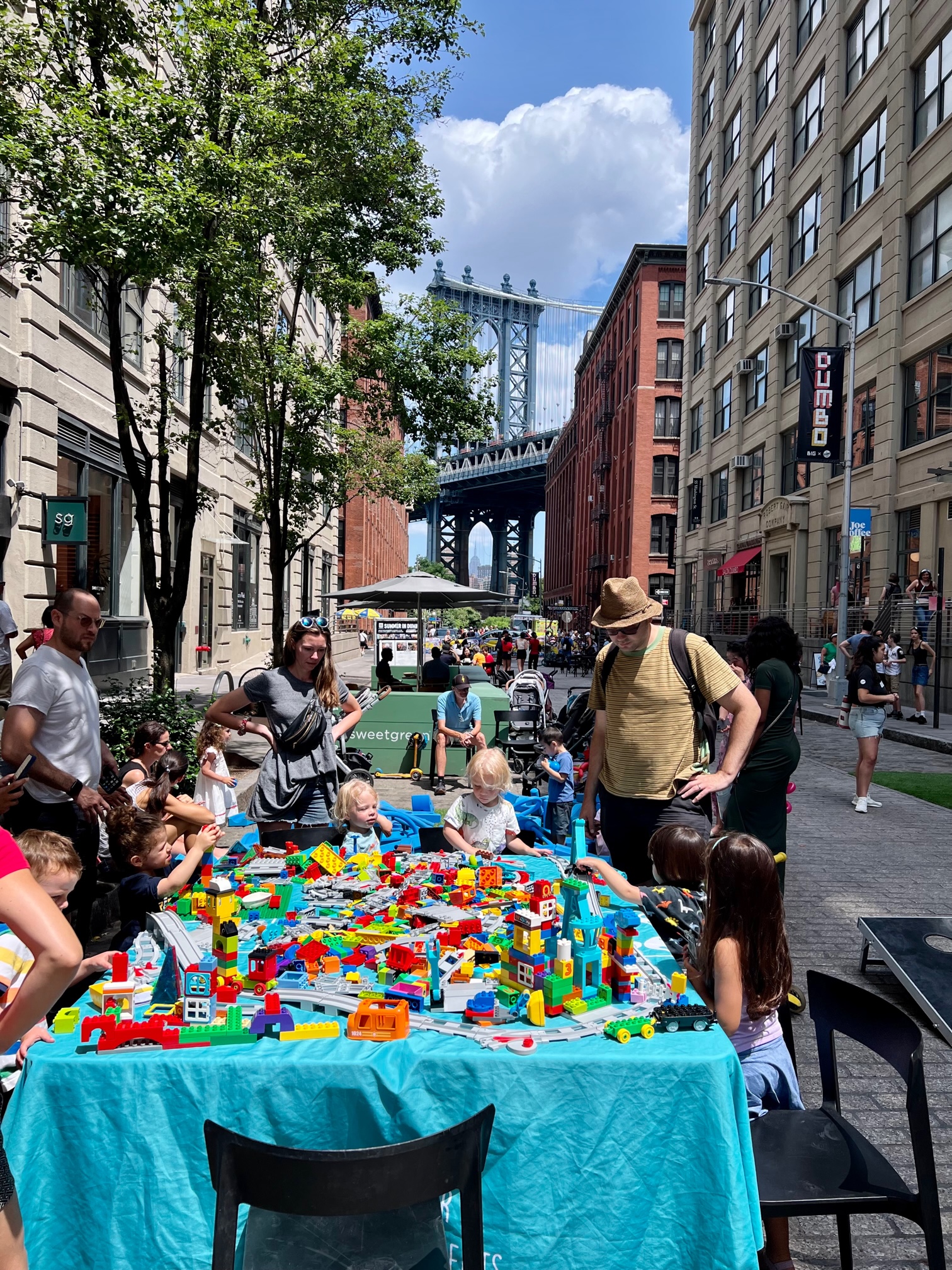 Creatively Wild Art Workshops: Building Bridges | Dumbo library | Saturday, July 23
What is a bridge? What does a bridge represent? Explore the theme of "bridges" in this free art workshop led by Creatively Wild Art Studio presented by Adams Street Library. For kids ages 4-8: Saturday, July 23, 12-1pm. Free RSVP here.
Waterfront Dance Social | Brooklyn Bridge Park | Saturday, July 23
Enjoy a Waterfront Dance Social this Saturday, July 23 – with salsa led by Talia Castro-Pozo! The evening begins with a free, all-levels introductory class, then transitions into a full on dance party! RSVP's encouraged; sign up here.
Sunday Games @ CityPoint | Downtown Brooklyn | Sunday, July 24
Free games for children 2 to 10 years old on Sundays in July from 12 to 3 pm. Come play and cool down at City Point! Sunday Games will take place inside at City Point with Lego and block building and arts projects for kids 2 to 10 years old. FREE on Sundays in July in the ground floor hallway at City Point. RSVP here.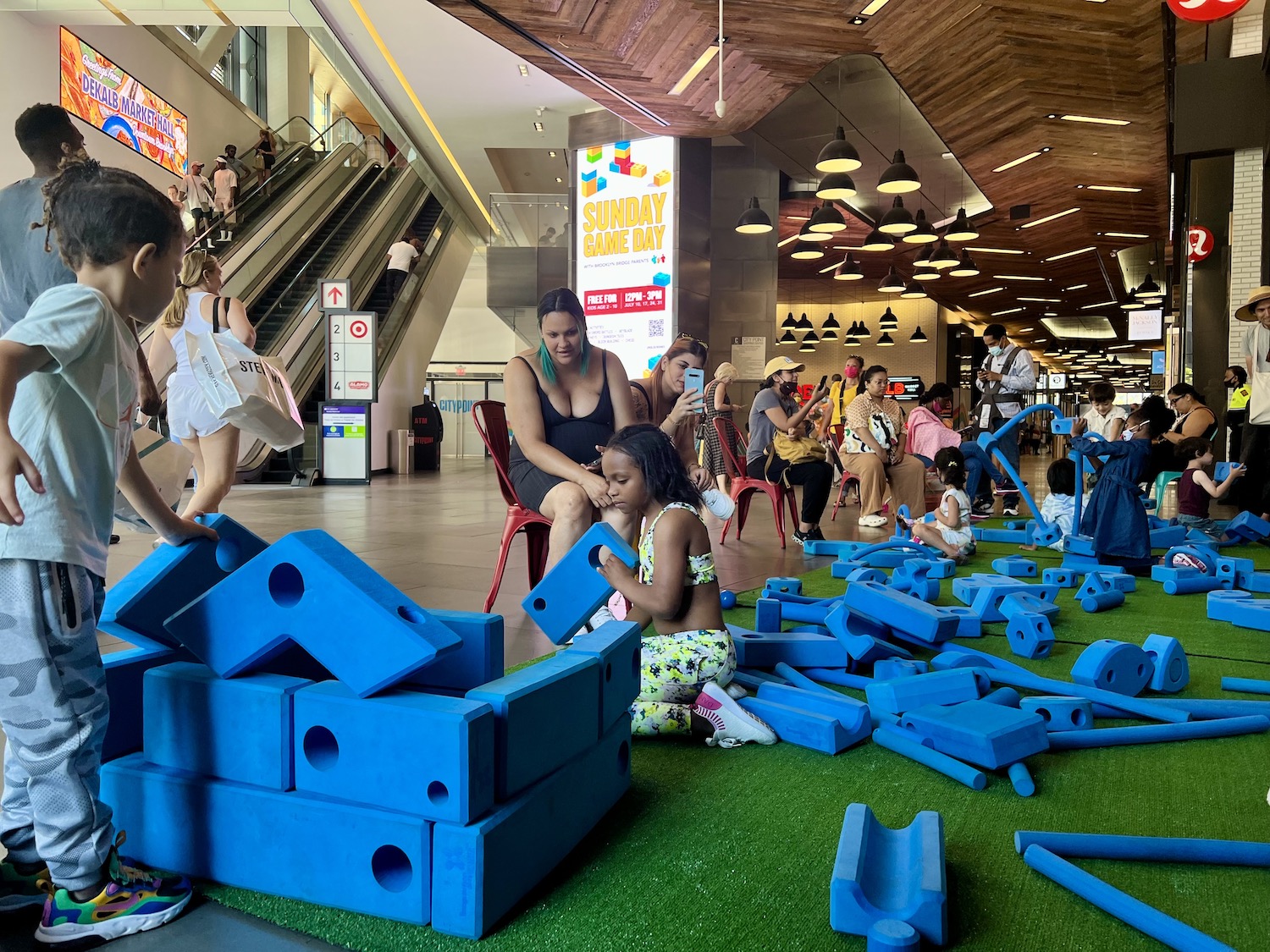 Basketball clinics | Brooklyn Bridge Park | Tuesdays
Free Youth Basketball Clinics will be hosted on Tuesdays, May 31 through August 30; two age group ranges are offered for 7-12 and 13-17 year olds at the Pier 2 Courts. You can register your children one week in advance, starting Tuesdays at 10 am.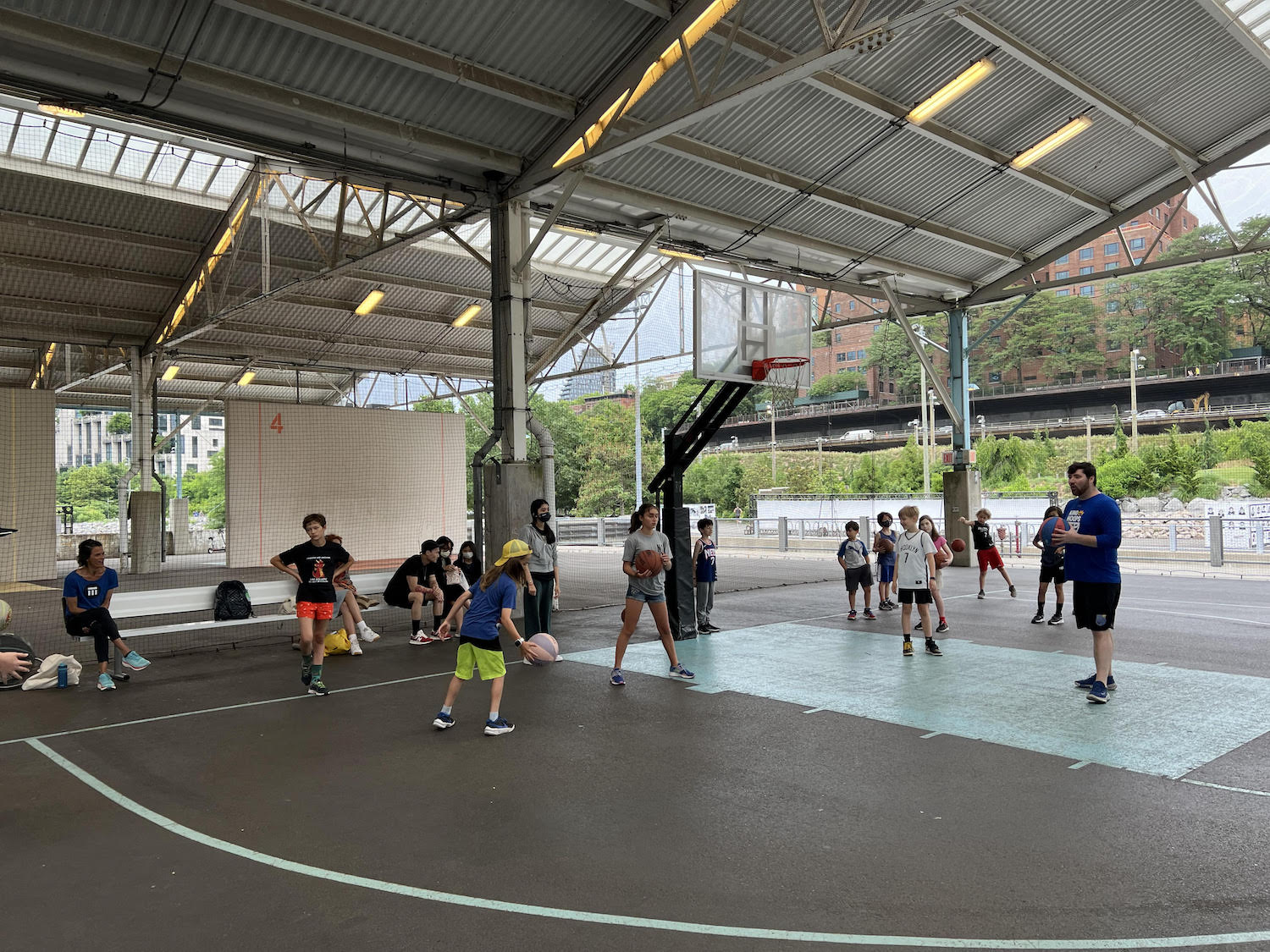 Summer storytime | Brooklyn Bridge Park | Wednesdays
Join the Brooklyn Public Library for a rollicking good time listening to stories, singing songs, and enjoying the breeze from the water! Recommended for ages 2 to 8 years. Every Wednesday June 15 through July 20 from 10.30 am to 11.15 am. Find out more here.
Live at The Archway | DUMBO | Thursdays
From June 16 to September 1, family-friendly, free concerts in the Archway under the Manhattan Bridge ranging from Afro-soul to salsa and Japanese pop. Thursdays from 6 to 8 pm.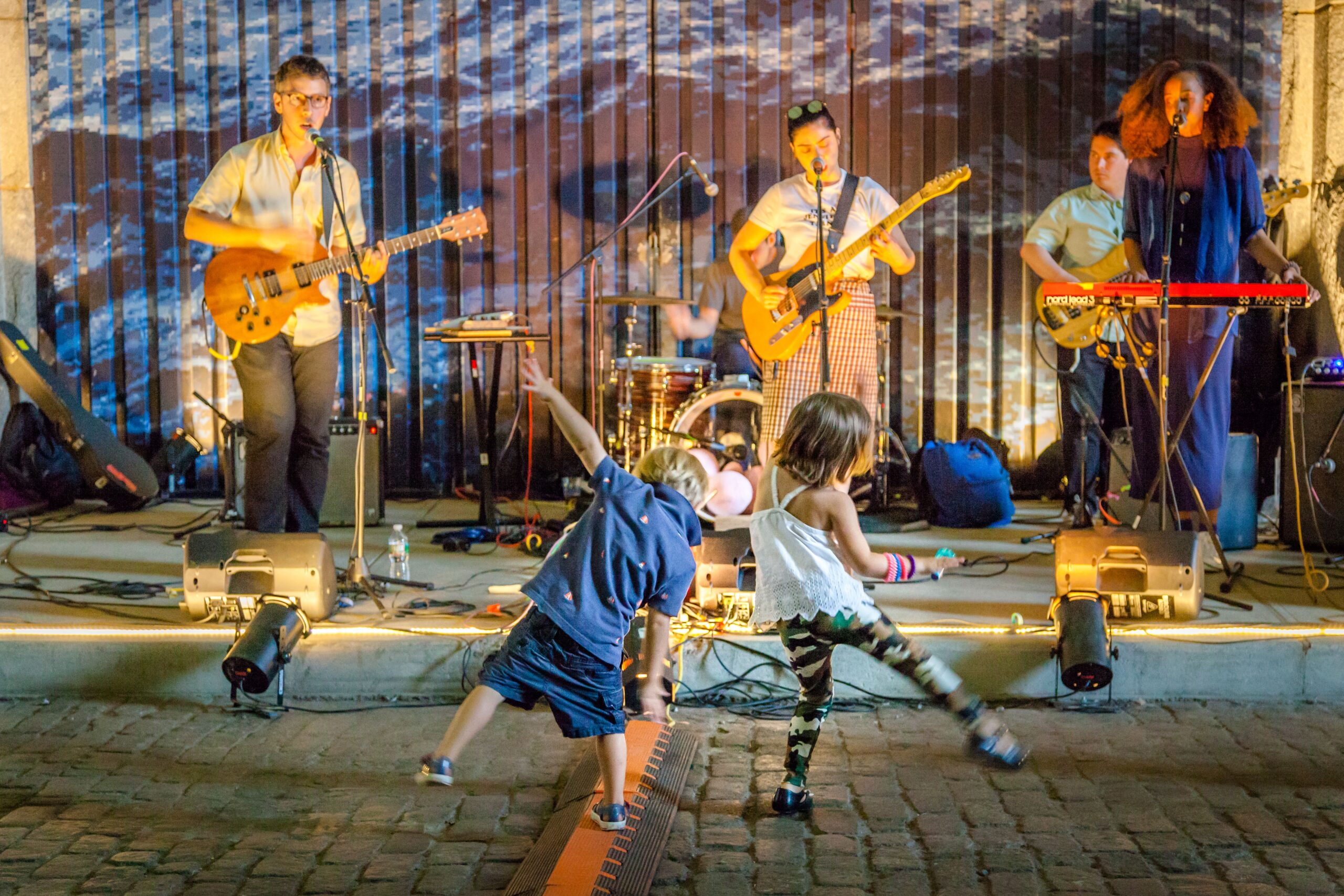 Kayaking | Brooklyn Bridge Park | Wednesday, Thursday Saturday & Sunday
With the Conservancy's ever-popular kayaking program held in partnership with Brooklyn Bridge Park Boathouse, visitors can enjoy gliding across the East River on Wednesday and Thursday evenings as well as Saturdays starting in June through the end of September. New family kayaking on Sundays will also be offered. Advance registration is required for all, starting first weekend of June, make reservation today. Make a reservation here.
Library programming | Brooklyn Heights library | Tuesdays to Saturday
Library programming | DUMBO library | Tuesdays to Saturday
Tuesdays from 1.15 to 1.45 pm and 2.15 to 2.45 pm: Babies and books for 0 to 18 months. RSVP here, opens one week before the event.
Tuesdays from 3.30 to 4.30 pm: Teen time with arts & crafts and board games for ages 10 to 17 years. No RSVP required.
Wednesdays from 10.30 to 11 am and 11.30 am to 12 pm: Toddler time for ages 18 months to 3 years. RSVP here.
Thursdays from 3.30 to 5 pm: Teen Tech Time with video gaming. No RSVP required.
Cumbe Dance Series | Fort Greene Park | Sundays
Join the Cumbe Center for African and Diaspora Dance and the Fort Greene Park Conservancy every Sunday from 11am to 12pm in July for rotating Afro Diasporic Dance groups who will teach a family-friendly workshop followed by a performance.