Our weekly overview of events and things-to-do for families in Brooklyn is out! Highlights this week are a plant dyeing workshop, family circus and our first DUMBO Family Games on a Sunday!
Family Circus | Downtown Brooklyn | Saturday 9/10
Bindlestiff Family Cirkus Flatbed Follies is a mobile venue that brings circus and variety arts to the outdoors. Flatbed Follies has become a vehicle offering joy and wonder to a recovering world. Performances take place upon an innovative series of parade float stages modified to present circus acts. There is even a calliope wagon providing authentic circus music. Saturday 9/10 from 12 to 2 pm at Albee Square. Find out more here.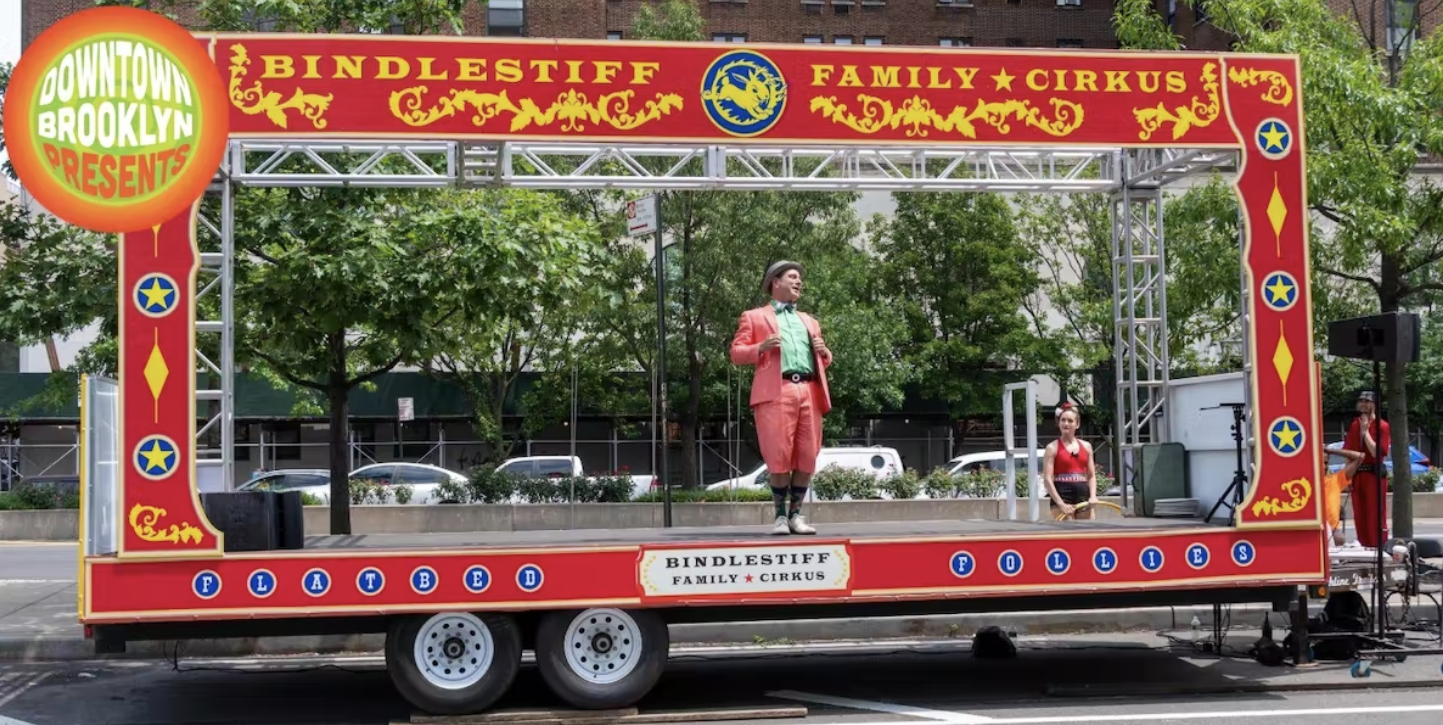 Canarie Music DUMBO Open House | DUMBO | Saturday 9/10
Canary Music of DUMBO, a brand new music studio is offering piano and violin lessons for kids and grown-ups, along with creative musical group classes to students of all abilities and levels starting as young as 1 year old. The studio is located at 18 Bridge Street in DUMBO. They are hosting a free open house on Saturday September 10th from 11 am to 5 pm with all their teachers there. Their early childhood music teacher Ms. Anna is going to provide some fun music activities with her ukulele while learning about our programs.
Brooklyn Conservatory of Music: Fall Fest | Park Slope | Saturday 9/10
Brooklyn Conservatory of Music welcomes music lovers of all ages for this participatory family festival to preview the BKCM Fall term. Meet faculty, sample Early Childhood classes, and enjoy live performances by BKCM faculty and students. Find out more here. Saturday, September 10, 2022 from 2 to 5 PM.
Plant dyeing workshop | Governors Island | Saturday 9/10
Learn how to trans­form indi­go leaves into blue dye, and all about the col­ors of the plants and flow­ers grow­ing through­out New York City. The work­shop will start with har­vest­ing the woad or medieval indi­go grow­ing in GrowNY­C's Teach­ing Gar­den. Par­tic­i­pants will then gen­tly har­vest flow­ers from the gar­den for petal pound­ing and print­ing, and use it to make their own nat­ur­al indi­go dye. All mate­ri­als provided. Suit­able for adults and chil­dren aged 9 and up accom­pa­nied by an adult. Saturday from 1 to 3 pm on Governors Island.
DUMBO Family Games | DUMBO | Sunday 9/11
Join us for DUMBO Family Game Time on Sundays from 9/11 until 10/30 from 10 am to 12 pm on pedestrian-only Washington Street with free games for kids 1 to 10!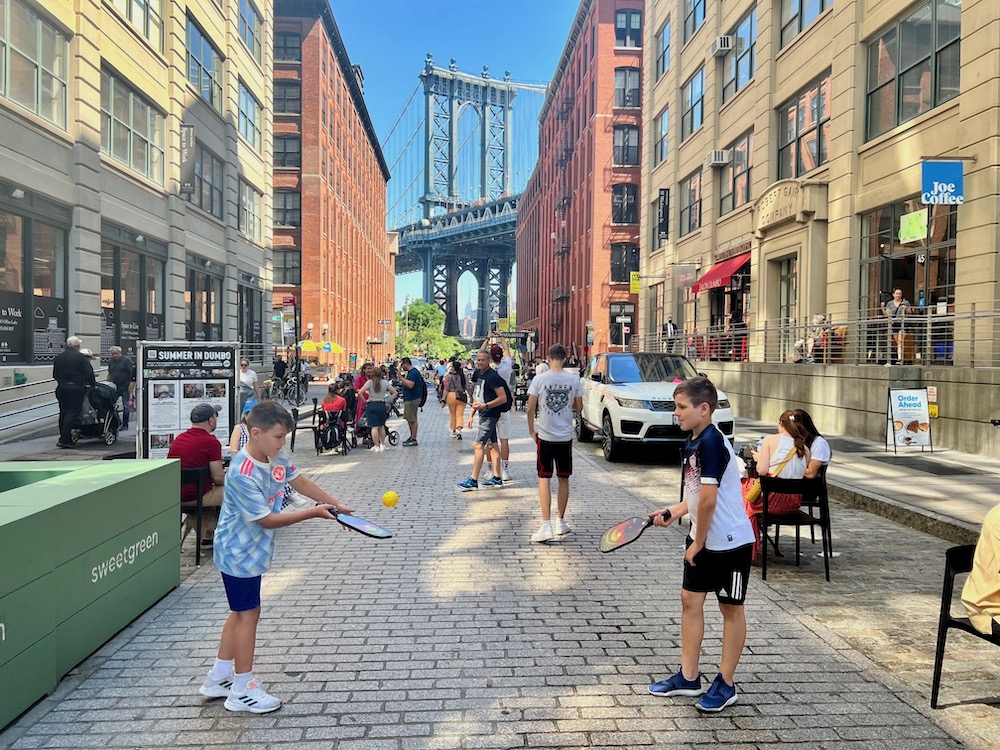 Ping Pong | Brooklyn Commons | Tuesday
DJs set the soundtrack on Tuesday evenings while you enjoy family-friendly ping pong games with The Push. Tuesday from 4.30 to 6.30 pm at Brooklyn Commons in Downtown Brooklyn. RSVP here.
Kayaking | Brooklyn Bridge Park | Saturday
With the Conservancy's ever-popular kayaking program held in partnership with Brooklyn Bridge Park Boathouse, visitors can enjoy gliding across the East River on Saturdays starting in June through the end of September. Make a reservation here.
Library programming | Brooklyn Heights library | Monday to Thursday
Wednesdays 10.30 – 11 am: Toddler Time
Wednesdays 3.30 – 4.30 pm: Teen Time. RSVP here.
Thursdays 10.30 – 11.00 am: Babies & Books for 0 to 18 months. RSVP here.
Friday 3.30 – 4.30 pm: Build with lego and duplo for ages 6 to 12
Friday 3.30  6 pm: Teen time Bookflix: Bring a friend and join us for snacks and a great book turned movie!
Library programming | DUMBO library | Monday to Friday
Wednesday 3- 5 pm: Family movie
Thursday from 10.30 to 11 am and 11.30 am to 12 pm: Toddler time for ages 18 months to 3 years. RSVP here.
Thursdays from 3.30 to 4.30 pm: Teen Tech Time with video gaming. No RSVP required.
Friday from 1.15 to 1.45 am and 2.15 am to 2.45 pm: Babies & books. RSVP here.
Back to School Party | Brooklyn Heights | Saturday 9/17
Save the date! Brooklyn Bridge Parents is taking over Open Streets on Montague Street to bring 20+ free kids activities to the neighborhood! Join us for our Back to School Party during Open Streets on Montague on Saturday, September 17 from 1 to 5 pm with free kids activities, performances and more. We will have games, arts & crafts, soccer, chess, golf, dungeon building, balloon twisting, Ninja warrior training, science shows and much more. The Puppet Mobile will offer free puppet shows for kids 2 to 8 years at 2 pm and 3.30 pm (each show takes about 30 minutes, be there on time to get a seat). The car-free blocks will be from Clinton, Henry to Hicks. Free RSVP here.