Our overview of upcoming family-friendly Hanukkah events in Park Slope, Brooklyn Heights, Downtown Brooklyn and DUMBO. All events are open to the public, all are welcome.
Menorah Lighting | Grand Army Plaza | 11/28
The Largest Menorah in Brooklyn has been towering over New York since 1985 and is a must on everyone's calendar, Jews and non-Jews alike. The Menorah lighting celebration and concert are all free of charge. There's a kick off concert on Sunday, November 28, and each subsequent night of Hanukkah is celebrated with music, latkes, and gifts. 1st Night of Hanukkah, Sunday, November 28 kickoff concert begins at 4pm, 2nd Night of Hanukkah, Monday, November 29 at 6pm, 3rd Night of Hanukkah, Tuesday, November 30 at 6pm, 4th Night of Hanukkah, Wednesday, December 1 at 6pm, 5th Night of Hanukkah, Thursday, December 2 at 6pm, 6th Night of Hanukkah, Friday, December 3, at 3:30pm, 7th Night of Hanukkah, Saturday, December 4 at 7:15pm & 8th Night of Hanukkah, Sunday, December 5 at 5pm
Cobble Hill Park Chanukah Celebration | Cobble Hill | 11/28
Menorah Lighting, prizes, the Dreidel man, hot cocoa, music and doughnuts on Sunday, November 28 from 12 to 1 pm at Cobble Hill Park.
Light Up the Night | Borough Hall | 11/28 – 12/5
Light up the Night at the Downtown Brooklyn Menorah every night outside the Brooklyn Courthouse at 5 pm but Saturday at 6 pm and Friday at 2 pm. They will give out hot latkes, chanukah gelt and prizes for children.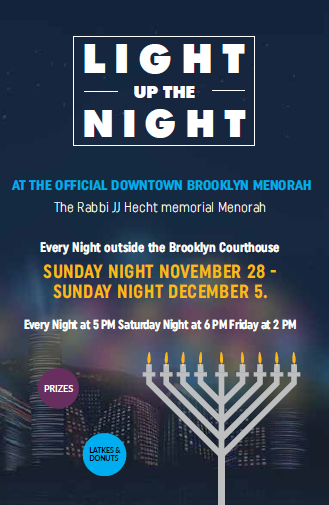 Chanukah at Jane's Carousel | DUMBO | 12/1
Ice Menorah, Menorah lighting, carousel rides, arts and crafts, donuts and more! Families are invited to join the Chanukah party at Jane's Carousel in Brooklyn Bridge Park hosted by the Chabad of DUMBO and DUMBO Gan preschool. Ice Menorah carving at 5 pm, Menorah Lighting at 5.30 pm. The event will take place at Jane's Carousel in Brooklyn Bridge Park on Wednesday, December 1st starting at 4.30 pm. Suggested donation per family $20. Free RSVP here.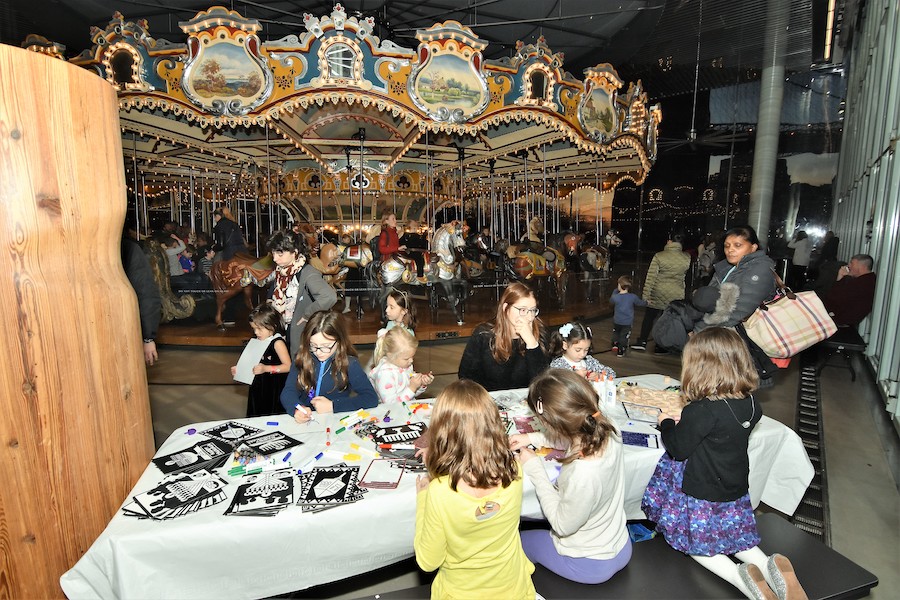 Chanukah at Carroll Park | Carroll Gardens | 12/1
Community Menorah Lighting with live music, Latkes and Donuts and entertainment on Wednesday, December 1st at 5.30 pm
Chanukah concert & Menorah Lighting | Brooklyn Heights | 12/2
Chabad is hosting a Chanukah concert outside of Borough Hall on December 2nd at 5 pm.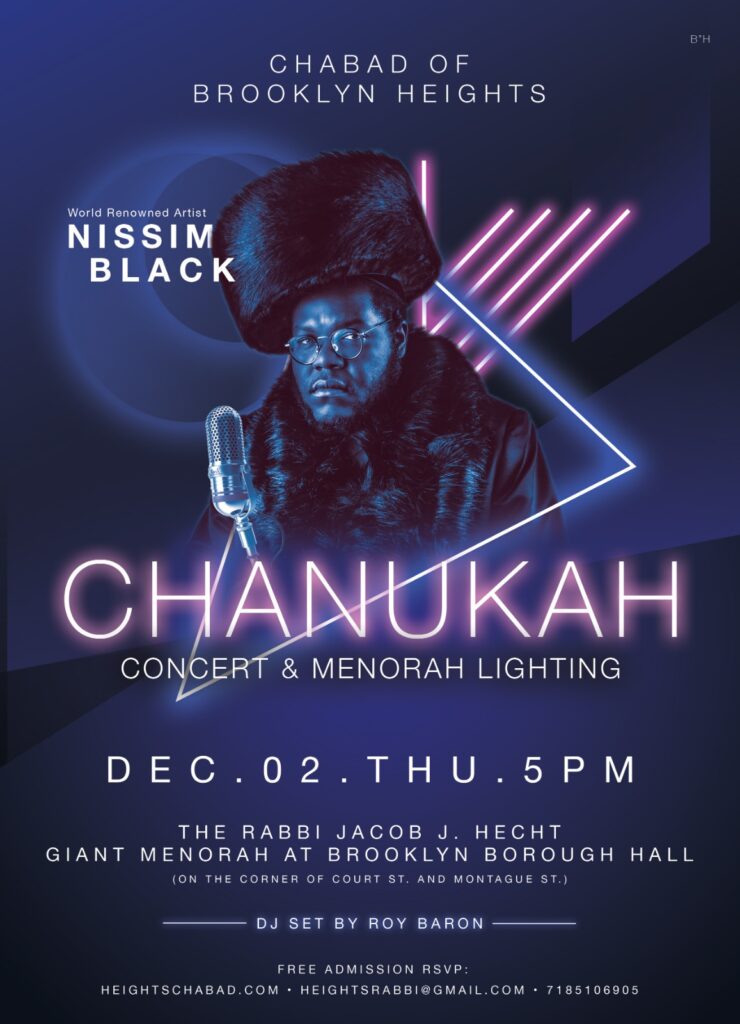 Chanukah cookie & gingerbread house decorating | CityPoint | 12/5
Decorate your own gingerbread house or cookie in Hanukkah colors with One Girl Cookies at CityPoint in Downtown Brooklyn 12/5. Kids ages 3 to 12 are invited to decorate and design their own gingerbread houses with royal icing colors and decorative elements such as sanding sugar and candy. Participants will be able to take home their creation in boxes we provide and One Girl Cookies will be on site to support the decorating process. The events will take place on Sunday, December 5th at CityPoint center at 445 Albee Square. $10 per child, RSVP here.
Main photo: Jane's Carousel / Chabad of DUMBO