Our overview includes new moms and parents meet-ups, babies & books get togethers and more for all who want to make friends and be connected with the community of fellow new parents in Brooklyn.
Story Hour | March 25 | Vivvi DUMBO
Vivvi Dumbo is now open and enrolling ages 0-5! In honor of National Reading Month, bring a neighborhood friend and join us for an entertaining hour of stories and songs alongside our engaging Vivvi educators. This event on Saturday, March 25 at 10 am is appropriate for infants, toddlers and preschoolers. Free RSVP here.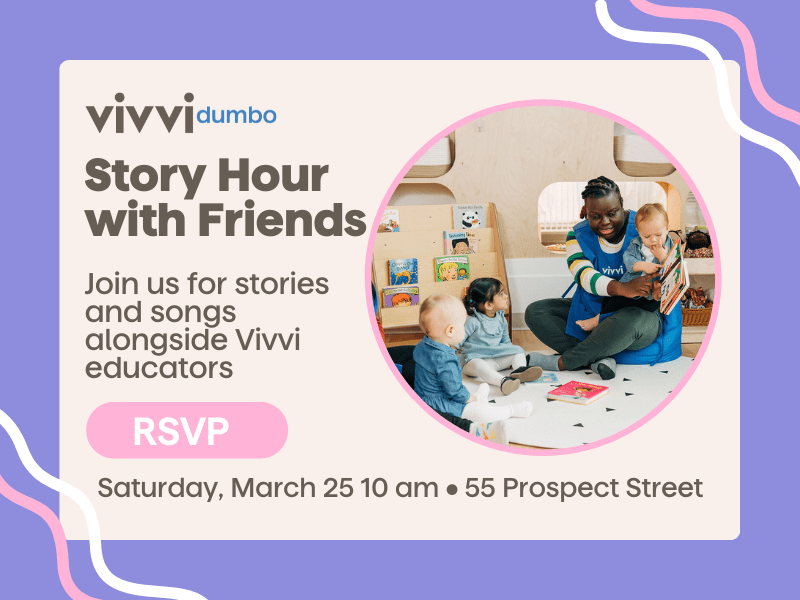 Expectant and New Parent Sharing Circle | March 27 | Adams Street Library DUMBO
They say it takes a village to raise a child. Connect with other expectant and new local parents at our brand new sharing circle. We'll meet to discuss and share our experiences of parents to be or new parents. Registration recommended, but not required. Please feel free to bring your babies/toddlers/preschoolers as we can provide a small open play space for them as we connect. This group will be focused more on the expectant parent and new parent experiences, though. Monday, March 27 from 10:30 am – 11:30 am. Find out more here.
Introducing MOMSpace Groups Designed for Moms | April – May | Carroll Gardens
MOMSpace is starting a new moms group at Brooklearn in Carroll Gardens. MomSpace aims to provide moms the chance to meet other moms, make friends, seek and give guidance and grow alongside new friends. Each week, group discussion will cover a topic pertaining to motherhood and moms will have a chance to discuss them with each other. The group will meet on Tuesdays starting April 4 from 10:15-11:30 am with babies from 0 – 3 months. $270 for six sessions, book here.
Revolution Motherhood | April – May | DUMBO & Park Slope
Join yoga teacher Rachel, in person, for her 8-week, complete body restructuring programs. Covering Phases 1-3 of her method, in intimate, energetic groups of moms, you will heal, strengthen, laugh, cry, sweat, recover + discover (babies do not come to this class). $750 for eight weeks in DUMBO and Park Slope, book here. "Covering Phases 1+2 of the RM method, join founder, Rachel Welch for her 8-week complete fitness + recovery program. Foundations re-educates your entire core + body through progressively challenging, full body workouts that integrate soft foam rolling, pilates, barre, yoga and full core rehabilitation. Safe and effective, heal and understand your post partum body – at any point post baby – it's never too late to get strong, and thrive."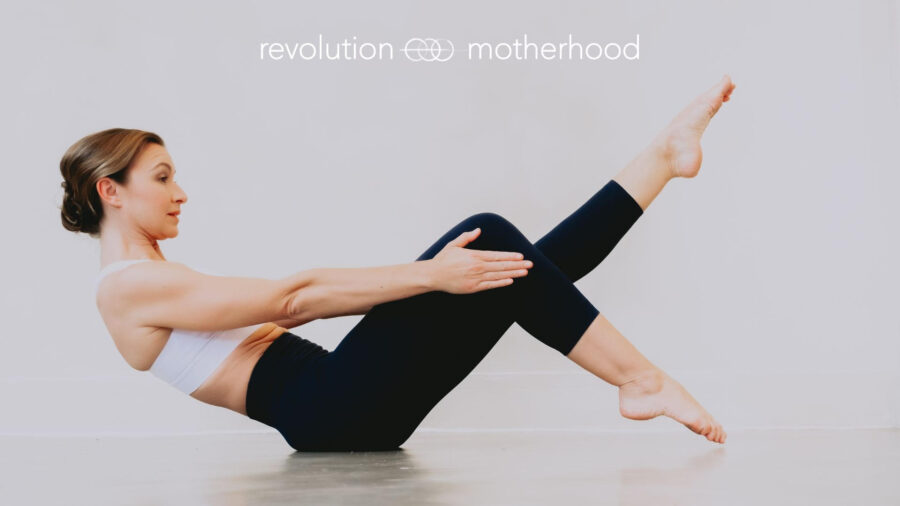 Free library programming with babies | Various libraries
Weekly parents meet-ups with babies
Mondays 12 pm Vineapple Cafe
Tuesdays 11.30 am Cobble Hill Park Clinton Street between Congress and Verandah
Tuesdays 12.30 pm Ace Hotel lobby 252 Schermerhorn Street
Wednesdays 12 pm Talea
Thursdays 12 pm Abilene at 442 Court Street
Fridays 5 pm Court Street Tavern
Baby Music Class with Hopalong Andrew | Carroll Park | Fridays
Hopalong Andrew is hosting a baby music class on Fridays at 12 pm in Carrol Park. $20 per family, cash preferred. Check his IG for updated weather schedule @hopalongandrew.
Diapers & Dumbbells South Brooklyn Crossfit | Gowanus | Mondays & Wednesdays
CrossFit South Brooklyn offers Diapers & Dumbbells, a prenatal & postpartum fitness class designed to help new parents and care givers safely return to exercise, connect with other parents, and develop the strength they need to support their growing babies. This is a one-hour class that focuses on pregnancy appropriate fitness and includes time for socializing with other parents and their babies. Diapers & Dumbbells provides a supportive environment and is appropriate for individuals with or without previous CrossFit experience. Classes are open to mothers (and partners) of all fitness levels and their pre-walking babies. They provide staffed child care in the same space for the duration of the class. Mondays and Wednesdays 1.30 to 2.30 pm, $40 per class. More information here.