Our overview of trick-or-treating locations and car-free streets on Halloween includes Brooklyn Heights, Cobble Hill, Carroll Gardens, Fort Greene, Downtown Brooklyn, Boerum Hill, Clinton Hill and beyond. The City has also released an interactive trick-or-treat street map here.
Fort Greene
Open Streets (Trick or Streets) for Halloween night 10/31 from 4 to 8PM. Streets will be open for car-free activities.
Clinton Ave btw Gates and Greene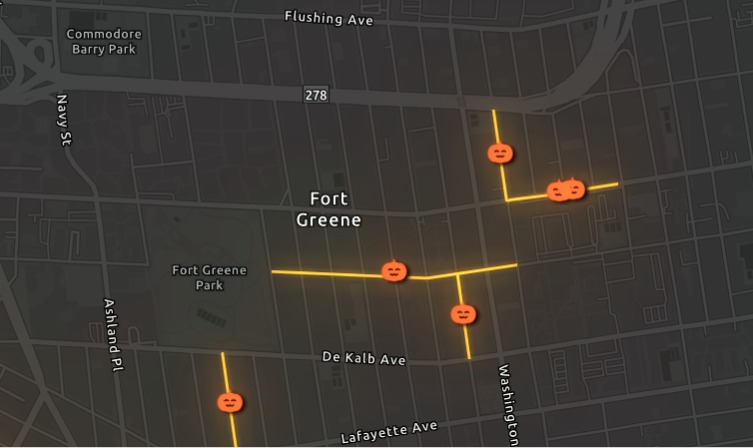 Clinton Hill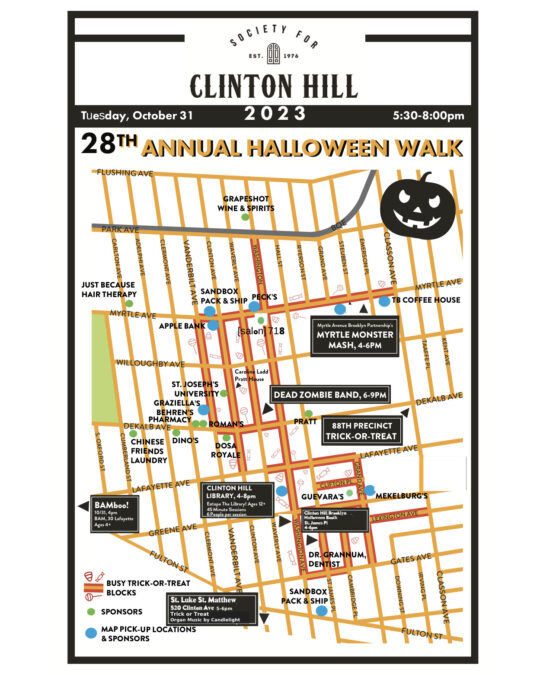 Brooklyn Heights
Garden Place Trick-or-Treating: Kids start trick-or-treating around 4 pm on October 31st. The gathering runs all afternoon until dusk when everybody runs out of candy.
Joralemon Street from Furman Street to Hicks Street
Cobble Hill & Carroll Gardens
Strong Place
Clinton Street at Pacific down through Carroll Gardens
Congress Street
Bergen Street (between Hoyt & Bond)
All the streets between Court and Hoyt Streets, especially Dean and Warren
West 9th Street from Henry Street to Hicks Street
Boerum Hill & Downtown Brooklyn
Hoyt Street from State Street to Atlantic Avenue: Celebrate Halloween on the last Open Street day of the season! Swing by Hoyt Street during your trick-or-treating route for free candy, drink specials, and outdoor dining. It's going to be spooktacular! 4 PM to 9 PM.
Smith Street shops
Pearl Street from Fulton Street to Dead End
Willoughby from Pearl Street to Jay Street
State Street from Smith Street to 3rd Ave
Dean Street from Bond Street to Nevins Street
Lafayette Avenue, Ashlant Place to St. Felix Street
Prospect Heights
Vanderbilt Avenue shops
Park Place, Underhill Avenue to Vanderbilt Avenue
Underhill Avenue, Sterling Place to Prospect Place
Prospect Place, Grand Avenue to Classon Avenue
Park Slope
11th street between 8th Ave and Prospect Park West
Fifth Avenue shops
Seventh Avenue shops
3rd Street between 5th and 7th Avenues
Polhemus Place from Carroll Street to Garfield Place
17th Street from 7 Avenue to 8 Avenue
7th Street from 5th to 4th Avenue
DUMBO
Shops in DUMBO with signage in the window
Halloween parties for kids in various neighborhoods
For our full overview of Halloween parties and parades click here.