Staying in Brooklyn during winter break? Check out the winter ice sculpture show on Governors Island, learn about sailing at the Seaport, visit the Black Creatives Market in Downtown Brooklyn, go ice skating or enjoy a puppet show. Our overview of winter break activities features lots of local things to do with kids.
Karaoke night | Pier 6 Iris Cafe | Friday 2/17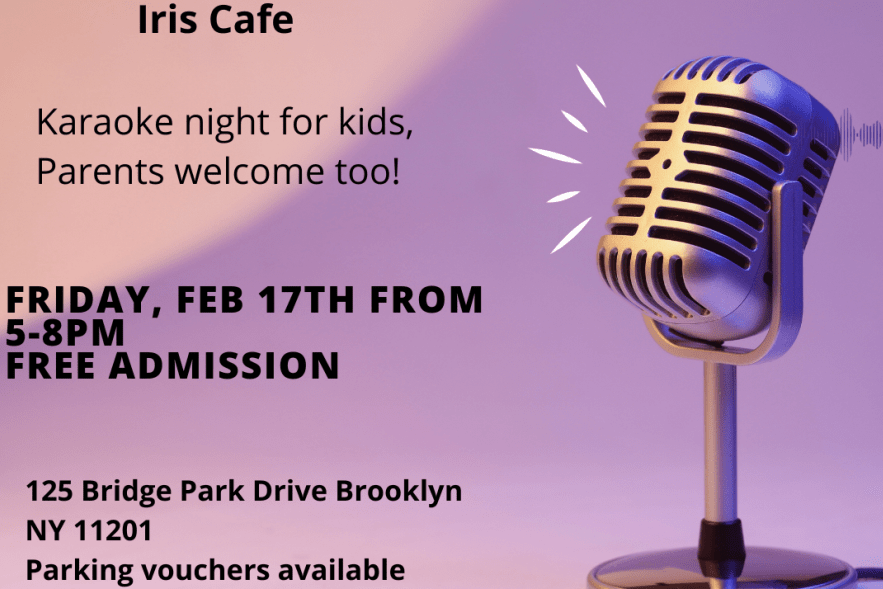 Winter ice sculpture show | Governors Island | Saturday 2/18
The show is an excit­ing one-day event where vis­i­tors will be able to expe­ri­ence live ice carv­ing, enjoy music and warm drinks, and vote on their favorite works for the ​"People's Choice Award," pre­sent­ed to the fan favorite. This year's show will also fea­ture DJ sets from Red Corvette and DJ Sav­age curat­ed by Half Moon, an inde­pen­dent music and media com­pa­ny that cov­ers and rein­forces emerg­ing cul­ture around the world through radio, events, edi­to­r­i­al, and edu­ca­tion­al work­shops with head­quar­ters in New York City and Los Ange­les. In addi­tion to food and drink avail­able from year-round Gov­er­nors Island ven­dors. The free event will take place on Saturday 2/18 from 12 to 4 pm.
Free books and story time | Atlantic Terminal Mall | Saturday 2/18
Stop by and join Brooklyn Book Bodega for a special reading and conversation surrounding Black History Month. Get free books for the whole family – special family programming guest to be announced. Join us on Saturday, February 18th from 12-2 PM for a special book reading and book giveaway with Brooklyn Book Bodega. Programming will take place on the street level of Atlantic Terminal near Rumi.
South Street Seaport Museum Crew & Cargo| Wednesday 2/22 – Saturday 2/26
South Street Seaport Museum will host Crew and Cargo, a family event offered during the Mid-Winter recess, from February 22 through 26, at 10 and 11 am. Families are invited on board the 1885 Tall Ship Wavertree to participate in hands-on activities that explore the fascinating world of 19th century trans-Atlantic sailors. Children ages 5–12 can haul on ropes to raise the sail, and walk the capstan 'round, while learning how sailors slept, ate, worked and played. Free but RSVP required.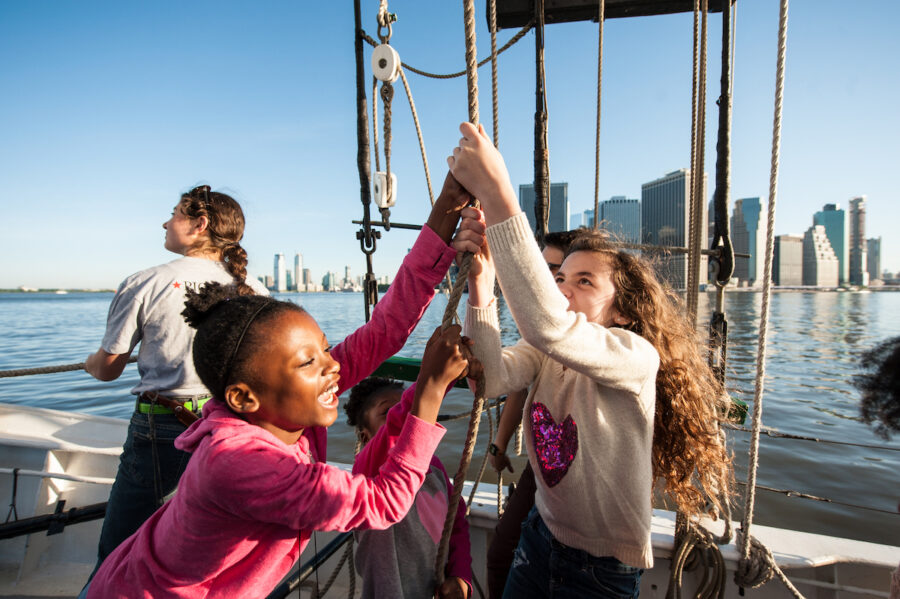 Cinderella puppet show | Park Slope | Daily
Watch the classic fairytale Cinderella performed by puppets at Park Slope's Puppetworks. This show was adapted for marionettes by Nicolas Coppola. Suggested for ages 3 and up. Saturdays & Sundays & President's week @ 12:30 & 2:30 pm. Cash only at the door $10 per child and $11 per adult. RSVP strongly encouraged. Find out more here.
Family Sustainability Night | DUMBO | Friday 2/24
Join the Conservancy's Environmental Education Center team for a special Friday evening edition of Open Hours, with Family Sustainability Night on February 24 from 4 to 6 PM in Brooklyn Bridge Park in DUMBO! Sustainability has been the theme of the month – bring your friends and families to participate in engaging activities all about sustainability and learn how to be eco-friendly. Explore the wonders of renewable energy, test your recycling sorting skills, learn about compost, and more!
Black Creatives & Culture Market | City Point | Friday 2/24 – Sunday 2/26
In honor of Black History Month, DA SPOT NYC in partnership with City Point BKLYN will host and curate the 3rd annual Black Creatives & Culture Market featuring 50+ BIPOC Creatives! Live music, performances, kids activities and more, all details here. Friday, Saturday and Sunday from 11 am to 7 pm at City Point in Downtown Brooklyn.
Hip Hop Class with Pixie Pod | Atlantic Terminal Mall | Saturday 2/25
Get ready to bust some dance moves! Join us on Saturday, Feburary 25th from 12-1PM Our Early childhood Hip-hop syllabus will introduce the kiddos to the fun & funky world of street and cultural dance! Lil Beatz classes include original music/choreography specifically designed for kids! Class will take place on the street level at Atlantic Terminal near Rumi!
Indoor roller skating | Atlantic Terminal Mall | Wednesdays – Sundays
The Roller Wave roller skating rink is returning to Brooklyn with its newest concept opening at Atlantic Terminal Mall on Saturday, February 11.  The 9,000 square-foot rink within the 24,000 square-foot space will offer additional family programming, skating lessons and more. The Roller Wave will be open Wednesday and Thursday from 12 pm – 10 pm, Friday through Sunday from 11 am – 2 am.Skaters can find The Roller Wave at 625 Atlantic Ave, in between Party City and Old Navy. Tickets start at $19.50 for adults plus a $10 skate rental fee, and $14.50 for children plus a $5 skate rental fee. Tickets can be purchased here.
Family Skate & Play | Industry City | Thursdays
Brooklyn Bridge Parents has partnered up with Mommy Poppins and Industry City to create exclusive Skate + Play packages, including ice skating admission, skate rental plus unlimited play in the game room at the IC Skating Rink for a discounted price. Skate + Play Package – $20: Includes ice skating admission, skate rental, and game room with table tennis, arcade games and more (save $13). Best for kids ages 4 to 12. Get your tickets here.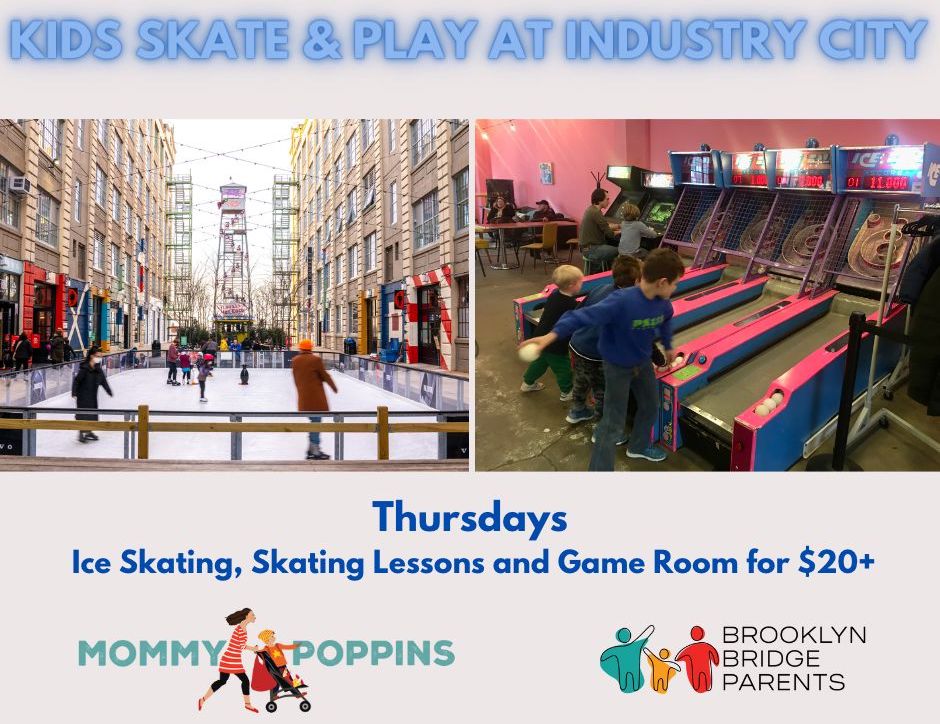 Storytime at Barnes and Noble in Cobble Hill | Saturdays
Weekly story time on Saturdays at 11 am for kids ages 2 to 8 is back at the new Barnes & Noble location on Atlantic Avenue in Cobble Hill.
Storytime | McNally Jackson CityPoint | Wednesdays, Thursdays and Sundays
McNally Jackson bookstore is hosting free story times upstairs in their children's section Wednesdays and Thursdays at 4 pm and Sundays at 1 pm for ages 4 to 8. No RSVP required, just show up.
Library programming | Brooklyn Heights library | Monday to Saturday
Saturday 2/18 from 1.30 – 2.30 pm: Sword dance festival for all ages
Tuesday 2/21 from 3.30 – 4 pm & 4.15 – 4.45 pm: Preschool story time
Tuesday 2/21 from 4 – 5 pm : Teen time with marine biologist
Wednesday 2/22 10.30 – 11 am & 11.15 – 11.45 am: Toddler storytime
Wednesdays 4.00 – 5.00 pm: Tween Time. RSVP here.
Wednesday 2/22 from 3.30 – 5.30 pm: Chess Club
Thursday 2/23 from 10.30 – 11 am & 11.15 – 11.45: Babies & Books
Friday 2/24 from 3.30 – 4.30 pm: Kids craft. Free with RSVP.
Friday 2/24 from 3.30 – 5 pm: Teen Tech time
Saturday 2/25 from 11 – 11.30 am: Family story time
Library programming | DUMBO library | Monday to Saturday
Saturday 2/18 from 11 am to 12 pm: Open play for Pre-K and Kindergarten
Tuesday 2/21 from 5 – 5.30 pm: Sunset story time
Wednesday 2/22 from 1 to 4 pm:Kids Explore: School's Out! Let's Play Games and Make Art!
Thursday 2/23 from 10.15 – 12 pm: Toddler Time
Friday 2/24 from 1.15 and 2.15 pm: Babies and Books – explore books, sing songs, learn fingerplays and meet other babies and caregivers! Best for 0-18 months. RSVP here.
Saturday 2/25 from 11 am to 2 pm: Decorate Our Donation Boxes for the Vinegar Hill Food Pantry
Read our overview of the best drop-in indoor activities in Brooklyn here and our overview of ice skating in Brooklyn here.