A week packed with free holiday events is coming up in Brooklyn including holiday get-togethers, Hanukkah celebrations, selfies with Santa and Christmas tree lightings.
Holiday get-together at Dr. Susan Park | DUMBO | 12/14
Snap a selfie with Santa, get some free books from the Brooklyn Book Bodega and treats from One Girl Cookies at our holiday gathering at Dr. Susan Park behind the F train station in DUMBO on Wednesday, 12/14 from 2.30 – 3.30 pm.
Brooklyn Heights Christmas Tree Lighting | Montague Street | 12/14
The tree lighting ceremony on the Promenade – foot of Montague Street – will be December 14th at 5:30 pm.
Christmas Tree Lighting | Grand Army Plaza | 12/14
This year, the Diocese of Brooklyn's Christmas Tree will be lit on Thursday, December 14 at 4 pm at the Soldiers' and Sailors' Memorial Arch. The tree will remain lit 24/7 in red lights—the only such tree in NYC—until January. This annual tradition of displaying the Christmas Tree and Nativity Creche brings the spirit and joy of the Christmas season to Prospect Park and the Brooklyn community.
Nature Storytime | Education Center Brooklyn Bridge Park | Thursday 12/15
Join for Nature Story time at the Environmental Education Center in DUMBO! Held at 4 pm on the third Thursday of every month (during Open Hours). Librarians from Brooklyn Public Library Adams Street location lead for an exciting and engaging story time session, along with singing and rhymes. Each month they select a book to pair with the Education Center's monthly nature theme. Be sure to get there early to check out all the animals and activities in the room before storytime officially begins – open hours on Thursdays are currently 3:00-5:00pm. Story time is from 4 to 4.30 pm.
Cobble Hill Park Chanukah Celebration | 12/18
Come join the Chabad of Brooklyn Heights at Cobble Hill playground for an annual Chanukah Celebration and meet the famous Dreidel Man!! Free donuts, prizes and menorah lighting will take place! Sunday, Dec 18 at 11 am in Cobble Hill Park.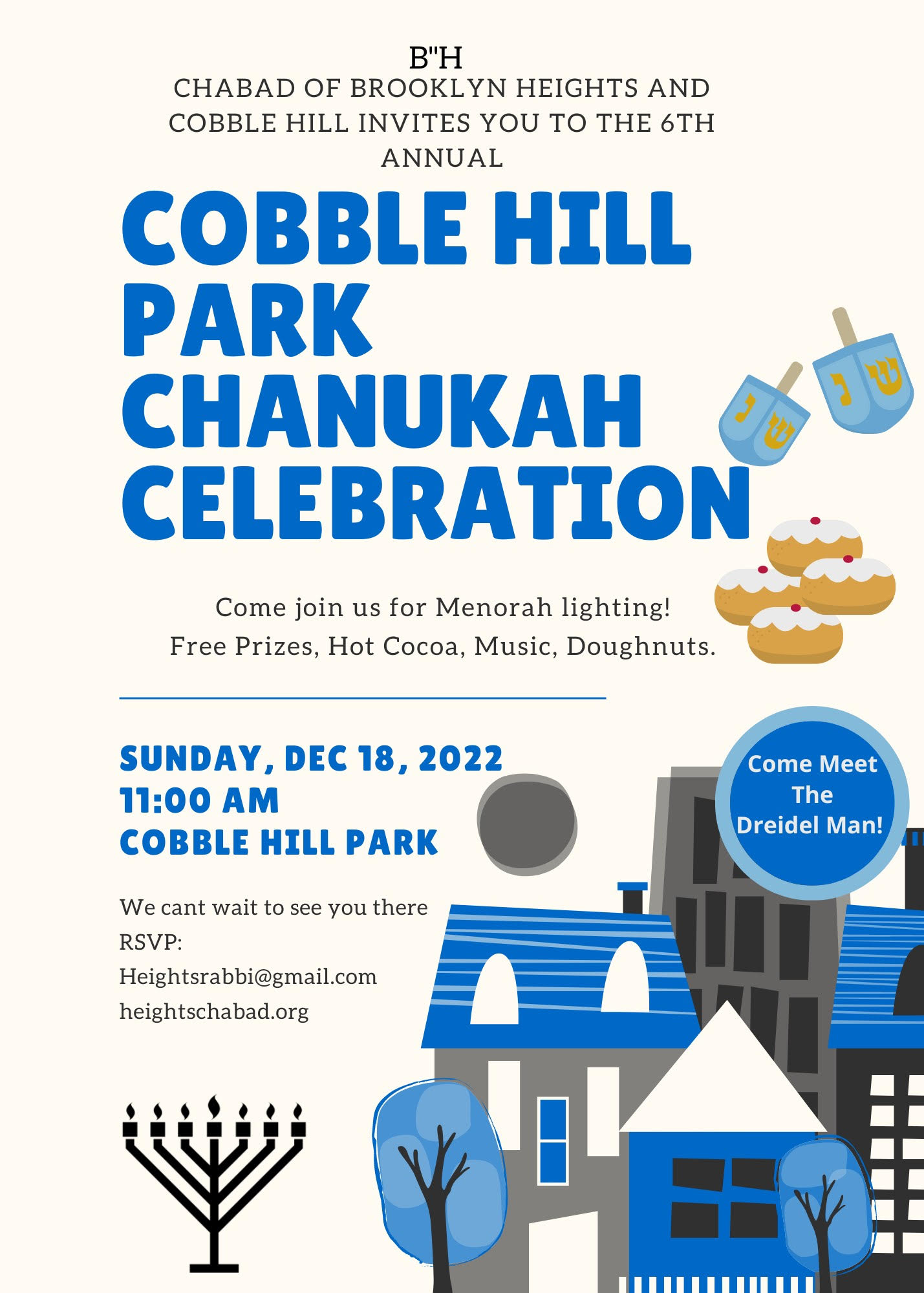 Chanukah Glow Party | Brooklyn Heights | 12/18
Neighbors in Brooklyn Heights are invited to join us at Kiddie Korner Preschool (117 Remsen St.) for an epic Chanukah Glow Party on December 18th at 4 pm. We'll be serving delicious treats playing festive games and are sure to have a lot of fun! Dress in white or neon so you will GLOW! Immediately following the party (at 5:00pm) we will attend the giant menorah lighting at Borough Hall together!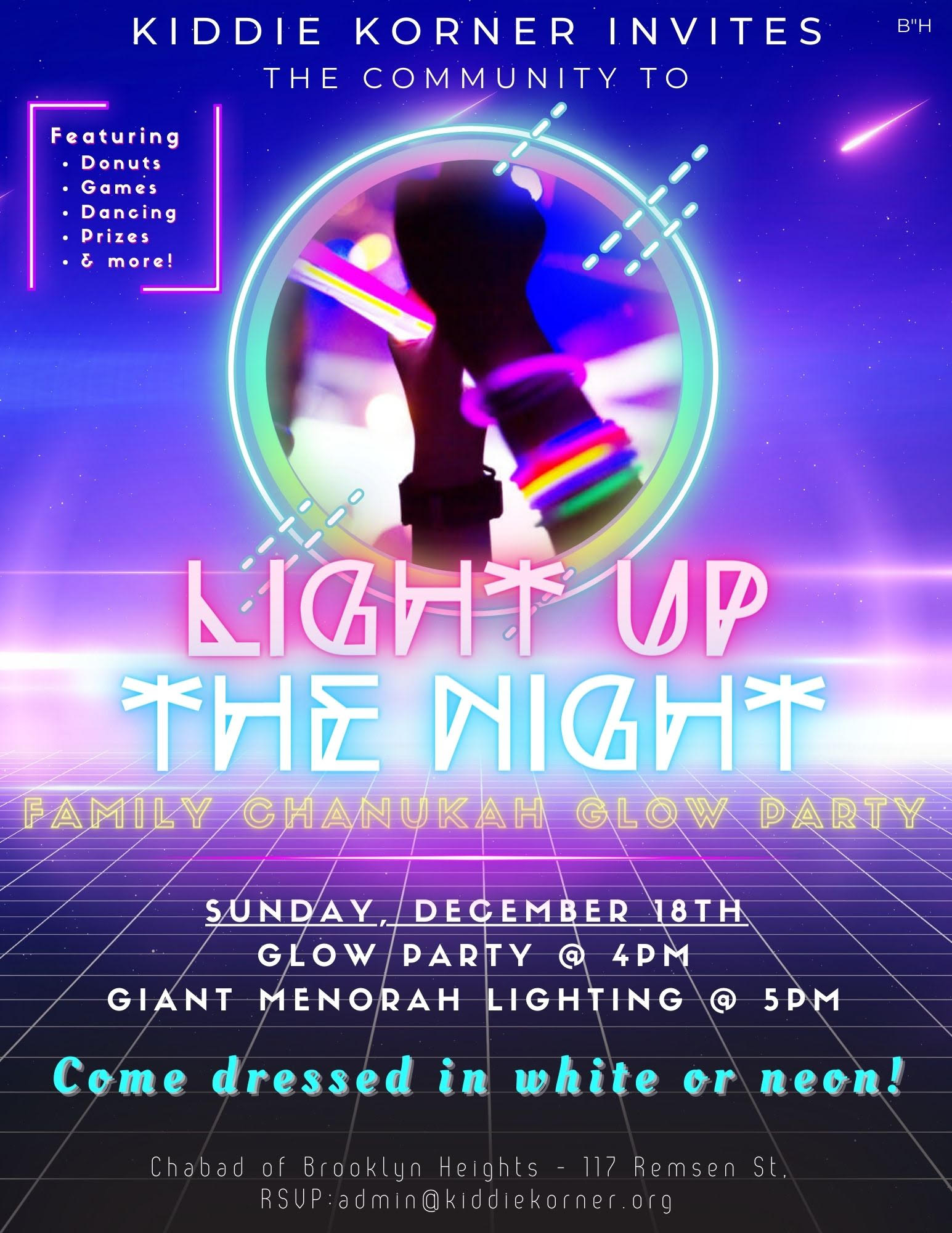 Chanukah on 5th Ave | J.J. Byrne Park | 12/18
Chanukah celebration with latkes and donuts, donut decorating, menorah lighting, music and more. Free of charge on Sunday, December 18 from 2.30 to 3.30 pm at J.J. Byrne Park on 5th Avenue.
Chanukah crafts & free donuts | CityPoint | 12/18
Come for Menorah making with multiple materials including tiles, shells and beads and other Chanukkah crafts. Each child will walk away with their own Menorah — perfect for the holiday! Plus, free Cuzins Duzins donuts for all. Ideal for kids ages 4 and up. The free event will take place near Katz's at DeKalb Market Hall on Sunday 12/18 from 11 am to 1 pm. Please RSVP here.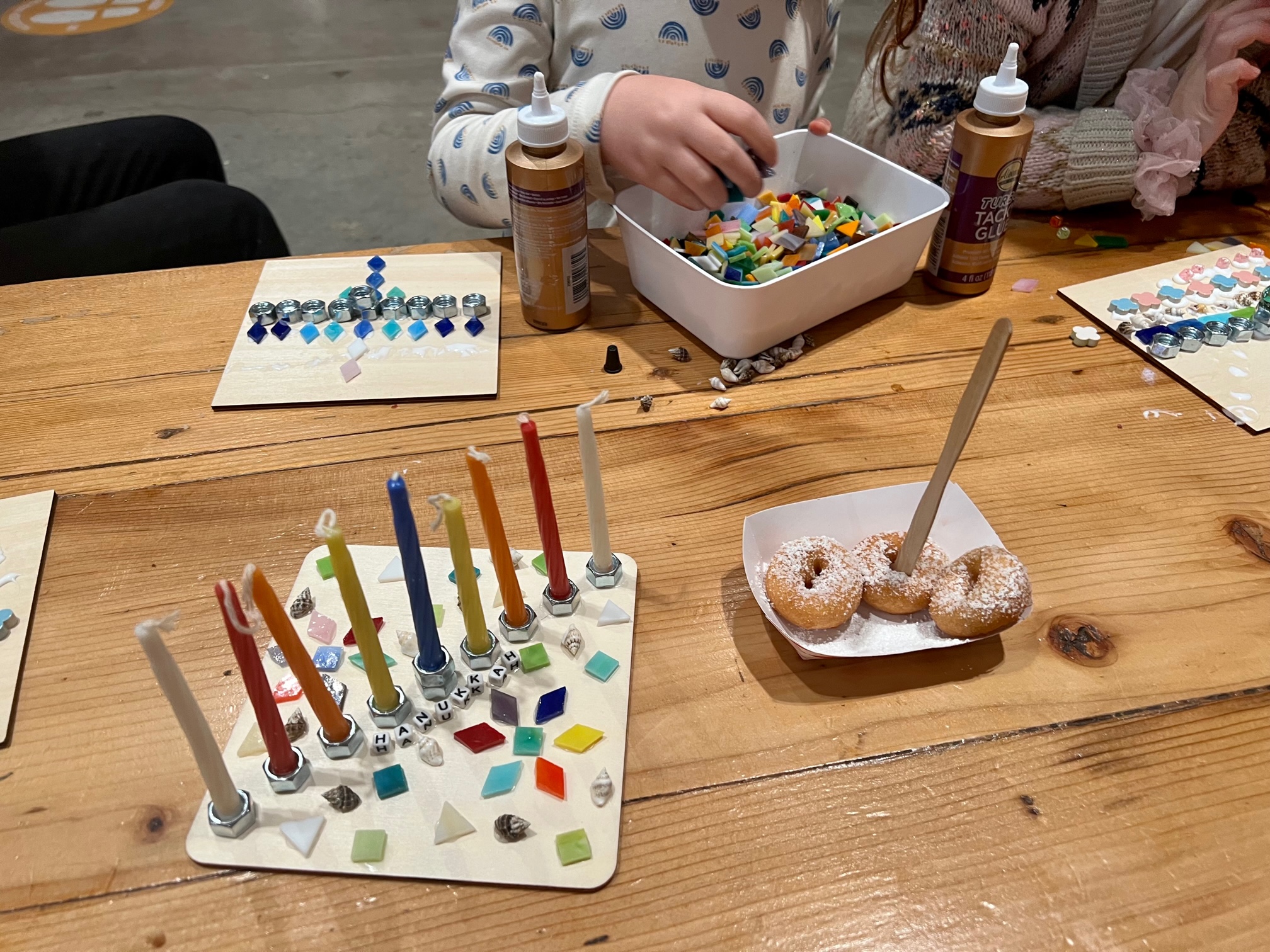 Meet Santa & decorate cookies at CityPoint | Downtown Brooklyn | 12/18
CityPoint is ringing in the Holidays with Santa selfies, cookie decorating and holiday markets on Sundays in December. Kids ages 3 years and up are invited to decorate and design their own One Girl Cookies gingerbread houses and dreidel cookies with royal icing colors and decorative elements such as sanding sugar and candy. Participants will be able to take home their creation in boxes we provide and One Girl Cookies will be on site to support the decorating process. Each child needs a ticket to attend – tickets are $12 per person. Get your tickets today! The events take place on the main floor (across the hall from McNally Jackson bookstore). Additionally, Children will be able to meet Santa and take selfies with Santa at CityPoint for free on December 18 from 11 am to 2 pm. Watch out for Santa before or after cookie decorating at CityPoint.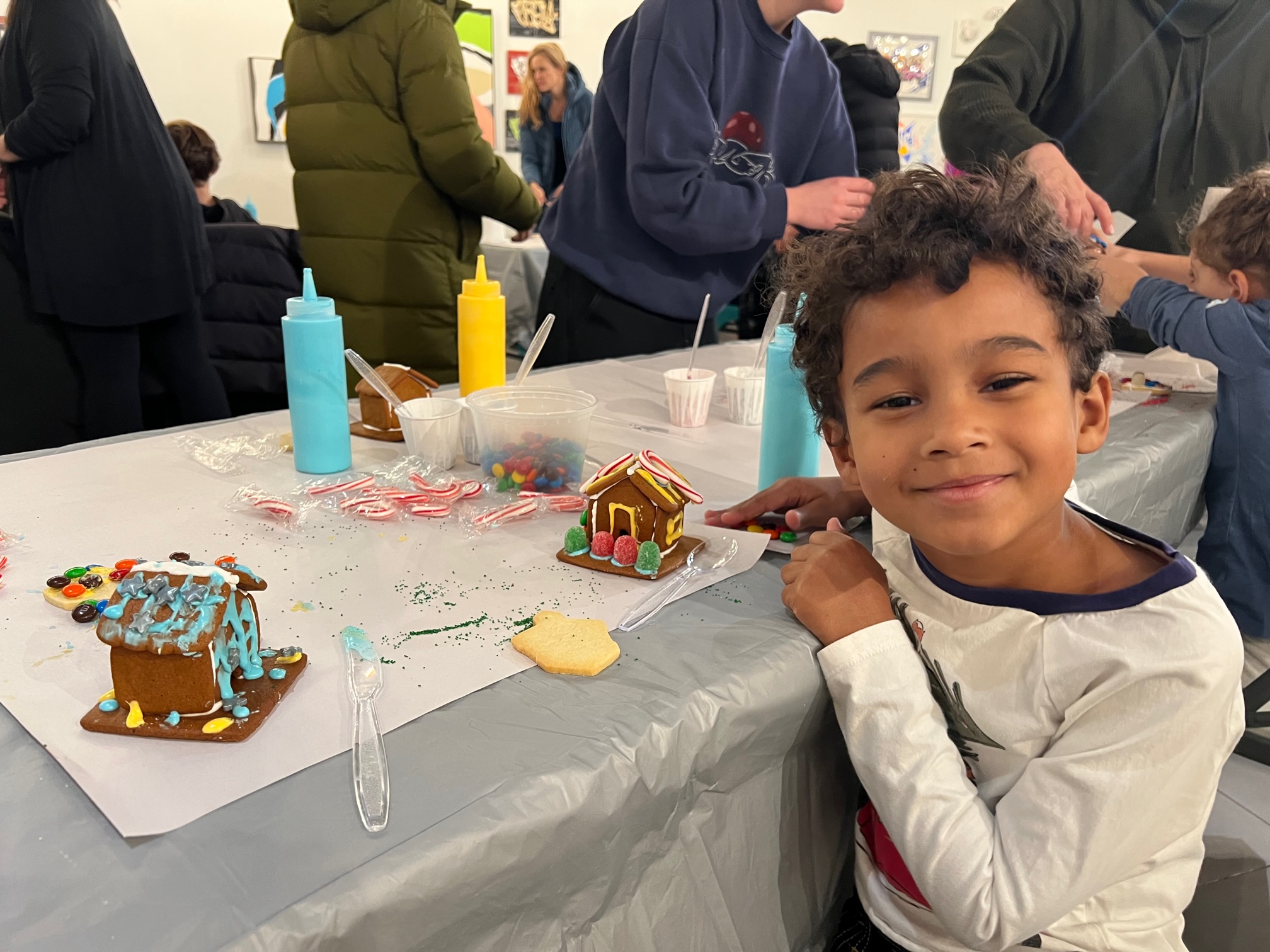 Christmas Caroling | Cobble Hill Park | 12/18
Non-religious Christmas songs with professional singers, then everybody walks singing down Court Street on Sunday from 4 to 6 pm in Cobble Hill Park. Open to all ages, no RSVP required.
Meet the NYPD Santa | Various neighborhoods | 12/14
The 84th Precinct is bringing Santa in a police car back to Brooklyn this year.
12/14 at 2.30 pm Dr Susan Park on York and Bridge Street
12/14 at 5 pm at Iris Cafe at Pier 5 Brooklyn Bridge Park
Library programming | Brooklyn Heights library | Monday to Saturday
Tuesday 3.30 – 4.00 pm: Preschool story time
Wednesday 10.30 – 11 am: Toddler story time
Wednesdays 3.30 – 5.00 pm: Teen Time. RSVP here.
Wednesday 3.30 – 5.30 pm: Chess Club
Thursday 10.30 – 11 am: Babies & Books
Thursdays 4 – 5.00 pm: Teen Time RSVP here.
Friday 3.30 – 4.30 pm: Tween Tech Time
Friday 3.30 – 4.30 pm: Mommy & Me coloring for all ages and their caregivers
Friday 3.30 – 4.30 pm: Tween Tech Time
Saturday 11 – 11.30 Family story time
Library programming | DUMBO library | Monday to Saturday
Monday 4 – 5 pm: Open Play for Pre-K and Kindergarten
Tuesday 3 – 5 pm: Homework Help
Wednesday 4 – 5 pm: Teen Tech Time
Thursday 10.15 – 12 pm: Toddler time for ages 18 months to 3 years. RSVP here.
Thursday 3.30 – 5 pm: Robotics League
Friday 1.15 and 2.15 pm: Babies and Books – explore books, sing songs, learn fingerplays and meet other babies and caregivers! Best for 0-18 months. RSVP here.
Saturday 11 am – 12 pm: Open Play for Pre-K and Kindergarten. RSVP here.
Storytime | McNally Jackson CityPoint | Wednesdays, Thursdays and Sundays
McNally Jackson bookstore is hosting free story times upstairs in their children's section Wednesdays and Thursdays at 4 pm and Sundays at 1 pm for ages 4 to 8. No RSVP required, just show up.
Ice skating | Various neighborhoods | Various dates
The outdoor ice skating rinks in Prospect Park, Industry City, at Brooklyn Commons in Downtown Brooklyn as well as the Artrink at Brooklyn Children's Museum are now open until end of February or even March. Find out more here.
Governors Island Winter Village | Governors Island | Thursdays – Sundays
The Governors Island Winter Village is now open featuring a 7,500-square foot skating rink for visitors of all ages to enjoy, along with wintery activities, festive decorations, games, cold-weather food and drinks, and warming fire pits. Read more here.
Lightscape | Brooklyn Botanic Garden | Various dates
Brooklyn Botanic Garden's after-dark, illuminated spectacular returns on November 16, 2022. This year's trail shines with over a million lights and features new works of art by both local and international artists along with the returning iconic Winter Cathedral and a reimagined Fire Garden. Lightscape runs on select dates through January 8, 2023. Nonmember regular admission tickets are $40 and $20 for children ages 3 to 12. BBG member regular admission tickets are $36 and $18 for children ages 3 to 12. Children 2 and under enter for free. Buy your tickets here.
Watching the World Cup | Various locations | Various dates
The FIFA World Cup 2022 will be played until 18 December, 2022. 32 teams will compete across 64 matches. The games will be shown live at 1 pm due to the time change, watch them with the whole family on big screens. Find out where to watch the games here.